June 3, 2022
How an ESG Focus Helps Foster Trust
A LinkedIn Live discussion with Anna Alex, Kate Stark, Laura Asiala, and Alexandra Albro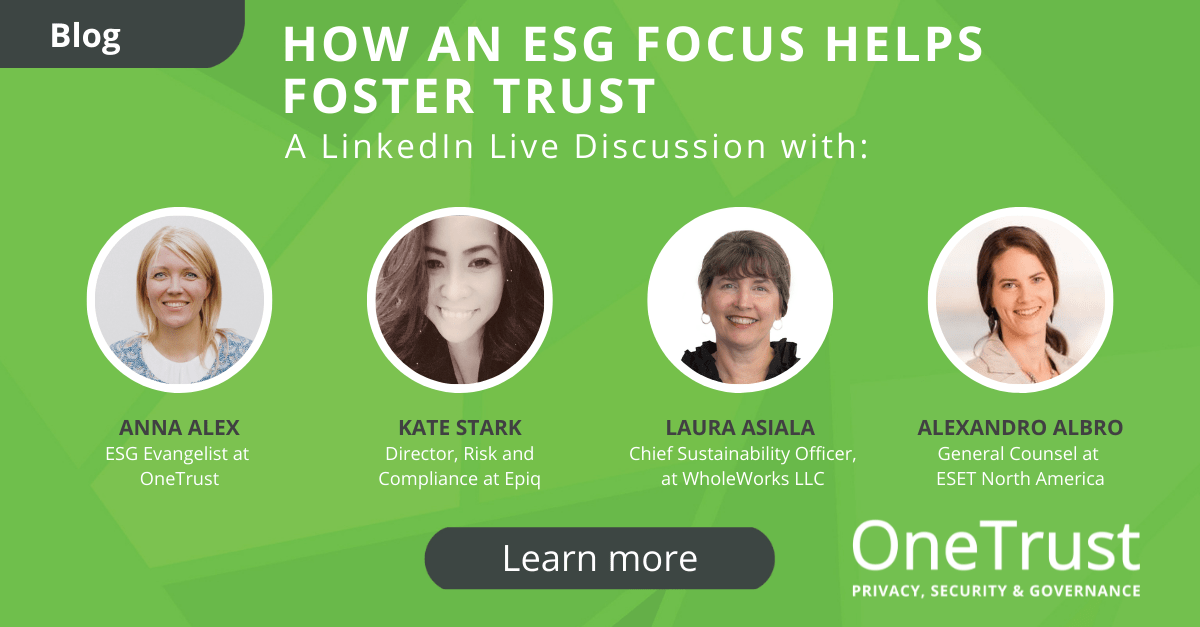 Sustainability shouldn't just be one day a year. Earth Day should be every day, and businesses have a big role to play in keeping it front and center all year round. Having clear values and commitments on your ESG focus can help foster trust across different stakeholder groups. To learn more about how others are building trust through sustainability and keeping it on the agenda all year round, OneTrust's Anna Alex hosted a LinkedIn Live discussion on April 25 this year with:
Kate Stark, Director, Risk and Compliance, Epiq
Laura Asiala, Chief Sustainability Officer, WholeWorks LLC
Alexandra Albro, General Counsel, ESET North America
Read the IDC Topline: Trust for Sustainable Business

Here's a recap of the highlights from the discussion:
When we talk about sustainability, it can mean so many things. There are times when it seems like everyone has a different understanding of what it is, so we started with this basic question.
How would you define sustainability? What is sustainability in business?
The Brundtland Commission and Triple Bottom Line definitions
The Brundtland Commission is still probably the best definition for sustainability as it talks about meeting the needs of the present without compromising the needs of future generations. But, in a more practical sense, John Elkington introduced us to the idea of a triple bottom line (TBL or 3BL) more than 20 years ago in his book "Cannibals with Forks." He said financial health was not adequate to describe either the health of an enterprise or the health of the community in which an enterprise was located. And he advocated for reporting social and environmental impacts, as well as financial: this is what he meant by the triple bottom line (people, planet, and profit).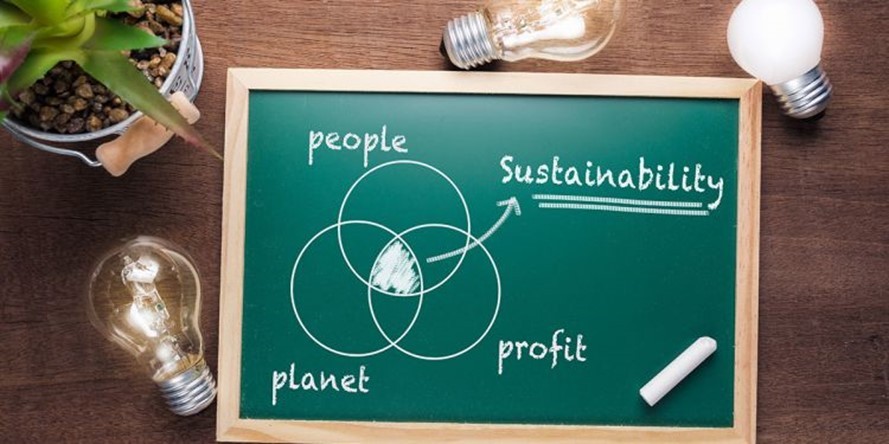 The triple bottom line (Image source: HBS)
Think about being a good corporate citizen
One panelist talked about sustainability as being a good corporate citizen, or socially responsible. Make it part of your DNA. It's not just about providing useful products and services to clients: you should also focus on providing jobs and opportunities for the communities in which you are located. While you can gain satisfaction from the work you do, that's nothing compared to respecting society and the environment. Think about your sustainability journey holistically from an economic, social, and environmental perspective.
Include employees in the Triple Bottom Line
Another panelist echoed this definition but added employees to the mix because they are part of the community and an essential part of the triple bottom line. If you can keep your employees healthy, engaged, and investing in their future, you can build on the sustainability of our planet, the financial health of your company, and the health of your communities.
The linkage between ESG and sustainability
We covered sustainability but people also talk about ESG, so we defined that link for the audience. ESG stands for environmental, social, and governance, and it's usually meant to describe factors that have financial impact. If you look at the triple bottom line (people, planet, profit) and compare it to the ESG factors, they're somewhat the same.
How do you measure engagement on your ESG and sustainability journey?
Materiality will differ by industry
It's not enough to just say "I'm working on ESG," but what are the factors most material to your business? There's been a lot of work done for different industries (SASB for example) to provide direction and guidance to people on how to pinpoint materiality. For example, if you work at a large chemical processing plant, the amount of paper waste in your offices is probably not the thing that's most material to you. Your ESG focus is going to be on considerations like how much power you are using or how much waste you are generating because those things are tied to your expenses.
Set your long-term goals before choosing an ESG reporting framework
There are so many different ESG reporting frameworks you can pick, but it's important to know your long-term goals and where you're headed based on those goals. Then you can choose the framework that's right for you, set your targets, collect the data, and be transparent with your progress to your stakeholders: your employees, your customers, and the public. If you don't make your goals, then explain why. By staying transparent, accurate, and accountable, you'll foster trust and build brand loyalty.
Benchmark your current progress and identify your KPIs
If you are just getting started, it's important to benchmark where you are currently. For one panelist, that meant finding all the things her company had already done and looping them into a formal program. It was a matter of getting to those components that were already in place and removing the silos: making sure they were incorporated into the mission and ESG program. The next step was identifying the impact and value measurements, or KPIs, her organization wanted to use. It's also beneficial to have a third eye on your program and KPIs, whether that's your employees, your ESG committee, or other stakeholders. When you are transparent with your goals and KPIs, it helps get everyone on the same page about where you came from, where you are, and where you're going.
Starting the journey is more important than being perfect
To summarize what we heard so far, it's not just about the environment but also about the people. So not just the E in ESG but the social and governance parts really matter too. To build trust as a company, it's important to track accurately and be very transparent about the success but also when you don't hit your targets. And talk about it. Why? Because we all need to see that it's a journey and no company is doing it perfectly yet. It's more important to start the journey than to be perfect.
One panelist shared some insights from James Clear's book "Atomic Habits." Even though the book is meant more for individuals than organizations, she thought it applied well here. In the book, he says you cannot perfect a habit until you've started a habit and being consistent with it is more important than being perfect with it.
How do you keep an ESG focus with your C-suite?
The reference from James Clear was beautifully stated and a great gateway into the next question we discussed. Let's say your company's leadership realizes how important this topic is and how much your brand can benefit from it. What kind of system can you put in place to keep your C-suite focused on it?
Incorporate S goals as part of your ESG plan
One panelist shared how her company's leadership team understands the importance of sustainability. Her organization decided to build their own campus that will be carbon neutral in its operations. But it goes beyond that. During the build phase, they are also trying to be as close to net zero as possible by looking at the construction materials. And, when this campus opens in 2027, it will offer different green spaces for employees to collaborate or have brainstorming silence. They will also be opening it up to the local community for relaxation and plan to work with universities on research and innovation. This will keep their sustainability journey going. She said they are fortunate their C-suite really understands the importance of sustainability not just for the planet but also the S piece for their employees and community. They try to engage our employees in other small ways such as offering webinars or encouraging them to take small actions every day. Because it's not one person's actions. We all need to do this together. And the more we do it together, the farther we'll go.
Connect the dots: Align ESG focus to business impact
That kind of leadership commitment to sustainability is amazing. But what if the C-suite in your company hasn't gotten the memo yet? You might be wondering how can you bring this to life? To get there, you need to connect the dots for your leadership team. There are four things every business needs to have: revenue, controlled expenses, great talent, and capital. And you can attach every one of these to sustainability. An ESG focus brings new opportunities and revenue from customers that prioritize sustainability. Energy efficiency helps reduce cost by using less power. Being a sustainable brand helps you attract talent and lower turnover. ESG investing introduces the idea of access to funding where the Chief Financial Officer (CFO) and Chief Sustainability Officer (CSO) become BFFs. Finally, emerging regulations such as the proposed SEC rule will require companies of a certain size to start reporting against certain environmental considerations. These are all things the C-suite will pay attention to and is a great way to connect the dots and bring it to life for them.
Educate your C-Suite and make sure they are committed to the program
These are great ways to help your C-Suite understand the importance of having an ESG focus. But I wonder how you get to the next level of translating that into action and holding them accountable.
One thing that worked well for one panelist was having an executive sponsor. She reports to the Chief Legal Officer, who was very supportive of the program and was also her voice to the C-Suite. That included sharing their program plan, the quarterly updates, etc. Through this connection, she was invited to present the corporate social responsibility (CSR) program to the whole company at a town hall. That was the first time their employees were made aware of our program even though they had pre-announced bits and pieces of it previously. The fact that her C-Suite was supportive, through her executive sponsor, just made things like getting a budget or a spot on the intranet a lot easier. So, it's about educating your C-Suite but also making sure they have your back and are committed to the program. For example, when they joined the UN Global Compact, their CEO had to sign a letter of commitment that presented the program and how he stands behind it.
Closing question from the audience: What was your personal journey to the sustainability profession?
Clients were asking about ESG and CSR
One panelist said it was a topic that naturally came up for her. Clients were continuously asking about ESG and CSR in their RFPs. As a case in point, they had one client ask when they would be moving to Science Based Targets, so they committed to getting there by 2024. It's things like this that foster trust, and not just with clients. They also have employees asking about recycling, or what are we doing with the office space that nobody is using now. So, you instill trust when your external and internal stakeholders are with you on the journey. In terms of how she moved the program forward from those initial client inquiries, she talked to her supervisor and her VP of Compliance and said this is something we really need to think about doing. Because it's a trend that's here to stay and we won't be able to sustain this type of ad hoc response to RFPs in the long term. She volunteered to do the research and put a proposal together, and it just grew from there.
Our industry had a long history with sustainability
Another panelist spent a large part of her career in manufacturing, specifically performance materials for the chemical industry. It's a sector that's been very active in environmental sustainability for more than three decades. One thing that had a significant impact for her company was a book by Stuart Hart called "Capitalism at the Crossroads," published about 15 years ago. Prior to that, there had been a lot of macro conversation about sustainability but nothing about how to operationalize it. This book literally gave them a value framework for looking at how they could apply sustainability across our business: operations, research and development, marketing, sales, and how we engage with stakeholders. That made a big difference for her and her career.
Volunteer and build from there
The third panelist noted that it seemed like everyone volunteered because of an interest in CSR or to be proactive about getting a program going. That's basically how she started. Her company had a donation matching program in place, but they wanted to do more. They established a committee and had individuals from different departments come together to talk about philanthropy and how they could give back more to the communities. For example, how could they give employees more opportunities to volunteer and get involved? It's something she is passionate about, so she got more involved over time and that was noticed. She was asked to lead their efforts, and they've been building on it since then. She drew a connection to what we discussed earlier: figure out where to start, gather the data you have, see where you are, set a benchmark, and then take it from there. That's what they did, and they were able to build a program across their organization and continue to do so.
Don't underestimate the impact you can have
This beautifully underlines just how big of an impact each one of us can have. So don't underestimate your impact. Even if you aren't full time on this topic, you can join a group or raise your hand in your company's next all-hands call and ask for the carbon footprint or ESG KPIs. You could do this in an interview with a future employer as well. So, everyone has a really important role to play in moving the needle forward on corporate ESG focus.
Watch the LinkedIn Live replay.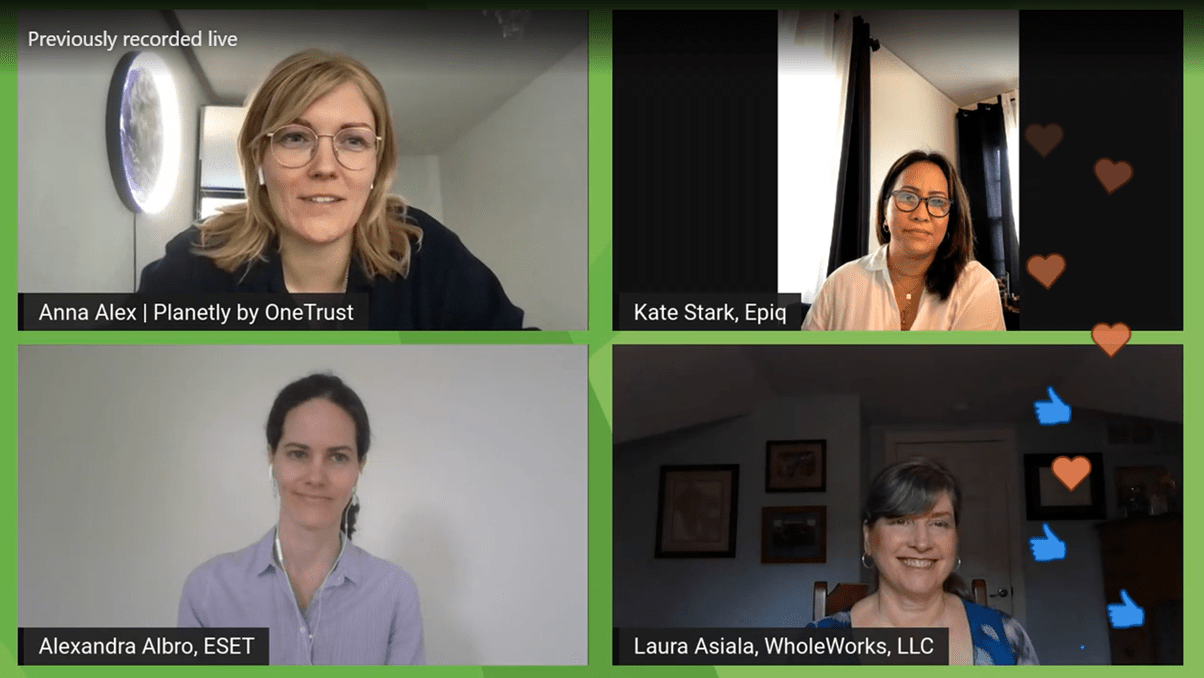 Download the IDC Topline Report to learn more about "Trust for Sustainable Business"
You may also be interested in reading about how sustainable business practices lay the groundwork for building trust.
Tags: