Fast Facts
---
Customer Name
wefox
Size
Enterprise
Industry
Region
Key Regulations
Products
Scope 1 and 2 Accounting
Scope 3 Accounting
Reductions and Offset Marketplace

How wefox became a carbon-neutral digital insurance unicorn
---
wefox is a leading insuretech platform that's connecting insurance companies, distributors, and customers, to give the world simple access to digital insurance. The company's vision is to make insurance 10x better through technology, and its team of programmers, dreamers, and doers are united under a common goal to change the world for the better. wefox believes that insurance protects what matters most – our lives and livelihoods – and that gives us all a better shot at a good life. 
Business goal
Its mission to protect what matters most led wefox to take a stand on climate action by setting a goal to become a carbon-neutral insurance company. As part of its commitment, the company wanted to establish a comprehensive sustainability strategy that included reducing its environmental footprint and offsetting remaining emissions. To accelerate its journey to carbon neutrality, wefox partnered with OneTrust to understand its carbon footprint and identify the most impactful ways to reduce and offset it. 
Key results
Calculated total carbon emissions of 969.8 t CO2e for 2019

 

Achieved carbon neutrality for 2019 by offsetting 1080 t CO2e through three certified climate action projects.
Our mission is to make people safe. This goes hand in hand with reducing our impact on resources to keep our planet, and the air we breathe, clean and safe. Therefore, we offset CO2 emissions by planting trees and supporting environmental charity projects. For us, insurance and sustainability are not unrelated.

Julian Teicke

wefox CEO

Solution approach
Phase 1: Analyzing wefox's carbon footprint
The first step in any journey to carbon neutrality is measuring the current carbon footprint. wefox partnered with OneTrust to quantify its emissions from all corporate activities across its locations in Berlin, Barcelona, Paris, Warsaw, Vienna, Zurich, Tessin, Roggwil, Vevey, Vaduz, and Milan.
Leveraging the carbon accounting capabilities in the OneTrust ESG & Sustainability Cloud, OneTrust calculated wefox's carbon footprint including direct and energy-related emissions (scope 1 and scope 2), as well as emissions generated by service providers and purchased products and services (scope 3). This aligns with the GHG Protocol standard, and it included office & building emissions, customer and employee emissions, and emissions from external service providers and events.
As an international company with no physical products, the majority of wefox's carbon emissions were caused by business travel and employee commuting. The second biggest share of wefox's carbon footprint came from energy-related emissions, including heating and electricity, in its office buildings. Emissions from wefox's external suppliers such as consulting, insurance, auditing, telecommunication, and IT also contributed to the company's carbon footprint.
In total, wefox's 2019 carbon footprint amounted to:
969.8 t CO2e total carbon emissions
746.8 t CO2e business travel and commute emissions
128.2 t CO2e office operations and equipment emissions
94.8 t CO2e emissions from external service providers
Phase 2: Reducing emissions
wefox is committed to reducing and avoiding emissions wherever possible and already offers public transport allowances to all employees. To encourage its customers to protect our climate, wefox has also partnered with a sustainable insurance company Grün Versichert to plant a tree for every "green" insurance policy sold.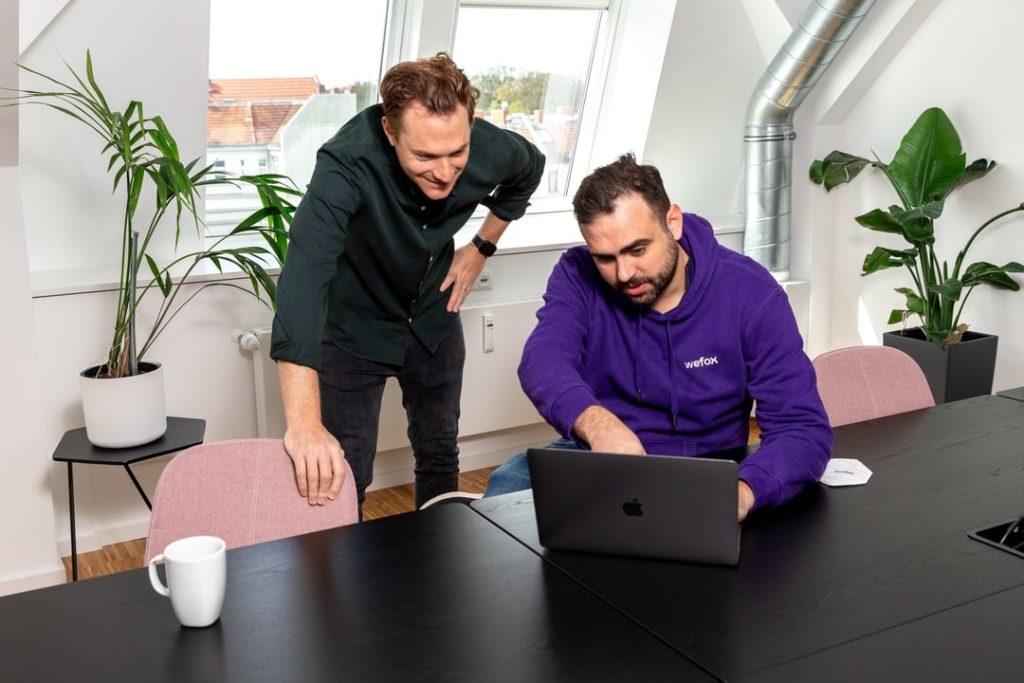 Phase 3: Taking climate action
While reduction and avoidance are key elements in wefox's sustainability strategy, emissions can't currently be eliminated completely. The company decided to offset its carbon footprint by supporting certified climate action projects. These include: 
(Peru) A Rainforest Protection REDD+ project to partner with local families for conservation, training, and Fair-Trade certification

 

(Rwanda) A project to support access to clean drinking water through well construction and maintenance 

 

(Netherlands) A biogas project that generates electricity through waste management

 
 All projects are certified by the highest standards, including the Gold Standard and the Verified Carbon Standard (VCS). 
Value realized
By partnering with OneTrust, wefox achieved the following results: 
Gained an accurate picture of carbon emissions, revealing a total carbon footprint of 969.8 t CO2e

 

Offset over 1000 t CO2e – more than 100% of their 2019 emissions – by supporting three certified climate action projects that had the following outcomes:

 

Halted the annual deforestation of 4,000 hectares in the Peruvian Andes, one of the Amazon's most threatened ecosystems

 

Improved health outcomes and gender equality in rural Rwanda by reducing dependence on firewood to sterilize drinking water 

 

Enhanced economic growth and introduced sustainable career opportunities for Dutch farmers   

 
Looking ahead
wefox and companies like it are answering a higher call to be purpose-driven leaders and take action to protect people and the planet. OneTrust understands that answering this higher call takes commitment, collaboration, consistency, and transparency. But it's worth it. Those that do reap the business benefits that come with being more attractive to stakeholders. In addition to looking beyond its own front doors, wefox is committed to further reducing its environmental footprint in the future. One way it plans to achieve this is by limiting business travel and encouraging its employees to use more climate-friendly transportation methods on their commute. 
The OneTrust ESG & Sustainability Cloud helps companies like wefox gain critical insights into where carbon emissions are generated throughout the value chain, making it easier to pinpoint hotspots for reduction. The ESG Cloud not only provides a GHG Protocol compliant overview of scope 1, 2, and 3 emissions, it also offers a path for clear target setting, automated reporting, and transparent benchmarking.    
Part of the Trust Intelligence Platform™ from OneTrust, it unifies and delivers visibility across four trust domain areas, action based on AI and regulatory intelligence, and automation to build trust by design. Empower your organization to drive change, demonstrate impact, and put trust at the center of your operations.  
Request a demo today to learn more.