October 14, 2021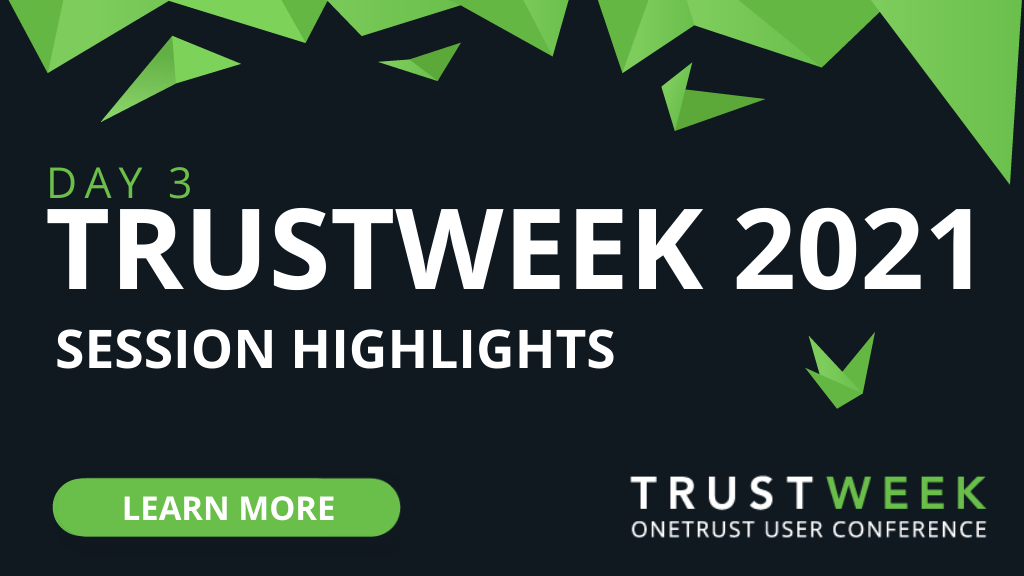 TrustWeek 2021 is in full swing! So far we've closed out CONVERGE21, where we heard from the ethics and compliance industry's brightest minds, including Arianna Huffington and Netflix CMO Bozoma Saint John.  Today the excitement continues with the start of our TrustWeek focused sessions. If you haven't registered, it's not too late. Click this link to get your free ticket.
Let's take a look at some of the most anticipated sessions from day 2.
Opening Keynote: Building the Technology Platform of Trust: OneTrust's Company Vision and Product Roadmap 
The world is changing and consumers now expect organizations to be more trusted, transparent, and ethical. Growing from our privacy and security roots to expanding into data governance, ethics and ESG, OneTrust is focused on helping businesses meet consumer expectations with our platform of trust. In this session, OneTrust CEO Kabir Barday and Chief Strategy Officer Blake Brannon highlight our path forward while showcasing the latest OneTrust latest tools and technology to help you easily integrate trust throughout your entire organization.
Maturing your Privacy Program with Data Discovery & Automation 
Privacy programs have matured from tick-the-box compliance to a focus on data intelligence as privacy continues to be a competitive differentiator for business. Data intelligence takes privacy beyond the manually generated Article 30 report and the siloed PIA to focus more on a deep understanding of personal data through data discovery & classification, automated identification of privacy risk and policy violations, and integrated enforcement of policies like retention, access, and data minimization across the organization. Intelligence-driven insights into data ensures that privacy and security controls are automatically implemented across IT ecosystems, driving the business value of data with privacy and security built-in.
Featuring:
Ryan Edge, Privacy Offering Manager, OneTrust
Unifying Trust: How ResMed Built a Cross-Functional Risk Management Solution with OneTrust 
Protecting sensitive data requires cross-functional collaboration and diligent action to manage compliance and mitigate risks to our customers – and ResMed's ultimate end user; millions of patients worldwide. To meet this need, ResMed developed a OneTrust Governance Framework that enables collaboration and optimizes the use of the OneTrust platform and related policies and procedures. Leveraging the OneTrust platform and effective governance, they've cultivated a thriving cross-functional risk management solution to avoid collisions, enable the requestor, and enrich other departments. Featuring Kevin Conolly, Global Privacy Manager, ResMed and Michael DeWitt, Managing Partner and CEO, DeWitt Strategic Advisors.
Key Takeaways:
Insights into implementing a cross-functional risk management solution that drives results
Best practices for training team members on the OneTrust platform to ensure effective use
Learn strategies to build a holistic risk and compliance program across business functions
Touchpoints to Trustpoints: Honor Privacy Through Preference Management
Only 8% of consumers believe they receive superior experiences from brands, and even worse, three-quarters don't trust businesses with their personal data. To win consumer trust and succeed in the modern marketing world, businesses must put users in control of their own data and privacy and deliver on promises by using accurate and efficient preference management tactics to drive communications, campaigns and sales cycles. In this session Zachary Faruque, OneTrust Offering Analyst highlights how to create on-brand and user-centric marketing experiences that build trust.
Key Takeaways:
Empower customers with information about privacy policies and choices for their consent, preferences, and personal data shared
Create dynamic and logic-based displays for data elements, custom questions, and questions and options available based on geolocation, user, customer segment, and more
Collect first-party data directly from your audience, prospects, and customers to enhance customer profiles and begin to replace other data sources like third-party cookies
Discover integration workflows and connections to your full martech stack ensure user choices are honored in all marketing, sales, and communication activities
Leverage the most advanced opt-in analytics direct in the OneTrust platform with the newly released PowerBI integration
A How to Guide for International Data Transfers 
Compliant international data transfers continue to pose challenges, with 2021 seeing multiple updates including the European Data Protection Board's finalized guidance on supplementary measures following the Schrems II decision. Join this session to hear Linda Thielová, Head of Privacy CoE, DPO, OneTrust,  Tumi Atolagbe, Information Governance and Risk Advisor, British Council, Martin Macke, Global Privacy Director, ManPowerGroup, Yukiko Lorenzo, Senior Managing Counsel, Privacy and Data Protection, Mastercard, and Annick O'Brien, Chief Operating Officer & General Counsel, CybSafe share their experiences, best practices, and lessons learned around international data transfers. The panel also looks at how organizations can keep their program up to date with the changing transfer landscape.
Key Takeaways:
Understand the guidance around international data transfers in light of Schrems II guidance updates published this year
Step by step guidance on how data importers and exporters can manage international data transfers
Connecting Ethics and Compliance to Data Privacy, GRC, ESG and Risk
Intrigued by OneTrust's recent acquisition of Convercent? How does Ethics & Compliance relate to the worlds of Privacy, ESG, GRC and Risk? Join Asha Palmer, Chief Ethics & Compliance Officer & EVP, Converge, Convercent by OneTrust and Stephanie Holmes, Senior Director, Solutions Consulting, Convercent by OneTrust for an introduction into the latest addition to the OneTrust family. Come away with an understanding of how Ethics & Compliance is not just relevant but can accelerate your programs. And see the Convercent platform in action engaging employees to elevate your culture and build trust between your organization's stakeholders.
#Hacked: What We've Learned from The Year's Biggest Breaches
What does it look like to be #Hacked in 2021? Stay up to date on all things security as we look into the implications of this year's biggest breaches. From incidents in the oil and gas industry to successful ransomware defense in the IT consulting and services industry, we're breaking down what you need to know about breaches as the security landscape continues to evolve. Join us for this session we walk through the implications of ransomware, effective risk mitigation, increased regulation resulting from cybercrime, emerging trends from hackers and more.
Key Takeaways:
Get actionable insight from effective risk mitigation techniques used in successful attack defenses
Understand the evolution of hackers and trends they're following as they target organizations
Hear security professionals outline the implications of different types of attacks and learn how to be proactive in preventing them
Gain insight into regulatory action being taken against cybercrime
Next steps on TrustWeek 2021:
Follow OneTrust on LinkedIn, Twitter, or YouTube for the latest on #TrustWeek 2021.
Tags: