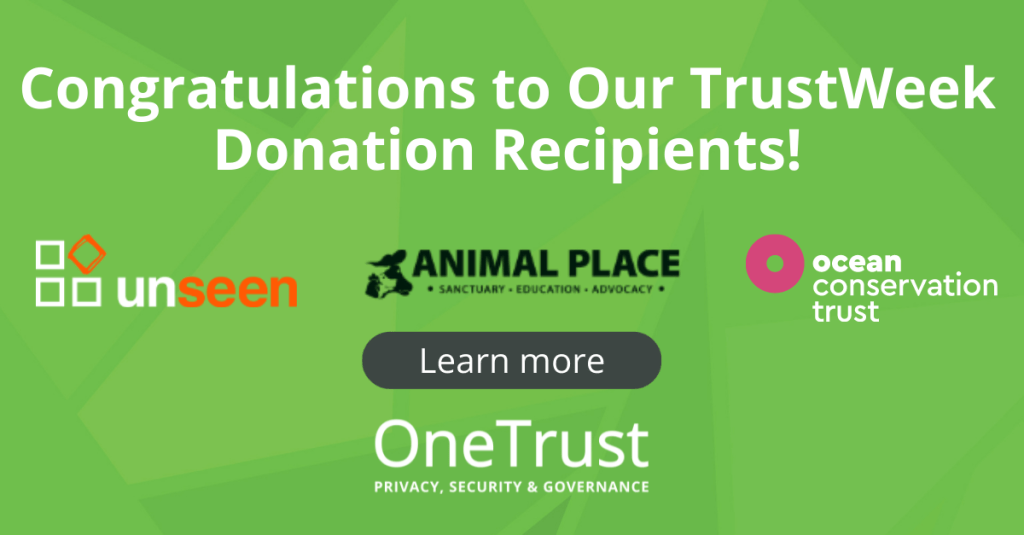 For this year's TrustWeek, OneTrust decided to put the audience in charge and gave them the power to leverage their attendance for good. This year OneTrust enhanced audience engagement by giving them the opportunity to vote for a charity to receive a one-time donation from OneTrust. 
Register Today to Watch TrustWeek 2021 OnDemand 
Every attendee had the chance to vote which non-profit organization would receive a donation on their behalf and would be able to choose from three charities, Unseen, Animal Place, and Ocean Conservation Trust Ltd. For every live attendee OneTrust donated $5 USD. The audience split the vote almost evenly between the three organizations. Ultimately, OneTrust decided to round up the voting and provide each organization with $1,500 USD.   
TrustWeek is OneTrust's annual user conference. Now in its fourth year, TrustWeek brings together OneTrust customers, partners, and industry professionals to learn about the latest technology innovations, share best practices, and network with peers. While TrustWeek attendees joined sessions on the latest technology and trends in Privacy, Security & Risk, ESG, and Ethics they could feel good knowing that their participation was helping to create change in our global community. 
TrustWeek Donation Recipients
Trust is weaved into the fabric of all that we do not just into our platform. As an agent of change, OneTrust is committed to supporting the communities we operate in a variety of ways. OneTrust is proud to support organizations who are committed to making our world a safer place for all of us. Learn more about the impact these organizations are having on our global community: 
Unseen:

 Unseen is a UK based charity working towards a world without slavery. They provide safehouses and support in the community for survivors of trafficking and modern slavery. They also run the UK Modern Slavery & Exploitation Helpline and work with individuals, communities, businesses, governments, other charities, and statutory agencies to stamp out slavery for good. The UK Modern Slavery & Exploitation Helpline operates 24/7, 365 days a year. It is free to use, available in more than two hundred languages and confidential. Their expert Helpline operators are there for help and advice, not only for victims of modern slavery, but for the public, businesses, and statutory agencies like the police, Health Services and local government.

 

Animal Place:

 

Founded in 1989 Animal Place is one of the oldest and largest sanctuaries for farmed animals in the country. Nestled on 600-acres in Grass Valley, CA, Animal Place provides refuge to hundreds of neglected farmed animals. In addition to permanent sanctuary, Animal Place's new Rescue and Adoption Center in Petaluma is focused on placing needy farmed animals into permanent homes.

 

Ocean Conservation Trust Ltd:

 

As a global ocean conservation charity, they are taking action to fulfil their vision of a healthy ocean. Their team of marine biologists, educators, communicators, researchers, ecologists, oceanographers and divers are Ocean optimists. They work tirelessly to connect people to the Ocean with an optimistic and solutions-based approach, centered around physical and emotional connections with nature.

 
OneTrust is proud to support the meaningful work and missions of these organizations to make our world a more equitable and sustainable place for all of us.  To learn more about how OneTrust is building trust within our global community connect on LinkedIn, Twitter, and YouTube. 
To learn more about how OneTrust is supporting our global community read more: 
Read the News:

 OneTrust's DE&I Council will partner with Big Brothers Big Sisters of Metro Atlanta, Black Girls CODE, Inspiredu, and The Felix Project to serve our communities

 

Register for the webinar

: OneTrust + Planetly: Building the Trusted Net Zero Economy

 

Read the blog:

 

OneTrust: Being a Responsible Business and Building Trust