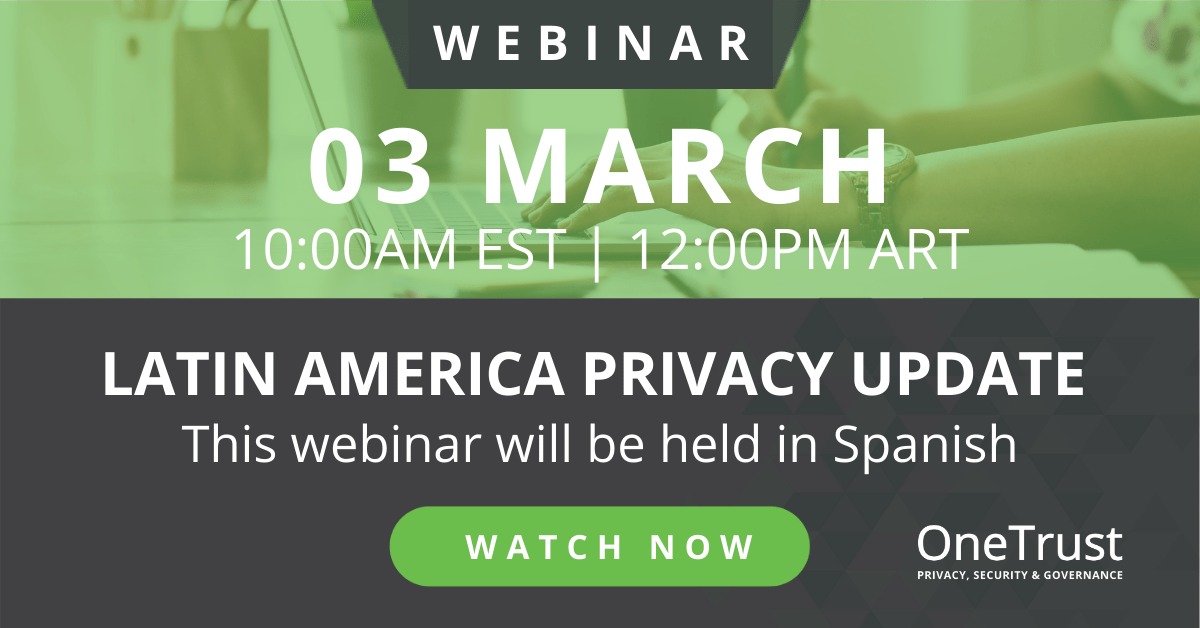 Latin America Privacy Update
Webinar Date: Wednesday, March 3, 2021 10:00 am Eastern Standard Time
Latin America Privacy Update
Join us and a panel of experts for a privacy update focused on Chile, Argentina and Mexico.In this panel, we will analyze the developments of the data protection bill in Chile and how the powers of the DPA will change with the approval of the bill. We will also discuss the reintroduction of data protection law in Argentina and discuss plans to improve privacy legislation in Mexico. This webinar will be held in Spanish.
The key points include:
Privacy updates on the latest developments in Argentina, Chile and Mexico
Understanding the role of DPAs in the region and how this is likely to change
A debate on data subject rights and reporting of data breaches in the region
Novedades en Privacidad en América Latina
Únase al panel de expertos organizado por OneTrust para ponerse al día con las últimas novedades en el campo de la privacidad en Chile, Argentina y México. En este panel, analizaremos el desarrollo del proyecto de ley de protección de datos de Chile y cómo cambiarán las competencias de la autoridad de protección de datos tras su aprobación. También discutiremos la reintroducción de la ley de protección de datos en Argentina y analizaremos los planes para mejorar la legislación de privacidad de México.
Los temas a tratar incluyen:
Novedades en el campo de la privacidad en Argentina, Chile y México
Conocer el papel de las autoridades de protección de datos de América Latina y cambios en sus competencias
Debate sobre los derechos de los interesados en esta región y la notificación de brechas de datos
Panelistas:
Alex Bermudez, Director para America Latina, OneTrust
Héctor E. Guzmán Rodríguez, Socio en BGBG Abogados
Pablo Segura, Director de Privacidad de Datos, Mercado Libre
Oscar Molina, Advogado en Albagli Zaliasnik