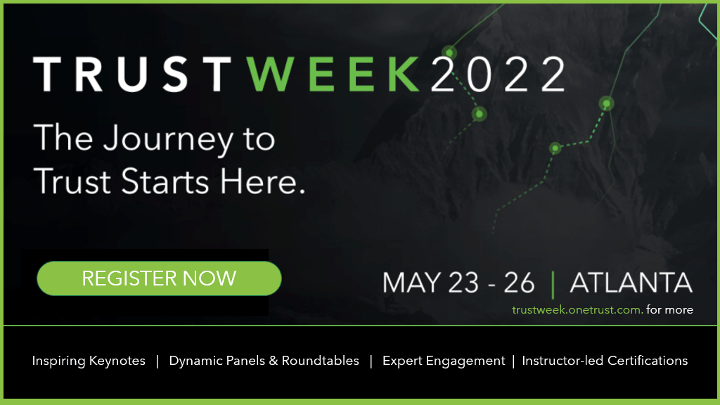 Live Certifications @ TrustWeek 2022 - Atlanta
Back live and in-person for the first time since early 2020, we are excited to host 2 days of live, instructor-led certification training at TrustWeek 2022 in Atlanta on May 23-26. Boost your OneTrust knowledge and take advantage of dynamic and interactive instructor-led training using demo training environments filled with the latest OneTrust features. You can find more information about TrustWeek sessions by visiting trustweek.onetrust.com. 
After attending the certification course, participants will be enrolled to take the certification exam which they will have 30 days to complete. Upon successful completion of the exam, attendees will earn a digital certification which can be downloaded and shared.
We will be offering some of our most popular courses on Monday, May 23, and Thursday, May 26. Please see below for our course offerings:
Professional Certifications

OneTrust Privacy Professional Certification (8 hours)
OneTrust GRC Professional Certification (6 hours)

Expert Certifications (Previous Privacy Professional Certification is a recommended prerequisite)

Assessment Automation Expert Certification (4 hours)
Consent & Preference Management Expert Certification (4 hours)
Cookie Consent & Website Scanning Expert Certification (4 hours)
Data Mapping Expert Certification (4 hours)
DSAR Expert Certification (4 hours)
May 23, 2022 | **REGISTER FOR BOTH MONDAY, MAY 23, AND THURSDAY, MAY 26, SESSIONS USING THE LINK TO THE RIGHT**
REGISTER