During this time, we would like to celebrate employees who have been with us over the five years we have grown as a company.  We sat down with these remarkable people and asked them about their journey with OneTrust.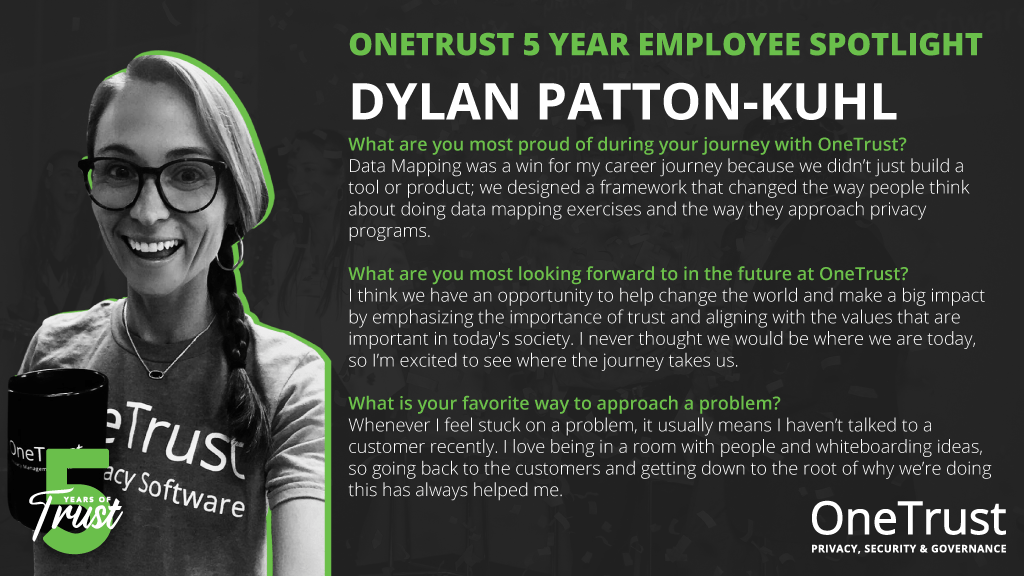 To close out our Five-Year Celebration Employee Spotlight Series, we are featuring Dylan Patton-Kuhl, Senior Product Line Manager at OneTrust. Dylan works on our data mapping, data governance, and internal privacy programs. She collaborates with customers to turn their problems into creative solutions. While reflecting back on her OneTrust journey, shared, "We're on the forefront of these new market trends, so the growth opportunities and the impact that we have the potential to make is super exciting." 
What are you most proud of during your journey with OneTrust? 
Data Mapping was a win for my career journey because we didn't just build a tool or product; we designed a framework that changed the way people think about doing data mapping exercises and the way they approach privacy programs. 
What are you most looking forward to in the future at OneTrust? 
I think we have an opportunity to help change the world and make a big impact by emphasizing the importance of trust and aligning with the values that are important today. I never thought we would be where we are today, so I'm excited to see where the journey takes us.  
What is your favorite way to approach a problem? 
Whenever I feel stuck on a problem, it usually means I haven't talked to a customer recently. I love being in a room with people and whiteboarding things, so going back to the customers and getting down to the root of why we're doing this has always helped me.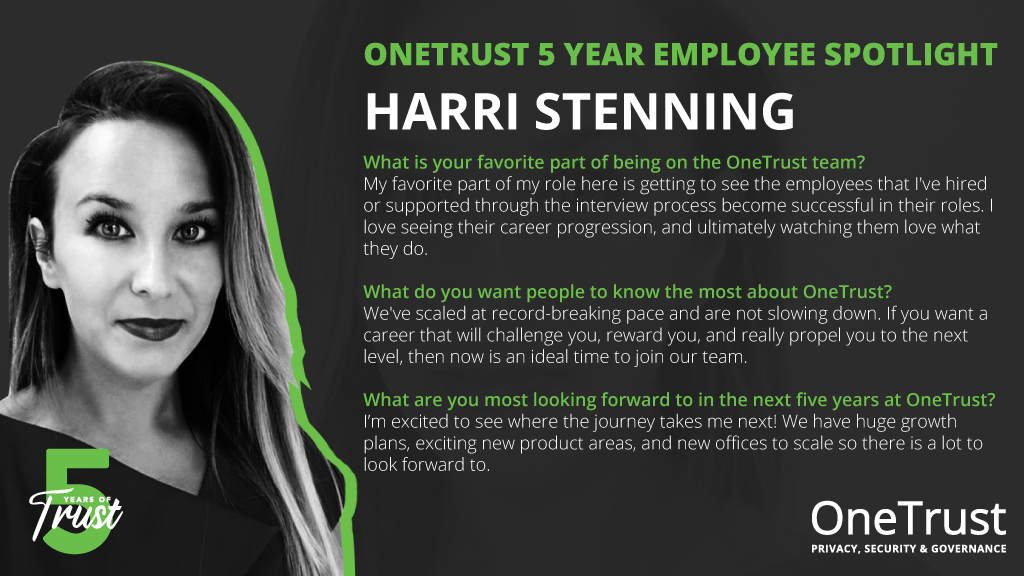 Next up in our Employee Spotlight series is Harri Stenning, EMEA Talent Acquisition Manager. Harri is responsible for executing talent acquisition strategies and hiring across multiple business departments.  She always strives to see those that she's hired succeed in their roles. We sat down with Harri to hear about her experience with OneTrust, where she shared, "I've learned to roll with the changes and adapt quickly, so I'm looking forward to whatever comes next in that journey."
What is your favorite part of being on the OneTrust team?
My favorite part of my role here is getting to see the employees that I've hired or supported through the interview process become successful in their roles. I love seeing their career progression, and ultimately watching them love what they do.
What do you want people to know the most about OneTrust?
We've scaled at a record-breaking pace and we are not slowing down. If you want a career that will challenge you, reward you, and really propel you to the next level, then now is an ideal time to join our team.
What are you most looking forward to in the next five years at OneTrust?
I'm excited to see where the journey takes me next! We have huge growth plans, exciting new product areas, and new offices to scale so there is a lot to look forward to.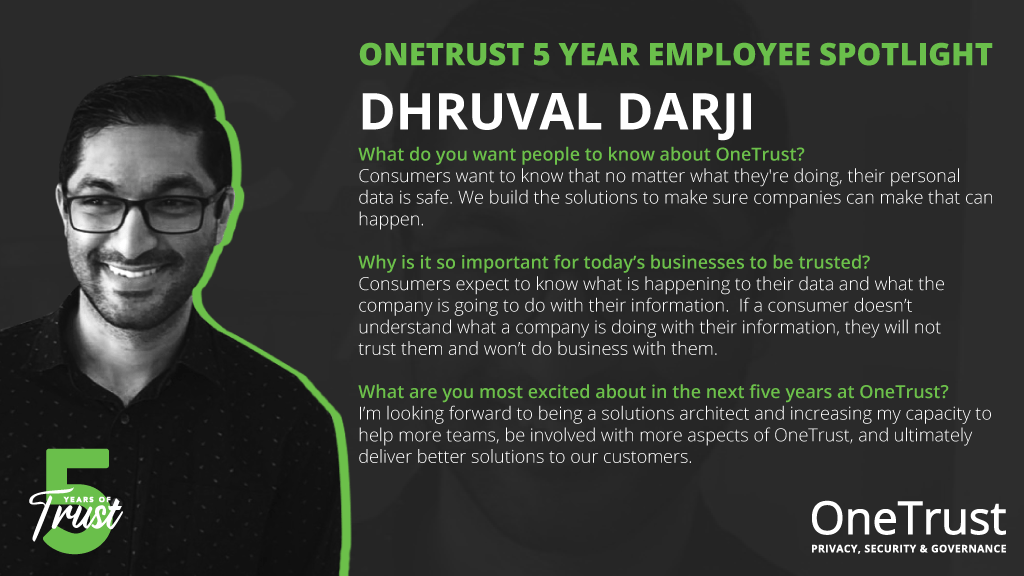 Dhruval Darji 
Our next feature in our Employee Spotlight series is Dhruval Darji, Senior Software Engineer at OneTrust. Dhruval has a hand in every aspect of the OneTrust platform development to ensure that our customers have the tools they need to operationalize trust . He has been an employee since OneTrust's founding and is passionate about helping his team discover new solutions. Dhruval discussed his journey with us and remarked, "You always know that no matter what you do at OneTrust, you're always helping somebody."
What do you want people to know about OneTrust?
Consumers want to know that no matter what they're doing, their personal data is safe. OneTrust builds the solutions to make sure companies can make that can happen.
Why is it so important for today's businesses to be trusted?
Consumers expect to know what is happening to their data and what the company is going to do with their information.  If a consumer doesn't understand what a company is doing with their information, they will not trust them and won't do business with them.
What are you most excited about in the next five years at OneTrust?
I'm looking forward to being a solutions architect and increasing my capacity to help more teams, be involved with more aspects of OneTrust, and ultimately deliver better solutions to our customers.

Tim Wilson
We're continuing our Employee Spotlight series by featuring Tim Wilson from our ESG Offering Team. Tim was one of the first employees of OneTrust. He's been in every role, from our sole 24/7 support contact in 2016, to today helping get our new Environmental, Social, and Governance offering up and running. He recalled, "When I think about when I realized that this was a big deal, it was those first customers that we worked with were Fortune 100 customers. That's when it really started clicking for me that this was going to go somewhere." We sat down with Tim to learn more about his OneTrust career.
What are you most proud of during your journey with OneTrust?
What I'm most proud about looking back on my career is the work that I've done directly with our customers.
You've been here since the start of OneTrust. How would you describe your journey?
I would describe my time here at OneTrust as thrilling. With the pace that we're moving, things happen so quickly that every single month we have a great achievement that we all can celebrate.
What would you say to someone considering a career with OneTrust?
Working at OneTrust is rewarding. At a lot of other companies, the only way where you're going to be moving up in an organization is if the person above you changes jobs or moves to a different company. That's not the case here. Because of the growth at OneTrust there are always a lot of new opportunities!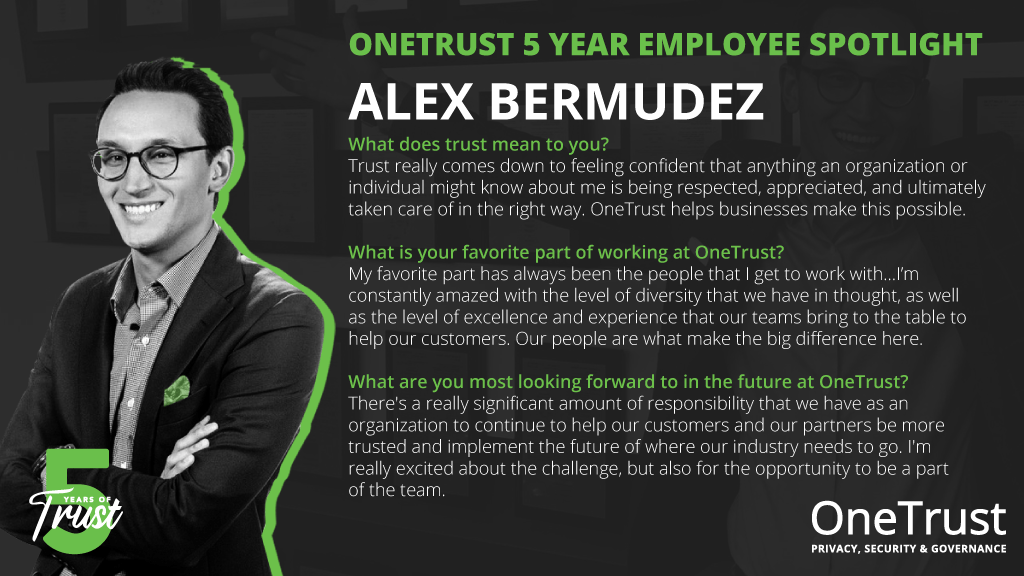 Alex Bermudez
We're kicking off our employee spotlight series by featuring Alex Bermudez, Sales and Offering Manager for Latin America. Alex oversees day-to-day operations for sales and business development and collaborates with customers, internal product teams, and internal sales and engineering teams to gauge customer demand and regulatory changes. He has been with the company for almost 5 years and is passionate about using customer feedback to achieve operational excellence. We sat down with Alex to discuss his time with OneTrust, where he shared that "it's been such an incredible journey, but I think what I'm most looking forward to is the journey."
What does trust mean to you?
What trust really comes down to is really feeling confident that anything an organization or individual might know about me is being respected and appreciated and ultimately taken care of in the right way. OneTrust helps businesses make this possible.
What is your favorite part of working at OneTrust?
My favorite part has always been the people that I get to work with…I'm constantly amazed with the level of diversity that we have in thought, and the level of excellence and experience that our teams bring to the table to help our customers. Our people are what make the big difference here.
What are you most looking forward to in the future at OneTrust?
There's a really significant amount of responsibility that we have as an organization to continue to help our customers and our partners be more trusted and implement the future of where our industry needs to go. And I'm really excited about the challenge, but also for the opportunity to be a part of the team.