During this time, we would like to celebrate employees who have been with us over the five years we have grown as a company.  We sat down with these remarkable people and asked them about their journey with OneTrust. 

Tim Wilson
We're continuing our Employee Spotlight series by featuring Tim Wilson from our ESG Offering Team. Tim was one of the first employees of OneTrust. He's been in every role, from our sole 24/7 support contact in 2016, to today helping get our new Environmental, Social, and Governance offering up and running. He recalled, "When I think about when I realized that this was a big deal, it was those first customers that we worked with were Fortune 100 customers. That's when it really started clicking for me that this was going to go somewhere." We sat down with Tim to learn more about his OneTrust career. 
What are you most proud of during your journey with OneTrust? 
What I'm most proud about looking back on my career is the work that I've done directly with our customers.  
You've been here since the start of OneTrust. How would you describe your journey? 
I would describe my time here at OneTrust as thrilling. With the pace that we're moving, things happen so quickly that every single month we have a great achievement that we all can celebrate.  
What would you say to someone considering a career with OneTrust? 
Working at OneTrust is rewarding. At a lot of other companies, the only way where you're going to be moving up in an organization is if the person above you changes jobs or moves to a different company. That's not the case here. Because of the growth at OneTrust there are always a lot of new opportunities!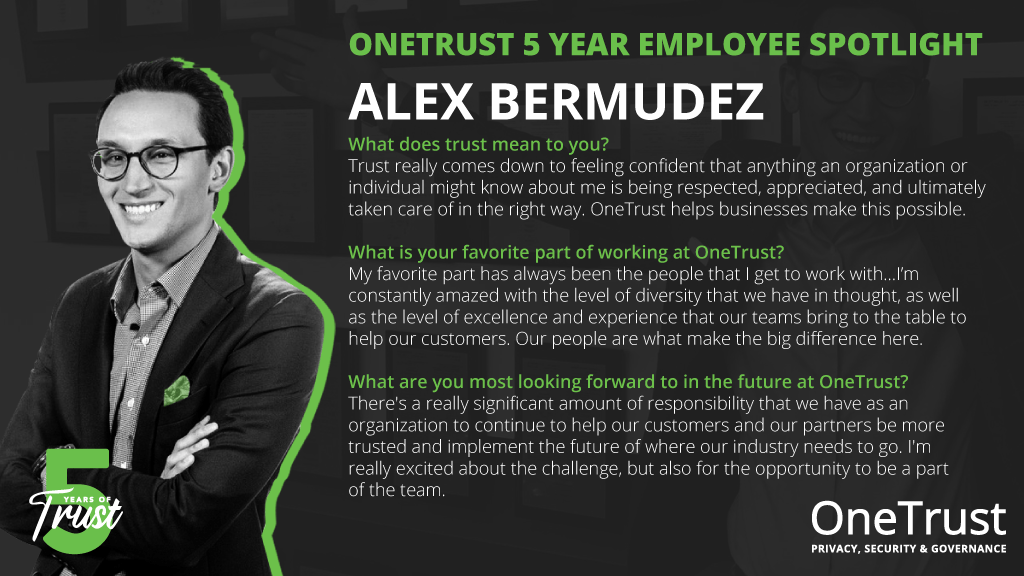 Alex Bermudez
We're kicking off our employee spotlight series by featuring Alex Bermudez, Sales and Offering Manager for Latin America. Alex oversees day-to-day operations for sales and business development and collaborates with customers, internal product teams, and internal sales and engineering teams to gauge customer demand and regulatory changes. He has been with the company for almost 5 years and is passionate about using customer feedback to achieve operational excellence. We sat down with Alex to discuss his time with OneTrust, where he shared that "it's been such an incredible journey, but I think what I'm most looking forward to is the journey." 
What does trust mean to you? 
What trust really comes down to is really feeling confident that anything an organization or individual might know about me is being respected and appreciated and ultimately taken care of in the right way. OneTrust helps businesses make this possible.  
What is your favorite part of working at OneTrust? 
My favorite part has always been the people that I get to work with…I'm constantly amazed with the level of diversity that we have in thought, and the level of excellence and experience that our teams bring to the table to help our customers. Our people are what make the big difference here. 
What are you most looking forward to in the future at OneTrust? 
There's a really significant amount of responsibility that we have as an organization to continue to help our customers and our partners be more trusted and implement the future of where our industry needs to go. And I'm really excited about the challenge, but also for the opportunity to be a part of the team.