OneTrust Targeted Data Discovery™
Automate the Fulfillment of Data Subject Rights (DSAR) & Consumer Requests
OneTrust Targeted Data Discovery™
Global privacy laws, like the CCPA and GDPR have changed the way organizations must respond to data subject and consumer rights requests.
These laws spurred by the growing frequency of data breaches and an increasing use of personal data by corporations have created many challenges for organizations responding to consumers requests of personal data. As a result, organizations need an efficient way to discover the data they have on these individuals across their IT ecosystem and retrieve it to fulfill consumer data requests to adhere to these regulations.
Additionally, organizations need the ability to scale these efforts and automate the fulfillment process in the event of a large influx of requests.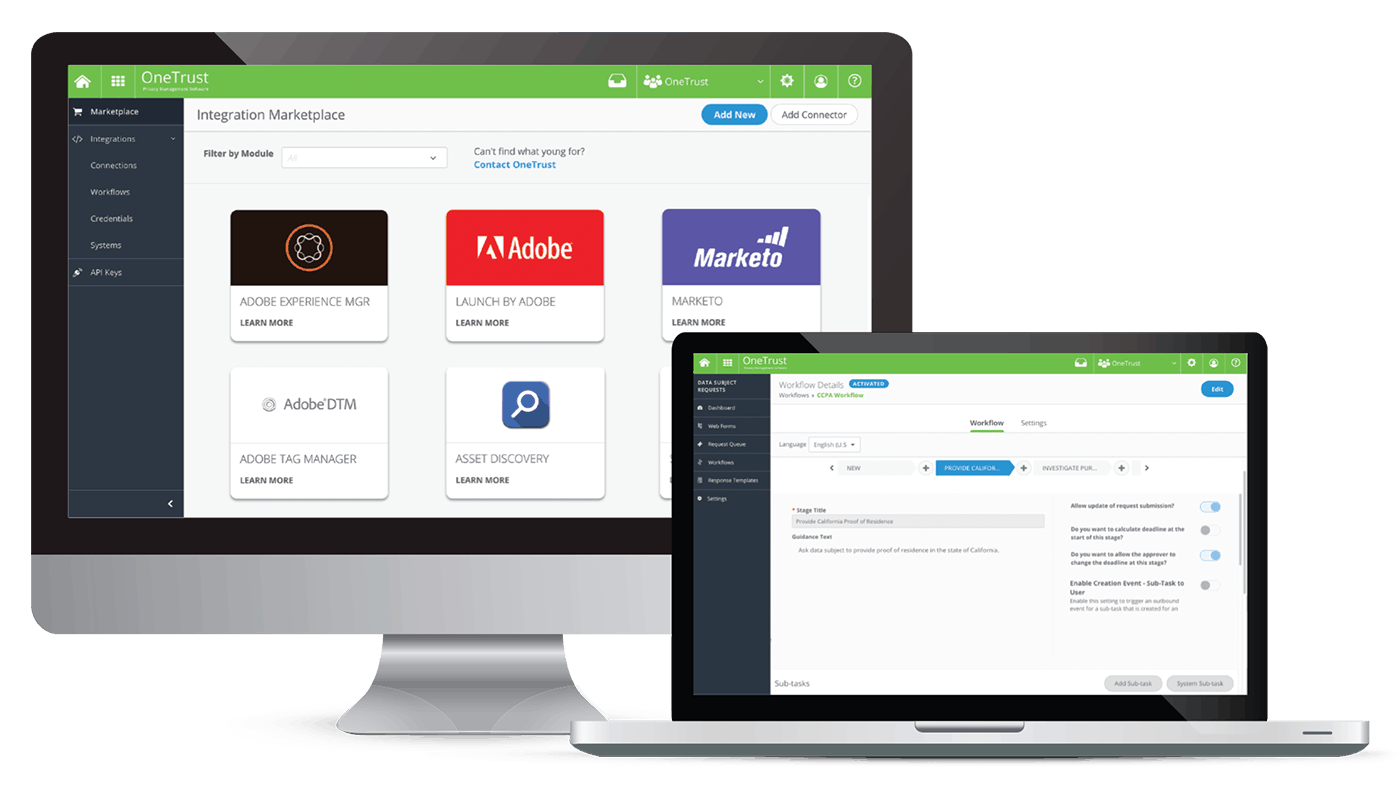 OneTrust Targeted Data Discovery Solution
Targeted Data discovery takes complex data and structures it in ways that allows businesses to retrieve and understand what data they hold and see how it is used throughout their organization. It also gives these businesses the ability to take necessary actions on the data for proper request fulfillment to demonstrate compliance against the global regulations. The Targeted Data Discovery solution integrates directly with the OneTrust Consumer and Data Subject Rights Management solution to help find and retrieve information across systems for fully automated and faster request fulfillment.​
The OneTrust Targeted Data Discovery solution is designed to integrate with industry-leading third-party IT service management tools including hundreds of pre-integrated solutions in the OneTrust Integration Marketplace. Organizations can also build their own integration using OneTrust's developer portal or professional services. The Targeted Data Discovery solution process works across multiple IT systems in parallel, both in-cloud or on-premise, and can be used to access, delete, port, or take other actions on the identified data directly in the backend system.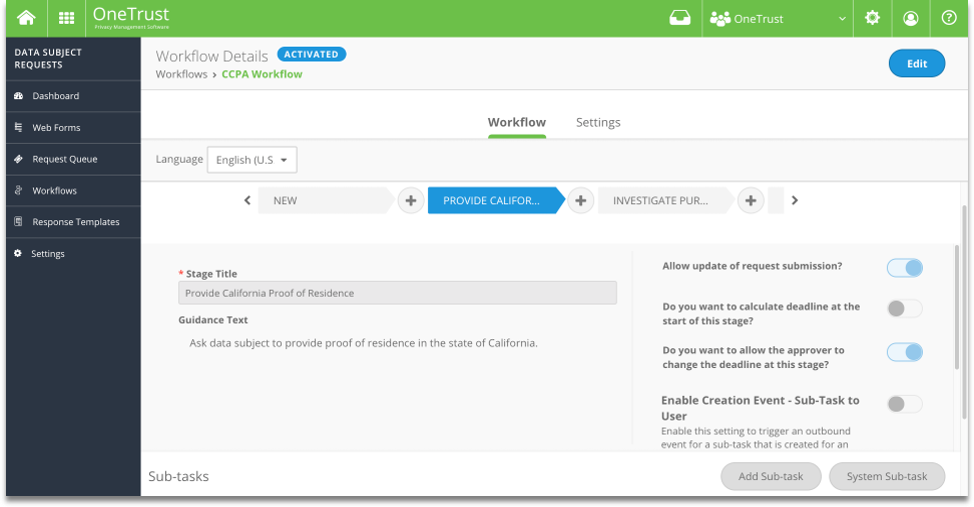 Automate the Fulfillment of Data Subject Rights (DSAR) & Consumer Requests
Maintain global records of processing activities for GDPR, CCPA, and global privacy compliance.
Automatically "lookup" individual's data across cloud-based and on-premise systems.
Maintain security standards with data review, redaction, and approval workflows.
Leverage pre-integrated systems or use the OneTrust Open API Framework to create your own.
Automatically Find and Retrieve Targeted Data from Your IT Systems
Integrate with third-party IT tools and automatically  discover and retrieve personal data across platforms.
Discover and sync IT system inventories from CRMs, Marketing Automation, CASBs, CMDBs, and more.
Automatically detect metadata within IT systems and add it to your OneTrust data element inventory.
Receive custom alerts and trigger actions when new systems or data elements are detected.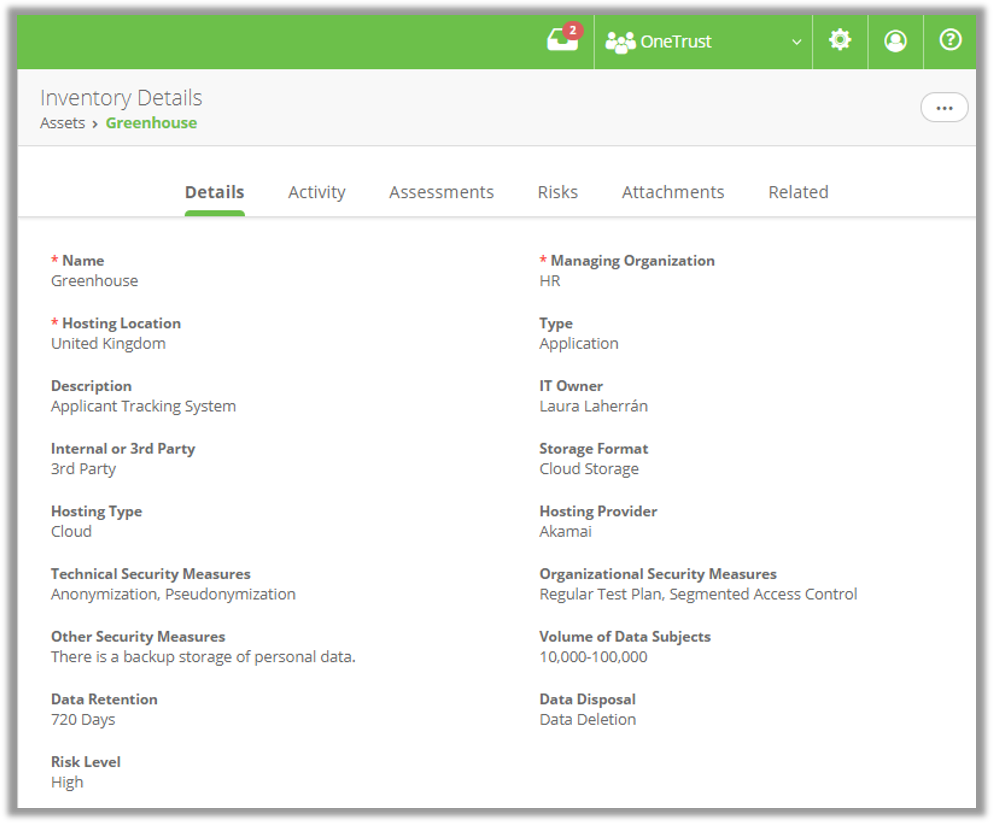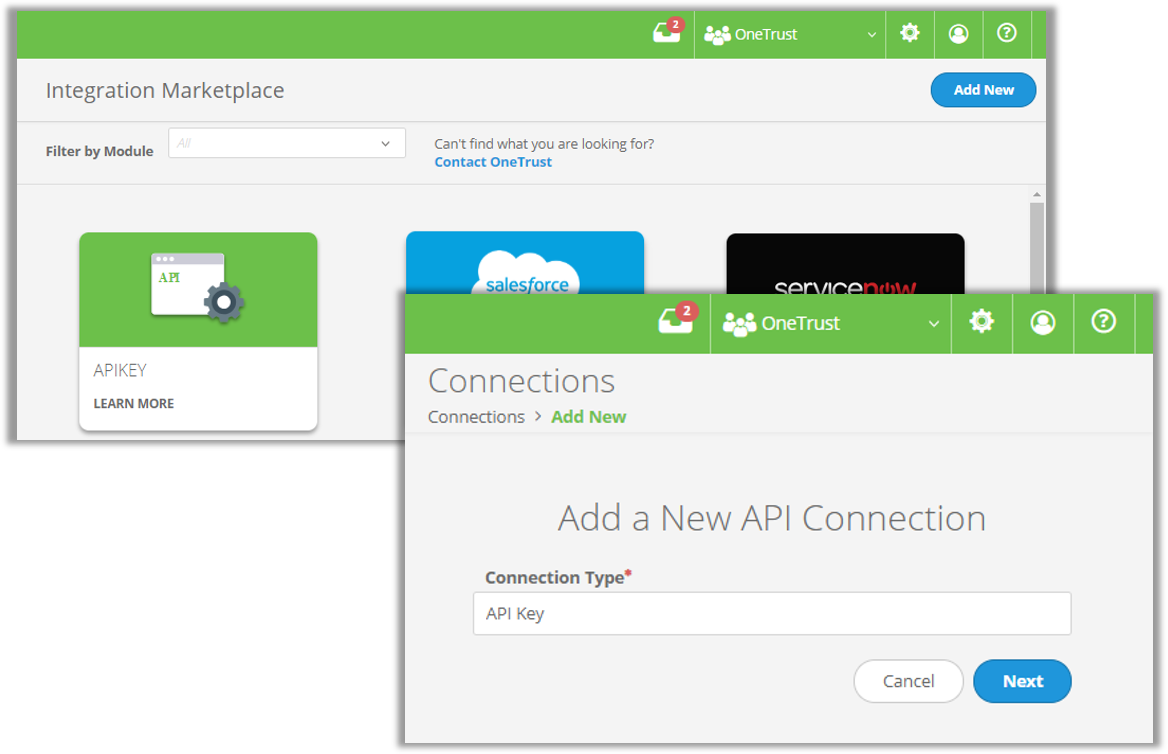 Leverage a Powerful API Workflow Engine
Enable an API workflow engine that allows multiple API calls to backend systems.
Leverage AI and machine learning to detect movement and storage of data across systems.
Create manual reviews and redaction steps that can be inserted prior to responding to requests.
Gain a holistic view of your data by identifying how it's used and where it flows through your organization.
Expand Additional Use Cases with the OneTrust Traditional Data Discovery Partner Program
Generating and maintaining data maps takes a multi-faceted approach, and since many organizations leverage existing data discovery solutions to identify systems and data it holds, OneTrust launched the OneTrust Data Discovery Partner Program with a number of diverse providers of data discovery solutions. An up-to-date list of Data Discovery partners can be found on the OneTrust Integrations Marketplace website. When data discovery scans are synced into OneTrust, companies can reconcile and validate that the proper information is residing in OneTrust, add new systems and data found in the scan, and trigger additional fact finding within OneTrust to enrich the information found via the discovery solution.    
OneTrust "Hackathon"
Custom Mock Build-Out and Walk-Through of OneTrust In-Action for your Business
The OneTrust Hackathon allows business to see a custom, in-person build-out of OneTrust specifically for their business needs. Businesses gain access to two full-time OneTrust resources onsite for a week and get live Q&A with all stakeholders in the room as you discuss business outcomes, define a success plan, set criteria for success and build-out logic and webforms.
Hackathon gives businesses insight to best practices of how similar companies are approaching the same business challenges and is an opportunity to see exactly how OneTrust will benefit your business before having to 100% fully commit.
Full integration of your top 3 systems
Whiteboarding sessions, demos & configuration
Documentation of system integration architecture
All work completed throughout Hackathon is reusable
Cost credited to implementation if purchased
Hackathon gives businesses insight to best practices of how similar companies are approaching the same business challenges. Hackathon is an opportunity to see exactly how OneTrust will benefit your business before having to 100% fully commit. ​
Why Over 3,000 Customers Choose OneTrust
Most
Comprehensive

Technology
300 Member R&D Team Driving Product Innovation with 44 Patents Awarded
World-Class
Privacy

Research
Over 100 Certified Privacy Professionals In-house with Continuous Regulatory Research
Expert
Global

Services
Multi-lingual, 100 Person Implementation Team, and Large Partner Network to Support Privacy Initiatives
Large
Active User

Community
Thousands of Members Sharing Best Practices in 40 Global PrivacyConnect Workshops