Schrems II Fallout Continued: Finalised SCCs Released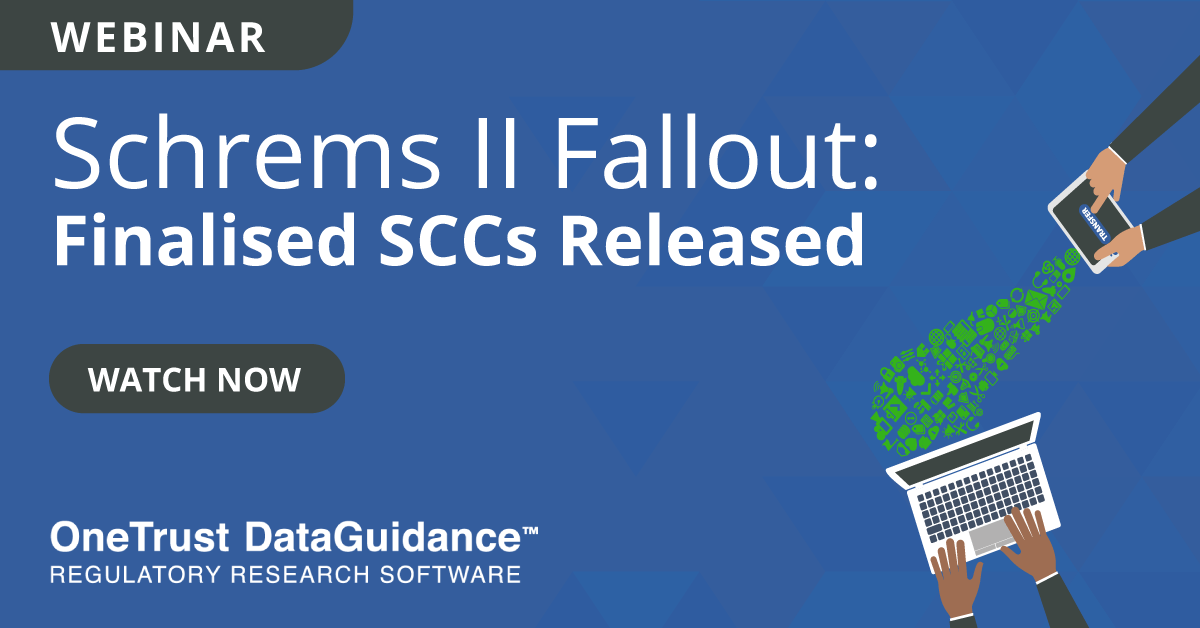 For the first time in a decade, the European Commission has just issued new and finalised international data transfer agreements, known as Standard Contractual Clauses ('SCCs'), which international companies will now need to put in place. SCCs represent the most common transfer mechanisms that international companies rely on. With organisations seeking to comply with the CJEU's decision in Schrems II, coupled with an overhaul of existing contracts resulting from new SCCs, this development will be of key importance for companies.
Watch as OneTrust DataGuidance, Sidley, and an expert panel provide a practical analysis on the new SCCs and answer the key questions for organizations in understanding the future of international data flows. In this webinar, we are joined by a cross-industry panel including William Long, Partner at Sidley, Caroline Louveaux, CPO – MasterCard, Tina Maisonneuve, CPO – Nokia, Chris Foreman, CPO -Merck Sharp & Dohme, Monika Tomczak-Gorlikowska, CPO – Prosus, and Lara Liss, CPO – Walgreens Boots Alliance.
Key Takeaways will include:
In-depth reaction and analysis of the new SCCs
What are key changes with the new SCCs and the initial draft
When do companies need to implement them
How to plan for international data transfers over the next few months
Upon submitting the form, you will also gain access to this webinar's presentation deck.