March 8, 2022
Celebrating Women in Sustainability on International Women's Day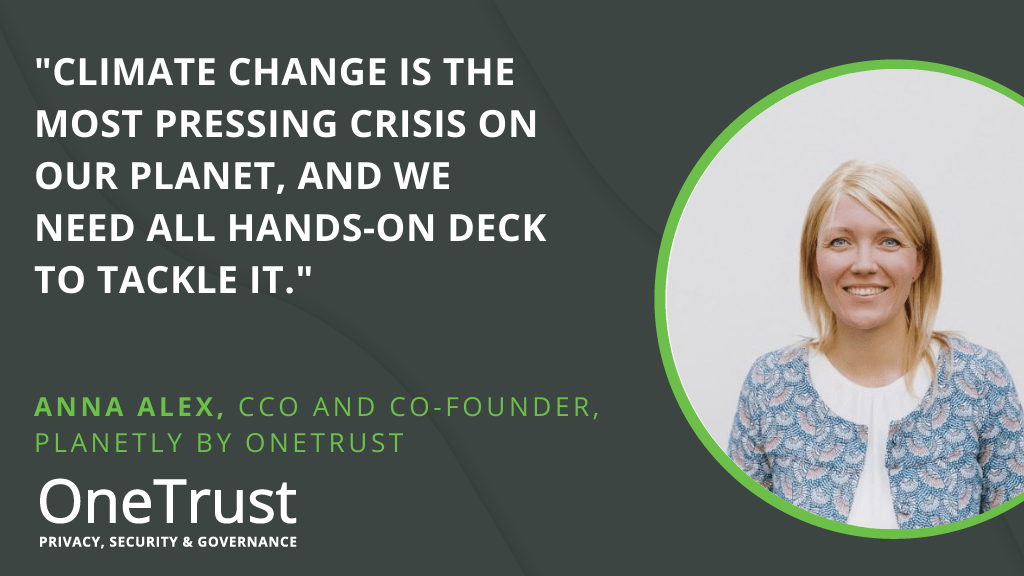 In honor of International Women's Day 2022, we're celebrating women in sustainability, both globally and in our own OneTrust community. Gender equality is a fundamental human right, and is also necessary for a peaceful, prosperous, and sustainable world, as outlined in the United Nations Sustainable Development Goals. Achieving true sustainability depends on empowering marginalized groups by supporting innovation and hearing their voices.
Watch the webinar: Key Steps to Building a Successful ESG & Sustainability Program
Break the bias in 2022
International Women's Day (IWD) is celebrated on March 8 annually. Since the beginning of the 20th Century, it has been a day of celebration around the world, highlighting the achievements and contributions that women make globally. Importantly, it is also a day to recognize issues around gender inequality and drive action towards gender equality.
The theme for IWD in 2022 is 'break the bias'. Bias, whether conscious or unconscious, is a huge hurdle to overcome as we work to achieve gender parity. The ever-pressing climate crisis disproportionately affects women, and requires commitment from everyone around the world, from governments, from businesses, and from communities to create a sustainable future. In support of breaking the bias, we want to recognize the important contributions of women as decision-makers, innovators, and experts, and their vital role in creating successful, long-term climate solutions.
Why women's empowerment is essential for sustainable development
Climate change presents a wholly unique and pressing challenge, and the impacts affect men and women differently across communities. The results of climate change unsurprisingly hit the poor and more vulnerable hardest, and as women make up 70% of the world's poor, they bear the greatest burden of negative climate outcomes. In many societies women shoulder greater responsibility for food production and water collection, as well as sourcing fuel for both heating the home and for cooking – all of which are becoming increasingly difficult thanks to the effects of climate change. Importantly this also means that women have the relevant knowledge about the adaptations needed to combat challenging environmental conditions. Women's innovation plays a vital role in climate change mitigation, both through their knowledge and stewardship of natural resources within their communities.
A genuine commitment to sustainability must encompass everyone, no matter where they live, what they do, or their gender. Non-inclusive climate action will be more likely to include bias and not be representative of the people the initiatives are there to support.
Businesses have a responsibility to remove barriers that prevent innovation and progress towards equitable sustainable development – when equality and representation grow, we see more innovation, and more inclusive development.
Women in sustainability at OneTrust
Innovation is what OneTrust is built on, founded to help organizations grow their business while respecting the human right to privacy. As OneTrust grows, we're leading new ways to create positive impact on people, communities, and the planet, and this innovation is possible thanks to an empowered global team.
Climate change is a peril we all face, and the solutions require dedication, innovation, and passion. Anna Alex, CCO and co-founder of Planetly by OneTrust embodies these qualities, which is perhaps what makes her such a powerful force in the drive towards a more sustainable future. According to Anna, "Climate change is one of the, if not the greatest, threats of modern times. It is the biggest challenge for mankind and has at the same time become a great opportunity for businesses to tackle."
In Anna's role she strives for climate impact. As she learned more about the climate crisis, she saw two important elements were lacking: transparency and digital tools to support accountability. Her natural reaction as a tech entrepreneur was to build a tech solution to solve the problem at its core. For Anna, impact is an equation of purpose and scale, and with this in mind, she hopes to inspire other innovators to use their skills to work on the UN Sustainable Development Goals.
As a woman in business, Anna is no stranger to bias against women, particularly when it comes to looking for investment: "From a founder's perspective, we need more female investors to make sure that female founders have access to the same amount of venture capital as male founders. We all know that, due to unconscious bias, women receive far fewer investments than men. We need to close that gap. Having more female investors on partner level would make a huge difference."
A more level playing field provides more opportunities for women to innovate and be part of the climate solution, and as we all know, tackling climate change isn't an option, it's a must.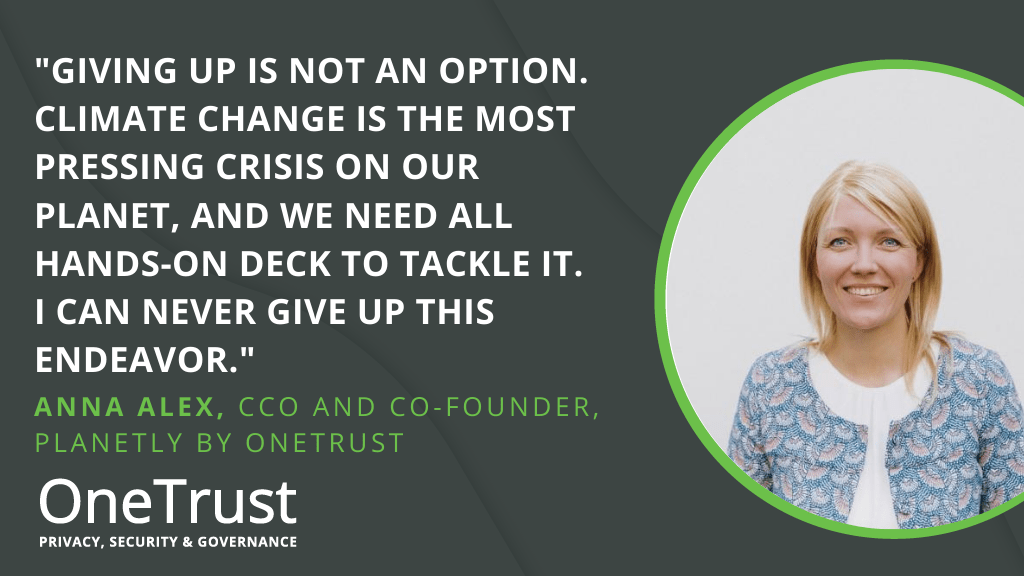 Growing women's leadership in sustainability
Breaking down bias and empowering women in sustainability (and all industries) doesn't have a simple fix. It requires education, professional development, as well as organizational commitment to provide equal opportunities and recognition. Businesses need to look inward to see how their values of diversity, equity, and inclusion are coming to life.
In 2020, as part of our work to see OneTrust's values represented in all areas of the business, OneTrust launched a Diversity, Equity & Inclusion (DE&I) Council to help promote an inclusive and innovative environment. Creative ideas, unique perspectives, and diverse backgrounds are part of what allow OneTrust to be so innovative, and the Council works to inspire people to be their most authentic selves.
The Council has enabled the launch of Employee Trust Groups (ETGs) where advocates, allies, and interested teammates can grow a sense of community and participate in learning that strengthen our OneTrust culture. The [email protected] ETG strengthens our global community of women in tech. Through events, networking opportunities and a culture of raising each other up, the ETG helps to foster a truly inclusive culture of support for women in technology.
Supporting sustainability and gender equality
Gender equality isn't just an issue for March – the impacts are felt all year round, all over the world, so let's continue to celebrate the important contributions that women make in the fight against climate change. Recognizing that truly great innovation comes from a diverse and accepting environment can help businesses understand the opportunity and take more responsibility for removing the barriers to progress.
To learn more about driving success in ESG and sustainability, watch the webinar: Key Steps to Building a Successful ESG & Sustainability Program.
Tags: