March 21, 2022
5 Things to Know About Forthcoming SEC ESG Disclosures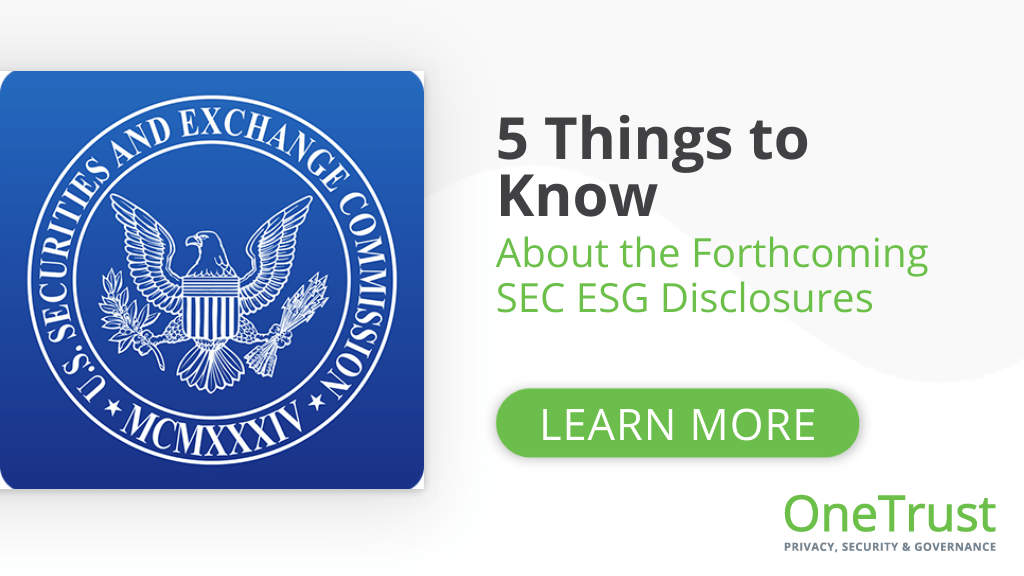 Helping investors make better decisions may be the driving force. But the punchline is that the U.S. may be moving closer to mandated Environmental, Social, and Governance (ESG) disclosures for the first time. On March 21, the Securities and Exchange Commission (SEC) issued a proposed ESG disclosures rule that would require public companies to disclose their greenhouse gas (GHG) emissions and other climate change risks. Let's break down what that means for businesses.
Download the fact sheet to learn more: What You Should Know About the Proposed SEC Disclosure Rules.  
1. Does the SEC require ESG disclosures? What's new?
To date, the SEC has not established any laws around ESG disclosures but did publish environmental financial risk guidance in 2010. Since then, investors have become increasingly concerned about climate-change related risks such as how natural disasters may affect a company's supply chain or growth. In response to investor concerns, on March 21, 2022, the SEC proposed rule amendments that would require public companies to issue ESG disclosures for climate change risks. Most publicly traded companies already voluntarily disclose sustainability data aligned to major reporting frameworks such as the Task Force on Climate-Related Financial Disclosures (TCFD), CDP, SASB, or GRI. But it's still a challenge for investors to compare apples to apples as businesses can cherry pick what to share. The new climate disclosure rule, if adopted, would require businesses to measure and disclose greenhouse gas (GHG) emissions and climate-related business risks in a standardized way for the first time.
2. Why is the SEC making this new climate reporting proposal now?
According to SEC Chair, Gary Gensler, investors are looking for more consistent, comparable, and decision-useful information about the climate risk of the companies in which they invest. He also points out that 75% of the public comments the SEC received last year related to the issue supported mandatory climate risk disclosure. Many countries already have climate disclosure regulations in place such as the European Union, Singapore, Japan, and more. There are currently over 2,589 climate laws and policies in place globally.
Gensler added that today's investors make decisions based on a company's ability to generate future profits. If climate change risks effects a company's future earnings, investors have an incentive to learn as much about that risk as possible before their trade.
3. What will the new SEC climate disclosure rule mean for my organization?
The Securities and Exchange Commission proposed rule amendments would require domestic or foreign publicly traded companies registered in the U.S. to disclose climate-related information, including:
Climate risks and their actual or likely material impacts on business, strategy, and outlook.
Governance of climate-related risks and relevant risk management processes.
Greenhouse Gas emissions, some of which would be subject to assurance for accelerated and large accelerated filers. This potentially includes both direct (Scope 1) and indirect GHG (Scope 2) emissions.
Climate-related financial metrics and related disclosures in a note to audited financial statements.
Climate-related targets and goals, along with a transition plan if any.
The proposed rule would likely apply a reporting framework similar to broadly accepted disclosure frameworks such as TCFD and SASB, and adherence to a calculation methodology such as GHG Protocol. It would also provide a safe harbor for liability from Scope 3 emissions disclosure and an exemption from the Scope 3 emissions disclosure requirement for smaller reporting companies (SRC).
4. Which companies will the new SEC climate disclosure rule apply to?
If the proposed rules are adopted with an effective date in December 2022, companies will be phased into the new climate reporting requirements from fiscal year 2023 to fiscal year 2027 according to the following table. For reference, SEC generally categorizes the registrant types by company size:
Large accelerated filer: Initial public float of $700 million or more.
Accelerated filer: Initial public float of $75-699 million.
Non-accelerated filer and smaller reporting company (SRC): Initial public float of less than $75 million.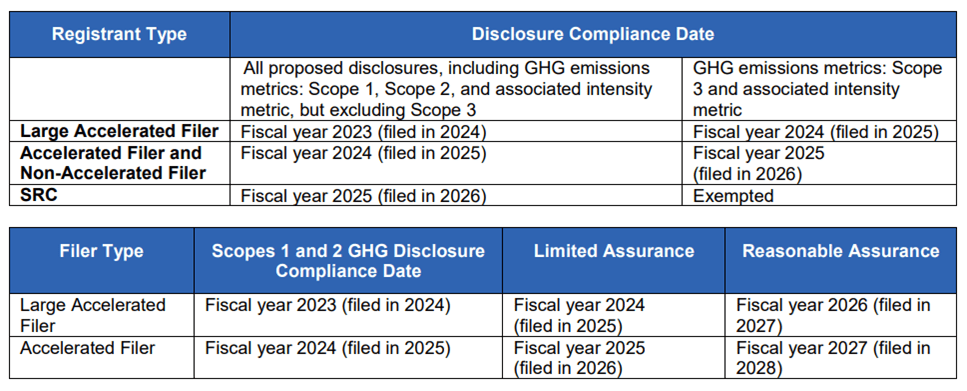 5. When will the new SEC climate disclosure rules be enacted into law?
The proposed rule change will be open to public comment for at least 60 days before the SEC starts work on the final rule. The rule could go into effect as early as fourth quarter 2022, but the SEC may face opposition from businesses, particularly around disclosing Scope 3 emissions.
Download the infographic and fact sheet to learn more about the proposed SEC disclosure rules. 
You may also be interested in reading The Guide for Setting Corporate Climate Goals to get started with your ESG program.
Tags: