June 23, 2022
Trust Geek Glossary: SBTi – Science Based Targets initiative
How to leverage the SBTi Net Zero Standard for your corporate climate action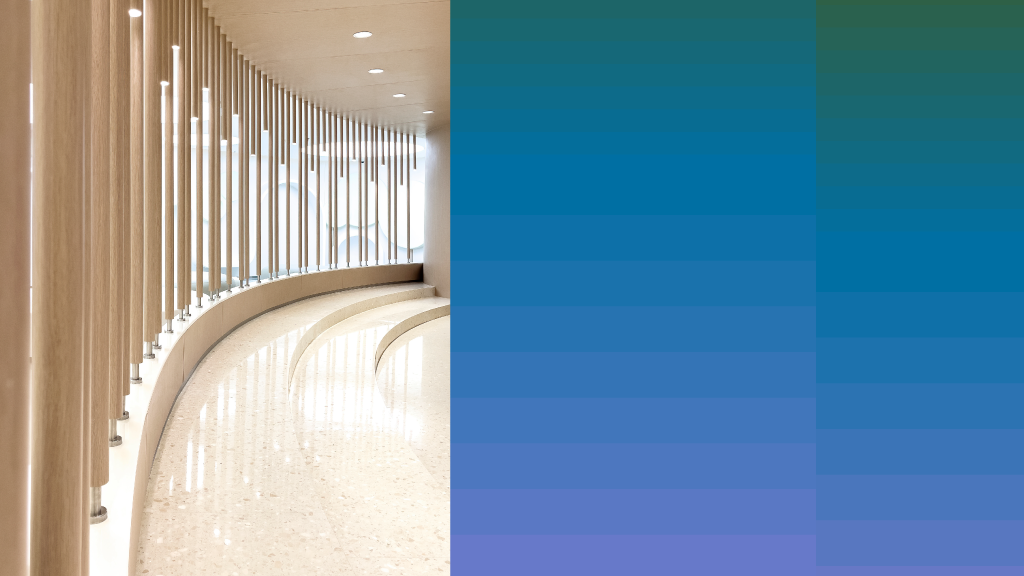 If you caught the first three editions of our Trust Geek Glossary series, you should already be well-versed in sustainability reporting frameworks like CDP, SASB, and GRI. But you may be wondering about some terms you've heard around corporate climate action such as GHG, CO2, or science-based targets. Today we're going to get you up to speed on the SBTi Net Zero Standard. Key questions we'll look at include:
Read on to learn more about SBTs!
For practical guidance on setting climate targets, download The Guide For Setting Corporate Climate Goals

What is the Science Based Target initiative (SBTi)?‍
The Science Based Targets initiative is a global coalition that promotes science-based targets (SBTs) to facilitate and strengthen business participation in the shift to a net-zero economy. The initiative is a partnership between the CDP, the World Resources Institute (WRI), the United Nations Global Compact (UNGC), and the World Wildlife Fund (WWF). It is also one of the commitments of the We Mean Business Coalition (WMB), a group of leading nonprofits that collaborates with some of the world's most influential companies to take climate action. Organizations that want to participate in SBTi must commit themselves to setting a science-based target (SBT) within two years. Since its launch in 2015, more than 3000 companies have joined the SBTi to set science-based targets.
What are science-based targets (SBTs) – SBT meaning?
SBTs are goals that organizations set to reduce their greenhouse gas (GHG) emissions in line with the Paris Agreement to mitigate the worst effects of the climate crisis. Ratified by more than 190 countries, the Paris Agreement aims to limit the rise of global temperatures to well below 2°C above pre-industrial levels while also striving for a limit of 1.5°C.
1.5°C vs 2°C world
The difference of 0.5°C has significant implications for our world as shown below.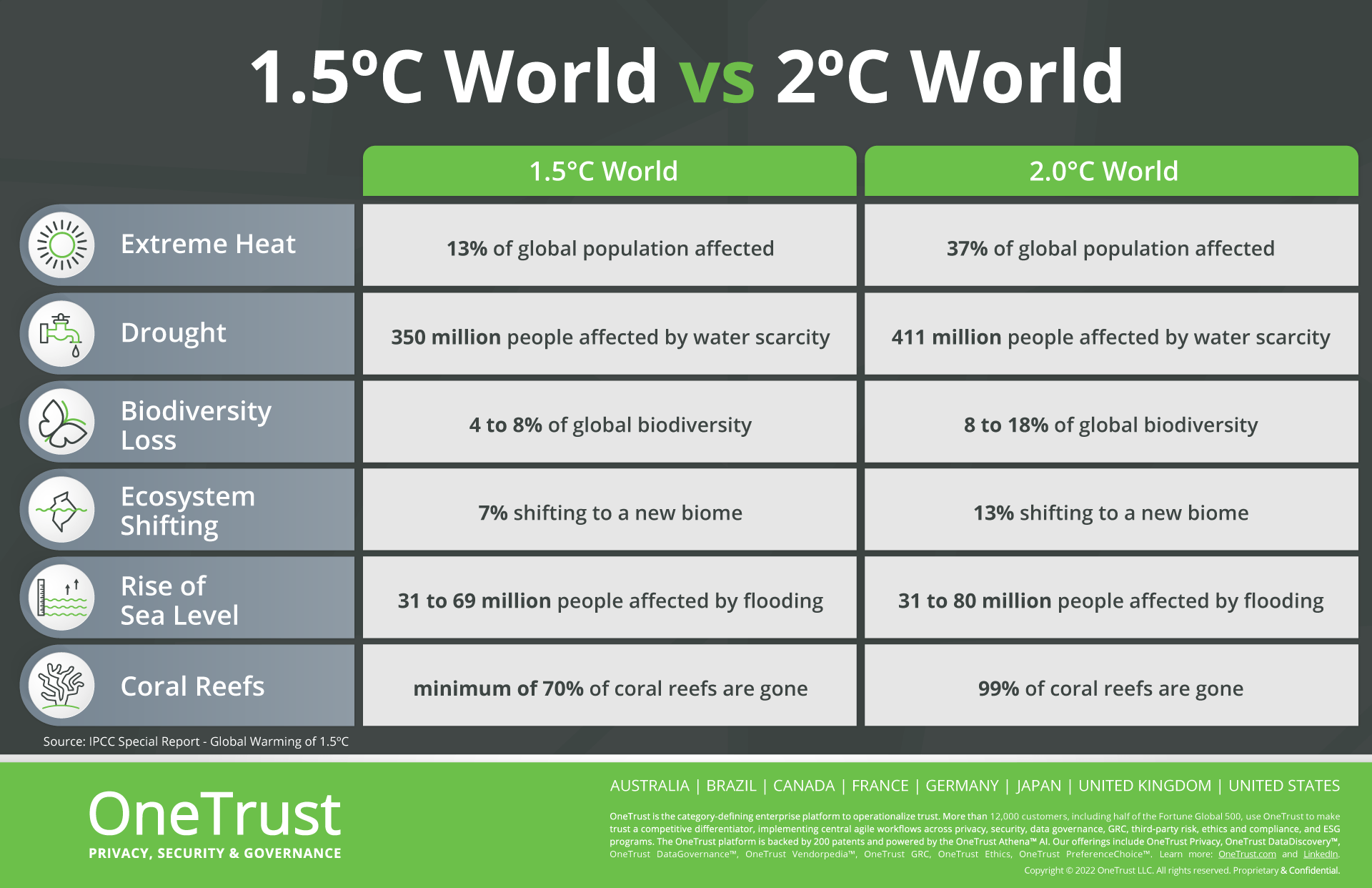 Achieving the goal of a 1.5°C world means that GHG emissions must halve by 2030 and fall to net-zero by 2050. Businesses have a key role to play in helping us get there and can do so by setting and achieving their SBTs. The overarching vision is for SBTs to become a standard best practice for companies wanting to play an active role in the transition to net zero. By embedding SBTs into their ESG program, businesses can grow their competitive advantage and visibility as a climate leader.
"Our vision is for science-based target setting to become the new normal, creating a thriving economy in harmony with the natural world that sustains us all." — SBTi
What is the SBTi Net-Zero Standard? Is it mandatory?
The SBTi Net-Zero Standard is a science-based standard for setting corporate net-zero targets that are aligned with the Paris Agreement. Launched by the SBTi in October 2021, the Net-Zero Standard provides corporations with a common, standardized pathway for their net-zero target setting through guidance, criteria, and recommendations.
"The Net-Zero Standard gives companies a clear blueprint on how to bring their net-zero plans in line with the science, which is non-negotiable in this decisive decade for climate action. Because we are running out of time." — Johan Rockström, Director of the Potsdam Institute for Climate Impact Research.
What are the four key elements of the Net-Zero Standard?
The SBTi Net-Zero Standard sets out four key elements that make up a corporate net-zero target as depicted below:
Near-term SBTs (5-10 years) need to be aligned with the 1.5°C scenario.
Long-term SBTs should target reducing emissions to a residual level in line with 1.5°C by 2050 or sooner (a minimum of -90% absolute reduction).
Mitigate beyond the value chain SBTi recommends that companies take action to mitigate emissions beyond their value chains as part of their transition to net-zero. A few ways this can be achieved include purchasing high-quality carbon offsets (e.g., REDD+ forest projects, cookstoves, renewable energy) or investing in carbon removal technologies and new climate solutions (e.g., direct air capture (DAC)).
Neutralize residual emissions that remain after achieving long-term SBTs through permanent removal and sequestration of CO2 from the atmosphere (starting from the net zero target year at the latest).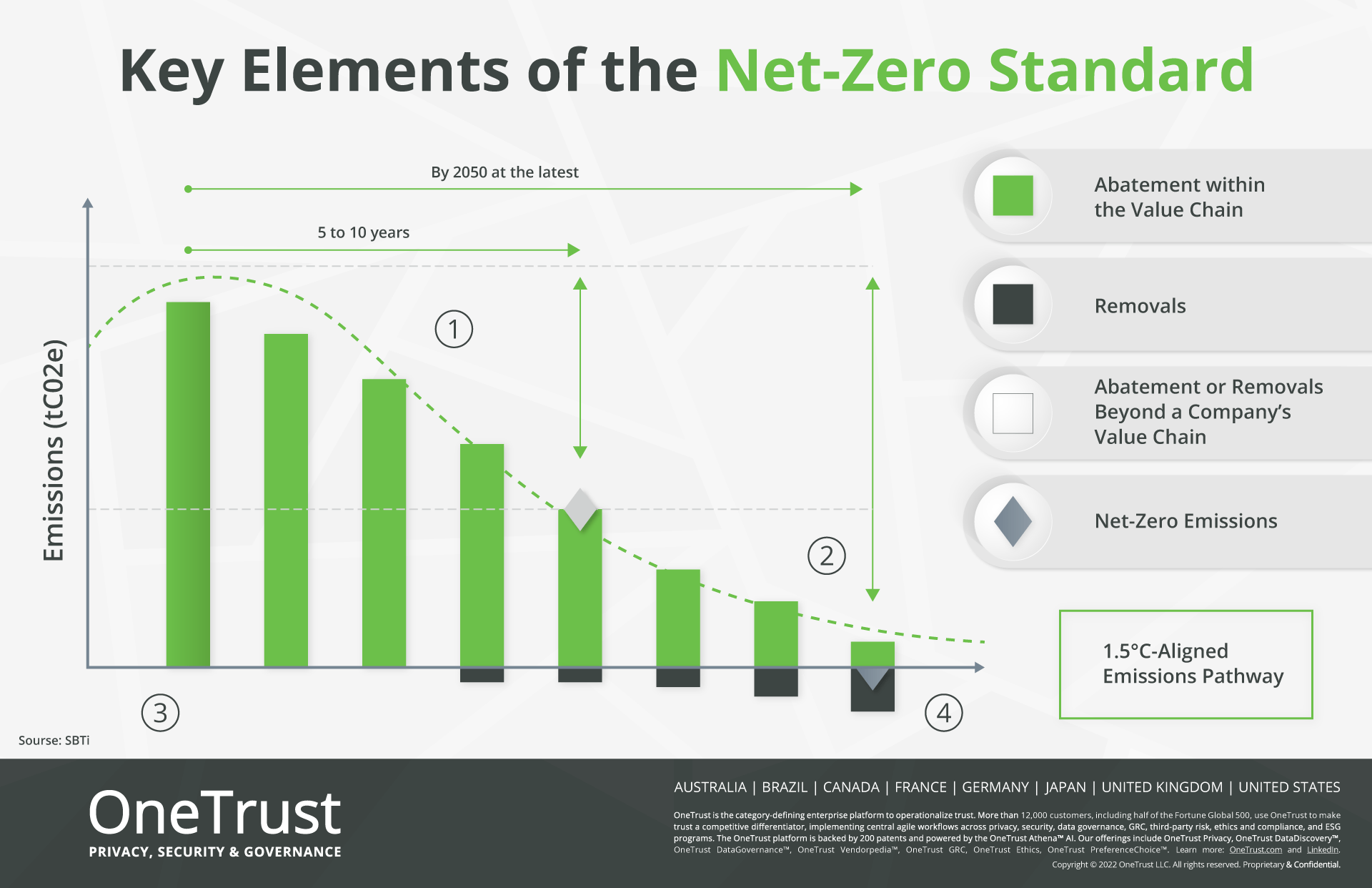 One of the core concepts of the SBTi Net-Zero Standard is a "mitigation hierarchy" that calls for companies to prioritize these elements in order. That means concentrating on reducing emissions first (#1 and #2) before focusing on mitigating emissions outside the value chain or offsetting residual emissions (#3 and #4). While #3 is optional, it is recommended.
Key requirements for business:
There are four main requirements of the SBTi Net-Zero Standard that businesses should keep in mind:
Set near- and long-term science-based targets: Focus on rapid emission cuts for the next 5-10 years. These near-term targets are a pre-requisite for long-term net-zero pledges. To meet long-term targets, reduce emissions to a residual level by 2050 that is in line with the 1.5°C scenario.
Make deep and rapid emission cuts: Emission cuts in the entire value-chain (Scope 1-3) are an essential means of limiting the rise of global temperature and a central focus of the Net-Zero Standard. According to the SBTi, most companies will require a decarbonization of 90-95% by 2050 at the latest to reach their net-zero targets under the new standard.
Don't make net-zero claims until long-term targets are met: Before businesses can credibly claim to have reached net-zero in line with the latest climate science, they need to accomplish two elements first. They need to achieve their long-term science-based target (-90 to 95% of emissions reductions) and neutralize the remaining 5-10% through carbon removal projects from the target year onward.
Focus on emission mitigation outside the value chain: Although carbon credits cannot be counted toward target progress, the SBTi also strongly urges companies to invest in emission reductions outside their value chain. This helps support projects that reduce carbon emissions and accelerate the transition to a net-zero world. Although CO2e reduction should still be the focus – and the major point of investment – the SBTi acknowledges the role of compensation projects within climate change mitigation.
"Companies are currently self-defining net-zero targets without credible and independent assessment of their ambition and integrity. For the first time, the SBTi Net-Zero Standard offers companies robust certification to demonstrate […] that their net-zero targets are reducing emissions at the pace and scale required to keep global warming to 1.5°C." – Alberto Carrillo Pineda, Co-Founder and Managing Director of the SBTi
Who uses the SBTi Net-Zero Standard?
The Net-Zero Standard is intended for businesses of all sizes and sectors (except oil and gas), wishing to set science-based net-zero targets through the SBTi. Sector-specific pathways are available or in development for a variety of sectors, including transport, aviation, apparel and footwear, chemicals, and ICT. Specific requirements and frameworks have also been developed for some industries such as financial institutions and the power sector. Public sector organizations and nonprofits are currently not included in the target assessment of the SBTi, although the Science Based Targets Network (SBTN) offers some guidance to help cities set climate SBTs.
The number of companies submitting targets has risen steadily over the years. As of October 2022, there are nearly 4,000 companies participating. Companies such as The Economist Group, Adobe, Dentsu, and Tetra Pak are just a few examples of businesses that have already submitted or received validation for a science-based target. According to the latest SBTi Progress Report, organizations that are committed to eliminate emissions in line with climate science now represent about $38 trillion of global economy.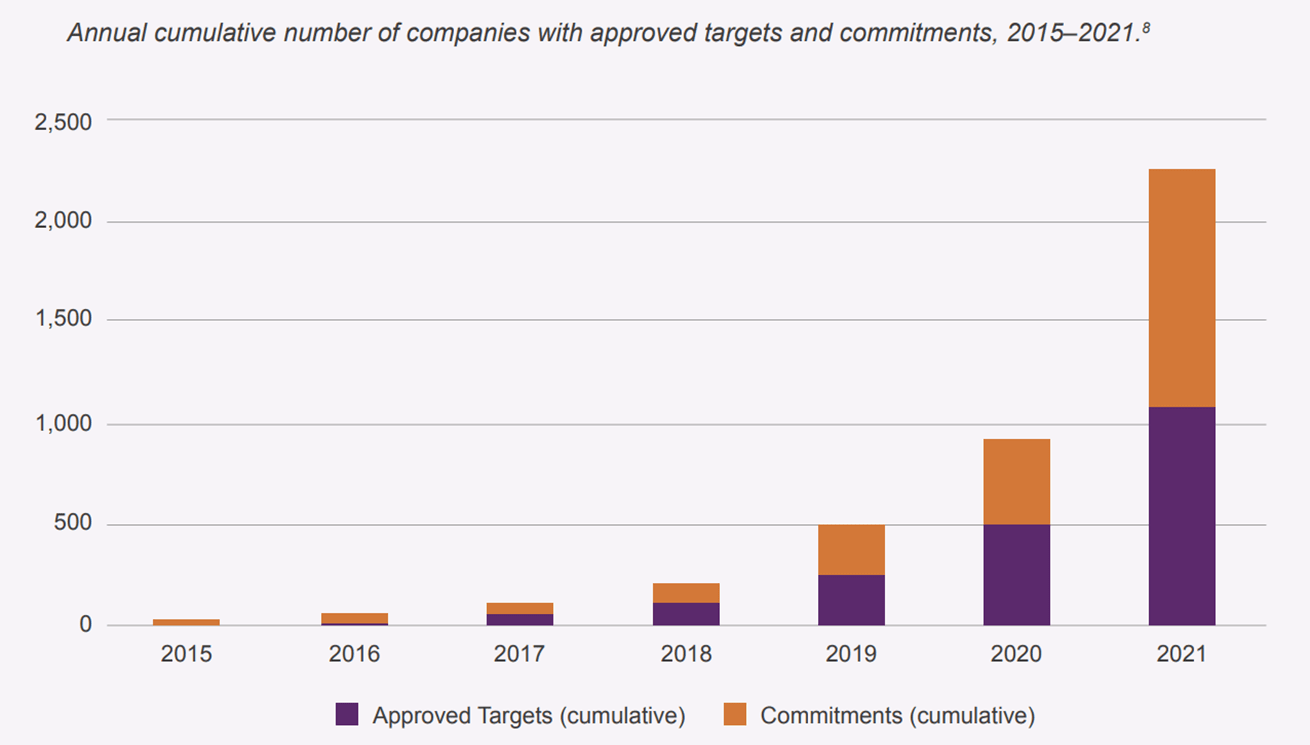 Source: SBTi
How can companies set science-based targets?‍
There are 5 basic steps companies should follow to set a science-based target. Additional resources that can help include SBTi's guide to getting started and the UN Global Compact's course on how to set a science-based target. There is also a streamlined path for small and medium businesses (less than 500 employees).
Commit: Register online and submit a standard commitment letter to the SBTi declaring your intention to set a science-based target.
Develop: Start developing your reduction target following the SBTi criteria. You have 24 months between the submission of the commitment letter and the submission of your target.
Submit: Present your target to the SBTi for official validation.
Communicate: Announce your target and share the approval with your stakeholders
Disclose: Report on your company's emissions and progress against your set target (e.g., through CDP disclosures).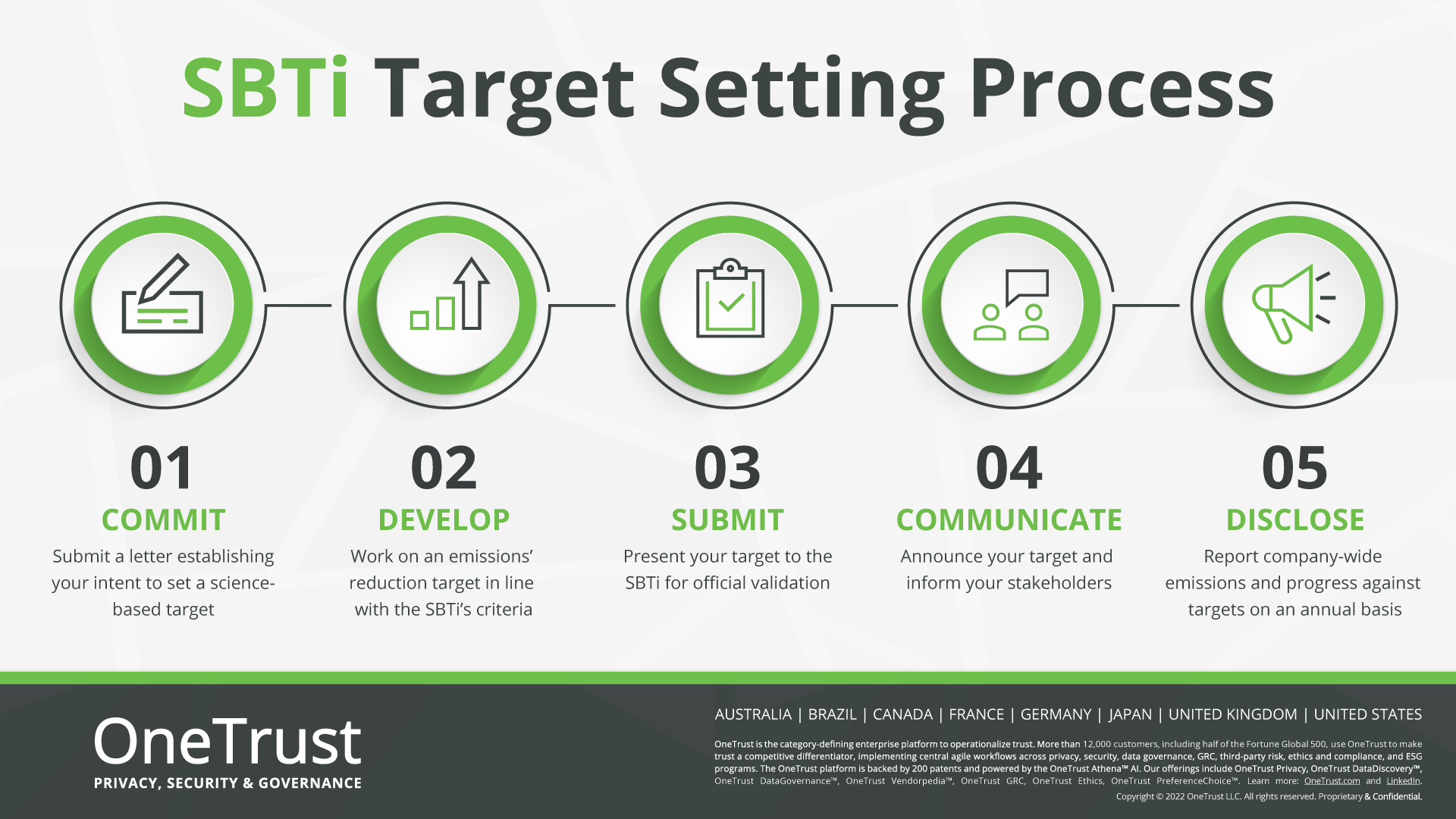 Other considerations for businesses
There are a few other things for businesses who plan to join the SBTi to keep in mind. These include:
Near-term SBTs and optional net-zero reduction targets must be validated by the SBTi.
Compliance with 1.5°C target is required from July 2022 for Scope 1 and 2 and recommended for Scope 3.
Absolute reduction of your carbon footprint is required (dedicated sector pathways are available as well as intensity options for some emissions).
The validation fee starts at $9,500 for large enterprises and $1,000 for small and medium businesses.
How does SBTi reporting work?
The annual disclosure of emissions as well as the company's progress against its target is essential. Currently, there are no set rules on how or where companies need to disclose, but they should uphold these five principles: relevance, completeness, consistency, transparency, and accuracy. Targets should also be reviewed and recalculated every 5 years as applicable to ensure consistency with the latest climate science.
Some suggestions for disclosures include:
CDP's Climate Change Questionnaire
Your own website
Annual corporate report
Will there be an SBTi reporting framework in the future?
However, the SBTi is currently working on a Progress Framework for SBT reporting. This will expand the scope of the current SBTs standard to include disclosure about performance against set targets. The reporting framework is expected to be completed by COP28 in 2023 and will provide businesses with clear guidance on how to measure, report, and verify their progress against their targets.
What are the benefits of setting a Science-Based Target?
By setting a science-based target, businesses can demonstrate their commitment to combating climate change to their stakeholders, while becoming a pioneer in their industry. Organizations who sign a commitment letter are recognized on climate leadership platforms such as the SBTi Companies Taking Action dashboard, UN Caring for Climate, the WMB Coalition, and others that feature businesses taking action. And those who commit to the 1.5°C target can also be recognized on the UN Global Compact website and the Business Ambition for 1.5°C. This could encourage other companies, customers, and suppliers to join in and push governments to take further action in the battle against global warming.
Additional benefits of setting SBTs according to an SBTi survey of 185 executives include:
Reduced cost (29%)
Increased resilience for regulatory change (35%)
Boosted investor confidence (52%)
Improved innovation and competitive advantage (63% and 55%)
Strengthened brand reputation (79%)
What is the SBTN – Science Based Targets Network?
The Science Based Targets Network (SBTN) is a collaboration network connecting more than 45 NGOs and business associations to expand the work of the SBTi.  Many of the same organizations that are behind the SBTi are also among the core founding partners of the SBTN. The network is focused on defining clear guidance for companies and cities to set SBTs for the planet, as well as advancing the adoption of SBTs within capital markets.
How can Trust Intelligence help companies achieve their science-based targets?
The process of setting science-based targets can feel daunting at first. But it doesn't have to be. OneTrust is here to make climate action easy and support you along the entire journey. We equip you with all the necessary insights to make informed decisions about your SBTs and help you find the right approach for your business. The OneTrust ESG & Sustainability Cloud can help you set emissions reduction targets that are in line with the current SBT criteria and easily identify your organization's emission hotspots. And our extended network of reduction and offset partners will help you take sector-specific reduction measures.
The ESG & Sustainability Cloud is part of Trust Intelligence Platform™ from OneTrust that delivers visibility across four trust domain areas (Privacy & Data Governance, GRC & Security Assurance, Ethics & Compliance, and ESG & Sustainability), giving organizations a centralized understanding of business trust.
Download The Guide for Setting Corporate Climate Goals for pragmatic tips on including climate targets in your ESG strategy. 
You may also be interested in downloading the infographic Key Elements of the SBTi Net-Zero Standard and the Science Behind It
Tags: