Cookie Consent and Website Scanning
GDPR and ePrivacy Compliance for Cookies & Online Tracking Technologies
OneTrust is the Most Powerful and Flexible Solution for Cookie Consent
OneTrust is relied on by thousands of organizations, powering billions of cookie consent impressions, in 35+ languages, and across every size and sector.
Get Started
The Ultimate Guide to EU's Current and Future Cookie Laws
Compliance with EU's Current and Future Cookie Rules
Organizations globally are assessing their online cookie consent policies to adhere to EU GDPR and ePrivacy standards requiring companies to inform visitors about cookies and tracking on their website and provide users granular choice and control.
Learn more about these requirements in OneTrust's comprehensive guide to the current EU cookie requirements, how to comply in practice, as well as what to expect in the proposed new ePrivacy Regulation.
Key Regulatory Requirements Addressed
GDPR Article 7 - "Conditions for Consent"
GDPR Article 12 - "Transparent Information"
GDPR Article 21 - "Right to Object"
ePrivacy Directive / PECR
IAB Transparency & Consent Framework Support
How OneTrust Cookie Consent Works
Scan Your Website for Compliance

Automatically detect cookies and other tracking technologies on your website.

Create Cookie Consent Banner

Tailor a cookie banner based on your consent approach and company brand.

Enable a Preference Center

Allow visitors to granularly select which types of cookies and tracking to enable or disable.

Automate Cookie Policy Generation

Generate the required detailed cookie policy disclosure as part of your full privacy policy.

-->
Website Tracker Scanning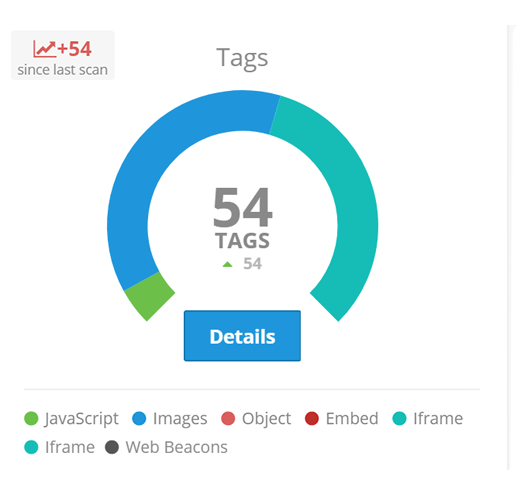 Deep Scanning Across Cookies, Tags, Beacons, Tracking Pixels, HTML5 &Local Objects
Tracking technologies include more than just cookies. OneTrust's deep scanning identifies all of these trackers, as well as detect terms and conditions, privacy policies, cookie policies and cookie notices to track compliance.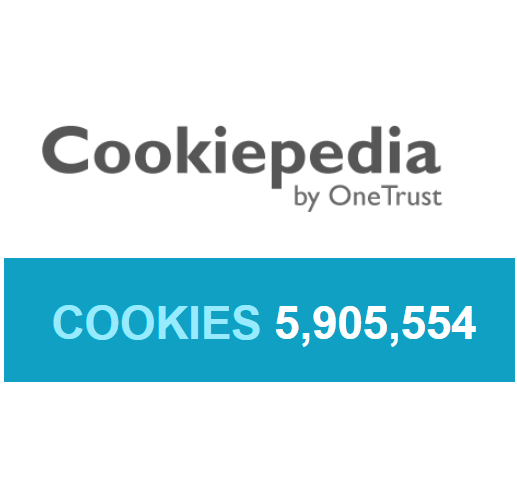 World's Largest Pre-Categorized Cookie and Vendor Database, Cookiepedia
OneTrust owns and operates the world's largest cookie database, providing details on nearly 6 million cookies. As a result, OneTrust saves organizations more time than any other solution on the market by automating the detection and assignment of cookies.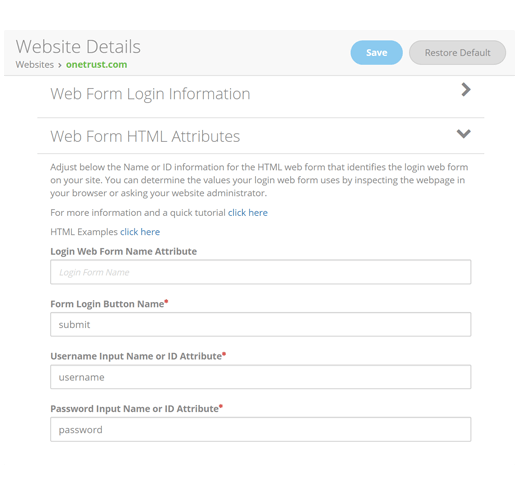 Ability to Scan Behind Login Pages
Many websites drop additional cookies after logging into a page, or passing an age verification page. OneTrust scanning technology can automatically login to detect these additional trackers.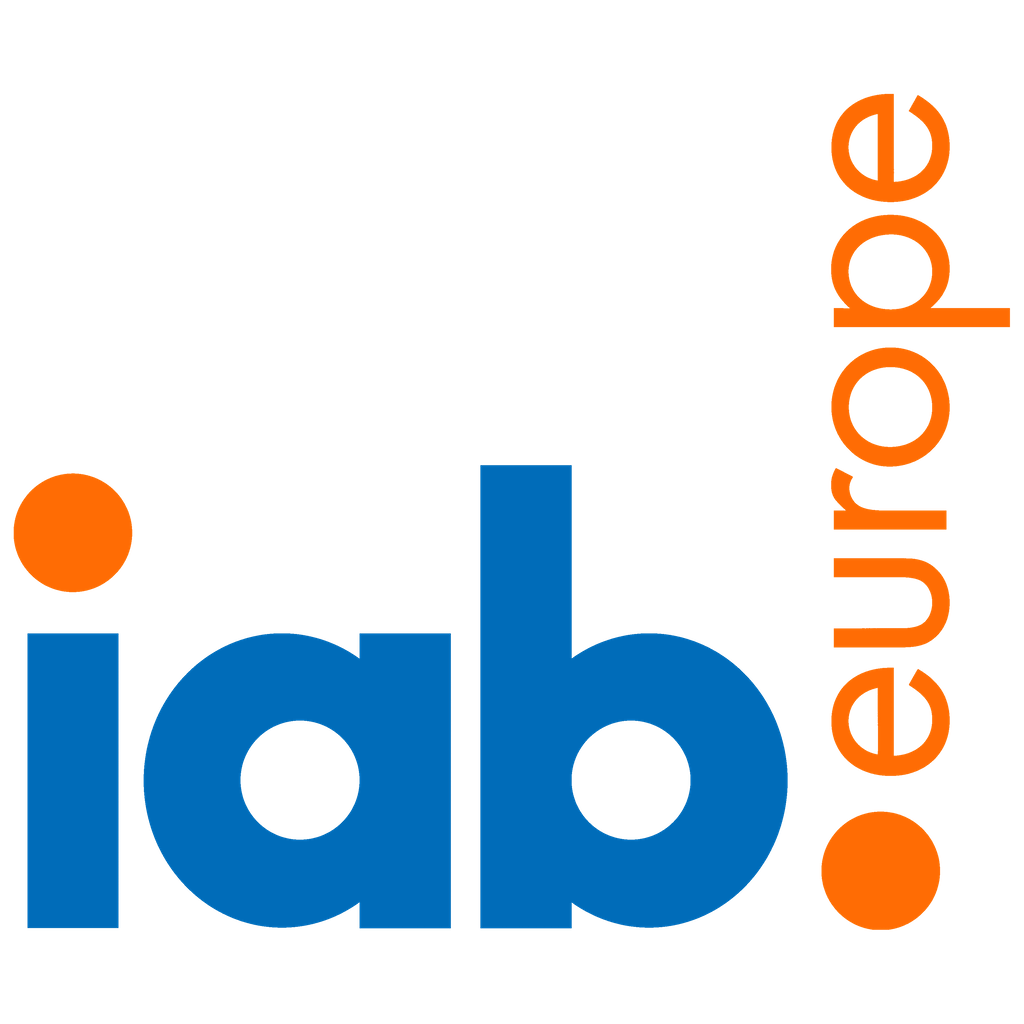 IAB Transparency & Consent Framework Support
OneTrust was the first privacy management provider to offer full support for the IAB framework. Visit OneTrust Cookie Consent for Publishers to learn more.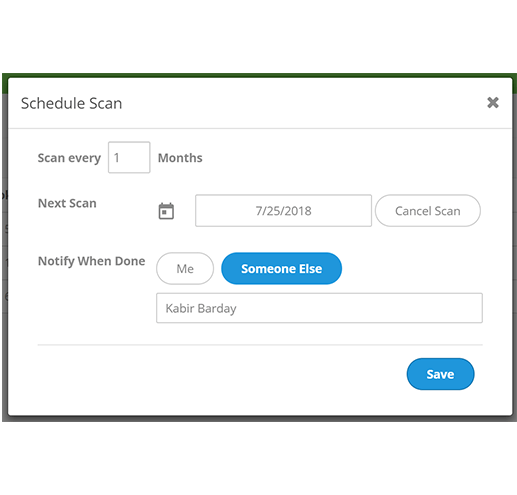 Ongoing Website Monitoring
To identify any additional cookies that are added or removed over time on a site, companies can schedule automatic scans to keep policies current.
Cookie Consent Banner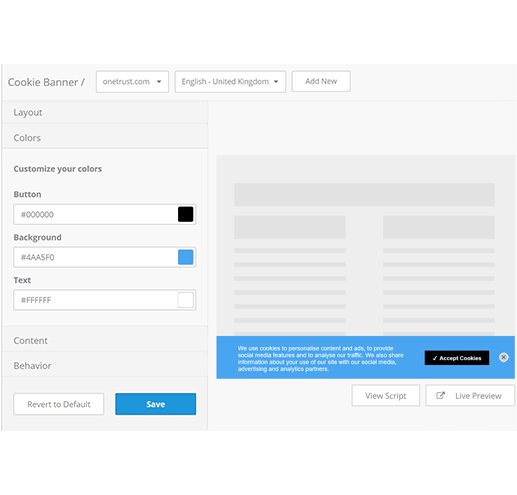 Visual Drag-and-drop Customization
OneTrust offers several UI options for organizations to implement a cookie banner with both web and mobile UI options. Drag and drop customizations make the process simple, and advanced CSS editing can be enabled for organizations who prefer a highly customized experience.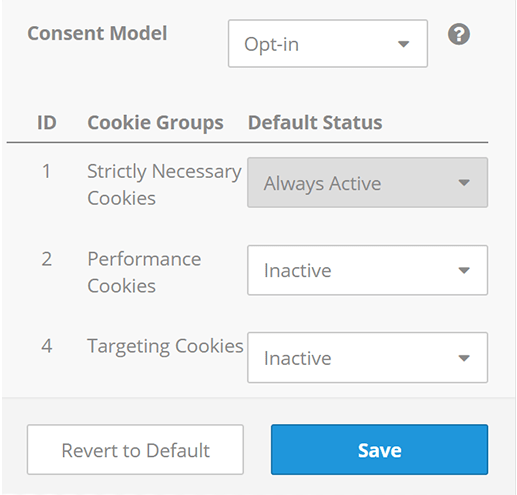 Choose Your Consent Approach
OneTrust can support the consent model of your choice, whether it be opt-out, opt-in, explicit, implied, notice only, or a custom option. Different consent types can be setup across different regions based on geolocation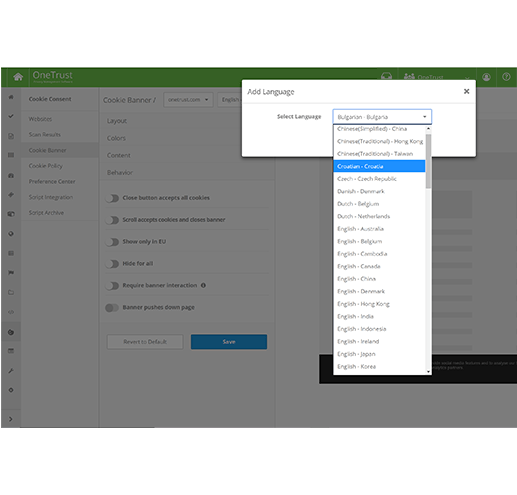 Multi-lingual and Country Specific Options
OneTrust can auto-detection of the user's language settings using only a single script in order to display notifications in the appropriate language. Leverage reverse IP lookup capabilities to automatically determine which country the visitor is from, and display the appropriate consent notice for that country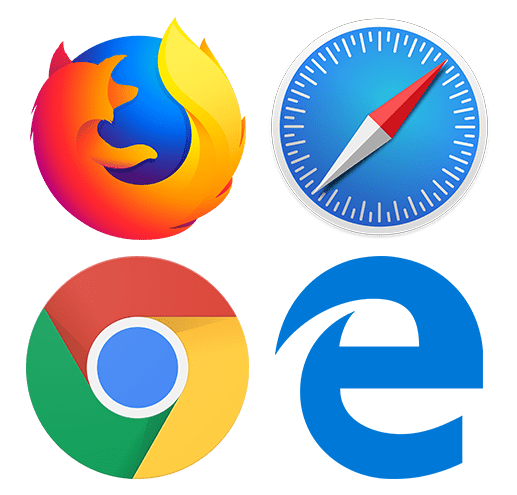 Cross Browser and Mobile Support, Requiring Only 1st Party Cookies to Function
It is critical for a cookie solution to be able to operate normally while only requiring 1st party cookies enabled. Safari, for example, blocks 3rd party cookies by default. OneTrust has been designed to support web, mobile, and all while only requiring 1st party cookies. In addition, OneTrust also supports the browser "Do Not Track" settings.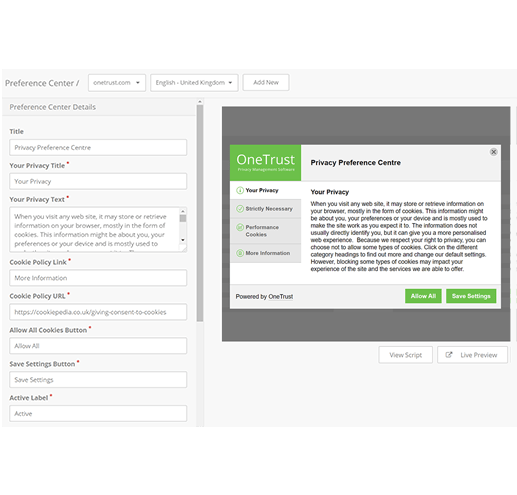 Build a Customizable Preference Center
Provide visitors choice at all times with a granular preference center to easily manage cookie preferences. Enable granular preferences across cookie categories determined within the OneTrust platform. Maintain a central preference center across multiple domains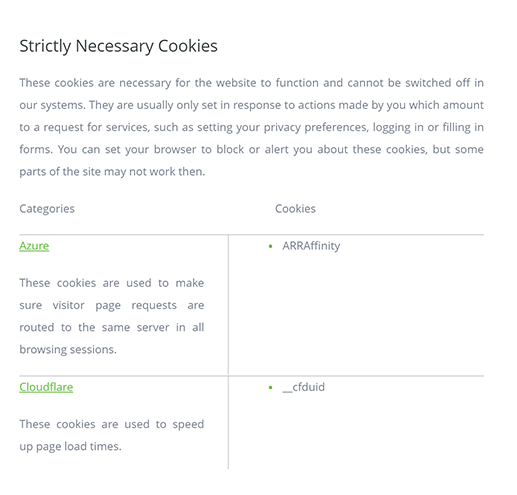 Generate a Detailed Cookie Disclosure
OneTrust automatically generates a detailed cookie disclosure based on the latest website scan. Once the disclosure is embedded on your website, you can easily update the content from the OneTrust interface at any time.
Compliance Reporting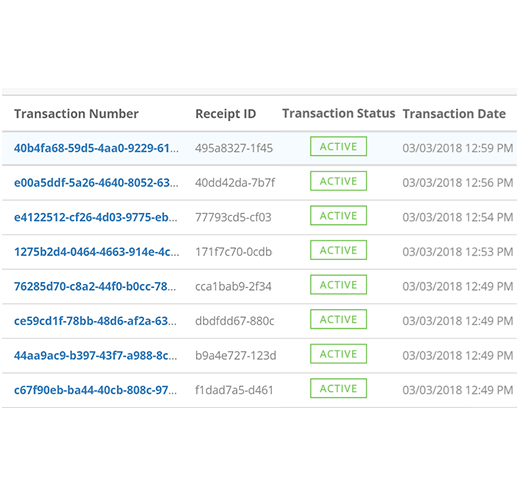 Regulatory Compliance Reporting
OneTrust works with many regulators globally to understand compliance reporting expectations and has extensive capabilities to demonstrate compliance. Granular records of consent and audit trails are available on demand through the online portal.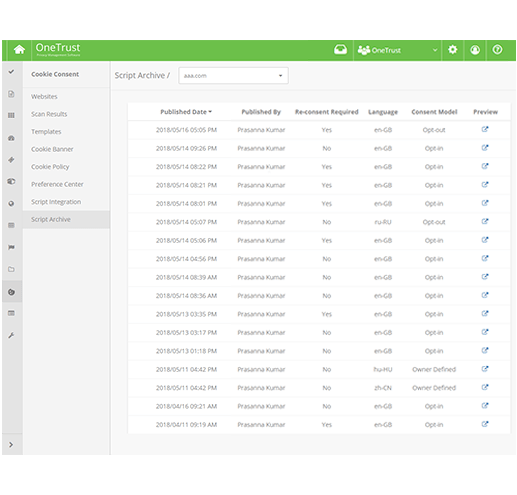 Historical Audit Trails
Modifications to any settings on the cookie banner or preferences are stored in a detailed audit log to be able to show compliance over time.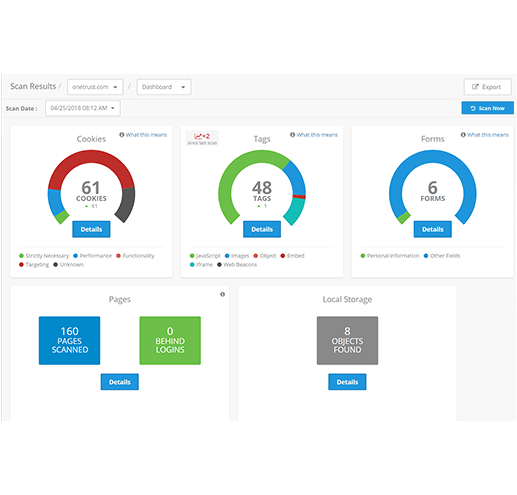 Executive Dashboards
Summary dashboards of changes over time, and overall compliance status help you take actionable steps and prepare for executive briefings.
Deployment Implementation and Support
Easy to Deploy on Your Company's Website
OneTrust is a platform-independent service that can easily be deployed with your organization's existing website with the simple addition of a tag. Self-service implementation, as well as implementation service options, are available to make sure you get the help required.
Developer Portal and Support
Sample code and developer help is available through our self-service developer support portal, email list, developer webinars, and optional consulting services.
Tag Manager Support
OneTrust offers an easy solution for web developers to integrate with existing website technologies and tag managed such as Google, Adobe, Telium, Signal, Ensighten, and others.
OneTrust Cookie Consent & Website Scanning Pricing
Pay Per Domain or Unlimited Options Available
Three Editions Available | First Website Free | Unlimited Subpages
Standard
Simple websites for most organizations
Enterprise
Sophisticated websites with logins, custom branding and advanced hosting.
Publishers
For organizations leveraging the IAB Consent & Transparency Framework
Why Over 2,000 Organizations Choose OneTrust
Most
Comprehensive

Technology
200 Member R&D Team Driving Product Innovation with 15 Patents Awarded
World-Class
Privacy

Research
Over 80 Certified Privacy Professionals In-house with Continuous Regulatory Research
Expert
Global

Services
Multilingual, 50 Person Global Consulting Team to Support Privacy Initiatives
Large
Active User

Community
Thousands of Members Sharing Best Practices in 40 Global PrivacyConnect Workshops