Mobile App Consent
Collect Consent Through Mobile Apps and Maintain Records for Compliance
Consent Compliance for Mobile Apps
To process personal data via an app, the app provider (in their role as data controllers) must have a legal basis. For many organizations, this means processing is based on the consent of the user, which should be documented to demonstrate compliance.
How OneTrust Helps
OneTrust Mobile App Consent helps organizations collect and document consent given through mobile apps. With OneTrust, leverage flexible methods to collect consent within your application, maintain a database of consent receipts, and obtain marketing dashboards and metrics to help you understand the overall effectiveness of your consent program. Using the OneTrust API Framework, consent records are synced across your technology systems to ensure consistency when carrying out sales and marketing activities.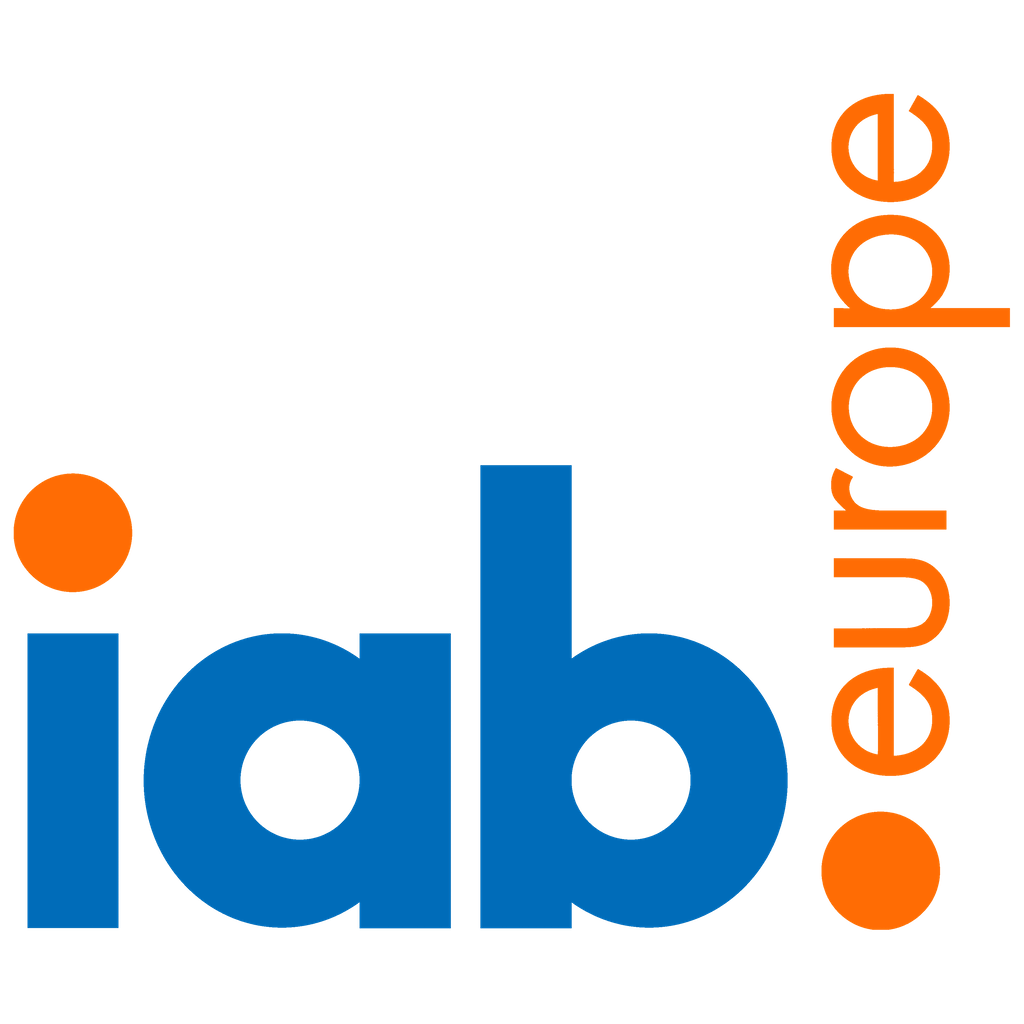 Approved IAB Europe Consent Management Provider
As an approved IAB Europe Consent Management Provider (CMP), OneTrust leverages the IAB Europe Transparency & Consent Framework to offer publishers a solution to remain compliant with targeted advertising and other third-party tracking.
Mobile Consent Collection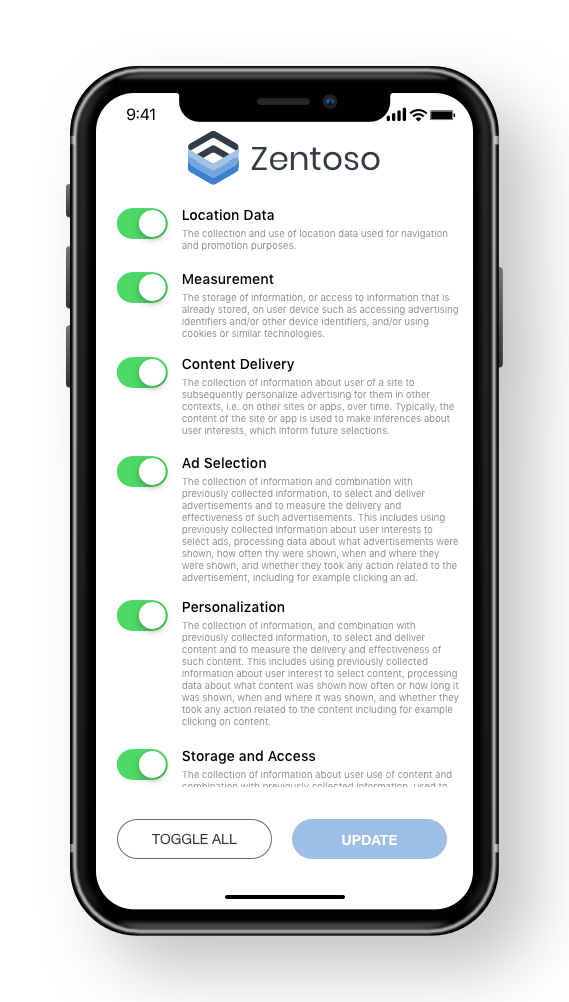 Enable Users to Adjust Preferences Through Your App
Use a Mobile App Privacy Preference Center to grant users greater control over their settings. The Preference Center helps app users adjust their consent settings to fit their needs. Preference changes are synced with OneTrust and any integrated applications, such as Marketing Automation or Customer Relationship Manager (CRM) tools.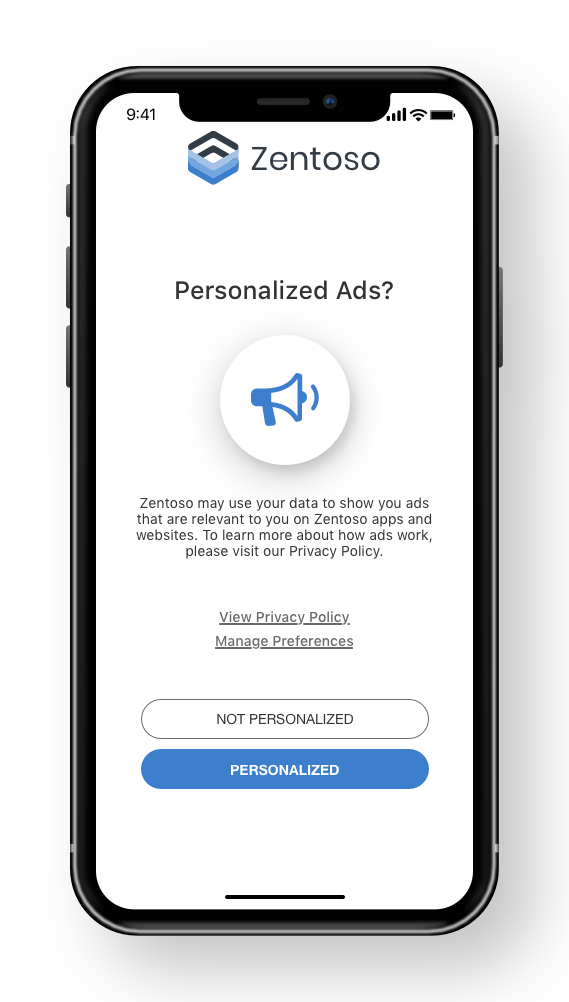 Collect Consent During First App Use
OneTrust enables consent collection when a user opens your mobile app for the first time. This is important for many organizations (e.g. publishers) to comply with regulatory requirements.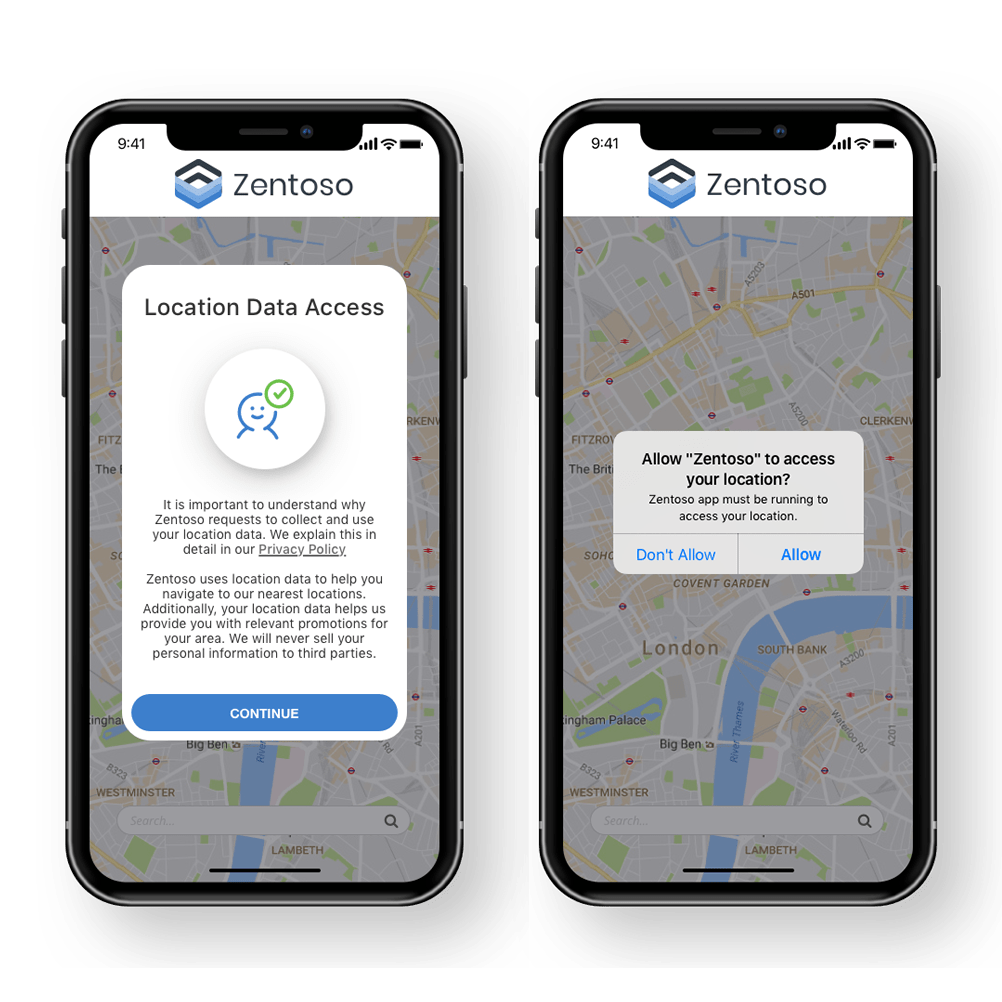 Provide Context and Ask for Consent Only When Needed
Rather than asking for consent upfront, many app developers and user experience professionals prefer to have more contextual requests by asking for consent "just in time," and only when a certain feature requires personal data in order to be performed. Without sacrificing user experience, OneTrust helps you collect compliant consent with customizable just-in-time consent interfaces.
Remain Compliant with the GDPR and ePrivacy
Article 7 of the GDPR outlines many conditions for valid consent collection, including requirements that consent must be freely given and informed. OneTrust enables your mobile app to integrate these requirements into the consent collection process.
Compliance & Reporting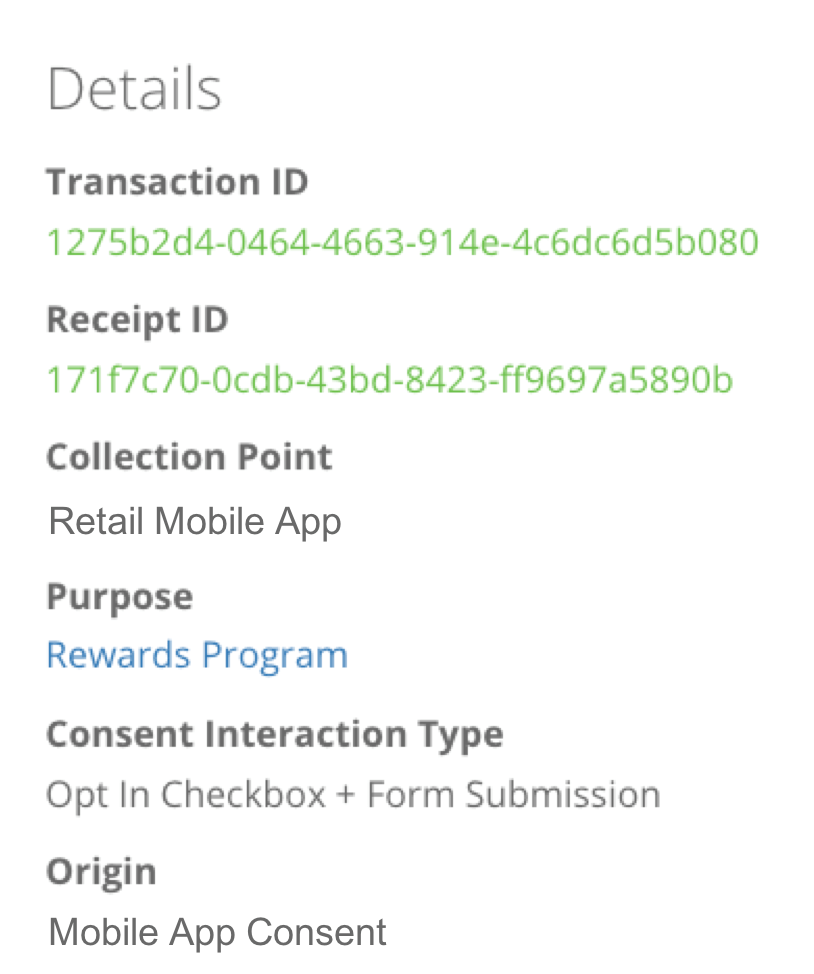 Generate a Consent Receipt When Consent is Obtained
When consent is obtained, OneTrust generates a receipt that details who consented, what they were told at the time, how they consented, and when.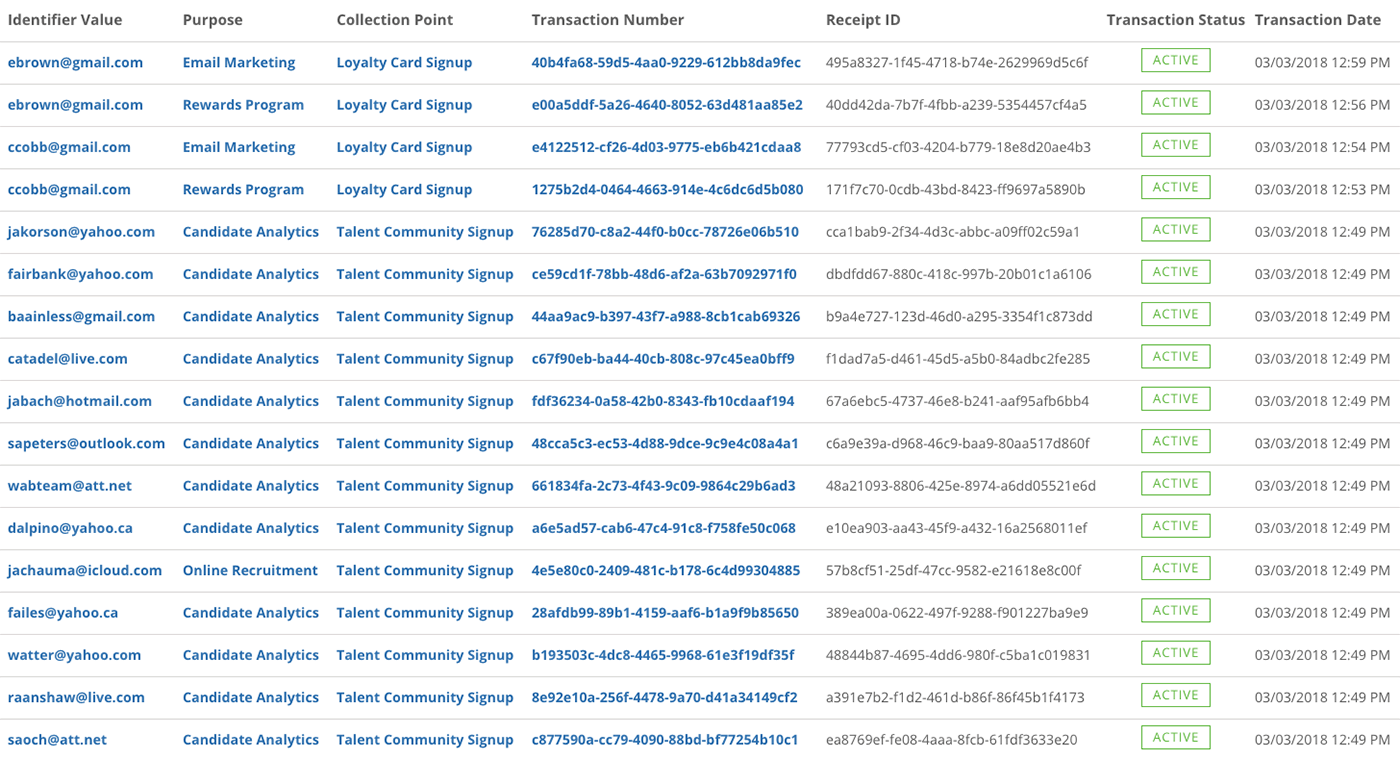 Maintain an Up-to-Date Database of Consent Records
To support compliance with regulations such as the GDPR, all consent history provided by the user is maintained in a central consent receipt database within OneTrust.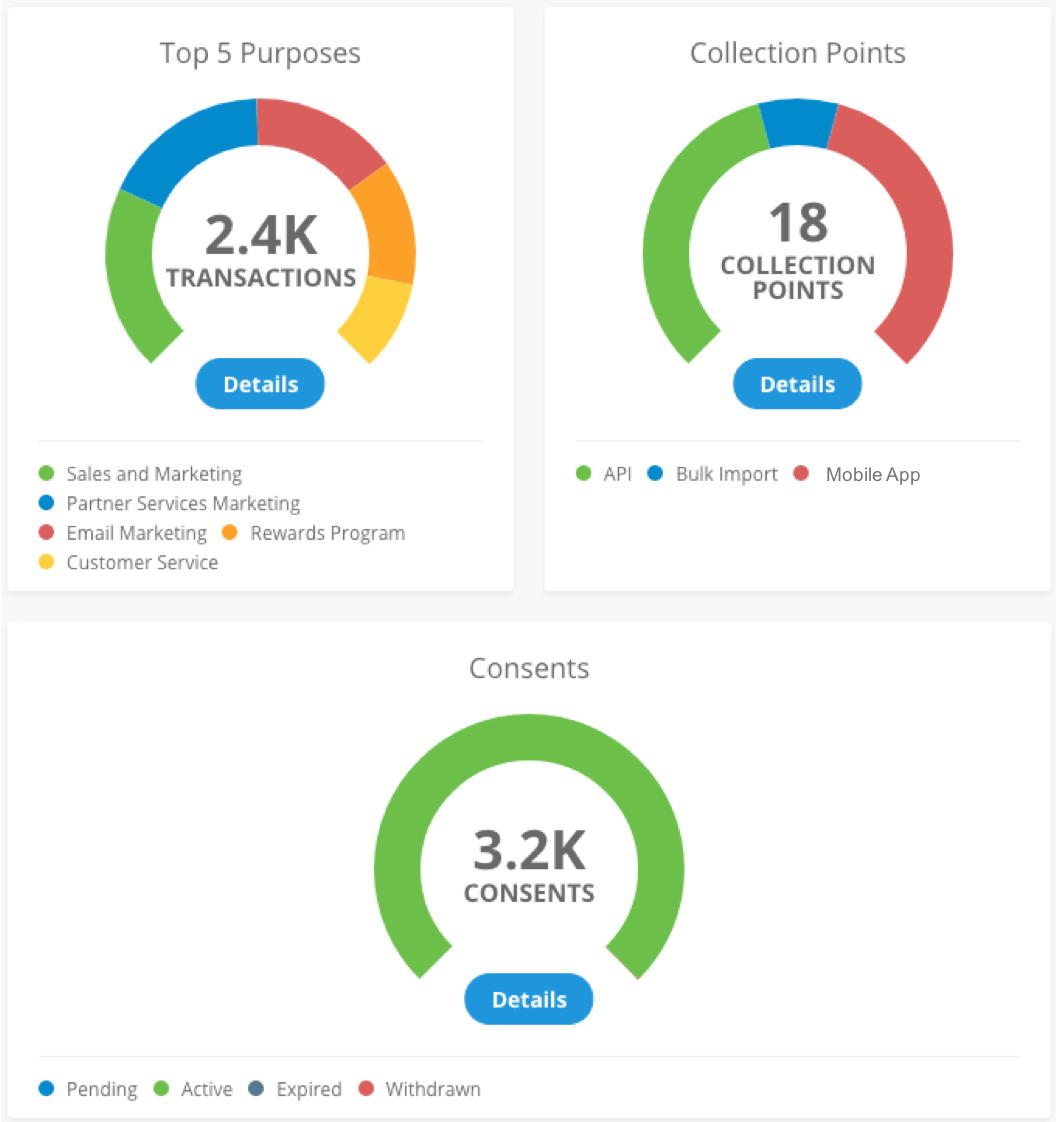 Monitor Your Consent Program Performance
Within OneTrust, access dashboards and metrics to help you understand the overall effectiveness of your consent program. See how many consent transactions have occurred, which consent collection points are performing best, and more.
Integrate with Your Marketing and Sales Technologies
The OneTrust API Framework enables integrations with your sales and marketing applications to ensure consent consistency across technologies. For example, when a user withdraws consent via your mobile app, this preference is updated within OneTrust and synced with your Marketing Automation tool to ensure the user is no longer contacted by your organization.
Manage Data Subject Requests via Mobile App
Leverage OneTrust Data Subject Rights Management to embed a mobile request intake form directly within your app. Using a single solution across your mobile apps and web properties helps streamline data subject request fulfillment and recordkeeping, including consent withdrawal.