Vendor Risk Management
Streamline Vendor Risk Assessment Workflows
How the World Manages Third-Party Security & Privacy Risks
A Centralized Risk Management Platform for Global Security and Privacy Professionals
Request Demo
The Next Evolution of Global Security and Privacy Risk Management is Here. Try the Vendorpedia Exchange Today.
Visit Vendorpedia.org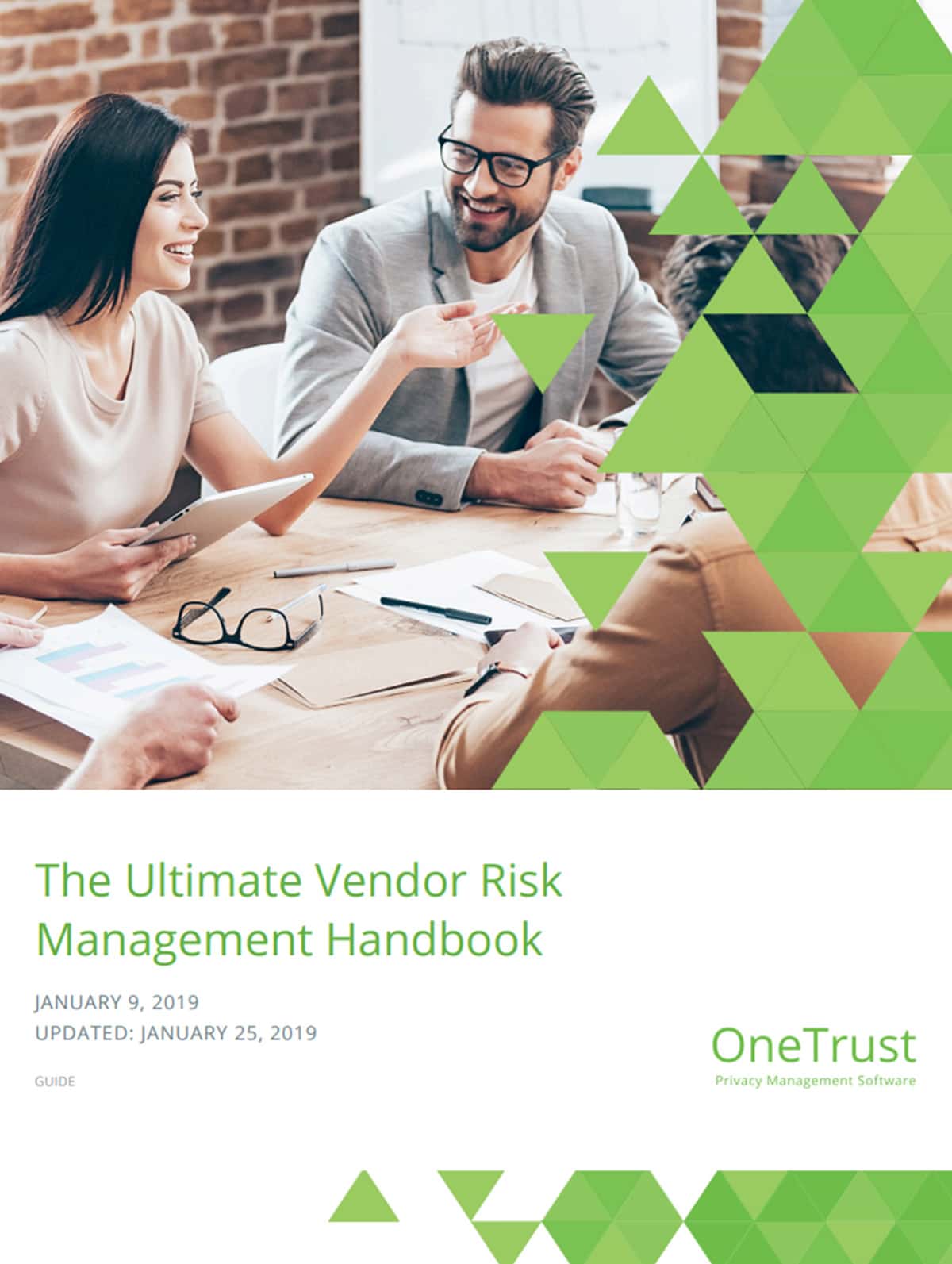 Download Now
Challenges Emerge as Third-Party Vendor
Security and Privacy Risks Intersect
The risks posed to enterprises managing third parties have evolved. Increasing reliance on third-party vendors, new privacy regulations, shifting cybersecurity threats, and frequent data breaches have upended the third-party risk landscape. As a result, modern risk solutions must adapt to solve both security and privacy challenges.
OneTrust Vendor Risk Management
Assess
Risk Assessment Automation
Assess and mitigate third-party vendor risks in less time and with better results
Greater Flexibility
Bring your own assessment or participate in the Vendorpedia exchange to assess third parties in a flexible manner
Dynamic Reporting
Create reports, monitor risk mitigation over time, and identify your enterprise's riskiest third-party vendors
Powerful Automation
Create automated workflows and scheduled reassessments to complete assessments faster with more consistent results
Simplified DPA Tracking
Manage Data Processing Agreements (DPA) with contract tracking to hold third parties accountable
Pinpoint Risk Flagging
Flag risks and assign controls automatically to view the total risk of a third-party vendor
Deeply Integrated
Tap into the business context of your enterprise with OneTrust Data Inventory & Mapping technology and other systems, such as procurement tools
Exchange
Vendorpedia & Third-Party Risk Exchange
Exchange pre-complete vendor risk assessments and access Security and Privacy profiles on 6,000+ global vendors
Visit Vendorpedia.org
Security & Privacy
Gain instant access to 6,000+ security & privacy profiles for global third-party vendors
Validated Data
Increase confidence in third party vendor assessments with three levels of validation, including self attestation, automated validation, and remote or onsite audit
Pre-Completed Assessments
Retrieve pre-completed third-party risk assessments that map to nearly every framework and global law with no per assessment or per vendor fee
Managed Services
Leverage free and fixed-cost managed services to get assessments completed faster, data validated faster, and audits done on-demand
Ongoing Updates
Maintain an evergreen third-party vendor inventory with up-to-date research and continuously-updated assessments
Global Scale & Scope
Meet your global security and privacy compliance challenges with a third-party risk exchange that spans industry, jurisdiction, and region
Monitor
Third-Party Threat Monitoring
Monitor security and privacy threats over time to maintain a watchful eye on third-party vendors
Security & Privacy Scanning
Enable privacy and security scanning to identify key third-party vendor changes that could impact privacy, security, or compliance
Proactive Compliance
Get ahead of regulatory changes before they occur, with access to the industry's most extensive research database of 300+ global laws
Trigger-Based Reassessment
Set up automated rules to reassess third parties based on a variety of triggers, such as contract renewal date, and more
Ongoing Contract Monitoring
Monitor expiring contracts and data processing agreements (DPAs) to hold third-party vendors accountable.
Third-Party Threat Alerts
Receive alerts when new risks emerge, keeping you up to date on the latest third-party threats
Risk Treatment Tracking
Implement controls and track risks over time with dynamic risk treatment capabilities
Services
Third-Party Chasing Service
Leverage your own professional risk assessment agent to work on your behalf at no cost
Learn More
No Extra Cost
Leverage a OneTrust agent to send, follow-up, answer questions, and guide vendors through the assessment process at no extra cost
Certified Global Agents
Tap into the expertise of certified OneTrust agents whose success is measured by how efficiently they get risk assessments completed
Less Busy Work
Increase your team's productivity by spending less time identifying vendor contacts, replying to emails, and answering the same questions over and over again
Faster Vendor Assessments
Receive completed risk assessments rapidly, helping kickstart your third-party risk program and scale to meet your needs
Any Standard or Framework
Choose any standard or framework that fits your third-party risk program needs
More Accurate Answers
Get more accurate answers as the OneTrust team will coach your third parties through the assessment process and answer any questions they have along the way
Flexible Third-Party Security & Privacy Risk Assessment Options
Streamline Risk Assessment Automation & Mitigation
Every enterprise has different requirements when assessing third-party vendors. We understand this, which is why we prioritized assessment flexibility when developing our solution. More than 2,500 customers around the world rely on our industry-leading Assessment Automation and Data Mapping technologies. These tools and privacy expertise, combined with our world-class security research, power our Risk Assessment Automation tool to offer a modern approach to addressing both security and privacy vendor risks.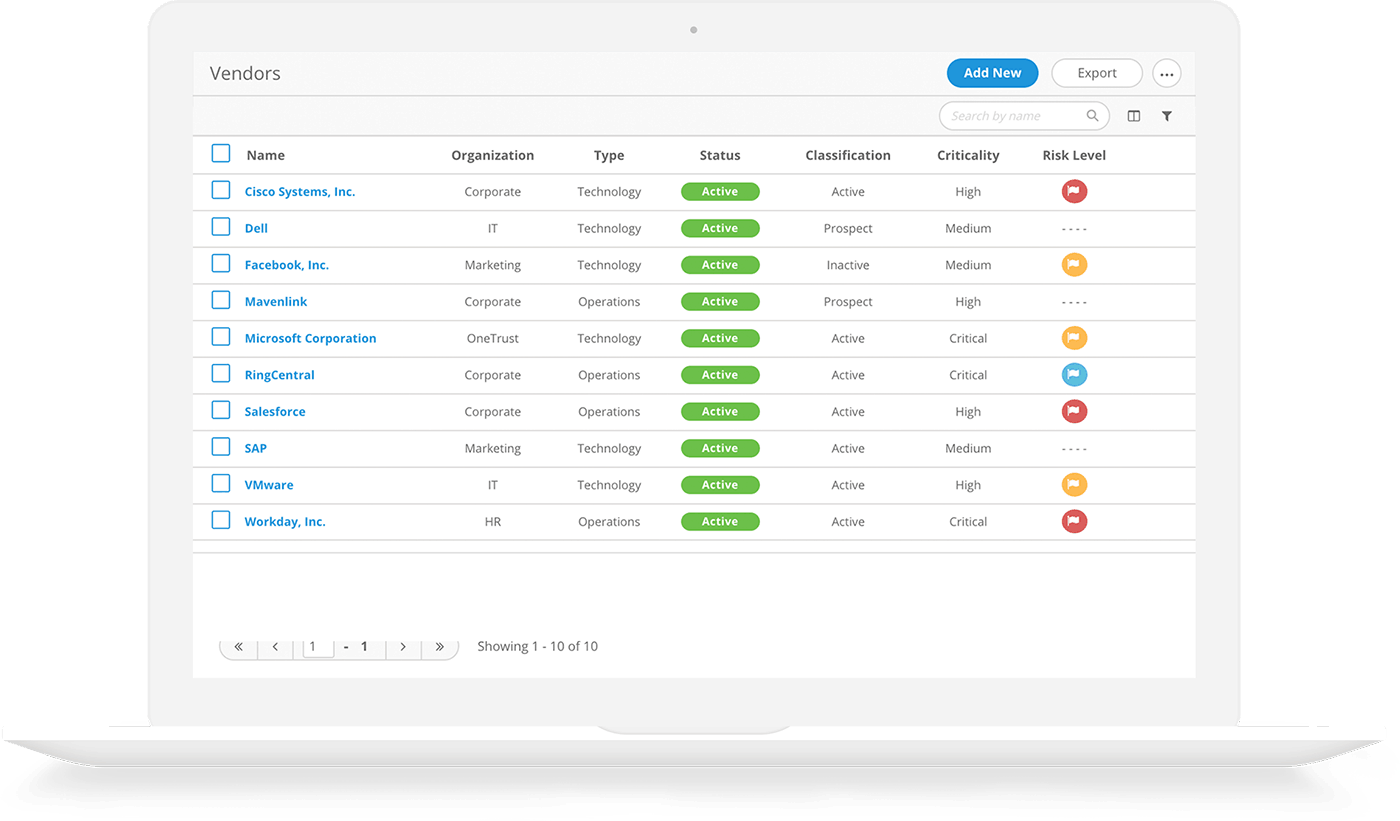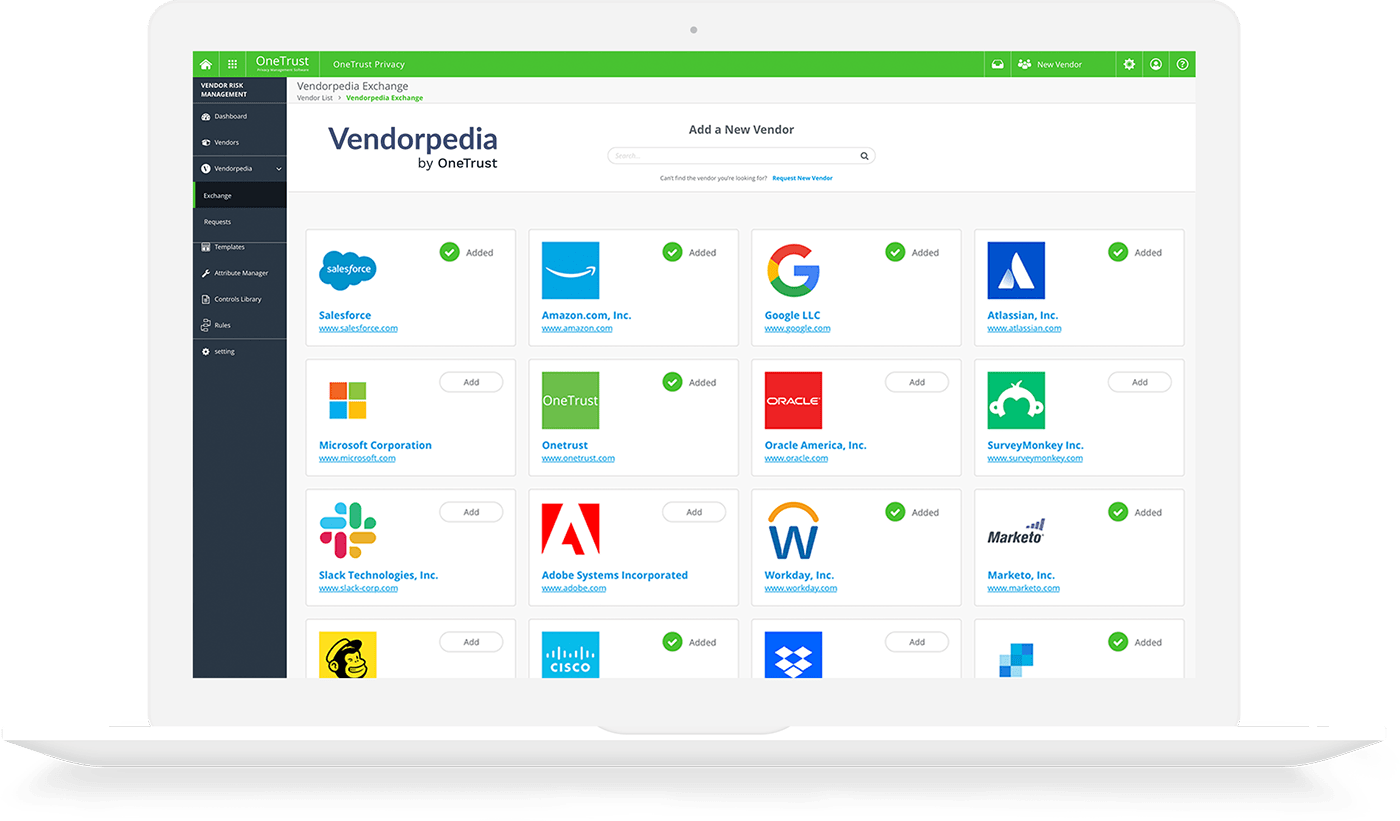 The Only Security & Privacy Third-Party Risk Exchange
The Next Evolution of Global Risk Management is Here
Individuals managing the third-party vendor risk lifecycle face difficulties when researching third parties, completing risk assessments on time, and when determining when new risks emerge. The Vendorpedia Third-Party Risk Exchange addresses these challenges by providing a single source to access detailed third-party security and privacy profiles, retrieve pre-completed risk assessments, and monitor third-party risks over time.
Automated Third-Party Threat Monitoring for Ongoing Compliance
Maintain 360° Oversight to Track New Risks Over Time
Changes to third-party vendor risks are inevitable, making static one-off assessments unreliable over time. OneTrust Vendor Risk Management offers ongoing monitoring with privacy and security scanning, ongoing assessment updates, and scheduled reassessments to maintain a watchful eye on third parties. When significant changes are detected, OneTrust sends your enterprise relevant alerts.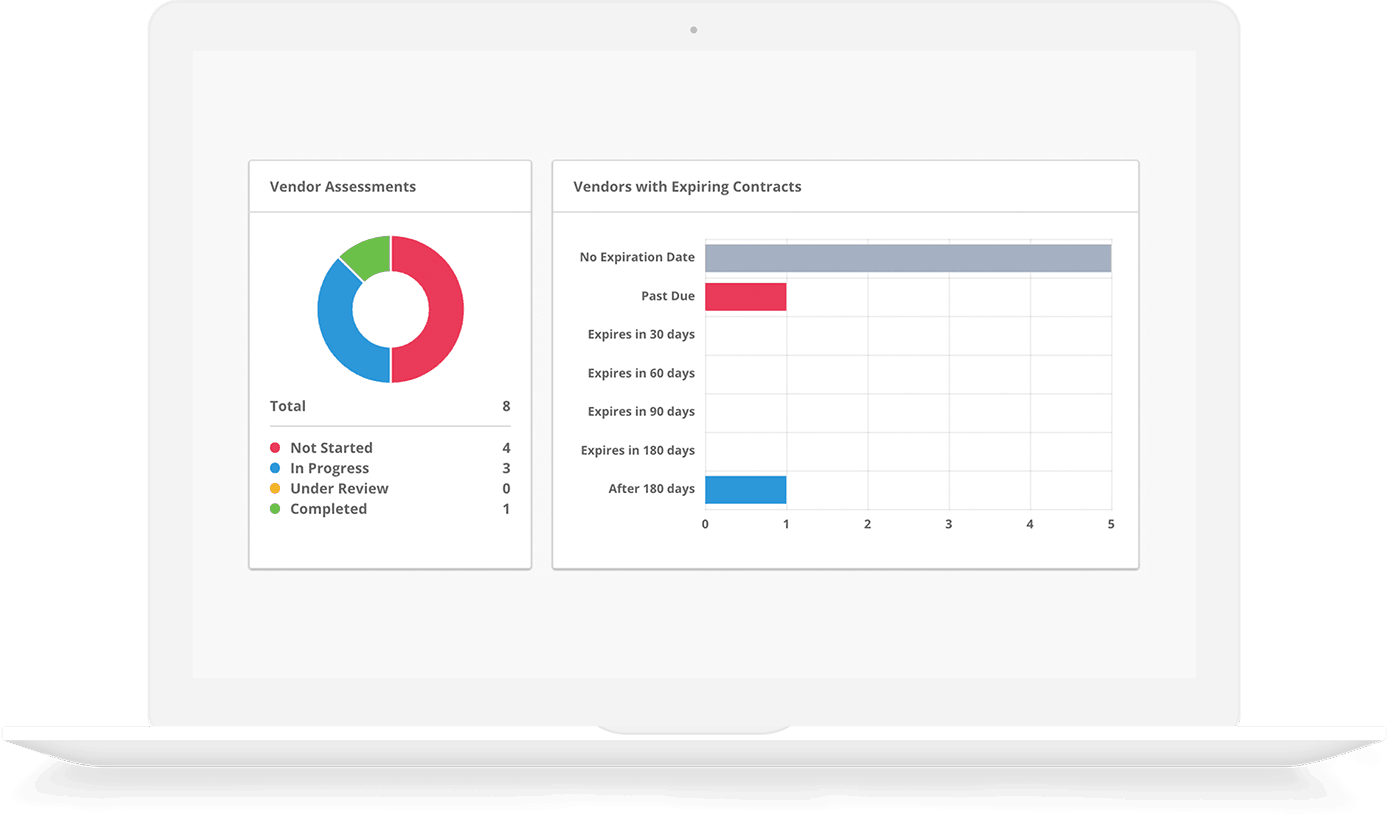 Access our Free Vendor Risk Management Resources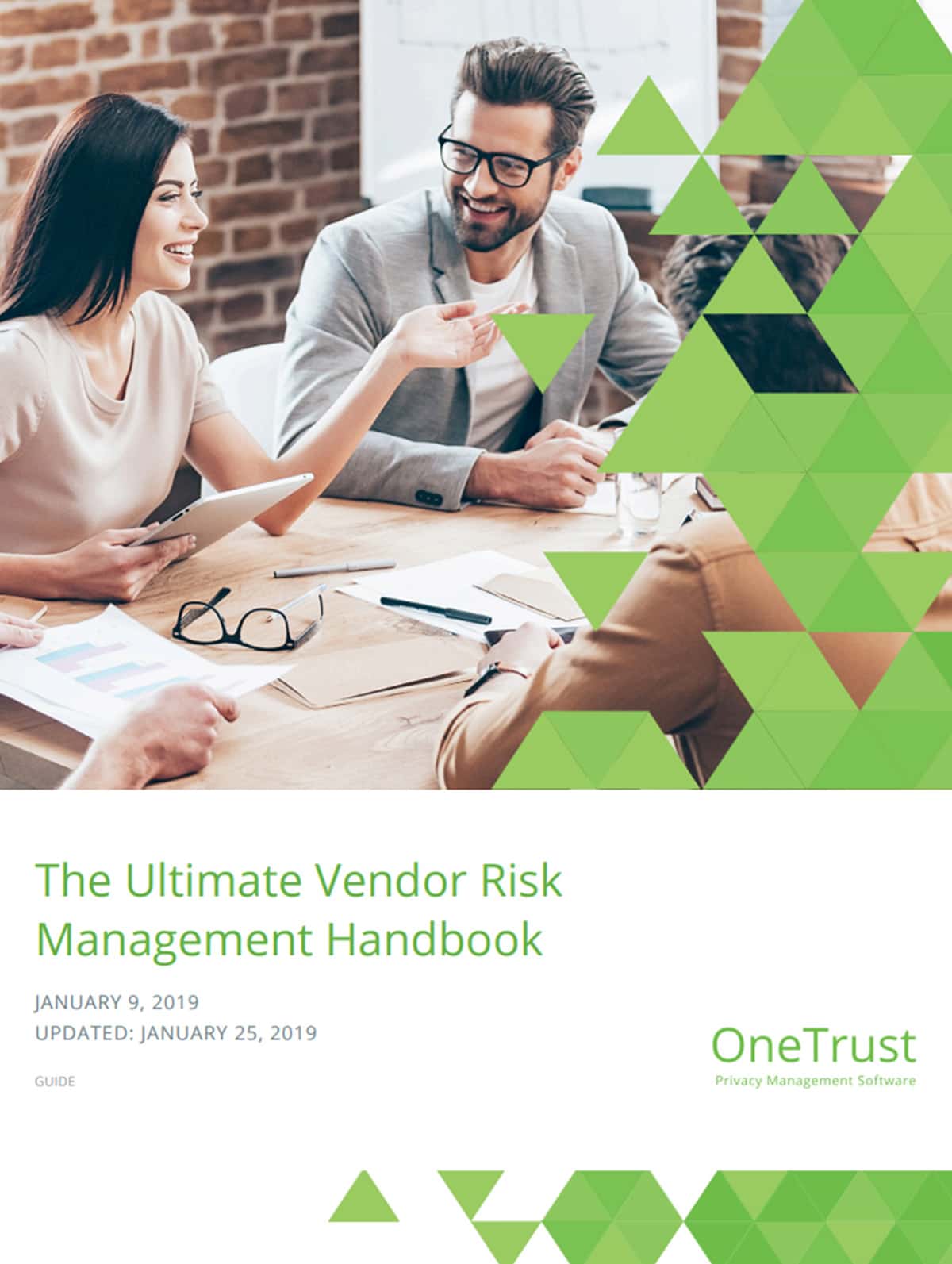 The Ultimate Vendor Risk Management Handbook
Download Now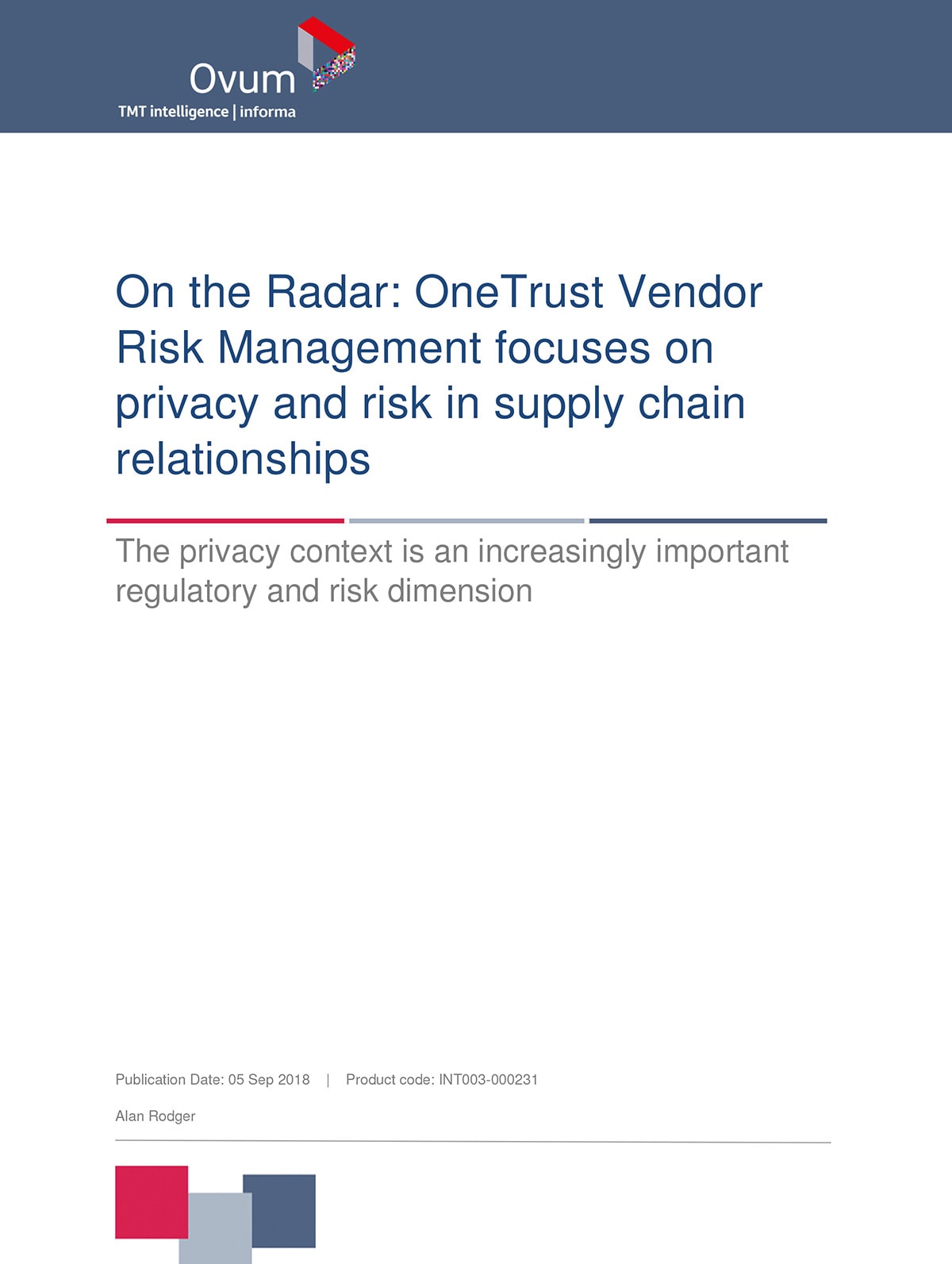 On the Radar: OneTrust Vendor Risk Management
Download Now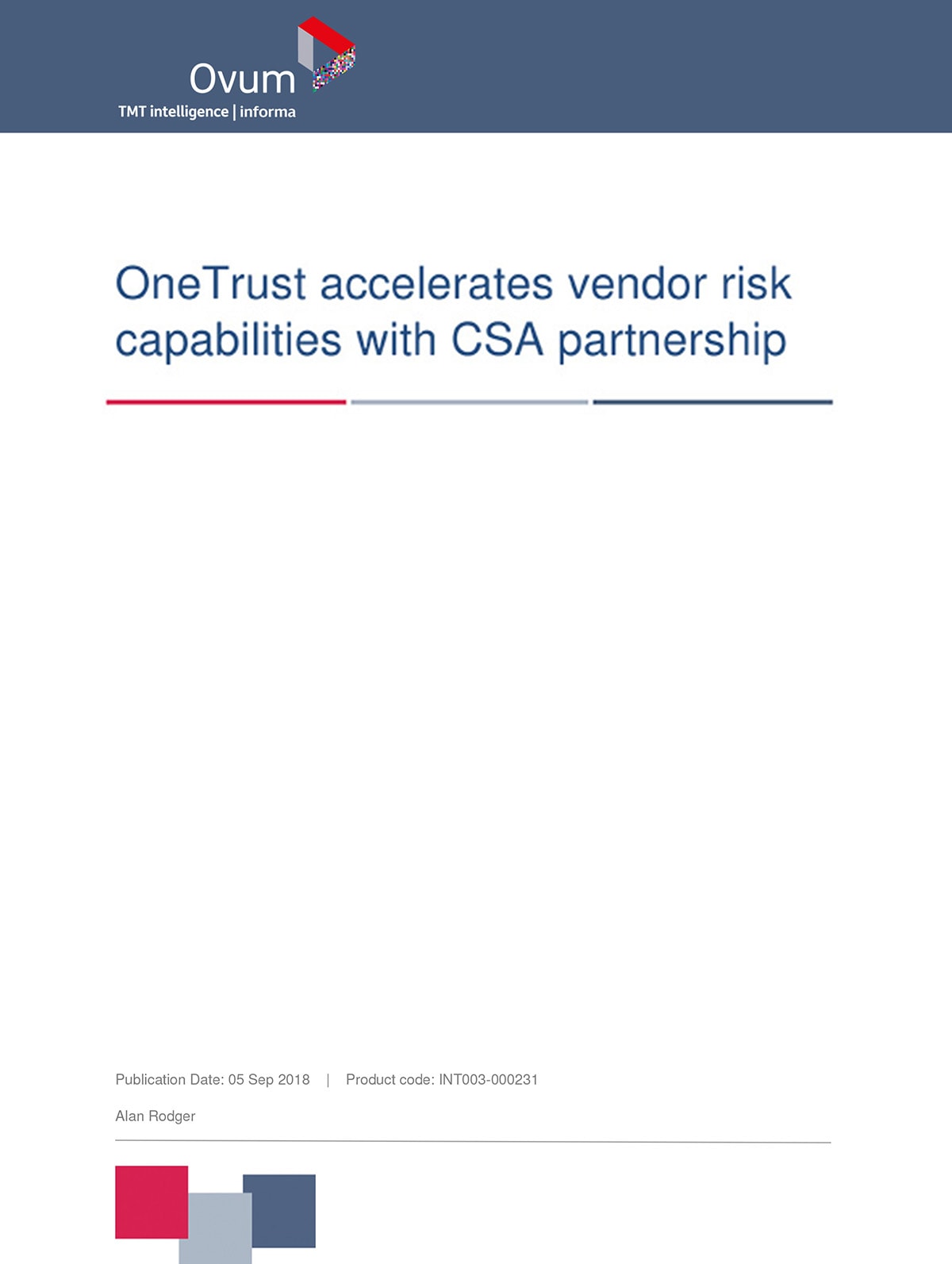 OneTrust Accelerates Vendor Risk Capabilities with CSA Partnership
Download Now
Why Over 2,500 Customers Choose OneTrust
Most
Comprehensive

Technology
300 Member R&D Team Driving Product Innovation with 44 Patents Awarded
World-Class
Privacy

Research
Over 100 Certified Privacy Professionals In-house with Continuous Regulatory Research
Expert
Global

Services
Multi-lingual, 100 Person Implementation Team, and Large Partner Network to Support Privacy Initiatives
Large
Active User

Community
Thousands of Members Sharing Best Practices in 40 Global PrivacyConnect Workshops