Vendor Risk Management
Streamline Vendor Risk Assessment Workflows
OneTrust Vendorpedia
Third-Party Risk Management Software
Automate the Vendor Engagement Lifecycle, from Onboarding to Offboarding with 360° Third-Party Visibility
Request Demo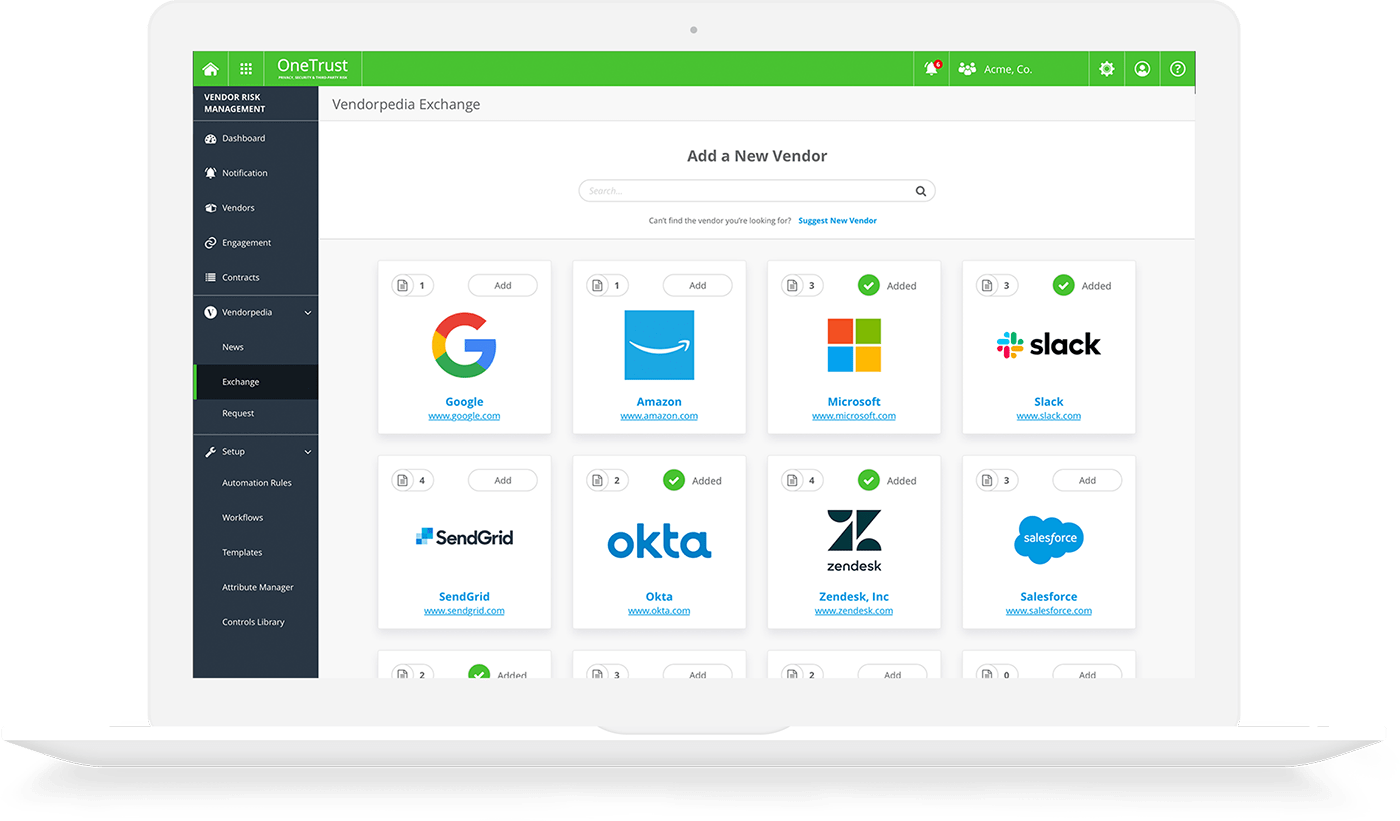 Are Your Vendors (and Their Vendors)
Safe To Do Business With?
OneTrust Vendorpedia simplifies third-party risk management by combining automation with aggregated vendor research to streamline the vendor engagement lifecycle, from onboarding to offboarding. The platform consists of eight pillars, working together to help you conduct faster and more in-depth security and privacy reviews.
OneTrust Vendorpedia Pricing
Unlimited Vendors, Unlimited Assessments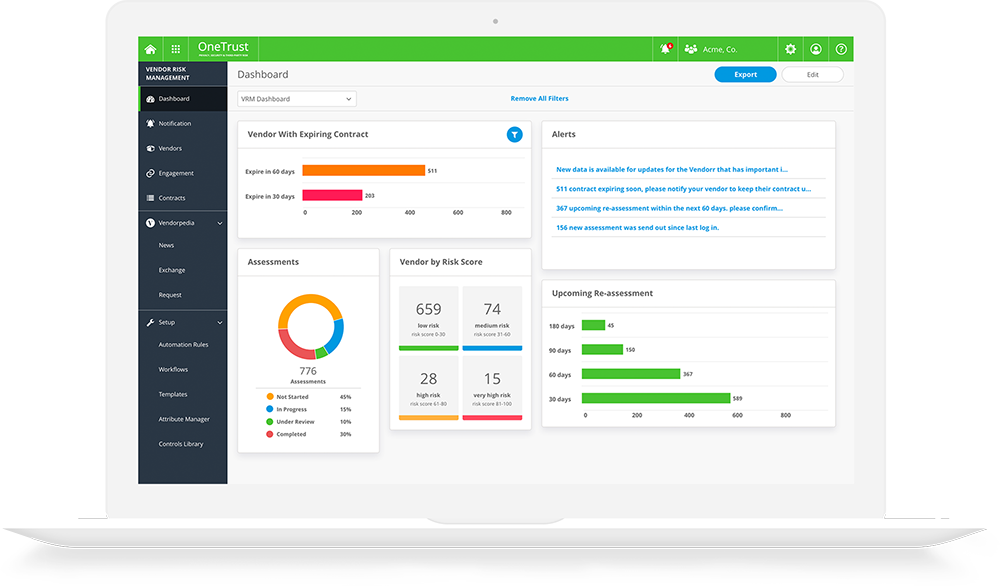 Get Started with the OneTrust Vendorpedia Platform Today
OneTrust Vendorpedia is simple to deploy, easy to use, and works seamlessly with the rest of the OneTrust platform. Request a demo to see how you can streamline your third-party risk program.
Request Demo
Adaptable to Your Needs, Regardless of Industry, Size, Location, or Use Case
Manage Any Type of Third Party
Automate the vendor engagement lifecycle, from onboarding to offboarding for IT and non-IT vendors, direct suppliers, services and legal organizations, franchisees and retailers, as well as agents and contractors.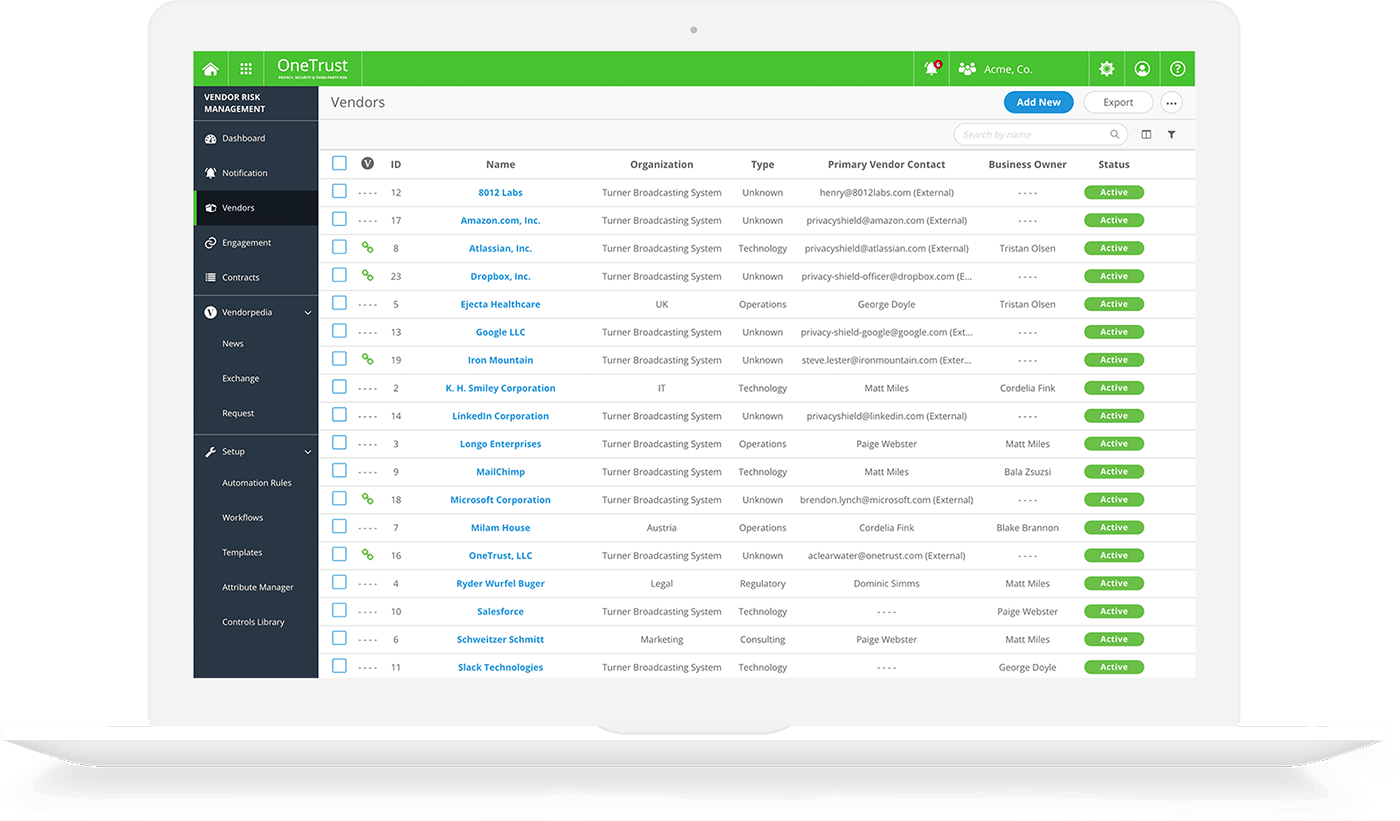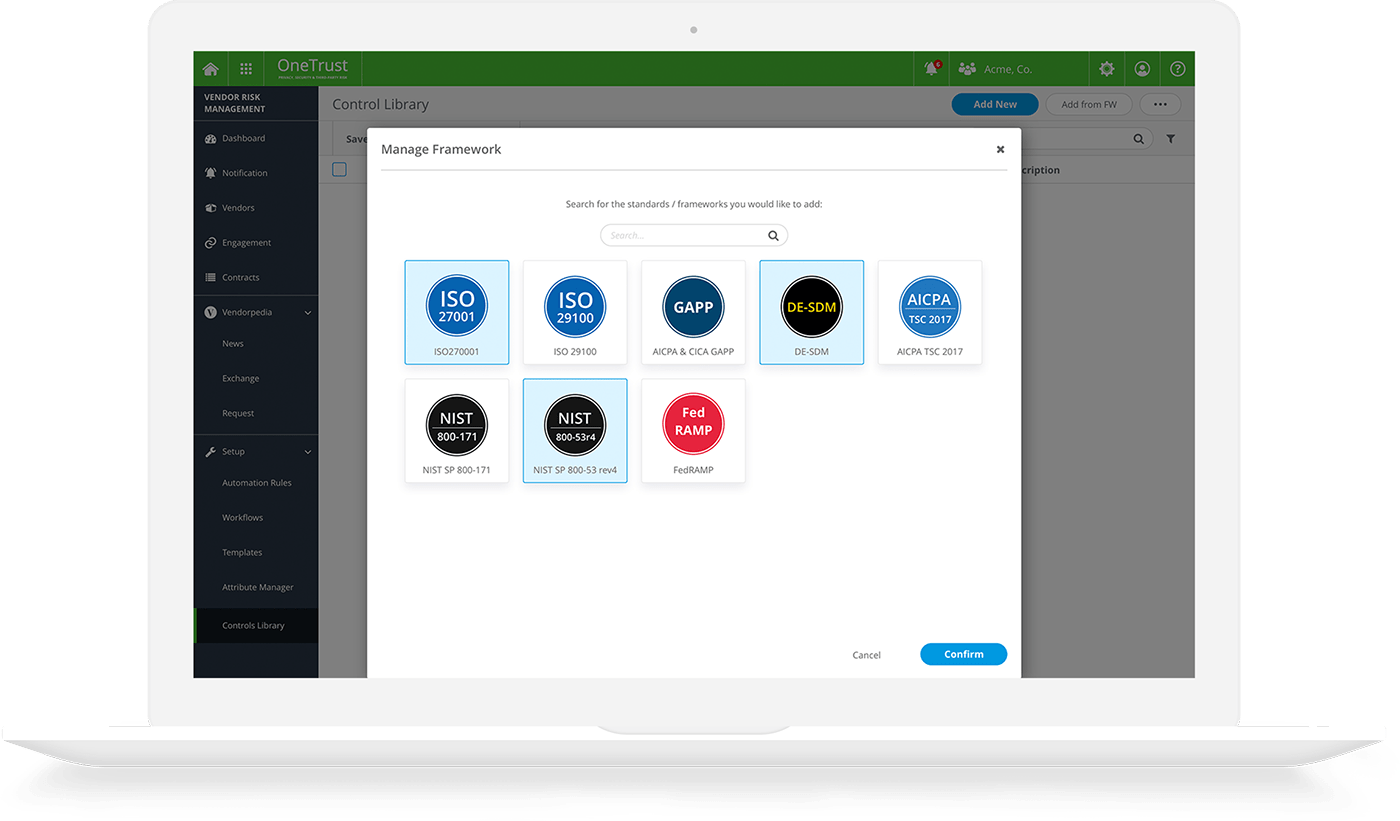 Use or Tailor Any Standard
Assess vendors with greater flexibility to fit your use case, with support for every industry standard, framework, and law, including CSA CAIQ, SIG, SIG Lite, HITRUST, PCI DSS, NIST, ISO 27001, GDPR, NYDFS, CCPA, and many more.
Assess Risks with Greater Granularity
Gain insight into the security and privacy risks of third parties at a granular level, including the vendor risks as a whole, as well risks specific to engagements, products or services, contracts, processes or IT systems.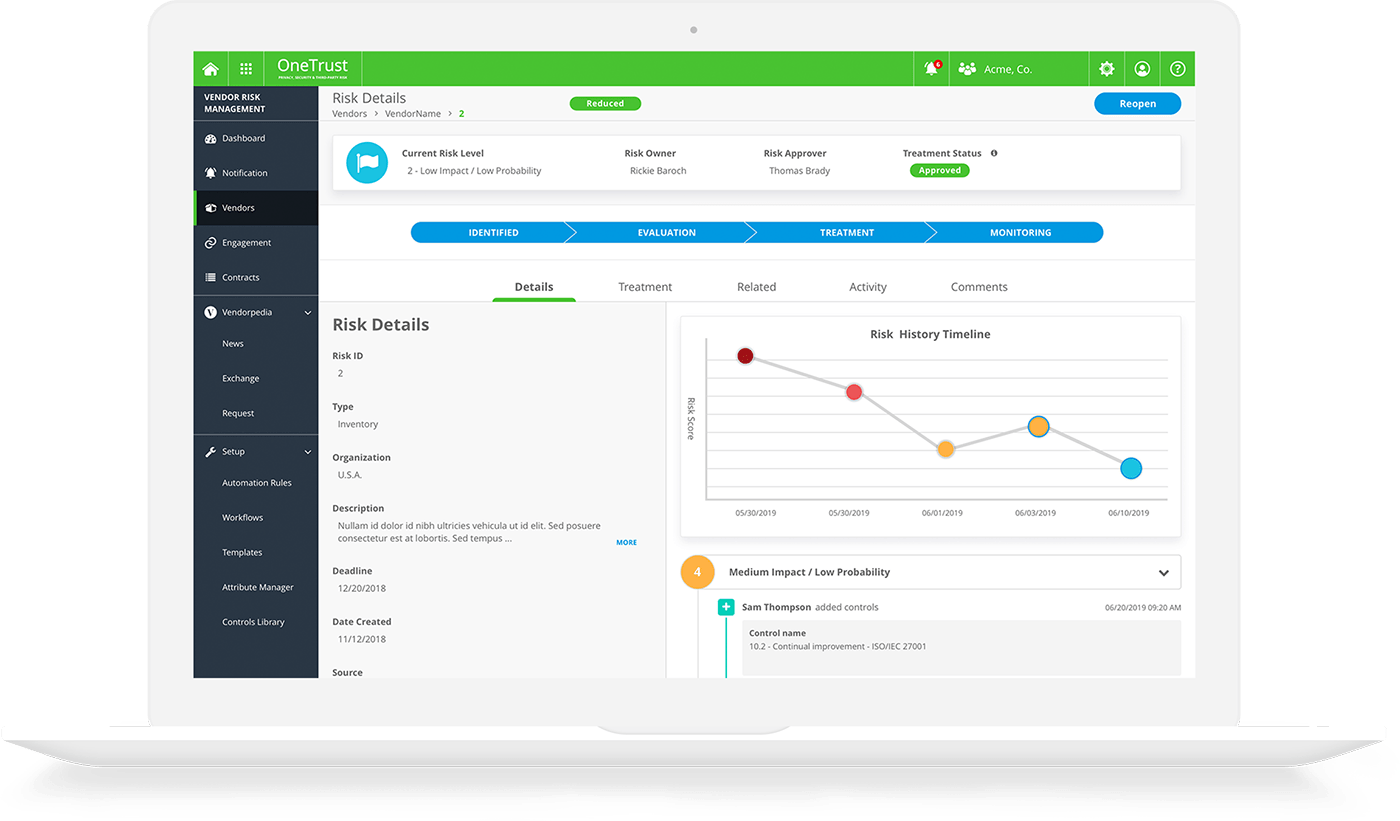 Optimized for Teams
Collaborate with multiple stakeholders across teams with ease, including procurement, InfoSec, privacy and legal, audit and compliance, vendor management and third-party risk, and individual business owners.
Powered by OneTrust DataGuidance
Backed by the world's largest and most up-to-date database of privacy and security laws, frameworks, and standards, which directly power and enrich OneTrust Vendorpedia. Research is generated by 30 in-house security and privacy experts and a network of 500 lawyers across 300 jurisdictions.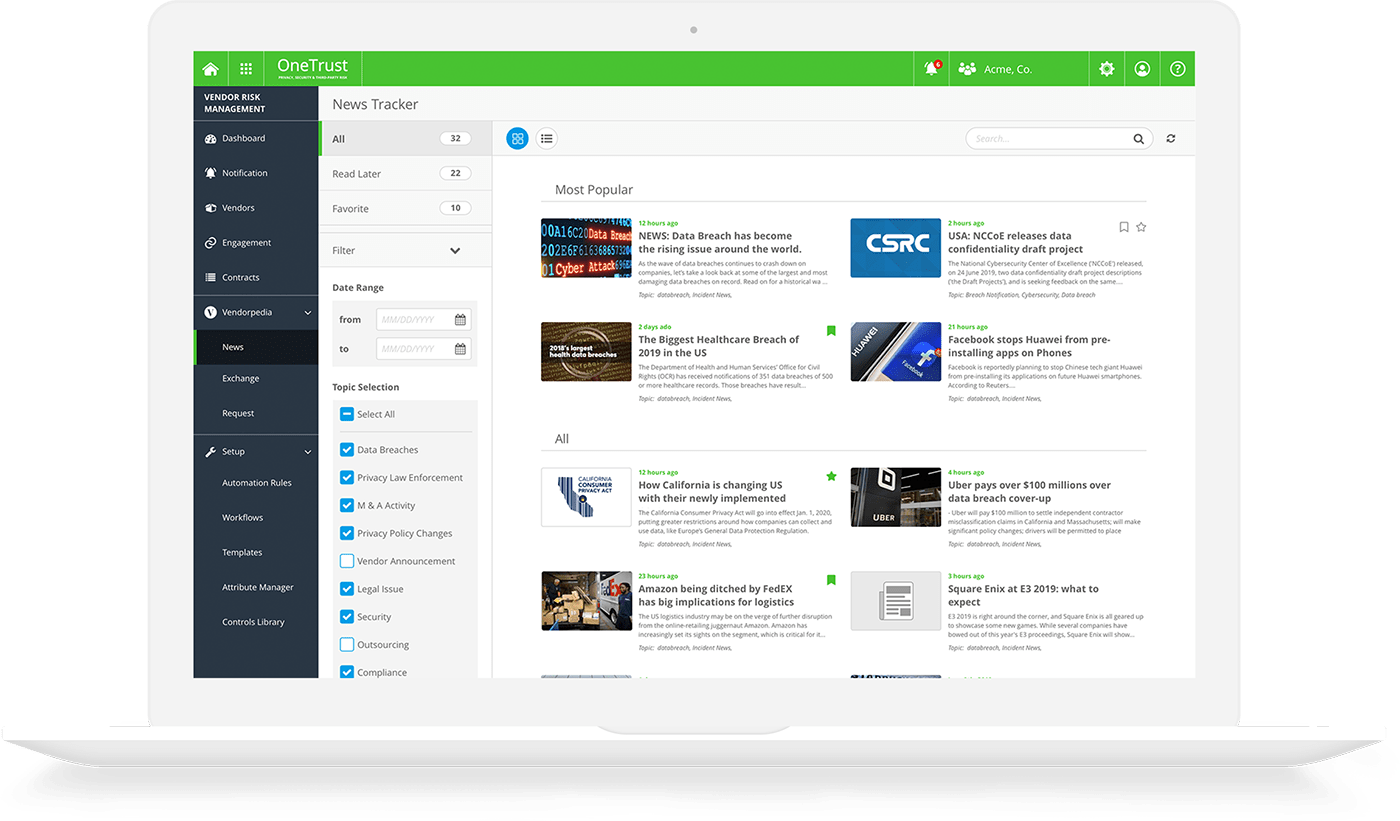 Instantly Connect to the Tools You Depend
on with Hundreds of Pre-Built Plugins
Integrate with Turnkey Marketplace Plugins
Seamlessly connect with existing systems, including procurement, contract management, CMDBs, ITSMs, GRCs, and Security Rating Services. The OneTrust Integration Marketplace comes with more 100+ out-of-the-box plugins for the tools you use most.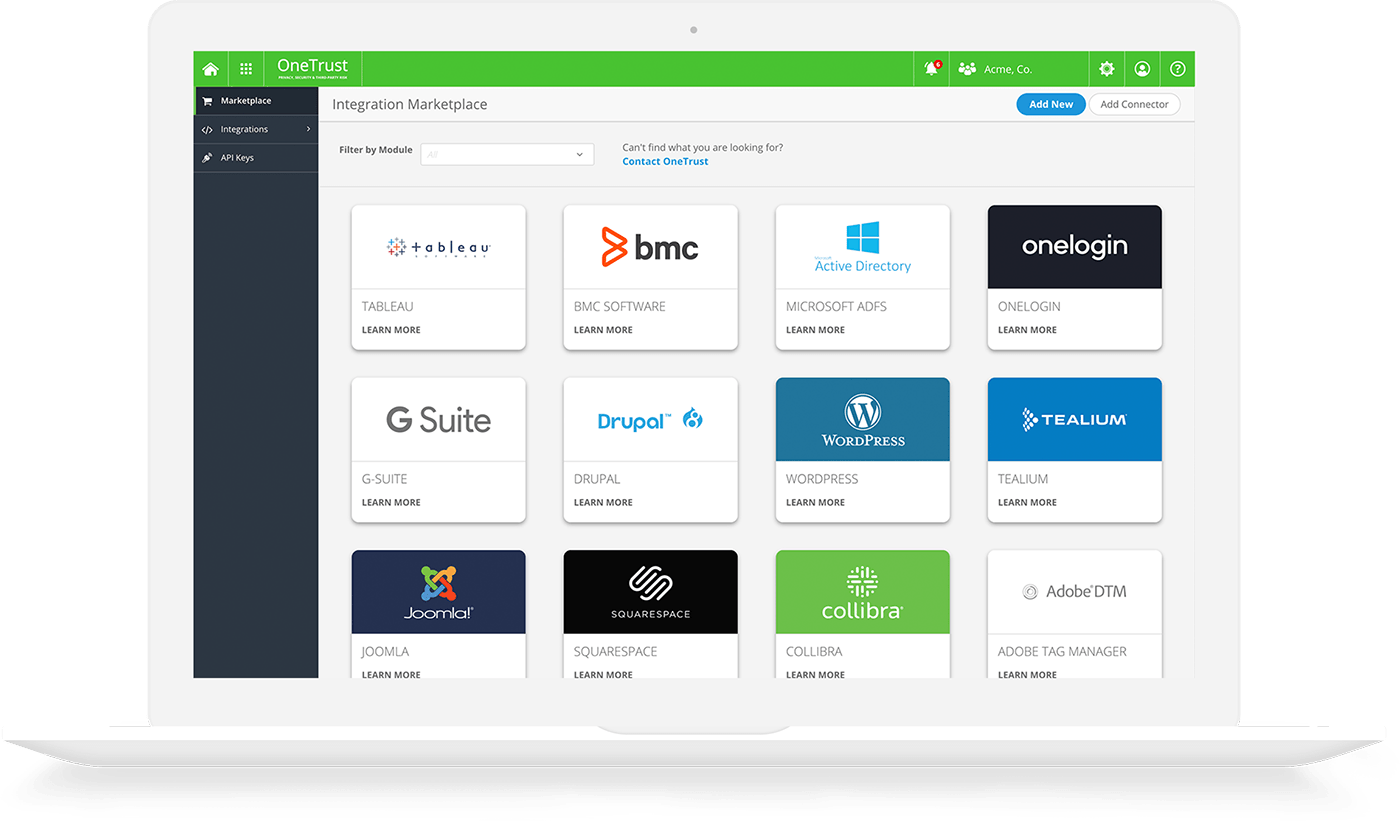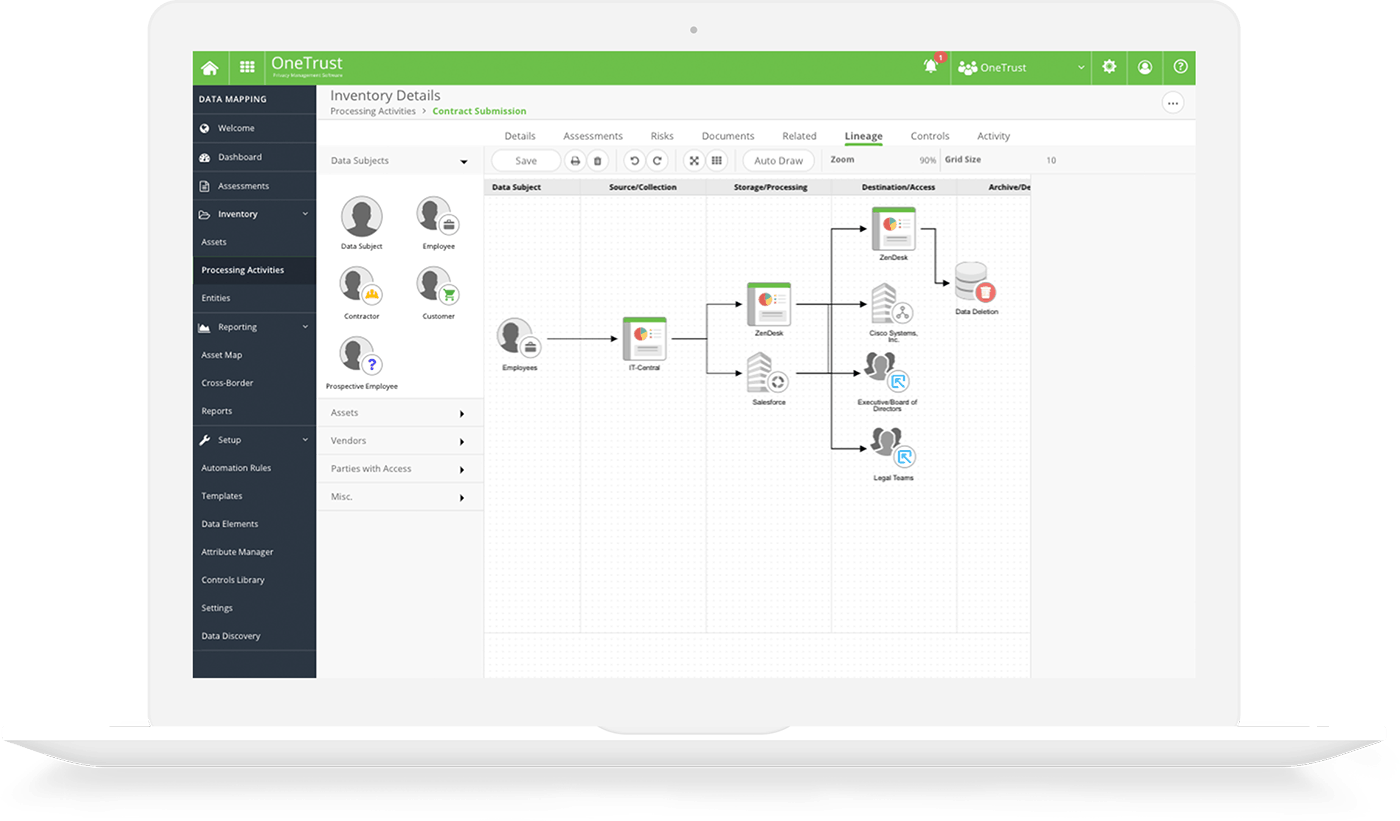 Get Even More Value from Your Vendor Data with OneTrust Platform Integrations
Link vendors to the IT systems and the business processes they support with Data Inventory & Mapping. Streamline data access and deletion requests with Consumer & Data Subject Rights Management. Pre-populate PIAs and DPIAs for faster Assessment Automation. And lastly, leverage the vendor and contract context you need for more intelligent Incident & Breach Response.
How OneTrust is Defining the Future of
Privacy, Security & Third-Party Risk
Powered by 50 awarded patents, our platform drives innovative compliance programs for companies of all sizes across the globe.
TECHNOLOGY PLATFORM
Easy to use and scalable tools to power all your privacy and security use cases in a single technology platform.
---
50+ Patents Awarded
60+ Languages Supported
300+ Technology Plugins
REGULATORY RESEARCH
World-class privacy and security research insights powered by a massive regulatory database updated daily.
---
30 In-House Researchers
500 Lawyer Network
300 Jurisdictions Covered
PROFESSIONAL SERVICES
Customer-driven and certified global team available 24×7 to support your successful program deployment.
---
100+ Implementation Team
2,500 Certified Partners
95% Customer Satisfaction
USER
COMMUNITY
Largest active community of global privacy technology professionals sharing best practices.
---
10,000+ Participants
250+ Global Workshops
100+ Cities Worldwide