March 16, 2022
4 Things To Look For In Your ESG Software
Successful sustainability management depends on these key elements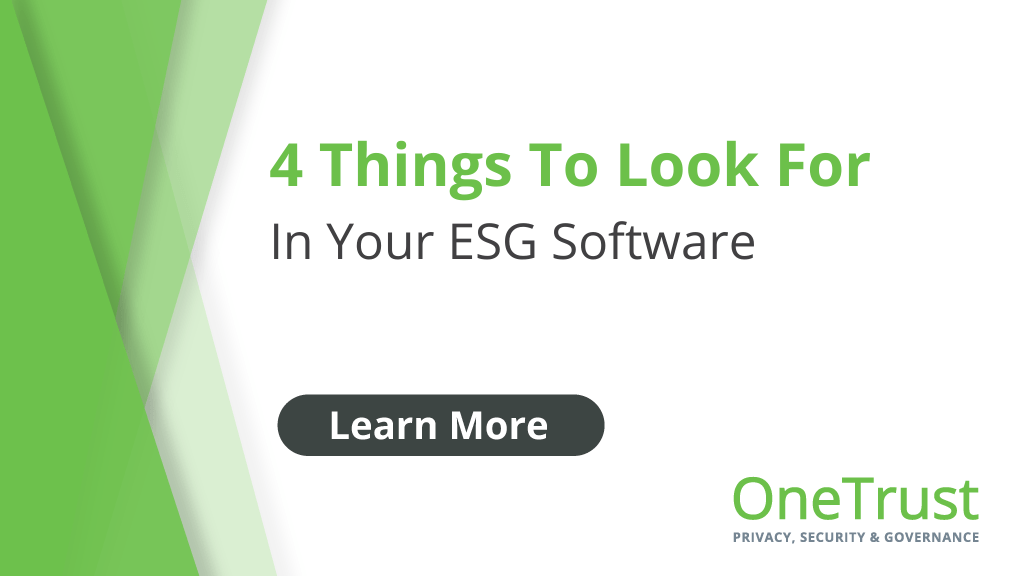 Sustainability may be a business imperative today, but there is not one simple way to achieve it. Factors such as regulatory requirements, ethical considerations, and stakeholder expectations can impact what environmental, social, and governance (ESG) information a company decides to share. Having the right ESG software tools can help organizations manage these expectations more efficiently and intelligently. But there are so many providers that it can be difficult to compare apples to apples. As a case in point, G2 and LinkedIn both show hundreds of ESG management software vendors. This article will help simplify the process by covering the key things to look for in a sustainability management platform:
Download the report: The Forrester New Wave™: Sustainability Management Software, Q1 2022
Four elements to consider when choosing ESG software
Companies implement ESG programs for a variety of reasons, but none as important as aligning with stakeholder priorities for sustainability. Employees, partners, investors, and customers are demanding greater transparency around corporate responsibility. Sustainable brands reap additional benefits such as better financial performance, higher employee engagement and retention, and improved resiliency to climate change impacts. However, gathering data for, managing, and reporting on ESG performance can be a complex, time-consuming task.
Sustainability management software can help save time by automating and streamlining the process of continuously monitoring, reporting on, and improving environmental and social impacts from business operations. But what's the best way to determine what ESG software is right for your organization? Knowing what to look for can help you choose the best sustainability management software for your current and future needs. Here are four things to consider:
1 – Strength of the company in the ESG software space
Sustainability management is a rapidly emerging market with many players big and small. Large players in adjacent markets such as Governance, Risk, and Compliance (GRC) or ESG investment portfolio are acquiring or partnering with smaller players specializing in ESG reporting or carbon management. Climate tech startups are also proliferating. Key questions to ask include:
What is the provider's overall market strength? E.g., longevity in the market, brand strength, competitive position, leadership, financial performance, regional coverage (global or other), solution scope (how many categories does the platform support?), etc.
What is the primary market focus and how does it align with the ESG space? Is ESG a natural fit or just adjacent to the core strategy and capabilities?
What aspects of sustainability management are addressed? E.g., materiality assessments, data management, reporting, investment portfolio management, carbon calculation and management, supply chain, climate action strategy, benchmarking/performance monitoring, expert insights.
If it is an acquisition or partnership, what does the integrated solution and go-to-market strategy look like?
2 – ESG data management and reporting
Data is at the heart of any sustainability program. Knowing what data is important, where it's located, and ensuring that it's aggregated into a centralized repository can be a challenge, particularly for large, multinational corporations. Common issues faced include:
Lack of clarity on what data needs to be collected and who owns it
Multiple data sources to manage – spreadsheets, databases, tools, and documents
Inconsistent data formats, definitions, and measurement units
No data automation or discovery
Lack of visibility/traceability into the data collection process
Manual processes leading to increased risk of errors and delays
Inability to benchmark progress
ESG software can help reduce the complexity by automating and simplifying the data collection, analysis, and reporting process. Questions to consider when choosing a solution include:
Can data capture be automated across different geographic locations, data sources, and stakeholders?
How is data privacy and security handled?
What kind of data quality checks are present?
Does it support international carbon accounting standards such as the Greenhouse Gas Protocol (GHGP)?
Is there transparency/visibility into how calculations are performed? Can they be audited and tracked?
What does the reporting functionality look like?
Which ESG reporting frameworks and standards are supported?
Can you set and track progress against baselines?
How are improvement opportunities identified and assessed?
3 – Supply chain and ESG third-party risk management
A comprehensive ESG program isn't limited to sustainability within your own operations – it also includes consideration of your supply chain and third-party risks. These risks can impact everything from brand reputation to product material sourcing to climate resiliency of your supply chain. An ESG platform with third-party sustainability risk management capabilities can help reduce supplier risk and ensure your vendors are aligned with your sustainability targets. It also improves accuracy, saves time, and reduces the effort required to achieve those targets. Key questions to ask include:
Can supplier risk assessments be automated?
Are there any pre-built templates to make vendor onboarding easier?
How does third-party data exchange work?
What mechanisms are in place to monitor and mitigate supplier risk?
4 – ESG impact and action
While measurability is essential for any ESG program, impact against commitments is what sets the leaders apart. Trusted, sustainable brands not only commit to quantifiable goals, they also transparently report on progress toward those goals. Be sure to ask your ESG platform provider the following questions:
How can I set improvement goals and track progress?
What type of improvement options are available?
What expertise does your team have in helping companies achieve improvement targets?
Do you have examples of customers who have successfully achieved carbon reduction goals?
Sustainability management: Bringing it all together
Bringing key ESG data together to build an impactful story for your stakeholders is foundational to your reputation as a trusted organization. The right ESG platform can help you streamline this process and gain deeper insights into major risks and how your organization is performing against its targets. Check for these capabilities when choosing your sustainability management software partner:
Position/strength in the ESG software space and team expertise
ESG capabilities included
Automated data management, reporting, and benchmarking
Standards and frameworks alignment
Customization options
Impact and action strategies and options
How Planetly by OneTrust can address your ESG management needs
We understand that sustainability is an essential part of being a trusted brand. Pioneering and operationalizing trust in one platform is what we do and where we invest all our resources – it's even in our name. OneTrust unifies data, workflows, and intelligence for all aspects of trust: ESG, privacy, security, marketing, governance, risk, compliance, and ethics. We make it easy to build trust into the fabric of your organization. Our platform is backed by 200 patents and powered by the OneTrust Athena™ artificial intelligence (AI) automation engine. We have been recognized as a leader in multiple analyst reports, including The Forrester New Wave™: Sustainability Management Software, Q1 2022. We believe these are just some of the reasons we are the fastest-growing company on Inc. 500 with more than 12,000 customers including 75% of the Fortune 100.
According to the Forrester report, OneTrust:
"Offers strong sustainability materiality assessment and data management capabilities. OneTrust offers both breadth and depth in environmental, social, and corporate governance (ESG) and governance, risk, and compliance (GRC), which are also bolstered by the acquisition of Planetly in December 2021. OneTrust brings a risk management perspective to its strong sustainability offering for its GRC customers as well as a standalone sustainability management solution."
The report analyzed 14 of most significant vendors in the market and OneTrust received differentiated scores in five of the ten major criteria including materiality assessment, data management, reporting, execution roadmap and market approach.
To see why OneTrust is recognized as a leader in sustainability software, download: The Forrester New Wave™: Sustainability Management Software, Q1 2022.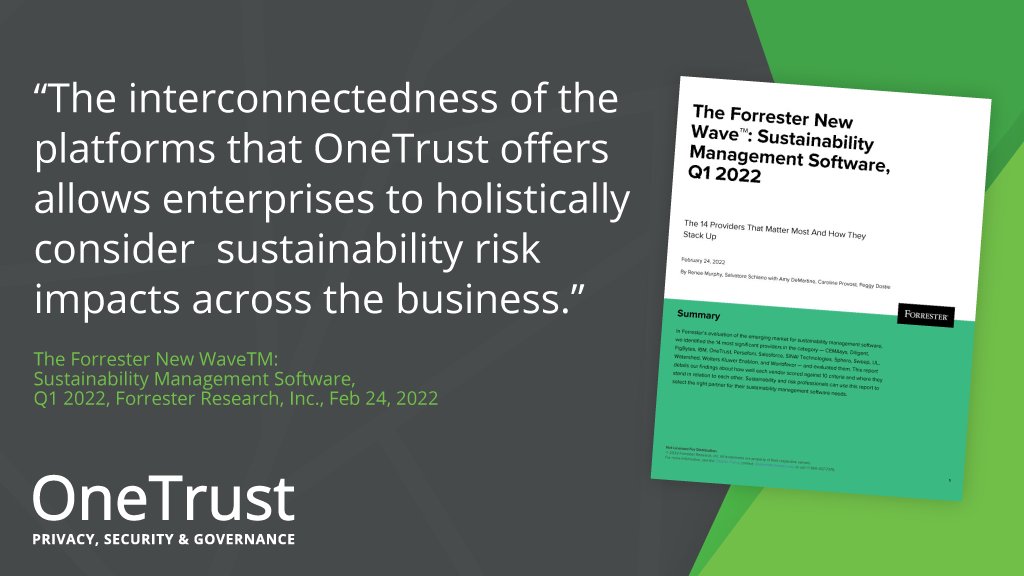 You may also be interested in reading: The Guide for Setting Corporate Climate Goals
Tags: