May 4, 2022
EFRAG Issues Draft European Sustainability Reporting Standards
Europe's new ESG disclosure requirements will cover 4x more companies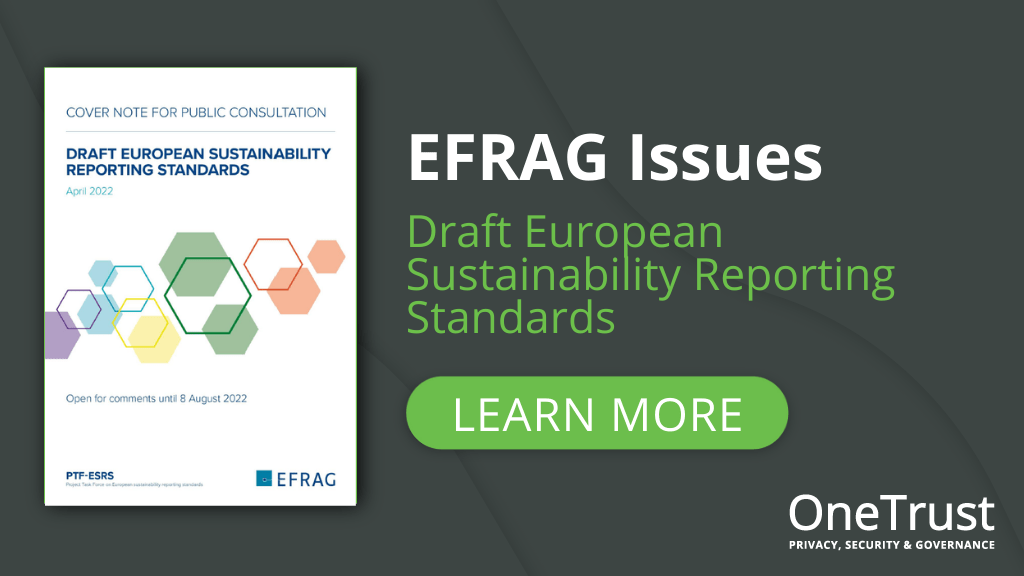 On April 29, the European Financial Reporting Advisory Group (EFRAG) issued the first draft of sustainability reporting standards for public comment. The standards will require detailed corporate reporting on a broad range of environmental, social, and governance (ESG) issues, as well as audited assurance on the information disclosed. The new rules are part of Europe's proposed Corporate Sustainability Reporting Directive (CSRD), which could be enacted into law as early as the end of 2022. The CSRD aims to strengthen sustainability reporting requirements under the existing Non-Financial Reporting Directive (NFRD) to improve corporate accountability, as well as the quality, consistency, and comparability of information disclosed.
"High quality and reliable public reporting by companies will help create a culture of greater public accountability." – European Commission

Watch the webinar: "Automating Reporting Disclosures for Your ESG Program" to learn how to develop and streamline high quality ESG reporting disclosures.
What is EFRAG?
EFRAG was established in 2001 by the European Union (EU) and the private sector to provide technical advice to the European Commission on accounting matters. It was also charged with providing input into the development of IFRS sustainability standards. Its mission is to serve the European public interest by developing and promoting European views in financial and sustainability reporting. On April 21, 2021, as part of the European Green Deal, the EU adopted the CSRD proposal, which will amend the existing reporting requirements of the NFRD. The proposal appointed EFRAG as the technical advisor to the Commission responsible for developing the European Sustainability Reporting Standards (ESRS).
What are the European sustainability reporting standards?
The European Sustainability Reporting Standards (ESRS) were released as a set of exposure drafts that outline reporting requirements across 13 EGS issues. The 13 ESG issues are categorized into four areas as follows:
Cross-cutting: General principles, general, strategy, governance, and materiality assessment.
Environment: Climate change, pollution, water and marine resources, biodiversity, resource use and circular economy.
Social: Own workforce, workers in the value chain, affected communities, consumers, and end-users.
Governance: Governance, risk management, internal control, and business conduct.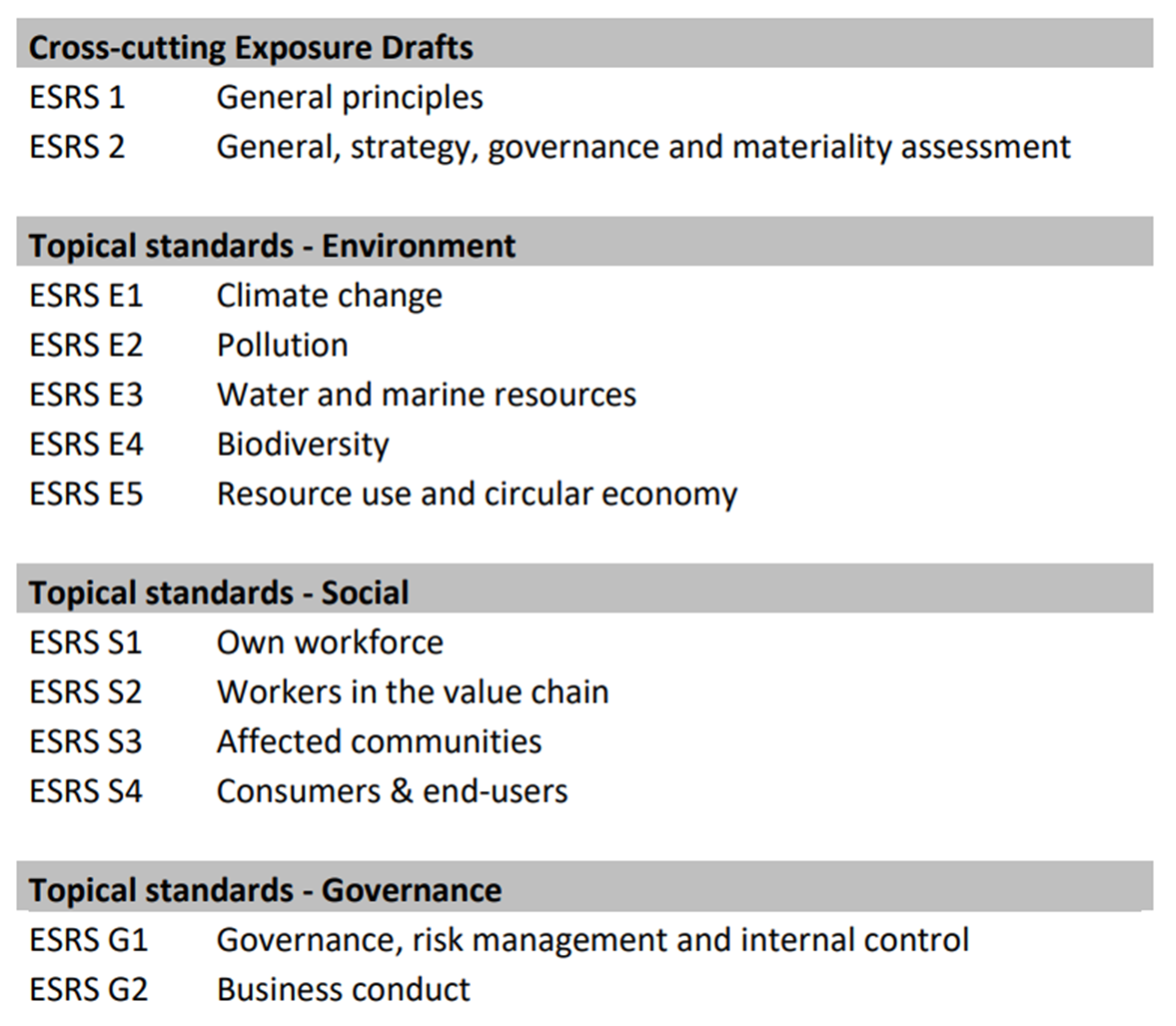 Source: EFRAG
What will the EFRAG sustainability reporting standards mean for your organization?
Companies covered by the new rules will have to disclose how sustainability is embedded across the business and how material ESG impacts, risks, and opportunities are identified and managed. This includes policies, targets, action plans, and performance measurement metrics. More details on what will be required are available in EFRAG's "Appendix I – Navigating the ESRS."
A few key features of the ESRS to be aware of include:
They may change before being adopted into the final CSRD, pending ongoing legislative negotiations.
They take existing European law and initiatives into account such as the March 2018 EU action plan financing sustainable growth, Sustainable Finance Disclosure Regulation (SFDR), EU Taxonomy Article 8, the Benchmark Regulation, the GHG allowance Directive, Corporate Sustainability Due Diligence, and more.
Lessons learned and best practices from European and other international standards and frameworks were considered during development, including those from NFRD, GRI, IFRS, SEC, TCFD, and more.
They are designed to ensure that sustainability information is reported in accordance with CSRD, can be easily navigated, and has maximum comparability across sectors while allowing flexibility for sector-specific information.
Audited assurance of reported information will be required.
Companies will have to prepare the information in a digital format that is machine readable and tagged, so it can be fed into the EU single access point envisioned in the capital markets union action plan.
Which companies will the EU sustainability reporting standards apply to?
Under the new ESRS standards in the CSRD, approximately 50,000 EU businesses will be required to provide sustainability disclosures. This includes all large companies and all listed companies (except listed micro-enterprises). This is more than 4x the number of companies (approximately 11,700 organizations) currently required to provide non-financial reporting under NFRD. According to the European Commission, the reason for the expansion is to ensure "that all large companies are publicly accountable for their impact on people and the environment. It also responds to demands from investors for sustainability information from such companies."
When will the new EU sustainability standards be enacted into law?
The draft ESRS are open for public comment until August 8, 2022. In parallel, the European Parliament and Council are negotiating a final legislative text for adopting the CSRD. If they reach agreement by third or fourth quarter 2022, the European Commission could adopt the updated ESRS into law by the end of 2022. If that happens, companies will have to apply the standards to their 2023 sustainability reports, publishing in 2024.
Watch the webinar: "Automating Reporting Disclosures for Your ESG Program" to learn how to streamline your ESG program, simplify disclosures, and auto-populate reports. 
You may also be interested in downloading the ebook "Ultimate Guide to ESG Sustainability" to learn how to keep your organization ahead of the curve on emerging regulations.
Tags: