February 9, 2022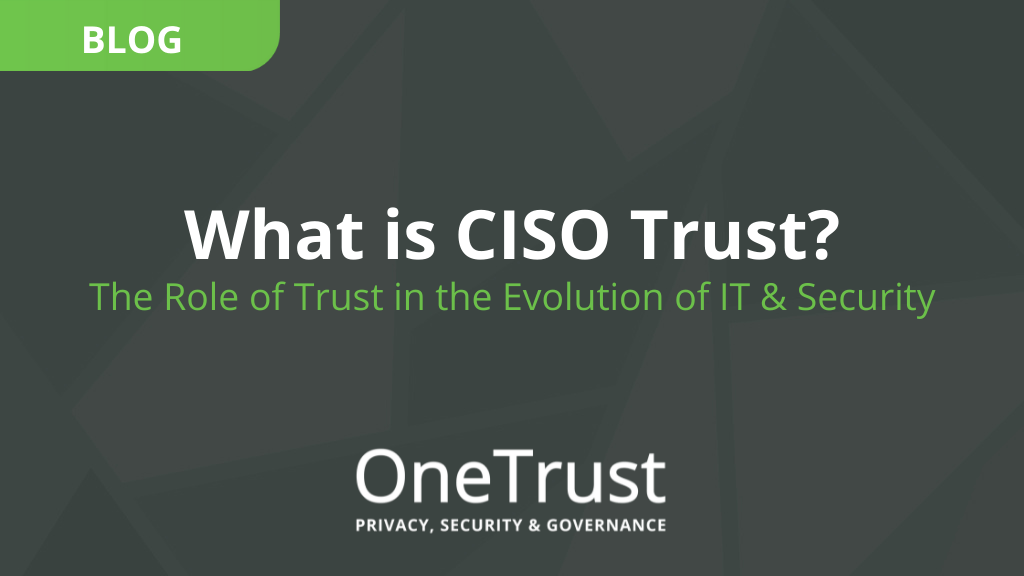 Continual evolution is inevitable when it comes to the security landscape. In the modern IT & security sphere businesses are facing more risk vectors than ever before, pushing IT & security teams to reevaluate and modernize their approach to risk mitigation. Most recently this is reflected by a major industry shift to emphasizing the criticality of trust and its pillars across the organization. Let's dive into the shift to trust management and what it means for the ever-evolving CISO: What is CISO trust? 
Watch the webinar to learn more about the CISOs role in driving trust across an organization. 
What is CISO Trust? 
Trust, defined in our recent webinar, is an outcome earned from actioning integrity-based commitments across each of the four pillars of trust – Security, ESG, Ethics, and Privacy. As trust continues to emerge as a key priority for shareholders and customers, it simultaneously becomes a critical business consideration for the CISO. At its core, trust is about bringing these pillars together to gain a holistic risk insight, setting up companies to action and earn the trust of consumers and key shareholders as the business grows. 
Read our blog to learn more about the importance of trust and why the CISO should care. 
The Shift to Trust Management
Traditionally, the CISO and broader IT & security teams view security and privacy as consisting of two key risk domains. The modern risk landscape has shifted, with key consumers and shareholders expecting IT & security teams to have visibility into areas like due diligence and supplier sustainability. As a result, ESG and Ethics have been highlighted as equally important risk domains, shifting the scope of CISO considerations and establishing the four key trust pillars: Security, ESG, Ethics, and Privacy.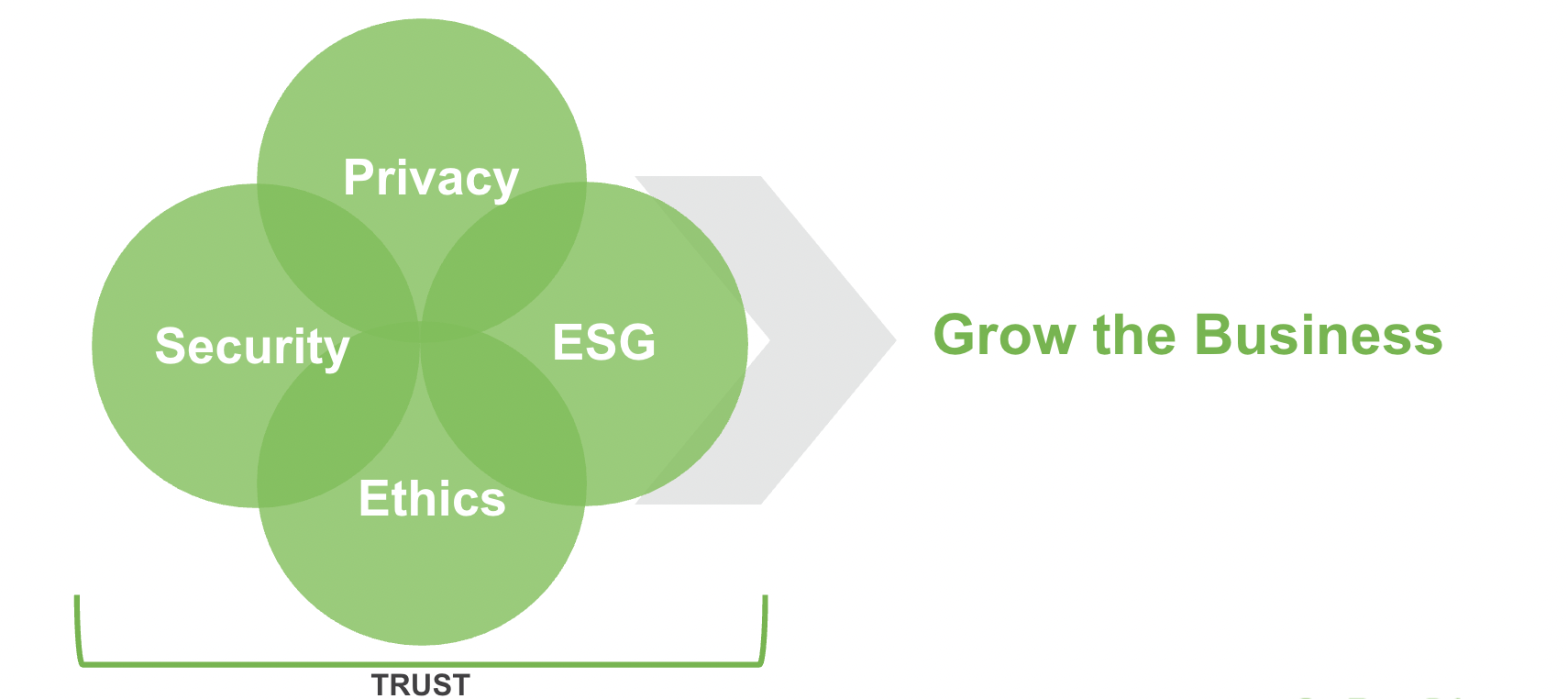 Read our blog to learn more about the impact that trust management has across the organization.  
The Importance of Trust Management for the CISO
CISOs have become the most senior executive leader responsible for trust management across the organization. Prioritizing trust as a primary objective of security and compliance elevates the CISO's office from a cost center to a value generator.  
As companies grow, it's critical that the CISO builds out risk, compliance, and security functions that enable trust-based relationship building and safeguard brand reputation, all while driving revenue retention and growth. Each is a key function associated with earning and sustaining trust-first IT & Security management.  
Key Considerations for Trust Establishment & Maintenance
Historically, the single most important task of the CISO is to assure the CIA triad (confidentiality, integrity, and accessibility of data) across the information security stack. In shifting to a trust-first security approach, those three things remain the cornerstone of the CISOs role, as they inherently build trust in an organization. The CISOs role, when approached through the lens of trust, considers the following critical trust-building practices across responsibility domains: 
Disaster Recovery:

Ensuring that your business has a continuity plan in the event of a disaster is key to any trust program. How do you keep security as a priority during disaster recovery and the deployment of a

business continuity

plan?

 

Documentation:

Creating and using playbooks and incident ro

admaps is critical to any business – you need to have a long-term plan to build capabilities across the organization.

How are you documenting your data and are there living documents for security best

practices and procedures in your organization?

 

End-to-end security ops:

With shifts to remote work and other technological advances, businesses have had to deal with a growing number of endpoints as well as increased types of endpoints. Do you understand the full scope of your endpoints and do you have a security plan in place?

 
Compliance:

The compliance aspect of program maturity and incident response is important to regulators as well as the board of a business. Trust stems from compliance across the internal and external enterprise. Are you in compliance with all relevant regulations? If not, what are you doing to get in compliance with them?

 

HR management:

HR has become an issue that the CISO is responsible for by looking at insider threats across an organization. How do you work with HR to deal with this?

 
Additionally, a key job function for the modern CISO is acting as the bridge between the pillars of trust (Security, Privacy, ESG, Ethics), and maintaining visibility across each pillar. This is a critical component to informing each of the aforementioned activities.
Trust Challenges for the Modern CISO 
As the technology landscape continues to evolve and technology solutions continue to upscale, there are many questions that a CISO must consider. Some of the critical challenges the modern CISO faces are:  
Ethical AI:

The ethical use of AI is a question faced by many organizations now that we live in a data-driven economy. How do you protect customer user data in a way that isn't going to compromise personal data and create vulnerabilities? 

 

Trust in Bio-Metrics:

The ethical use of biometric data is another key challenge for the CISO. What regulations and frameworks are you required to follow to protect your company and protect individual data?

 

Zero Trust Architecture:

The concept of zero trust stems from the idea of centralizing trust across the organization. Are you earning trust in real time by proving you are who you say you are, and you're doing what you say you're going to be doing with every step you take within an organization? 

 
Driving Trust-Based Evolution
The CISO must continue to lead and evolve to help their organizations drive cross-organizational awareness of modern threats and bring together the pillars of trust to action integrity across the enterprise. To do so, it's important that the CISO does the following: 
Shares trust data publicly:

Sharing incident response plans and other data around trust helps to gain trust from your consumers and shareholders.  

 

Actions risk mitigation across trust silos:

Actioning risk mitigation across the four critical risk domains – Security, ESG, Ethics, Privacy.

 

Prioritizes

third-party trust

considerations:

Third-party vendors, government institutions and thought leaders in academia and the wider industry. 

 

Strategizes alongside industry shifts:

The role of the CISO is constantly evolving, adding job functions and varying levels of responsibility. It's undeniable that the CISO must take this evolution in stride and strategize alongside industry shifts (e.g.

the decision to relax controls to enable remote work

). 

 

Evaluate employee behavior and organizational culture:

 Prevent rogue employees, monitor toxic work culture, review and recognize suspicious behavior, ensure a fair work environment for everyone.

 
Ultimately, trust is what enables decision-making for an enterprise. A CISO must action each of the above to showcase integrity and produce meaningful results for their trust stakeholders.
How Can OneTrust Help with Trust Management for the CISO? 
Currently, security tools across trust pillars are siloed and static, operating independently of one another and through manual processes. Trust focuses on the value of the singular workflow across the pillars and encourages the implementation of a comprehensive approach to drive workflow automation across pillars, collaboration between teams and, most importantly, to create measurable output and reportable data. 
OneTrust works to solve this by providing a single security solution. The OneTrust software leverages expertise in privacy and data governance, GRC and security assurance, ethics and compliance, and ESG to focus on building trusted and lasting relationships across the core critical risk domains: security, privacy, ethics & compliance, and ESG. 
Request a demo to learn more about how OneTrust can help CISOs action trust across the enterprise. 
Further Reading on CISO Trust Management:  
Next Steps on CISO Trust Management:   
Follow OneTrust on LinkedIn, Twitter, or YouTube for the latest news on CISO trust management.   
Tags: