As a privacy professional, you know that all the data that you collect needs a proper view for not only you but your team members as well. Data visualization allows you to bring all your data together to create actionable insights for your team and your company. With the OneTrust dashboard tool, users can view preconfigured dashboards, or they can create their own custom dashboards to view analytics for their assessments.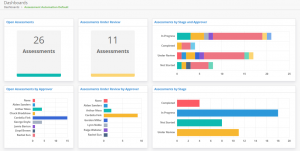 The Default Dashboard
The preconfigured dashboards include a default view which has open assessments, assessments under review, assessments by stage and approver, different views, open assessments by approver, assessments under review by approver, and assessments by page. OneTrust has built these default templates across the application and are available in Assessment Automation, Data Mapping Automation, Data Subject Rights Management, Incident and Breach Response, and Vendor Risk Management. 
From a business side, there are certain metrics that will always be valuable to your team and company. The default dashboards can help get you started, but you can customize your dashboards to visualize your data in the way that makes sense for your business and your priorities. The dashboards and widgets can be changed for each of your needs. If you need a different style, that is available as well in the dashboard tool.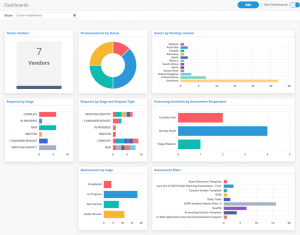 A Custom Dashboard
Because different parts of a business have different needs and priorities, the dashboards an organization uses needs to reflect these differences. The dashboard functionality is built across the OneTrust tool, allowing for the necessary flexibility. You can see these dashboards in other areas of the OneTrust product to enhance functionality and use.  
The dashboard functionality is a cross-module feature, meaning that when users create custom dashboards, they can bring in data across the application for management viewpoints. This rich feature makes business intelligence immediately available and digestible to users at every level in a company. Information that can be highlighted includes risks, statuses, related inventory records, approval statistics and more.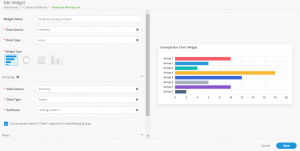 Dashboard Widget
With the OneTrust dashboard functionality, businesses will have complete visibility into the privacy projects across the organization. To try out the dashboard feature, sign up for a free two-week trial. To stay up to date on all OneTrust's latest updates, follow us on LinkedIn, Twitter, and Facebook.