December 1, 2021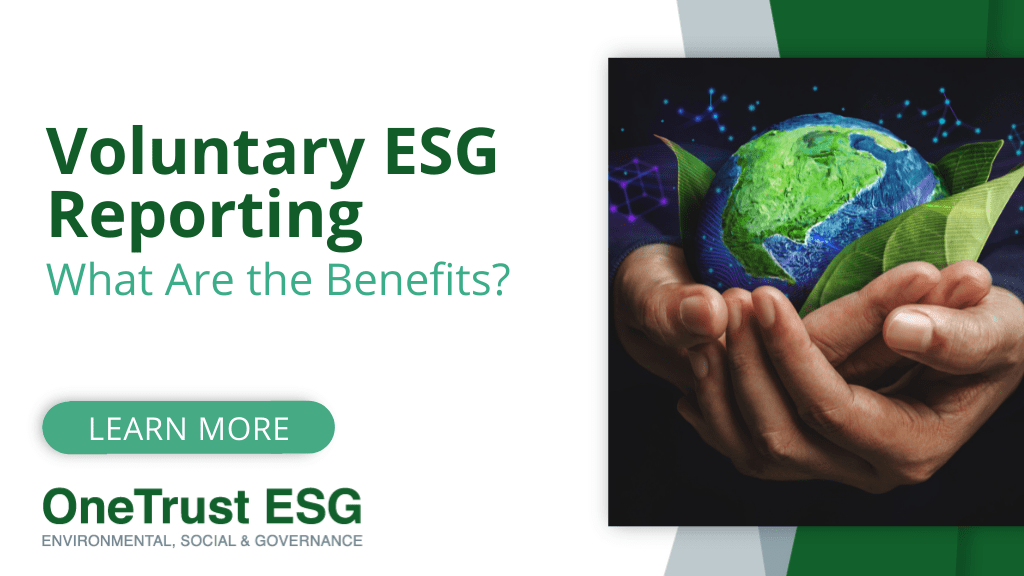 Today's regulations for ESG disclosures are regional, limited, and mostly cover publicly-traded companies or those above significant revenue thresholds and employee counts. Yet voluntary reporting on environmental, social, and governance (ESG) activities is on the rise. 
For example, 90% of companies on the S&P 500 produced sustainability reports in 2019. And NASDAQ anticipates global spending on ESG reporting will grow to $5 billion in 2025 — up from $500 million in 2020. 
Download the Guide: Voluntary ESG Reporting: What are the Benefits?
This begs the question: Why are companies choosing to invest in voluntary ESG reporting? Because companies see value for their stakeholders in ESG reporting.
Our guide below explains the factors that contribute to this correlation. By looking at current practices and the future of ESG, companies can more easily calculate the benefits of voluntary reporting.
As norms and standards continue to evolve, you should be prepared to respond with your own ESG reporting strategy. We'll also share tactical implementation steps so you can align with your company's mission and goals. 
Learn more about the 2022 SEC ESG Disclosure: 5 Things to Know About Forthcoming SEC ESG Disclosures
Benefits of Voluntary ESG and Sustainability Reporting 
Today's consumers are increasingly mindful of their carbon footprint. And this leads to new criteria when it comes to purchasing decisions. 
For example:  
Nearly 3 in 5 consumers

report being more aware of their impact on the environment post COVID-19. 

85%

of people will take personal action to support environmental initiatives. 

67%

of people worldwide support featuring carbon-labeling on products. 
It's largely accepted that individual action — changing personal habits and consumption that impact the environment — plus collective action — large-scale solutions on the government, industry, and company levels — will form a viable solution to climate change. 
As consumers change their behavior, they also recognize the need for large-scale solutions. This has resulted in increased pressure on the business community to demonstrate their tangible contributions to protecting the environment and reducing harm. 
62% of consumers believe companies must operate more sustainably in 2021 and beyond. Businesses should prepare by developing an ESG program and reporting that demonstrate meaningful goals, results, and ambitions. Otherwise, they risk losing the faith of their customers — and the investment community. 
ESG reporting is an investment not just in environmental sustainability, but also in the long-term viability of businesses. With this investment, companies can expect tangible benefits that will help to future-proof their businesses under these evolving conditions and demands. 
Benefit #1: Sharing Values and Knowledge with Customers, Suppliers, and Industry Peers
There's an overt social value to connecting with customers, suppliers, and industry peers by meaningfully contributing to ESG-driven dialogue. 
Consumers indicate they're more likely to purchase from companies that prioritize solutions to environmental (80%), social (76%), and governance (80%) causes. This positive outcome also holds true in the B2B world, where it's important that companies working together operate on the same level of risk management. 
Companies can foster genuine connections by providing valuable insights about the topics that matter most to their investors, customers, and the general public. By expending effort to share their values and knowledge through ESG reports, a business demonstrates it's taking the issues seriously — and provides an accountability framework that builds trust. 
This is important because trust will increasingly be how companies earn customer loyalty in the future. It's measured through the amount of self-provided data a consumer gives a company, and the increased length of time they spend interacting with the organization.
Benefit #2: Demonstrating Transparency and Good Governance to Investors
While narrative storytelling around ESG initiatives helps to provide context, 72% of investors are calling for more transparent, quantitative reporting from companies about their ESG efforts. Their willingness to invest increasingly relies on evidence-based outcomes and a desire to drive capitol into green projects. This builds trust and demonstrates the company is effectively managing growth and risk over the long run. 
The takeaway for executives and strategists is to prioritize a reporting structure that is measurable, trackable, and easy to understand. This allows investors to follow ESG-related performance over time and develop faith in the effectiveness of their governance efforts.
Benefit #3: Building Trust with All Stakeholders
When it comes to following through on ESG pledges, no more than 43% of consumers believe businesses are living up to their responsibility to provide solutions. ESG stakeholders include the investors who may consider adding your business to their portfolio — or removing it based on company practices.  
A strong ESG program improves a company's overall market perception, which can help you build trust with these stakeholders. 
Millennials, who are the primary driver behind ESG's rising significance, invested $51.1 billion in sustainable funds in 2020. That's up from $5 billion in 2015. It seems likely that Generation Z will accelerate this trend. 
Transparent reporting will help potential investors connect with and relate to your business's current progress and long-term objectives. And with no signs of sustainable investing slowing down, the risks are significant for those left unprepared. 
Benefit #4: Attract and Engage New Talent
The 2021 job market has emboldened candidates to ask for more from their prospective employers. With the COVID-19 pandemic upending workplace norms, employees are migrating to jobs that meet higher standards for company culture, equity, sustainability, and wellness. 
Today's workforce requires companies to take a stance — and mean it — when it comes to sustainability, social justice, and other leading issues. More importantly, employees stay longer and are happier when they see their company supporting their own personal values.
Companies can expect to attract leading talent by developing and following through on ESG objectives. Today's savvy candidates pre-screen their prospective employers to understand how they perform on ESG issues. By making ESG reports readily available, businesses can stay ahead of candidate expectations and actively encourage the brightest talent to apply. 
Benefit #5: Cultivating Employee Purpose and Pride
The tumults of the COVID-19 pandemic imparted harsh, residual effects on the global workforce. As companies experienced unpredictable ups and downs, employees feared a potential loss of income, a decline in their well-being, and missed connections with their colleagues.  
Today, 1 in 3 employees expects well-being to be a leading area of focus for organizational culture. Executive teams recognized the need to invest in strategic internal communications to address the impacts of the pandemic, social justice movements, global conflicts, and other landmark events. 
In exchange, companies who did this well earned the trust and respect of their workforce, which cultivated a sense of purpose and pride. 
Meaningful work leads to lower rates of employee turnover, providing a tangible return on investment for ESG efforts that directly support the company's workforce. 
Download the Guide: Voluntary ESG Reporting: What are the Benefits?
What To Include In Your Voluntary ESG Reporting
Today, few existing regulations define the requirements for ESG reporting. This presents both challenges and opportunities to organizations. 
On one hand, fewer restrictions provide the ability for a company to define its path, purpose, and metrics related to ESG. On the other hand, getting started with little guidance or structure can be daunting.  
If you're planning to develop ESG reports on a voluntary basis, there's a significant array of pre-existing ESG formats and frameworks to get you started. It's best practice to align the reporting framework with current and emerging approaches in the jurisdictions where you operate or plan to in the future. 
A few organizations are forging a path to follow:
Getting Started with ESG and Sustainability Reporting 
If you're just getting started with ESG and sustainability reporting, best practices call for an organization's first annual report to include foundational materials. You can work with a variety of frameworks to achieve a respectable year-one version and lay a foundation for future efforts. 
Working with ESG software, sustainability reporting tools, and sustainability reporting services will enhance reporting initiatives, especially when first getting your efforts off the ground.
CEO and/or Board of Directors Message
By demonstrating commitment on the leadership level, companies can build trust and admiration from ESG investors and stakeholders. The public views the C-suite and board of directors as the faces of ESG commitments. Don't miss this opportunity to humanize the message by aligning leaders with company-driven solutions for sustainability challenges. 
Materiality Assessment
This effort develops intelligence around the ESG issues that have the greatest impact on your organization and carry the most importance with your stakeholders. Different guidelines have specific definitions of what materiality assessment covers. 
ESG leaders should become familiar with these different approaches to identifying material topics. They should choose an option that will best support their strategic objectives for ESG programs and reporting.
The outcomes of a materiality assessment will help teams understand what's at stake for the business and where to focus priorities over the short and long term. 
ESG Data about Material Issues
Studies show teams who commit to ESG issues aligned with the company's bottom line generate stronger financial results compared to those prioritizing unrelated issues. Proving materiality is critical to long-term success. The Sustainability Accounting Standards Board (SASB) provides criteria to score financial materiality by industry. 
A voluntary ESG report should include accurate data about the topics a company has identified as material in your materiality assessment. The data can be included in a narrative. It's also a good practice to include data in a table or chart at the end of the assessment. This practice allows investors and stakeholders to easily review and integrate the data into their own analytics tools.
Goals and Targets
Setting measurable goals and targets demonstrates an organization's commitment to reaching them. Partnering with a sustainability reporting service helps organizations build the internal competencies to develop attainable goals aligned with market forces, investor sentiment, and current frameworks. 
For example, if a company states their goal is reducing environmentally-harmful waste in the next five years, they should be showing each year that their output has decreased, and recycling programs and waste has increased.
Descriptions of Strategies and Programs for Achieving Goals
ESG stakeholders want to know how organizations plan to achieve their goals and targets. Explaining the approach to implementation builds credibility and provides a measurable basis for year-over-year efforts as they evolve. 
For example, a company that states their goal is improving economic opportunity for women may provide descriptions of training and development that they offer to their own workforce, supplier diversity programs, and women's empowerment efforts at suppliers in their global supply chains.
Links to Other Related Reports
Depending on your industry, targets, or strategy, additional resources may be relevant to your ESG report. Even if not required, companies may opt to report on the following metrics to build trust and transparency: 
Human Capital Report

: The SEC requires enhanced reporting about human capital metrics for public companies. The criteria include measures of employee retention, acquisition, and career mobility.

Supplier Diversity Report

: Addressing barriers for businesses owned and operated by diverse leaders and teams is a priority initiative for many organizations. 

CDP Disclosure

: This global initiative leverages scoring via a third party to measure company and city impacts on climate change, water security, and deforestation.

Social Impact Report

: As more organizations invest capital and resources into social causes, this report summarizes company contributions — from volunteer hours to donation matching programs — and estimates how company efforts have driven change. 

Charitable Giving/Corporate Philanthropy Report

: For businesses with organized philanthropy programs, this report provides an opportunity to tell a story about the causes selected for giving and evaluate the overall impact of the program. 

Government Affairs Report

: Organizations may use their influence to engage in public affairs activities related to their target ESG issues. Summarizing company efforts to influence legislative change can be a meaningful resource for politically-engaged stakeholders and investors. 
Advanced ESG and Sustainability Reporting with Dashboards
Becoming fluent with ESG standards and reporting doesn't happen overnight. It takes years to create a foundation, measure outcomes, and create new iterations based on the collected data. 
As your team grows through the process, consider adopting the following advanced measures and reports as they relate to your stakeholders' needs:
Year-over-Year ESG Data in Charts and Tables
As established earlier in this guide, what today's ESG investors and stakeholders look for is demonstrable accountability. Reporting your quantitative ESG data year-over-year in charts and tables removes traditional barriers to interpreting outcomes. The issues at hand are complex, so it's key to work with tools that simplify and streamline data into accessible formats.
Relationship Between Material Issues, Programs, and Sustainable Development Goals (SDGs)
While a single organization may be unable to take on all 17 of the UN's SDGs, identifying its most relevant material issues and the ESG programs that tackle them is an appropriate measure for reporting organizations. 
For example, a company may be progressing in a few areas more than in others. Choosing the areas that haven't been addressed at all to tackle in the immediate future can make sure an organization is focused on its most important issues. 
Highlights of Lessons Learned – Achievements and Shortfalls
ESG programs come with a steep learning curve. Some may argue that acknowledging failures is just as important — if not more so — than simply touting accomplishments. Without it, your ESG program runs the risk of losing its credibility. Company leadership must be willing to acknowledge shortfalls. It may help to know that Millennials and Generation Z investors are likely to trust organizations and leaders who aren't afraid to accept responsibility and outline a new path forward when goals aren't met. 
ESG and Sustainability Governance Model
Building additional granularity into your reporting will continue to foster trust among stakeholders. By providing insight into your ESG and sustainability governance model, readers can understand how your organization enforces and prioritizes ESG standards and performance. 
Conclusion: The Time is Now to Develop Your ESG and Sustainability Reporting Strategy
As investors reprioritize their portfolios to reflect sustainability values, businesses have no time to waste in developing an engaging and informative ESG reporting structure. 
Additionally, with an increasingly competitive talent market claiming their role as ESG stakeholders, organizations that are transparent about and accountable to their values will be well-positioned to win over and retain the new hires they need to succeed. 
ESG reporting provides an opportunity for organizations to articulate their role in critical environmental solutions. To leave the world better than we found it will require time, investment, experimentation, and ingenuity — and it's worth every effort we can give.
Follow the steps to get started with voluntary ESG reporting:
Write a CEO and/or Board of Directors message

Perform a materiality assessment

Collect ESG data about material issues

Set goals & targets

Describe the strategies and programs you'll use to achieve these goals

Onboard ESG reporting software
Working with ESG reporting software, sustainability reporting tools, and sustainability reporting solutions helps teams to move quickly from ideation to implementation. 
OneTrust ESG streamlines the complex efforts involved with ESG reporting. Our tools support all the major global frameworks and standards, allowing teams to select their preferred measures to focus on, create customized data visualizations, and produce engaging year-over-year reports. 
Find out how easy it is to get started with OneTrust ESG. Request a demo today!
Further ESG Resources:
Follow OneTrust on LinkedIn, Twitter, or YouTube for the latest on ESG.