January 28, 2022
The Ultimate Guide to ESG Sustainability
This page is regularly updated for accuracy & comprehensiveness
Last update: January 28, 2022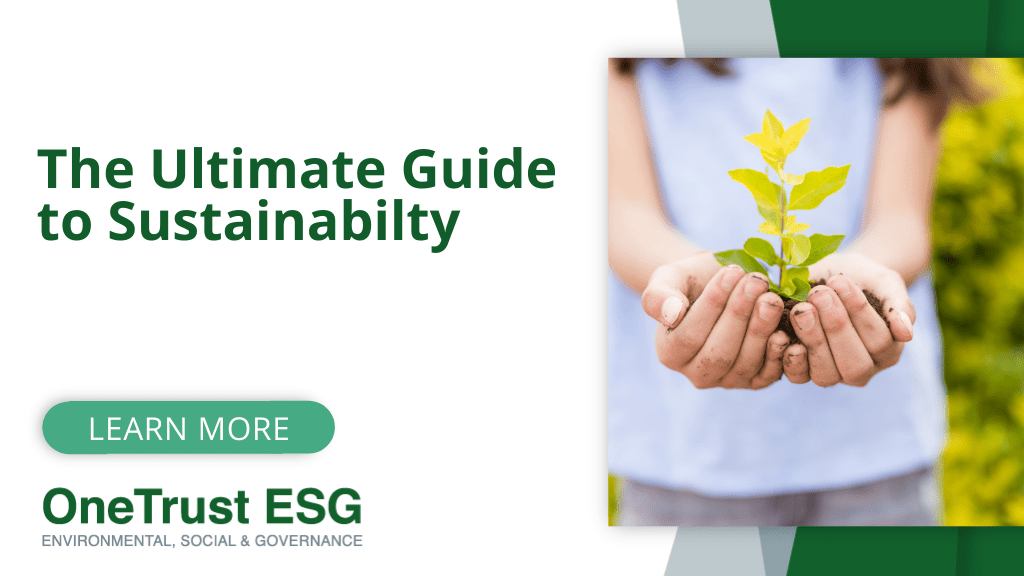 As market trends and consumer priorities continue to evolve, trust is becoming an essential buying factor and business differentiator, of which ESG Sustainability is a critical component. When building a trust-based business strategy, it's important to consider environmental, social, and governance principles like climate change and diversity & inclusion. As global organizations begin to adopt key ESG principles, it's critical to pivot your business strategy to address ESG considerations – this will keep your organization ahead of the curve and ensure that you're ready to comply with regulations as they surface. To get started, let's dive into ESG Sustainability.
Download the Ultimate Guide to Sustainability
What is Sustainability?
Sustainability is defined by the UN as "meeting the needs of the present without compromising the ability of future generations to meet their own needs." As sustainability has emerged as a business, legal, and consumer priority, the areas falling under the scope of sustainability have changed considerably. Sustainability encompasses the following:
Climate Change
Deforestation
Water
Waste
As sustainability and climate change emerge as a critical global issue rather than a fringe issue, each key area of sustainability is being addressed in international agreements and regulations. Additionally, sustainability is becoming a key consideration in investor interests, consumer and customer expectations, and employee interests. People want to work with, invest in, and be employed by brands that consider sustainability a key part of their overall business strategy.
Stay up to date with all things sustainability by following the happenings of the UK UN Climate Change Conference 2021.
What is Corporate Sustainability?
Corporate sustainability refers to an organization that values sustainable business practices in addition to its economic growth. A business that practices corporate sustainability will implement a long-term strategy that addresses sustainability. Corporate sustainability strategy addresses the corporation's contribution to the categories of climate change, deforestation, water, and waste.
What Is Sustainable Investing?
Similar to the concept of both sustainability and corporate sustainability, sustainable investing refers to a long-term investment strategy that considers the environmental and social implications of investments in addition to economic impact and financial return. Sustainable investing strategy addresses the corporation's contribution to the categories of climate change, deforestation, water, and waste.
What Is a Circular Economy?
A circular economy refers to an economic model that's functionality focuses on sustainable practices through recycling, reusing, refurbishing, and sustainably producing its materials. A circular economy focuses on implementing ESG informed tactics, like sustainable development and renewable energy resources.
What Is Sustainable Development?
Sustainable development refers to a business or economy's ability to mature and increase its capabilities without compromising the sustainability of its resources.
What Are the 3 Pillars Of Sustainability?
The three key focus areas of sustainability are:
Economic
Social
Environmental
An ESG sustainability business strategy helps to address all of the pillars of sustainability, showcasing an organization's ability to value growth while also considering the implication's of its actions on the future.
ESG Sustainability Regulations
Current ESG Compliance:
Key ESG Frameworks:
Do Investors Care About Sustainability?
When considering investor interests as you integrate an ESG sustainability program into your business strategy, your main task is to identify internal risks that may harm your overall brand image, valuation, or revenues based on ESG metrics and reporting practices. Ensuring that you have holistic visibility into your company's (including the impact your vendors have on your overall ESG posture) will enable you to educate your marketing and sales teams so that they can speak to internal stakeholders in a way that aligns with the position you want your brand to hold in the market, establishing you as a thought leader in the space.
Establishing your company as being a pioneer in the sustainability landscape is crucial to gaining investment opportunities and showcasing a commitment to combating climate change to your customers. Overall, considering sustainability as a cornerstone of your business plan sooner rather than later will increase attractiveness in the market and open the door to new funding opportunities.
Tip: Evaluate your ESG efforts and explain your findings to customers, employees, board members, and investors. Start by comparing your ESG rating to other companies of your size, industry, geographical location, etc. This provides visibility into where risks lie and what best practices your company should be following to prioritize ESG in these areas.
Consumer Expectations
Do Customers Care About Sustainability?
In addition to positively impacting your investment opportunities, being an early adopter of a strong ESG sustainability strategy will ensure that your brand aligns with evolving consumer and customer expectations. According to a study by Deloitte 1 in 5 customers are making considerable lifestyle changes toward sustainability. Customers are opting for low carbon travel options and renewable energy sources, indicating that sustainability is key in consumer decision making. In order to maintain a brand that consumers continue to support (and employees continue to work for) it's important that ESG become an integral part of your organization's strategy.
Do Employees Care About Sustainability?
The job market changed drastically in 2021. Candidates are asking for and expecting more from prospective employers before they decide to accept a position.  Employees are now moving into jobs that meet higher standards for company culture, equity, sustainability, and wellness.
The workforce of today wants to be part of a company that is working to make the world a better place when it comes to sustainability, social justice, and other defining issues. More importantly, employees stay longer and are happier when they see their company supporting their own personal values.
What Steps Should I Take to Address Corporate Sustainability?
When beginning to address sustainability, it's important to identify key impact areas both internally and externally through assessing operations in your upstream/downstream supply chain and evaluating high impact factors in your direct industry. You can do so through referencing the SASB Materiality Map and comparing it to your direct business or industry.
Where does my organization stand on climate change mitigation and adaption? Ensuring that your organization has a strong understanding of climate change mitigation and adaption is a good starting point. From there, evaluate the internal action your organization is taking to showcase its commitment to addressing this issue.
How does my organization consider (or support) sustainable use and protection of water and marine resources globally? Understanding the impact your organization has on global water and marine resources is key. Communicate how you're considering this to your customers, investors, and stakeholders regularly.
Does my organization contribute to the transition of a circular economy? Consider what your organization's use of natural resources looks like and see if you can transition to circular economic techniques where possible.
What is my organization doing to contribute to pollution prevention and control? Is your organization aware of what steps it can take to reduce its carbon footprint? Learning what your carbon footprint looks like and what areas are negatively contributing to your footprint is a great way to start addressing pollution prevention and control.
Does my organization consider the protection and restoration of biodiversity and ecosystems? Identify where your business can improve its impact on the restoration of biodiversity and ecosystems.
This should be an ongoing conversation in your workplace.
Download the Ultimate Guide to Sustainability
Key ESG Sustainability Issues
ESG touches a wide array of issues from climate change to waste and pollution. When considering standing up an ESG solution, it's important to consider each of the following categories as key interest areas:
Greenhouse Gas Emissions
Scope 1/2/3
Exposure to Extreme Weather Events and Flooding
Agriculture
Cattle
Mining
Palm Oil
Rubber
Soy
Timber
Water Stress and Water Scarcity
Contamination of Water Sources
Waste
Hazardous Waste
Packaging Waste
Single-Use Plastics
Tip: Taking a materiality assessment can show where you have an impact and what impacts your success.
Building Business Cases with Value Drivers
Using existing models in the ESG sustainability space is critical to standing up a solution that drives growth, productivity, and risk management across your organization. Two risk models that you can use to stand up your program are:
These models focus on improvement, delivery, and driving your program to stand out as a key business differentiator for your organization 
How can OneTrust help with ESG Compliance and Sustainability?
Our ESG solution leverages our expertise in Vendor Risk Management, Privacy, GRC, and Ethics to deliver an immersive ESG management experience. OneTrust ESG enables you to use templates and workflows to reduce the complexity of interfacing with many parts of a large organization by providing standard and customized ESG reporting formats.
Learn more about how OneTrust ESG can help you leverage ESG within your organization.
Further ESG Management 101 reading:
Next steps on ESG Management 101:
Follow OneTrust on LinkedIn, Twitter, or YouTube for the latest on ESG Management.
Tags: