The risk landscape expands each day, and your organization's security program needs to keep up. Whether it's a recent security incident, a new-found vulnerability in your system or a need to increase compliance and scale your program, your business needs to be prepared for an array of potential cyberattacks.   
Navigating these decisions, finding a starting point and gaining momentum across your program are all key challenges. It's critical that your company go back to basics and build a strong security program so it's enabled to make intel-led, informative decisions for the whole of the business from security operations to risk management and beyond.   
What are best practices and next steps for establishing a strong security program?  
Register for the webinar to hear OneTrust leadership discuss the important role intelligence plays and how to enable your security teams with it.  
Trust, Business Needs & Goal Setting 
Trust is an outcome earned from actioning integrity-based commitments and is the cornerstone of any strong security program. Establishing trust-based cybersecurity means organizations must demonstrate good character and prove they are competent enough to deliver what they have promised.  
IT & Security functions map to the human trait: Learn four ways how in this infographic. 
Using intelligence to enable your security team is all about demonstrating competence. It's ensuring that you have obtained the information you need to protect your organization, and disseminate it in a timely, actionable, and relevant fashion to influence behavior. 
What is Intel-Lead Decision Making? 
After your company has identified key trust components and defined clear goals, it's time to put them in action. Ensuring that your goals are actioned in an intel-led manner will increase trust, facilitate trust-based business and security decisions and will streamline and align overall business strategy. To make intel-lead decisions, start with understanding the steps in the intelligence cycle:  
1. Planning and direction
This is the foundation of the decision-making process. This is where stakeholders will establish requirements based on threats to the business' crown jewels. In this part of the process, involved parties will establish goals, including: 
Reducing risk to the organization

Addressing threats to the business

Minimizing operational risk
Obtaining stakeholder buy-in and requirements to set the roadmap for execution and delivery takes place in this phase and is critical to the success of the overall program objective.   
2. Collection
Information gathering, or the source of your intelligence, is essential to the process. Generally organizations that don't already have an internal intelligence team established will purchase services from third-party providers, who can support their intelligence requirements. Another intelligence source is public-private-partnerships, which can provide intel to organizations across a multitude of industries. These partnerships include organizations such as iSEC and ARC (Analysis & Resiliency Center) that help inform the public about cybersecurity threats and strategies, and work with government departments to provide intel to the public.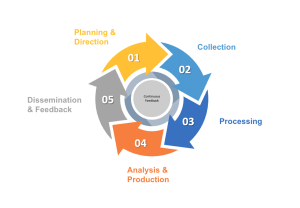 3. Processing
This part of the cycle is designed to evaluate and validate the collected data. The goal here is to confirm useability and confidence in data. Once information has been gathered, and evaluated, validating the collected data to ascertain usefulness and necessity is the next step in building the program.  
4. Analysis and Production
The key components of relevance, accuracy, and confidence are uncovered in this phase of the cycle. This is the most analyst-intensive part; understanding what the actual intent is, i.e. what is the customer or recipient interested in and how does it impact the business.  
5. Dissemination and Feedback
Ensure the plan is properly documented and easily transmitted to relevant stakeholders for feedback and implementation. Where many organizations get caught spinning their wheels is when they produce a report for the sake of producing a report. Rather, every action should require some type of response, be it checking a box or putting recommendations into action. Not seeking feedback should not be an option.   
As the old adage goes, suffering a security incident isn't a matter of if, but when. Having a security program scale at the same size and pace as your organization is critical to staying at the ready and remaining proactive, rather than reactive. 
Register for the webinar to hear OneTrust leadership discuss goal setting and to learn more about the intel-led decision-making process for mature security program establishment.