December 8, 2021
OneTrust Acquires Planetly, the Climate Action and Carbon Management Company
OneTrust acquired Planetly, the company on a mission to support business transformation to a net-zero economy.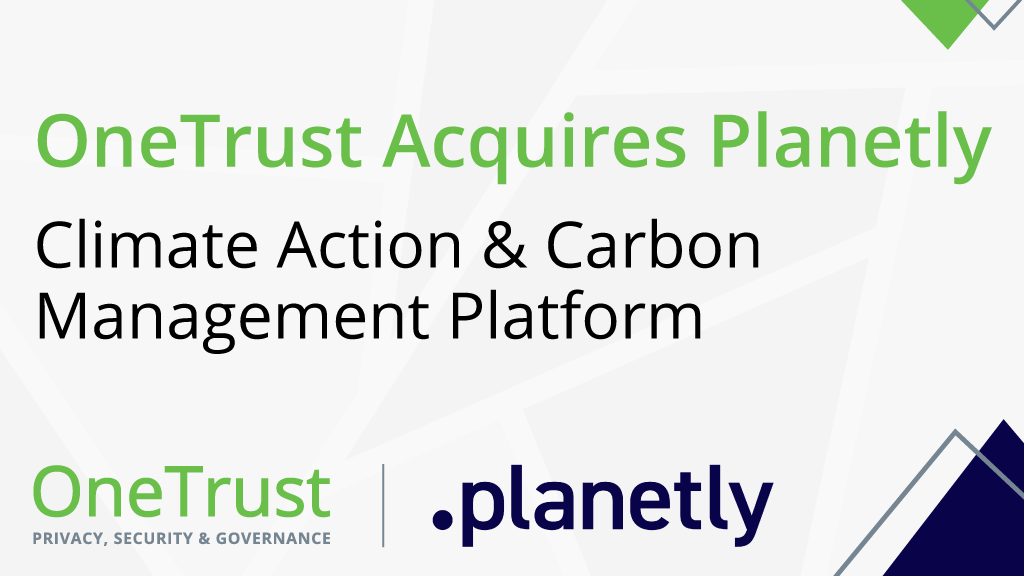 Sustainability reporting and carbon accounting are no longer just nice to have. Customers, investors, employees, and regulators expect organizations to act sustainably, reduce carbon emissions, and make meaningful climate impact. 
The time to fight the long-term impacts of climate change is now, and technology can play a significant role in helping corporations reduce carbon emissions and achieve net-zero status.   
Our customers have asked us to help them deliver on these expectations, and make meaningful impact. They want science-based, data-driven technology that helps them reduce carbon emissions and achieve net-zero status.  
This is why we invest heavily in our ESG (environmental, social, and governance) suite of products as a part of the OneTrust platform of trust. And we're excited to share big news about the "E" of this incredibly important technology. 
OneTrust has acquired Planetly, the company on a mission to support business transformation to a net-zero economy. 
Planetly helps more than 170 companies, including BMW, HelloFresh, and The Economist Group, calculate their carbon footprint, reduce carbon emissions, and make a meaningful climate impact.  
The acquisition brings sustainability management integrated into the OneTrust platform, along with an incredible team of 120 carbon accounting experts. 
Consumers, employees, investors, and regulatory authorities are demanding corporate action against climate change. We want to empower thousands of companies to join this movement, demonstrate accountability, and impact the future by delivering on science-based climate commitments. Planetly helps us make this possible.
Building Trust Through Sustainability 
Delivering on sustainability commitments is foundational to building and maintaining trust. And at OneTrust, we're all about trust. 
We believe that to truly trust that an organization is delivering on climate commitments, stakeholders want to see and understand the data-driven steps that are taken on the path to sustainability.  
OneTrust gives us the opportunity to bring our purpose of helping companies reduce their emissions to a global scale overnight. 
But sustainability programs don't live in a silo. This data can also deliver value in other areas of a business – including ethics, supplier risk, and privacy programs. That's why centralizing privacy, security, ethics, and ESG into one platform is the key to unlocking data value, delivering insights, and reporting on success.  
By integrating Planetly into the OneTrust platform, our customers can unlock this value and build sustainability programs that make trust a competitive advantage.  
The Tech to Make Climate Promises a Reality
To build stakeholder trust and maximize climate impact, organizations need to deliver on net-zero commitments with transparent, audit-ready sustainability metrics. 
Planetly helps companies across industries turn climate commitments into climate impact and build trust. 
OneTrust is the right partner to help us accelerate our mission of driving a carbon–neutral economy. Together we can reach more companies and make a greater impact in the fight against climate change.
Integrating Planetly into OneTrust's existing technology will bring a wealth of new functionality and benefit to our customers, including: 
Dedicated climate impact and carbon management tooling

 
Real-time carbon footprint analysis

 

Deep sustainability research, best practices, and expertise 

 

Industry-specific carbon management tools for ecommerce, logistics, technology, and more

 

Integration with leading frameworks and standards, including GHG Protocol, CDP, and SBTI

 
Together, we can make climate commitments a climate reality. 
Welcome, Planetly customers, employees, partners, and community to the OneTrust family!  
Take action: 
Tags: