In June 2020, OneTrust committed $100,000 to organizations aligned with the company's impact goals as a part of our DE&I efforts to move beyond words to action.  This past November 16th we announced four grants of $25,000 to Big Brothers Big Sisters of Metro Atlanta, Black Girls CODE, Inspiredu, and The Felix Project as a part of the OneTrust DE&I Council Community pledge. This blog series will highlight the meaningful work each of these community partners is doing.
Join the conversation on Giving Tuesday: OneTrust and DE&I Community Partners discuss Making an Impact in our Communities on Tuesday, Nov. 30 at 11 AM EST | 16:00 GMT
Who is Inspiredu?
Inspiredu is a 501c3 non-profit organization based out of Atlanta. Established in 2020, Inspiredu is a leader in digital inclusion who promotes educational equity for underserved learners around metro Atlanta and throughout Georgia. Inspiredu fills a unique void by focusing on opportunities to use technology as part of a child's learning support system while addressing the challenges of digital literacy and technology access in high-need communities. Inspiredu brings families together for fun days of learning and provides no-cost devices and technical support needed for a healthy home learning environment.
What is Inspiredu's Family Learning Program?
Inspiredu's Family Learning Program increases parents' capacity to support their 21st-century learner. While always a necessity for the modern educational structure, this need has grown exponentially during the necessary digital learning that has taken place during Covid-19. Through either school workshops or virtual training, Inspiredu provides families with a free Laptop Home Learning Center preloaded with valuable software and digital resources, as well as the training to use this technology to bridge the digital divide so often seen in underserved communities. The devices become the family's property, and Inspiredu provides technical support for one year following the workshop. The goal is to assist families in the underserved communities in the Greater Atlanta Area by providing the opportunity to become more familiar with technology to create equality in both the job markets and educational opportunities.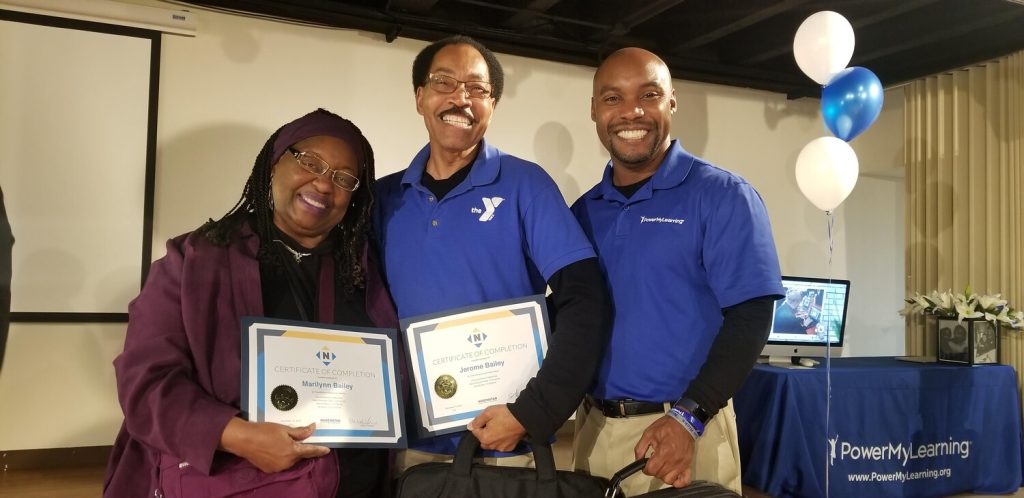 Why is Inspiredu's Family Learning Program more important now than ever?
The pandemic has exacerbated existing digital divides related to age, disability, gender, geography and socioeconomic status. With many essential services pushed online, there is a real and present danger that those without broadband internet access could be left even further behind.
3.7 billion people globally are digitally excluded 
59% of low-income households face obstacles with digital learning either from lack of devices or insufficient connectivity 
Only 3 in 10 students in greater Atlanta have the financial means and pre-requisites to enter college and graduate
What impact will the OneTrust DE&I grant have on the local community?
The impact upon this target audience will be profound. Access to technology is essential to a student's success in this day and age.  From receiving progress reports, school announcements, accessing supplemental materials, and even completing coursework.  Currently most school portals are not fully accessible on cell phones, so having a laptop or home computer is a necessity for families if they are not to be left behind. Through Inspiredu's Laptop Home Learning Centers families are able access the resources needed as well as learn how to use the technology to reach their goals. This benefits both the children and the caregivers immeasurably.
Join the conversation on Giving Tuesday: OneTrust and DE&I Community Partners discuss Making an Impact in our Communities on Tuesday, November 30 at 11 AM EST | 16:00 GMT
How can you get involved to make an impact with Inspiredu?
There are a number of ways you or your organization can support Inspiredu and the meaningful work they do.  Here are some ways you can get involved today:
Partner: Inspiredu partners with schools, districts, non-profit organizations, and government entities to empower students and their families with the digital tools and training to create a successful learning environment at home. To date, they have connected with over 60 education partners, trained 26,000 individuals, and deployed nearly 16,000 home computers.
Donate: By donating your used technology or making a monetary donation you can improve the lives of students in low-income communities. Inspiredu makes it easy for you to securely donate your equipment for maximum impact.
Volunteer: A small but mighty team, Inspiredu relies on their volunteers to help amplify the great work they are doing.  Volunteers provide extra help to prepare devices or make sure each family gets individual attention as they learn how to use them in our workshops.
To learn more about how OneTrust is partnering with our Community Partners to create change and support our local communities be sure to join us for a special "Giving Tuesday" LinkedIn Live on Tuesday, November 30 at 11 AM EDT  
To learn more about OneTrust's  commitment to diversity, equity and inclusion in the places in which we live, work, and serve: 
Follow OneTrust on LinkedIn, Twitter, or YouTube for the latest on out DE&I Council.