Fast Facts
---
Customer Name
HelloFresh
Size
Enterprise
Industry
Region
Key Regulations
Products
Scope 1 and 2 Accounting
Scope 3 Accounting
Reductions and Offset Marketplace

HelloFresh delivers the first carbon neutral meal kit service globally
---
HelloFresh is a global food solutions group and one of the first innovators in the meal kit industry. Founded in Berlin in 2011, the company went public in 2017 and now provides its all-in-one meal subscription service across 17 international markets. Its mission is to change the way people eat – forever. Customers can choose from a range of different recipes, carefully selected fresh ingredients, and other food options for their weekly order, which can be delivered at a time convenient for them.
Business goal
Sustainability is part of the company's DNA, and the company is committed to helping eliminate food waste, fight climate change, and innovate sustainable packaging. For example, HelloFresh sources ingredients as locally and sustainably as possible for the meal kits and delivers precise, pre-portioned ingredients. This helps reduce food waste and carbon emissions associated with the meal kits and delivery. To achieve its goal of decarbonizing its meal kit service, HelloFresh partnered with OneTrust to calculate its carbon footprint, identify opportunities for reduction, and offset remaining emissions. OneTrust also conducted a product carbon footprint (PCF) analysis for HelloFresh to help the company understand the climate impact of four different packaging options. 
Key results
Calculated carbon footprint of 13,691 t CO2e for July 1, 2020 – June 30, 2021.

 

Achieved carbon neutrality for 2020-2021 by offsetting 14,000 t CO2e through three certified climate action projects

Identified the most sustainable packaging for meal kits

out of

four

packaging alternatives

 
We're aware of our social responsibility. That's why we're voluntarily committed to climate action. With OneTrust, we have an innovative and energetic partner at our side.

Nils Herrmann

HelloFresh DACH COO & Managing Director
Solution approach
Phase 1: Analyzing HelloFresh's carbon footprint
HelloFresh produces emissions across all its operations, from transport and logistics, processing, packaging, IT infrastructure, and office buildings. OneTrust calculated HelloFresh's operational emissions for the period July 1, 2020 to June 30, 2021 based on data from the first quarter of 2020. The reason was to ensure an accurate baseline measurement since HelloFresh had already started to offset its emissions during the analysis period. OneTrust recalculated the footprint at the end of the year to ensure that the forecast aligned with HelloFresh's actual emissions and was sufficiently offset. 
HelloFresh's carbon footprint is comprised of direct and indirect energy generation (Scope 1 and 2), as well as office operations, business travel, and deliveries to customers. The largest share of emissions is caused by transporting finished boxes to customers, but some of HelloFresh's logistics partners already offset emissions from transport orders. As a result, more than 4,000 t CO2e was deducted from HelloFresh's gross carbon footprint and is not included here. TÜV Rheinland audited and certified this comprehensive calculation of HelloFresh's Corporate Carbon Footprint.
In total, HelloFresh's carbon footprint for 2020-2021 was:
13,619 t CO2e total emissions 
535 t C02e

Scope 1 emissions

831 t C02e

Scope 2 emissions

12,253 t C02e

Scope 3 emissions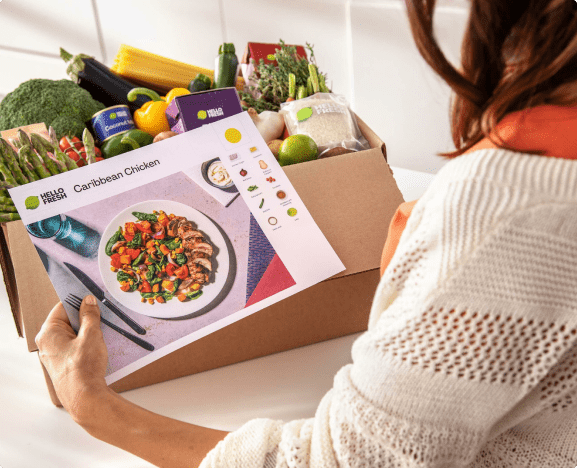 Phase 2: Less is more – how HelloFresh reduces emissions
An e-commerce business model helps HelloFresh avoid carbon emissions typically associated with physical retail stores, but it doesn't stop there. The company has undertaken several initiatives to reduce emissions, such as improving operational efficiencies (production, energy usage, and logistics), expanding its delivery fleet of electric vehicles, switching to renewable energy, and more. HelloFresh switched to 100% green energy in its Verden, Germany production site in early 2021, and today many of its facilities around the globe operate on renewable energy. To empower employees to take climate action, the company offers a monthly commuting allowance via RYDES, a mobility platform that provides access to flexible, sustainable urban transport options. Each commute an employee logs is automatically offset through a reforestation project in Nicaragua.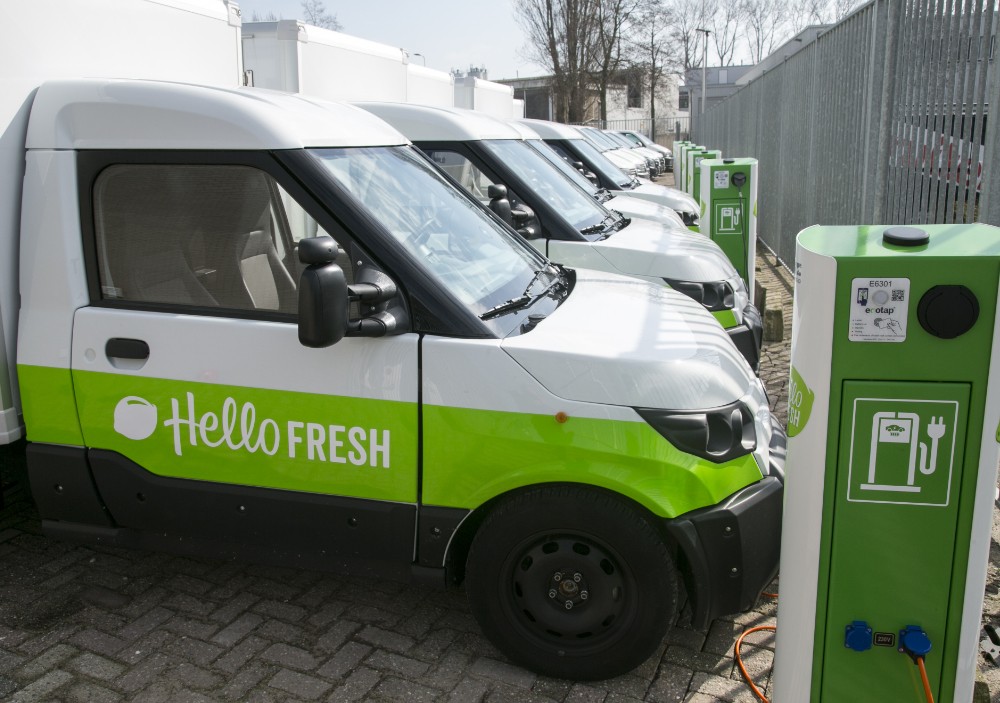 Phase 3: Offsetting emissions
To achieve its goal of carbon neutrality, HelloFresh needed to compensate for its own operational emissions, as well as emissions across the value chain from supplier sourcing to customer delivery. For any remaining emissions that could not be reduced or avoided, the company decided to support three certified climate action projects. Projects in the agricultural, forestry, and green energy areas were selected as they align closely with the meal kit model. 
(Switzerland) A forest protection project to sequester carbon aligned with internationally recognized standards including CCBA (Climate, Community & Biodiversity Alliance), FSC

®

(Forest Stewardship Council), and PEFCTM (Pan European Forest Certification)

(Peru) A REDD+ project to protect the Andean rainforest from deforestation through voluntary agreements with local communities

(Netherlands) A biogas project, certified by VCS (Verified Carbon Standard) to collect agricultural waste from rural areas where the soil can no longer absorb nitrogen and convert it into useable outputs (energy and fertilizer)
Phase 4: Finding climate-friendly packaging with a PCF analysis
As a global meal kit provider, HelloFresh recognized it had a responsibility to minimize the environmental footprint of its packaging. Packaging, particularly plastic packaging, generates greenhouse gas (GHG or CO2e) emissions and other detrimental impacts throughout its life cycle. But it's also one of the main materials used in the packaging industry for food because of its flexibility, strength, light weight, stability, impermeability, and ease of sterilization. Other materials commonly used include metal cans and glass jars. To determine the most climate-friendly packaging solutions for its meal kits, HelloFresh partnered with OneTrust to analyze the climate impact of four different types of packaging: a lightweight pouch, a PET container, a tin can, and a glass jar.  
At HelloFresh, we care about our planet and society, so we want to develop an even deeper understanding of our packaging solutions. Working with our partner OneTrust allows us to look at and optimize our packaging solutions holistically.

Nils Herrmann

HelloFresh DACH COO & Managing Director
PCF study methodology
OneTrust conducted a product carbon footprint (PCF) analysis to determine the climate impact of the four packaging options, based on secondary data. The functional unit in the study equates to one unit of packaging to preserve, store, and transport different weights of dried tomatoes and/or olives from the production/distribution sites to the customer. The food weights used were 100g, 70g, and 50g.
‍
OneTrust tested the sensitivity of the PCF models to observe their robustness and validity of the assumptions made. The relationship between climate impact and recycled content was also assessed. Because packaging materials are not yet widely reused in the food industry, the maximum intended uses per lifetime of each packaging type was assumed to be 1. Furthermore, no credits from energy recovery or expected recycling rates at end-of-life were allocated to product systems.
The study also did not cover all environmental impact categories, such as effects on ecosystems, the ozone layer, or resource depletion. These categories are relevant for evaluating the environmental performance of different packaging types, but the focus of this analysis was the climate impact from CO2e emissions.
The PCF was peer-reviewed by TÜV Rheinland Energy GmbH to ensure the quality of the study.
Packaging weight and recycled content are key drivers of climate impact
The study identified two important carbon emissions drivers for packaging: the weight and the recycled content of the materials. Although CO2e emissions per gram of packaging is higher for the pouches, the weight is significantly lower than the other packaging types, and this can affect the results.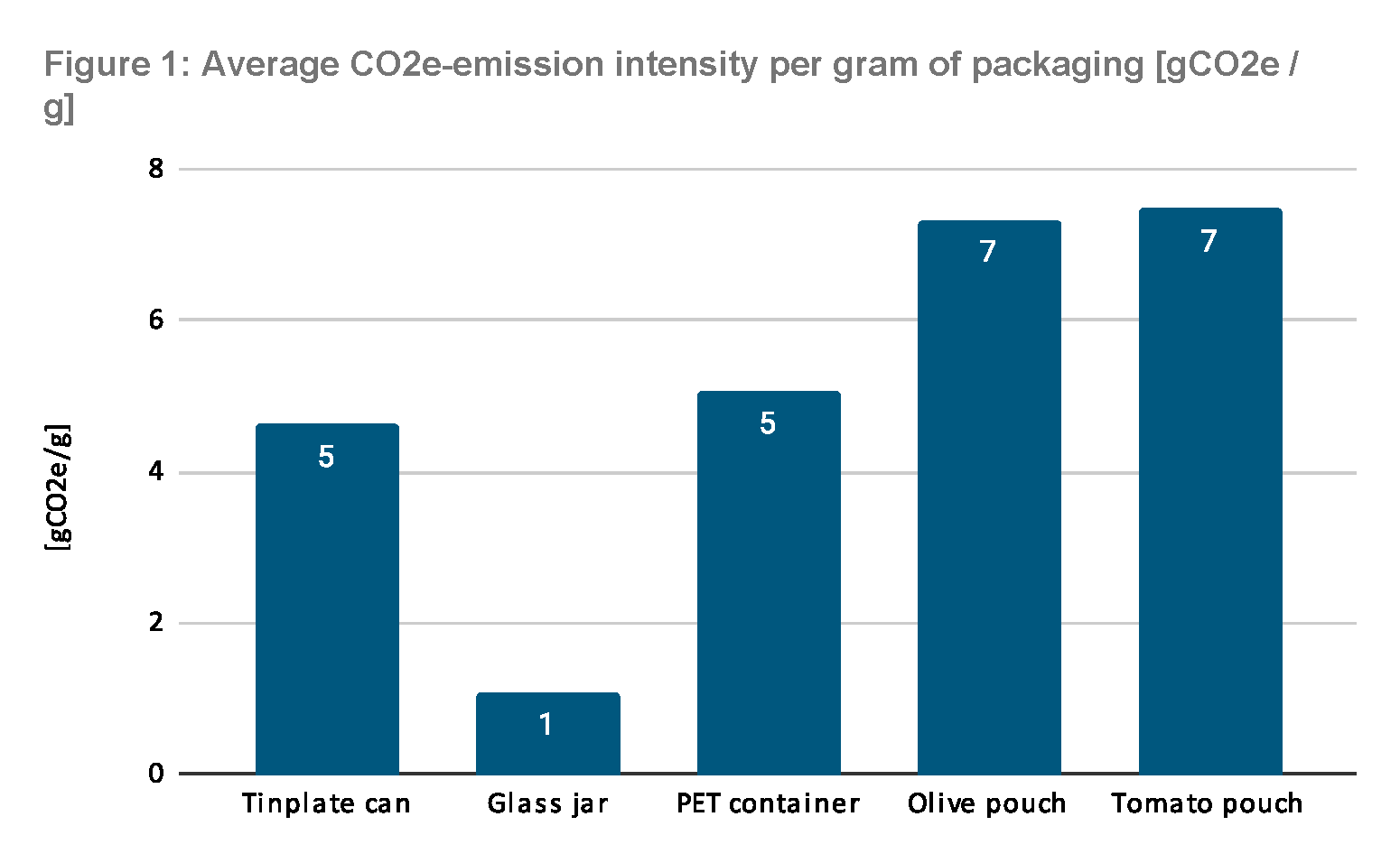 Why weight matters when it comes to CO2e emissions
Because the pouch packaging requires very little additional materials to accommodate different content weights, it uses less materials overall. As a result, emissions were lower for the pouch packaging for all three food weights studied, and life cycle CO2e emissions did not fluctuate as much when the content weight increased. The other three types of packaging require scaling to accommodate different food weights – more materials are required as weights increase. This increased packaging weight is associated with higher life cycle CO2e emissions.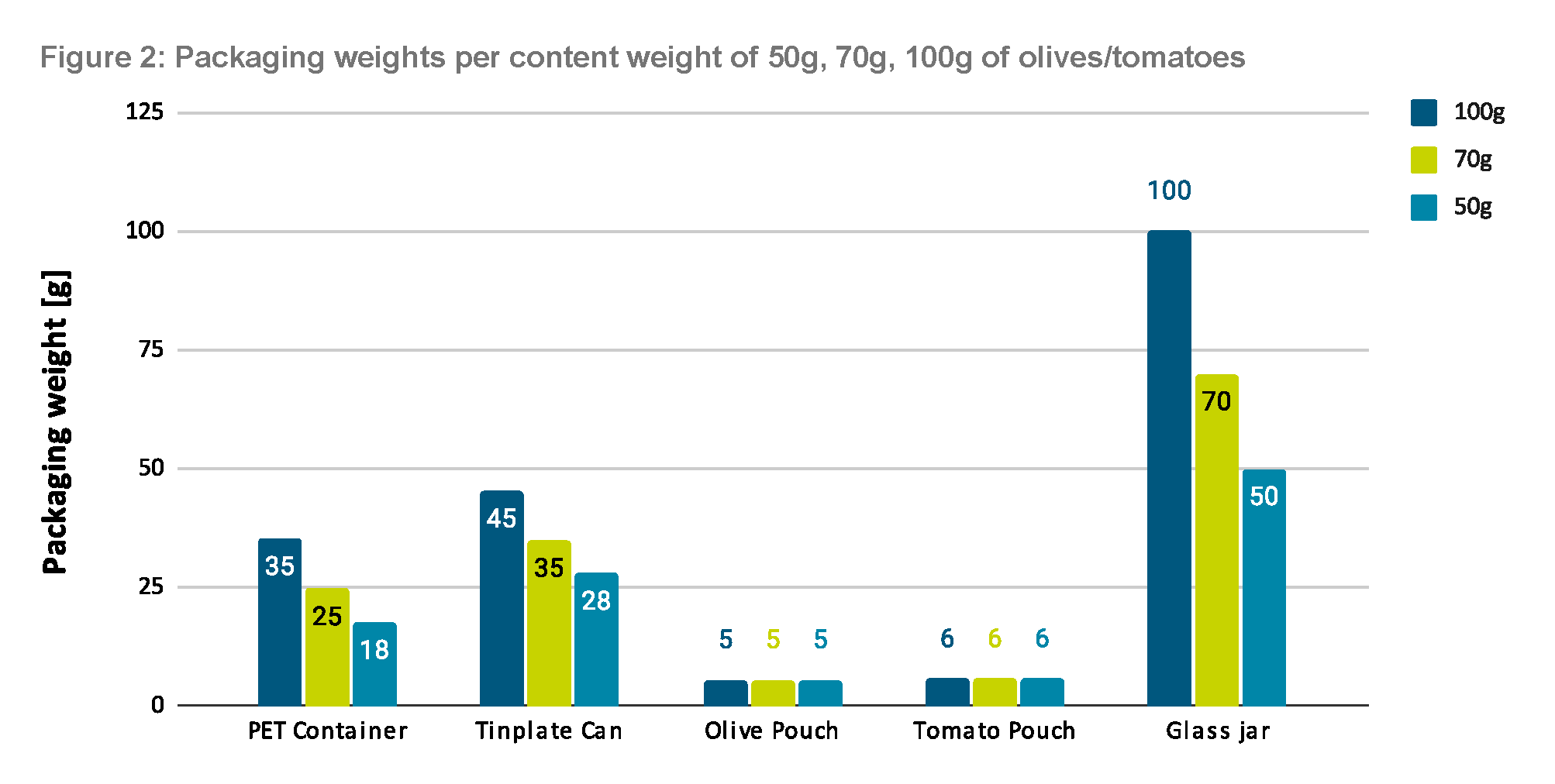 HelloFresh opts for light weight packaging for lower life cycle CO2e emissions
The pouch packaging has a smaller carbon footprint, even though the other types of packaging have more recycled content (RC). The life cycle CO2e emissions of the other types also increased significantly with increased food weights, while the pouch packaging stayed in the same range. Based on the results of this study, HelloFresh decided to use the lighter pouch packaging when it's not possible to avoid packaging or switch to paper alternatives.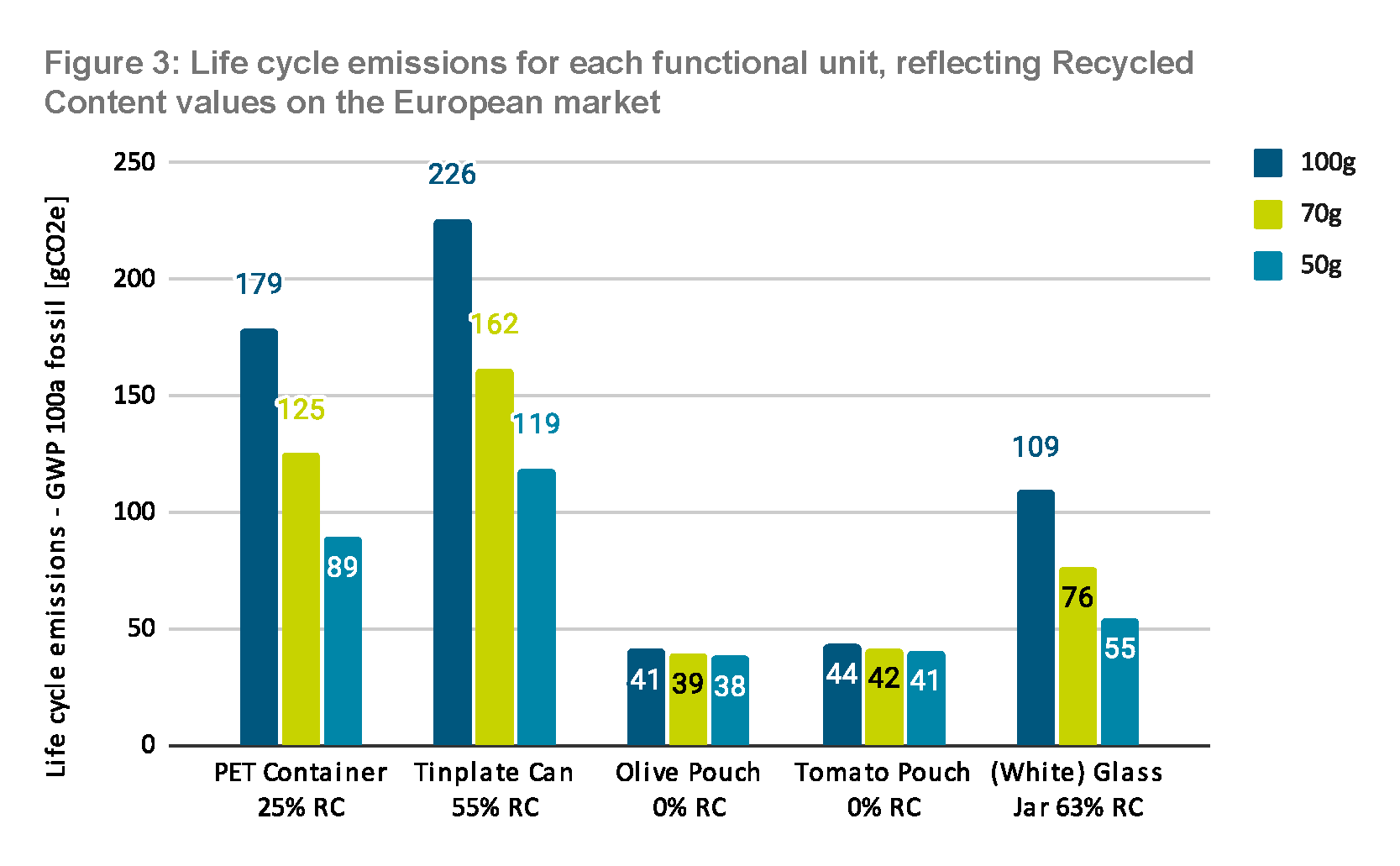 Value realized
By partnering with OneTrust, HelloFresh: 
Became the first global carbon neutral meal kit delivery service

 

Gained an accurate picture of carbon footprint and emission reduction opportunities

 

Offset

14,000 t CO2e

– more than 100% of total emissions during the analysis period – by supporting three certified climate action projects that had the following outcomes: 

 

Protected 7,379 hectares of forest in Switzerland, preventing the release of 245,000 t CO2e into the atmosphere across the 30-year lifetime of the project

 

Protected 182,000 hectares of Andean rainforest in Peru, one of the most threatened ecosystems in the tropical Amazon, preventing the release of 515,268 metric tons of CO2e into the atmosphere annually

 

Created sustainable economic opportunities for farmers in the Netherlands, removed agricultural waste from areas where soils can no longer absorb it, and generated biogas energy for local grids

 

Identified the most sustainable packaging for its meal kits out of four packaging alternatives

 
Looking ahead
HelloFresh and companies like it understand that climate leadership is an essential part of building trust. It takes commitment, collaboration, consistency, and transparency, but it's worth it. Those that do reap the business benefits that come with being more attractive to stakeholders. HelloFresh successfully achieved its goal of becoming the first carbon neutral meal kit delivery service and continues to push the needle forward on climate action. For example, the company has reduced its Scope 1 and 2 carbon emissions by 48% since 2019 and is working with OneTrust to further refine and automate emissions tracking across its value chain in real-time. This data-driven approach provides HelloFresh with important insights on possible actions to take as part of its decarbonization strategy. 
The OneTrust ESG & Sustainability Cloud helps companies like HelloFresh gain critical insights into where carbon emissions are generated throughout the value chain, making it easier to pinpoint hotspots for reduction. The ESG Cloud not only provides a GHG Protocol compliant overview of scope 1, 2, and 3 emissions, it also offers a path for clear target setting, automated reporting, and transparent benchmarking.   
Part of the Trust Intelligence Platform™ from OneTrust, it unifies and delivers visibility across four trust domain areas, action based on AI and regulatory intelligence, and automation to build trust by design. Empower your organization to drive change, demonstrate impact, and put trust at the center of your operations.   
Request a demo today to learn more