Fast Facts
---
Customer Name
Size
Enterprise
Industry
Region
Key Regulations
Products
Scope 1 and 2 Accounting
Scope 3 Accounting

The Economist Group takes organization-wide climate action
---
Dedicated to the pursuit of progress for individuals, organizations, and the world, The Economist Group is a leading source of independent analysis on international business and world affairs. Founded in 1843 to further the cause of free trade, the company has since evolved into a global media and information services organization with offices in 14 countries. Through its four brands – The Economist, Economist Impact, Economist Intelligence, and Economist Education – the company provides its clients and subscribers with the tools, knowledge, and insights to make sense of today's world and discern tomorrow's.
Business goal
Environmental sustainability is a strategic priority for The Economist Group. Along with the company's editorial coverage of climate issues, it's weaving sustainability into the fabric of its growth strategy and operations. Goals and targets are approved by the leadership team and are included in the company's key performance indicators. The Economist Sustainability Group, an internal network of sustainability champions, supports the company's progress and helps to establish sustainable behaviors as part of the corporate culture. Rapid emissions reduction is a critical focus area, and company is committed to addressing its own impact and taking urgent climate action in line with the United Nations Sustainable Development Goal 13 (Climate Action). With a long-term vision of halving its emissions by 2030, The Economist Group partnered with OneTrust to take its emissions management and reduction to the next level.
Key results
Calculated total carbon emissions of 17,478t CO2e for 2020 and 2021

 

Calculated total carbon emissions for 2019-2020 as the base year footprint for submission to the Science Based Targets initiative (SBTi)
The OneTrust ESG & Sustainability Cloud provides us with actionable insights drawn from our emissions data - allowing us to focus on strategic initiatives and climate action.

Emily Jackson-Kessler

The Economist Group, SVP, Sustainability
Solution approach
Phase 1: Calculating The Economist Group's carbon footprint
To understand The Economist Group's impact on the environment, OneTrust calculated its carbon footprint for the reporting year 2020-2021. Consistent with The Economist Group's commitment to manage its emissions rigorously and transparently, the calculation accounts for all emissions (Scopes 1-3). This includes core business activities such as buildings and employee activities, printing production, logistics, and travel.
‍The Economist Group's greenhouse gas (GHG) emissions inventory was calculated in accordance with the international reporting standards of the GHG Protocol. The data also included disclosures required under the UK Streamlined Energy Carbon Reporting (SECR) regulations. For 2020-2021, the company's emissions were calculated to be 17,478 tonnes, a 49% reduction from the previous reporting period. More than 90% of The Economist Group's footprint is scope 3 emissions, with the majority of those coming from the paper, production, and distribution of its print publications and marketing materials.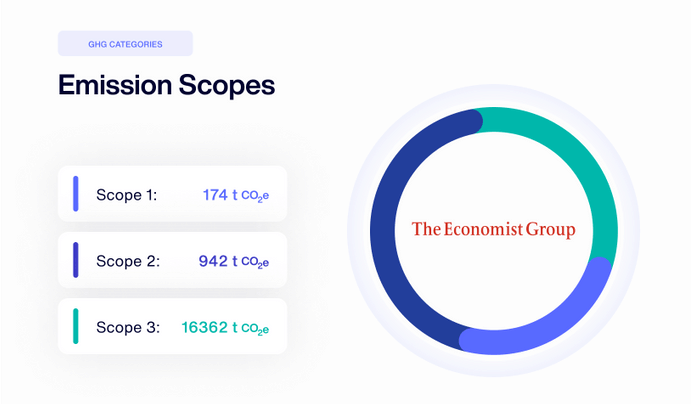 The Economist Group's total carbon footprint for 2020 and 2021 was: 
Total carbon emissions: 17,478 t CO2e
Scope 1: 174 t CO2e

 

Scope 2: 942 t CO2e

 

Scope 3: 16,362 t CO2e
Phase 2: Setting science-based reduction targets
One of The Economist Group's long-term goals is to achieve ambitious, scientific reduction targets aligned with the Science Based Targets initiative (SBTi). In support of that goal, OneTrust recalculated The Economist's Group carbon footprint for the financial year 2019-2020 so it could be submitted as the base year footprint to the SBTi.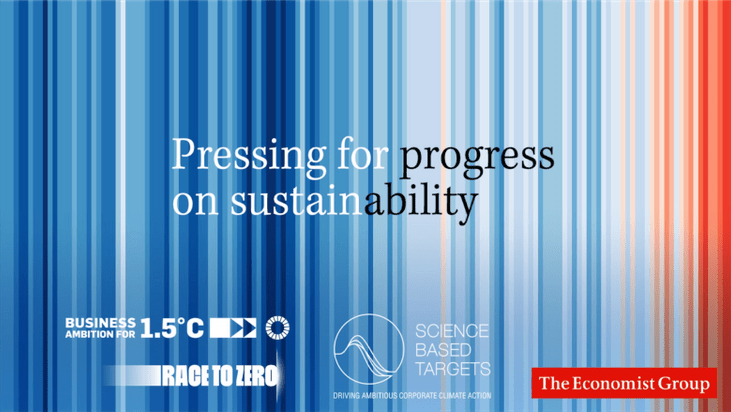 Phase 3: A plan for reducing and neutralizing emissions
The Economist Group's primary focus is on rapid emissions reduction, which it prioritizes over offsets. As evidence of its commitment, the company has set a goal to reduce carbon emissions by at least 25% by 2025 – a target that is more ambitious than the reductions required under the Paris Agreement. It has also committed to the Business Ambition for 1.5°C degrees, and Race to Zero.
As part of its goal to attain science-based reduction targets, The Economist Group is implementing a variety of strategic measures. These include investing heavily in renewable energy, a stronger focus on digital product formats, and a significant reduction in travel. The company powers 100% of its global offices and print sites through green energy tariffs and renewable energy certificates. It is also reducing bulk print circulation, ensuring print copies reach readers in a more environmentally friendly way, and encouraging more digital consumption of its products. Finally, The Economist Group has reduced commercial business travel by approximately 40% from pre-COVID levels. Custom dashboards for supply chain analytics, target setting, and specific KPIs in the OneTrust ESG & Sustainability Cloud enable The Economist Group to track and manage its reduction progress. OneTrust will also support The Economist Group with additional analyses to further improve the sustainability of its product portfolio.
While reduction is the priority, The Economist Group also recognizes that neutralizing residual emissions is necessary. To that end, the company also invests in innovative solutions such as Climeworks' direct air CO2 removal technology and high-quality climate action projects. These include REDD+ and Gold Standard projects to protect and restore rainforests, as well as provide energy-efficient cookstoves to rural communities.
Value realized
By partnering with OneTrust, The Economist Group achieved the following results: 
Generated a clear picture of carbon emissions, totaling 17,478 t CO2e for 2020 and 2021

 

Recalculated the 2019-2020 footprint as a baseline to adhere to the SBTi standards

 

Implemented a reporting and monitoring program to track progress

 
Looking ahead
The Economist Group and companies like it understand that climate leadership is an essential part of building trust. It takes commitment, collaboration, consistency, and transparency, but it's worth it. Those that do reap the business benefits that come with being more attractive to stakeholders. The Economist Group has set ambitious carbon reduction targets, a key part of which will be ongoing monitoring of its progress and optimization of its decarbonization strategy in the OneTrust ESG & Sustainability Cloud.
The OneTrust ESG & Sustainability Cloud helps companies like The Economist Group gain critical insights into where carbon emissions are generated throughout the value chain, making it easier to pinpoint hotspots for reduction. The ESG Cloud not only provides a GHG Protocol compliant overview of scope 1, 2, and 3 emissions, it also offers a path for clear target setting, automated reporting, and transparent benchmarking.   
Part of the Trust Intelligence Platform™ from OneTrust, it unifies and delivers visibility across four trust domain areas, action based on AI and regulatory intelligence, and automation to build trust by design. Empower your organization to drive change, demonstrate impact, and put trust at the center of your operations.  
Request a demo today to learn more.