October 4, 2022
Corporate climate goals: Building your net zero story
Setting targets for carbon neutral, net-zero, and climate positive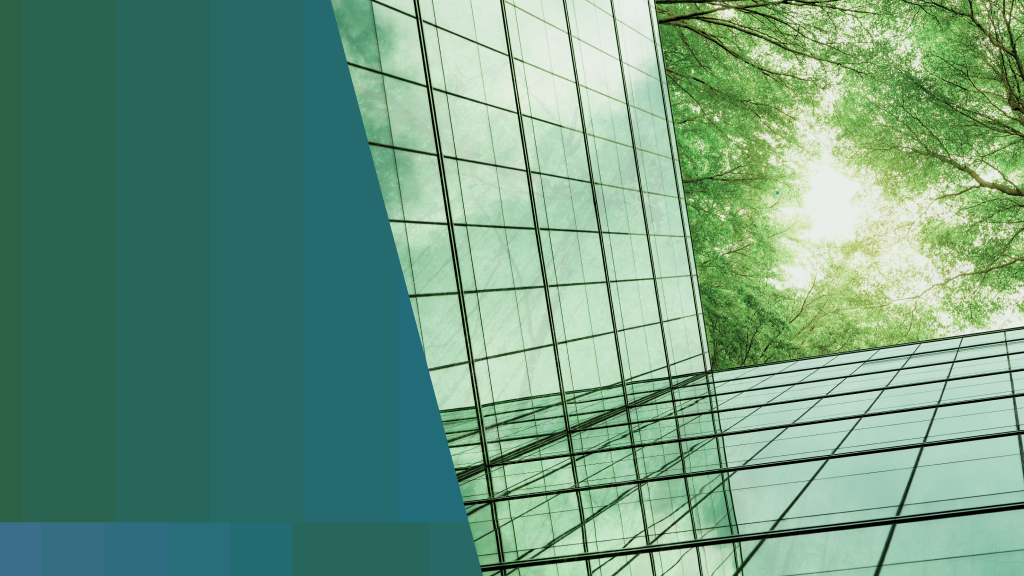 Terms like carbon neutral, net-zero, and climate positive are soaring in popularity. A growing number of companies are setting ambitious corporate climate goals to reduce their greenhouse gas (GHG) emissions. They often announce these goals publicly or voluntarily sign onto a carbon neutral pledge program to demonstrate "climate action" to their stakeholders. In fact, one in five of the world's 2,000 largest publicly listed companies have committed to a "net-zero" emissions target to help tackle the climate crisis.
But making a big claim without a climate action and disclosure strategy in place can expose you to accusations of greenwashing and undermine your relationships with investors, customers, and business partners. ESG leaders who are considering climate pledge announcements need to be sure they are supported by concrete plans to achieve those targets.
Download the eBook to learn more: The guide for setting corporate climate goals
"The recent avalanche of net-zero pledges by businesses, investors, cities and regions will be vital to keep 1.5°C alive and to build towards a safe and healthy planet, but only if all pledges have transparent plans, robust near-term action, and are implemented in full."
– Catherine Mckenna, former Canadian Minister of Environment and Climate Change
Where should you begin?
Getting started is easier than you might think but requires some strategic planning. Public commitments for GHG emissions reduction are just one part of your corporate climate action story. Having a concrete plan in place to achieve those goals and track progress is also essential.
Your role as ESG program leader is to pull these parts together into a cohesive and trustworthy story. You'll need reliable data, strong coordination across multiple parts of the business, and good governance to ensure that you make a meaningful, positive impact. This guide will help you map out your approach.
Basic climate action definitions
Understanding basic climate terms is essential for developing a relevant story. Be sure that you use terminology that is aligned with your company's goals and values. Here are a few:
Carbon footprint: The total of all the greenhouse gas (GHG) emissions caused by a business or a set of business activities.
Carbon neutral: Where any CO2 that is released into the atmosphere from a company's activities is balanced by an equivalent amount being removed from the atmosphere.
Net-Zero: To reduce greenhouse gas emissions as close to zero as possible and offset any remaining emissions offset with activities that remove emissions from the atmosphere.
Climate positive or net positive: The idea that businesses should have a positive impact on the environment rather than simply reducing their negative impact – for example by removing more carbon from the atmosphere than is emitted. One way businesses can achieve net positive is through high-quality carbon offset projects such as afforestation.
Regenerative: Practices that reverse the effects of climate change by rebuilding, restoring, or replenishing natural resources. Frequently used in industries with an agricultural connection, such as food and beverage, apparel, or timber products.
Science-Based Targets: Emissions reductions targets are "science-based" if they are aligned to enable delivery of the Paris Agreement goals – limiting global warming to well-below 2°C above preindustrial levels and pursuing efforts to limit warming to 1.5°C.
What's a corporate climate story?
A corporate climate story is what your company wants to share with the world about your net zero plan and measures you are taking to reduce climate risk and impact. This means addressing these areas holistically throughout your business and communicating your progress transparently. Transparent disclosure – a core principle of sustainable, responsible business – entails sharing information with multiple stakeholders in a variety of formats. This includes details on your climate reduction goals, strategy, and data, as well as preparedness to face climate risks.
When planning your approach, focus on risks and impacts that could harm your overall brand image, valuation, or revenues based on ESG metrics and reporting practices. Having this level of visibility into your company's ESG data (including the impact suppliers may have on your overall climate posture) will help shape your sustainability story. This is crucial for securing investment opportunities and showcasing your commitment to climate action to key stakeholders. By considering climate goals as a cornerstone of your business plan sooner rather than later, you'll gain competitive advantage and open the door to new funding opportunities.
Understand stakeholders before you start
Before planning any public announcement of your climate strategy, consider both internal and external stakeholder perspectives. Internally, marketing leaders want a strong sustainability message to share with customers, and employees want to know where the company stands on issues that matter to them. At the same time, executives and the board want to know what to tell external stakeholders such as investors, customers, and partners about ESG risks and strategy. Senior leaders will also need to be part of any decision to sign a public climate pledge. For more details on how a strong ESG strategy can benefit internal stakeholders, download the Ultimate guide to ESG management essentials.
Externally, customers want to purchase from brands that align with their values. They may call out greenwashing concerns if they believe that you are continuing to operate with practices that run counter to your public commitments. At the same time, investors use ESG ratings and criteria to target investment into ethical and sustainable assets. They may look for disconnects between your stated goals and your ability to execute on those goals. Finally, other external stakeholders such as local communities, business partners, the media, and more may also play a part in your overall climate strategy.
Questions for developing your net zero story
To be credible, avoid greenwashing accusations, and instill trust that you're doing the right thing, you'll need to pull all these parts together into a cohesive story. Be sure that any public commitment is supported by a climate action plan that outlines how your company will achieve those goals. Questions to start with include:
Targets and commitments: What public (or internal) commitments to reduce your GHG emissions will you make?
Disclosures: In what ways will you publicly release information about all these topics and other environmental issues? (Additionally: how are you faring on scored disclosures?)
Metrics and data: How will you quantify your emissions and describe your climate impacts and risks, both current state baseline and incremental improvements?
Governance: Who will be accountable for overseeing climate risks and issues at your company? Are sufficient checks and balances in place? How do you operationalize these responsibilities?
Strategy/plan: How will you reduce your environmental impact, and how is your company prepared to adapt to climate change? How do these scenarios align with your core business and ESG strategy? What internal resources will you apply to this effort? How will you measure and report progress?
Policy: What internal policies will you have in place to support your ESG strategy, risk management, and governance? In what ways will you participate in public policy (including lobbying) to support these areas?
Risk management: What processes will you put in place to identify and provide oversight of your company's climate impact and adaption risks?
Since climate is often part of a larger ESG program, the ESG program checklist can help you integrate your net zero goals into your overall program. Companies may also find more specific guidance on these questions from upcoming regulations like the EU Corporate Sustainability Reporting Directive or US SEC climate disclosure rule. In lieu of any prescriptive regulations, ESG reporting frameworks and standards such as CDP, SASB, GRI, or TCFD also provide guidelines on measurement and disclosure best practices.
Carbon is just one part of environmental impact
Depending on your industry, carbon emissions may be just one part of your environmental risks and impact story. For example, water is an important environmental issue for food and beverage companies, while waste may be a relevant topic for manufacturers. This infographic outlines all the ESG issues associated with the environmental pillar that companies may want to consider as part of their ESG program.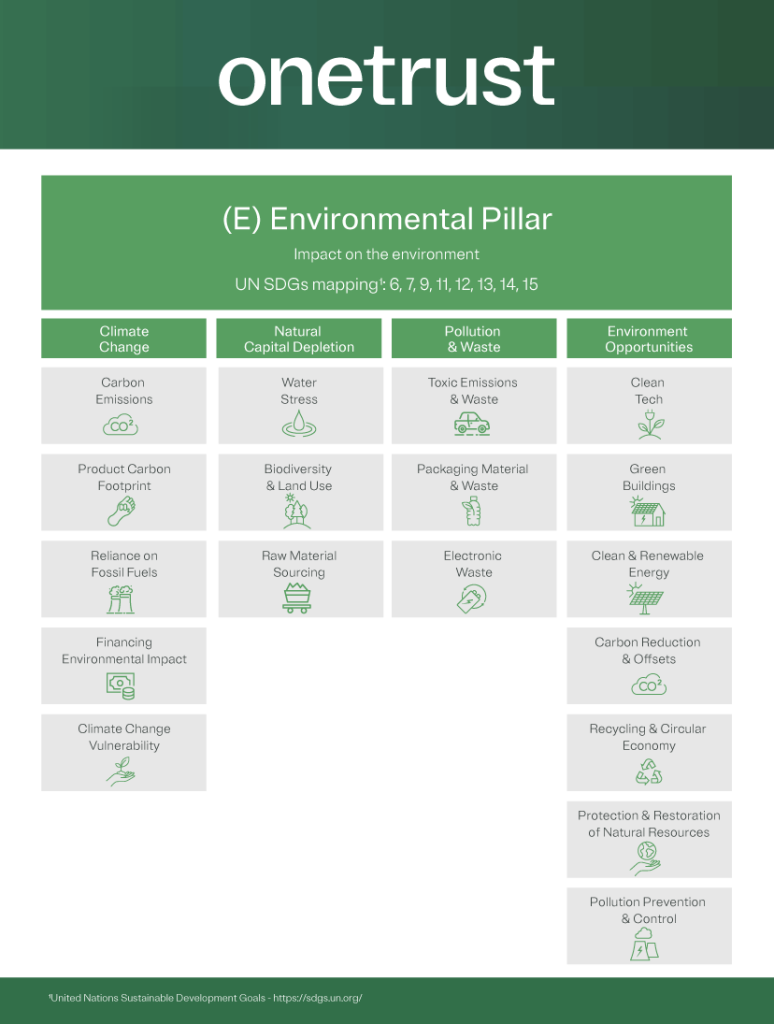 Download a PDF version of this ESG metrics infographic
Key areas for climate disclosures
While all of these topics may have some bearing on your corporate climate goals, the following questions can help you get started:
Environmental protections/position on climate change
Climate risk mitigation and adaptation strategies (e.g., supplier due diligence, managing third-party climate risk, etc.)
Sustainable use and protection of natural resources by your company
How your company contributes to the transition to a circular economy
Pollution prevention and control
How your company protects and restores biodiversity and ecosystems
Net zero strategies (e.g., transition to renewable energy, more sustainable sourcing, etc.)
Incorporating these parts of your climate story into your end-to-end ESG report will allow you to tell a cohesive and credible narrative. It will give your stakeholders a clear picture of all your company's ESG targets and risks, progress toward net zero goals, what you stand for, and how you intend to make an impact.
Setting carbon neutral targets
Once you've confirmed your stakeholders' perspectives and relevant ESG metrics, you'll want to set climate targets. The first step is to calculate your existing carbon footprint, or GHG inventory. Make sure you establish a baseline of your emissions performance before announcing public goals or signing onto a pledge that requires you to deliver a reduction outcome within a certain timeframe. The GHG Protocol standard is particularly relevant for calculating a corporate carbon footprint. It defines clear requirements for the structure and content of carbon reports, as well as the collection of the supporting data. One key element of the standard is defining scope emissions to clarify the different types of emissions and avoid double counting by companies in the same scope.
After you've established a baseline, you can turn to setting carbon neutral targets. The GHG Protocol standard also provides detailed guidance on this topic. Although the process appears to be linear, the protocol advises that you will pivot back and forth between some decisions as you land on the final goals. To lend further credibility to your net zero goals, consider using science-based targets (SBTs). SBTs are goals that companies set to reduce their GHG emissions in line with the Paris Agreement – that is, limiting global warming to well-below 2°C above pre-industrial levels and pursuing efforts to limit warming to 1.5°C.
Corporate climate pledge programs
Many companies voluntarily commit to carbon neutral, net zero, and climate positive goals via a corporate pledge program. By signing on, companies are making a public promise to align with the commitments of the pledge. Doing so can generate benefits such as positive publicity, reduced cost, boosted investor confidence, improved competitive advantage, and more. Before signing a corporate pledge, make sure it aligns with your company's goals and guiding principles. Examples of climate pledge programs include:
Global Climate Pledge also lists several examples of other pledge programs on their website such as Carbon Neutrality Coalition, the Net Zero Asset Managers initiative, Pledge to Net Zero, and more.
Why your carbon neutral strategy matters
As stakeholder expectations around environmental, social, and governance principles have evolved, businesses are increasingly expected to embed these ESG factors into their core business strategy. According to IDC analyst Vladimir Kroa, "an organization's ability to demonstrate its ESG credentials, transparently, has become a strong business differentiator and critical part of trust conversations with stakeholders.  Tomorrow it will be an essential quality to survive." Creating a trust-based business strategy means keeping key issues like climate change, diversity, equity, and inclusion top of mind as you develop your business strategy. This will keep your organization ahead of the curve and ensure that you're ready to comply with regulations as they surface.
How can OneTrust help?
Wherever you are in your journey toward carbon neutral, net-zero, or climate positive, you have taken an important step worth sharing. Transparent, consistent communication is key to building trust with your stakeholders including customers, investors, partners, and employees. Publish regular reports around your corporate climate goals – the more detail you provide, the better. Be accountable for the climate commitments you make and the reduction progress you achieve. Bring it all together in a clear, accurate narrative to establish your credibility as a climate leader and inspire other companies to follow your lead.
The OneTrust ESG & Sustainability Cloud can help you embed sustainability into your operations with clear target setting, automated reporting, and transparent benchmarking. Set your program up for success and instill trust with your stakeholders by defining your core sustainability metrics, tracking progress toward those goals, and sharing your results. Our cloud-based, fully integrated platform streamlines the complex efforts involved with ESG reporting.
It supports all the major global frameworks and standards, allowing teams to select their preferred measures to focus on, create customized data visualizations, and produce engaging year-over-year reports. Empower your organization to demonstrate impact and drive change.
To learn more, request a demo of the OneTrust ESG Cloud and download the eBook: The guide for setting corporate climate goals
Tags: