April 13, 2022
Trust Geek Glossary: What is CDP?
How to get started with the Carbon Disclosure Project reporting framework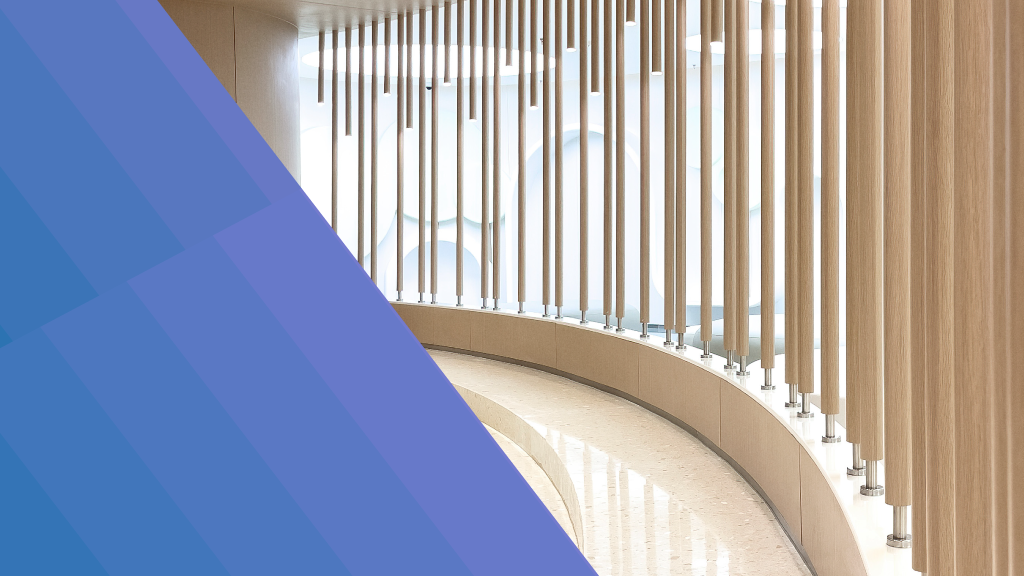 One thing trust and sustainability professions have in common is a lot of acronyms! SASB, GRI, GHG, ESG, GDPR, COPPA, PII, DSAR, to name just a few. Do you know all of them? If not, never fear – this blog series has got you covered. With this post, we are kicking off a Trust Geek Glossary series that will explore common trust acronyms, what they mean, and key considerations for your business. The first part of this series will be looking at some common sustainability reporting frameworks, starting with the Carbon Disclosure Project (CDP). Read on to learn more (and find the answer key at the bottom)! 
CDP reporting: What is it?
Founded in 2000, CDP, formerly the Carbon Disclosure Project, is an investor-led nonprofit focused on motivating companies, cities, and governments to disclose their environmental impacts and take action to reduce them. As a globally recognized reporting framework, it does this through annual questionnaires that organizations use to disclose sustainability information to their stakeholders through the CDP Online Response System (ORS). CDP also uses the data supplied to score organizations and measure progress and drive action on the following key areas: 
Climate change: How effectively are organizations managing climate risks, carbon emissions, and low carbon opportunities?
Forests: How are organizations verifying and monitoring commitments for using forest commodities? Are forest issues an integral part of business strategy? What is the exposure and risk associated with deforestation in production and/or procurement
Water security: How are water-related issues and risks managed, including governance, use, and stewardship of water resources?
Supply chain: For companies that are part of the supply chain of other companies, how are climate risks, carbon emissions, and low carbon opportunities managed?
Download the infographic for a side-by-side comparison of three major ESG reporting frameworks.
How does CDP disclosure work?
Companies are typically asked to disclose through CDP by their customers or investors, but they can also voluntarily submit responses through a self-selected company registration. The questionnaires are the same for all companies with the following exceptions: 
Companies responding to requests from customers will receive additional questions from the supply chain module.

 

Companies in

high-impact sectors

will receive additional questions. 

 
After collecting the environmental data needed, companies respond to the questionnaire through CDP's online reporting platform. The reporting period runs from April – July each year, and CDP provides guidance and workshops throughout the year to help organizations through the process. The annual reporting cycle typically follows this timeline: 
2nd week of January: CDP releases guidance for the current year's questionnaire.

 

2nd week of April: the ORS is open for data input.

 

Late July: Companies must submit their response to investors and/or customers via the ORS to be eligible for scoring and inclusion in reports. For 2022, the deadline is July 27.

 
CDP reporting framework infographic
The following infographic provides a quick overview of the CDP reporting framework:
Founded: 2000
Number of companies reporting: Over 13,000
Typical audience: Investors and customers who are requesting disclosure.
Purpose: Motivate governments and companies to disclose their environmental impacts and take action to reduce them.
Focus: External environmental impacts for requesting stakeholders.
What is reported: The E and G pillars. Environmental disclosures related to climate change, water security, forests and supply chain.
Who reports: Cities and companies responding to investor or customer request; voluntary submission.
Industry-specific versions: High impact industries have additional reporting requirements.
Output used for: Response to investor or customer inquiry, CDP public scoring (optional).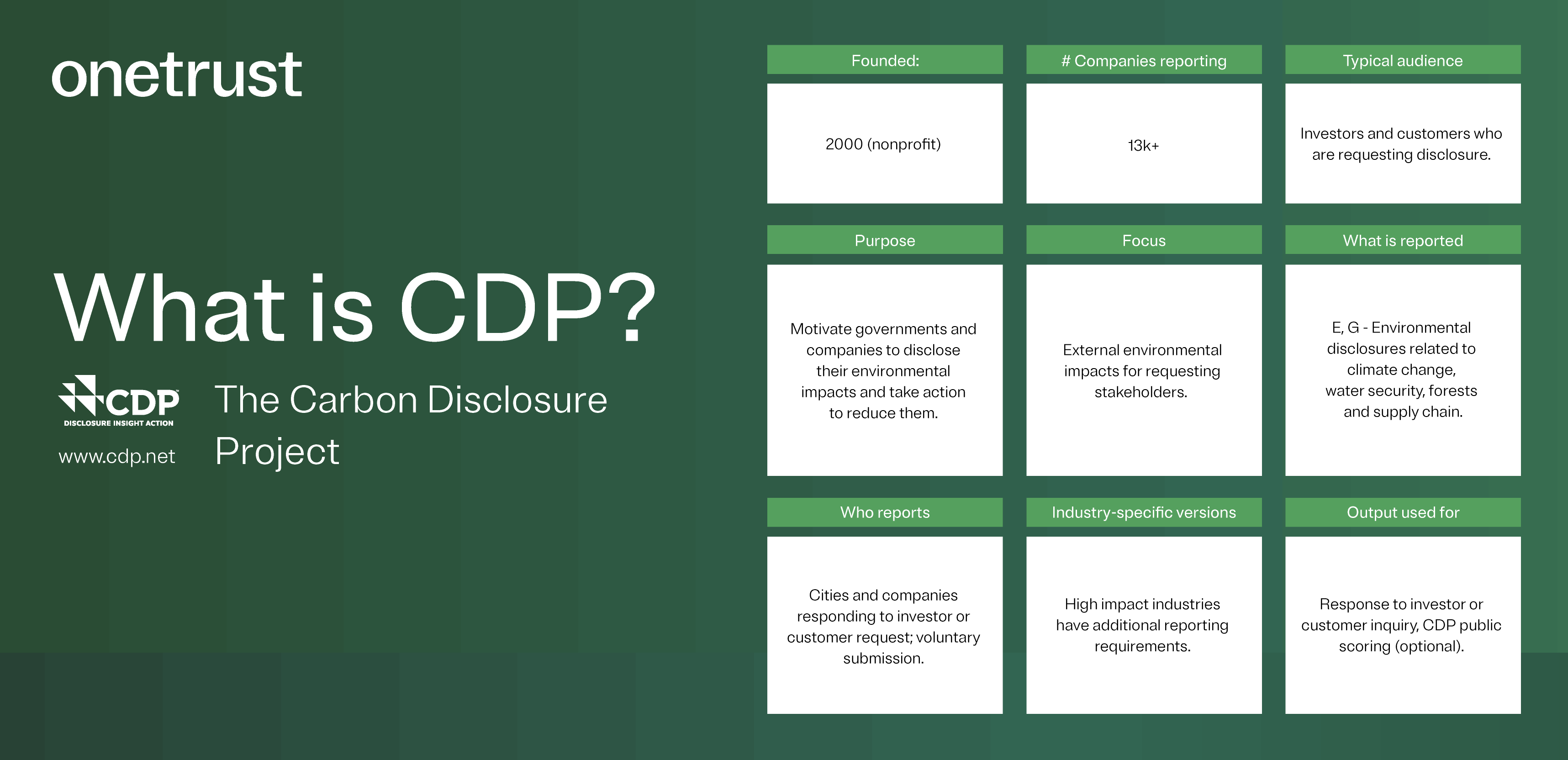 What is the CDP scoring methodology?
Each of the annual questionnaires (climate change, forests, and water security) has an individual scoring methodology which CDP publishes annually with the score reports. Companies receive scores from A to D on each area they have been requested to disclose on. Companies that do not submit a response after receiving a request to disclose receive an F. Every year, CDP also publishes A-List reports showcasing the companies and cities leading on environmental performance. 
Who uses CDP reporting?
Investors, companies, and governments use CDP insights to inform decision making, reduce risk, and identify opportunities. In 2021, over 590 investors, representing $110 trillion+ in assets, requested disclosures from more than 6,800 companies. And 200+ companies requested information from over 15,000 suppliers. As environmental, social, and governance (ESG) concerns become increasingly important to stakeholders (investors, employees, customers, partners), the number of companies disclosing through CDP is also accelerating. Between 2003 and 2021, the number of companies using CDP reporting grew by 5657% (from 228 to 13,126): 
Source: CDP 
What are the benefits of a CDP report?
Businesses are facing an inflection point as environmental disasters and social crises escalate – to be part of the solution or be led there. In the words of BlackRock CEO Larry Fink in his 2022 letter to CEOs: 
"Every company and every industry will be transformed by the transition to a net zero world. The question is, will you lead, or will you be led?"  
Customers, employees, partners, and investors increasingly expect companies to be part of the solution and are rewarding those that do. Trust has become a competitive advantage as these stakeholders seek to build relationships with sustainable brands that align with their values and follow through on their commitments. As an example, CDP climate change 'A List' companies outperformed the market by 5.3% per year between 2011 and 2019. CDP outlines several business benefits for disclosure through its reporting framework as follows: 
Protect and improve your company's reputation: build trust through transparency.

 

Boost competitive advantage.

 

Get ahead of regulations with a framework that is fully aligned with the Task Force on Climate-Related Financial Disclosures (TCFD). For example, TCFD-aligned disclosure will be mandatory in the U.K. by 2025. 

 

Track and benchmark your sustainability progress against industry peers.

 

Uncover emerging environmental risks and opportunities that would otherwise be overlooked.

 
The article "Voluntary ESG Reporting – What Are the Benefits" outlines additional benefits for voluntary reporting, regardless of which framework is used. These include: 
Build trust and strengthen connections by sharing your values and knowledge with customers, suppliers, and industry peers.

 

Demonstrate transparency and measurable governance to investors.

 

Improve brand reputation with consumers and investors.

 

Attract and engage new talent.

 

Cultivate employee purpose and pride.

 
How long does it take to respond to a CDP questionnaire?
Estimates vary depending on what you are disclosing, but one thing to keep in mind is reporting standards have grown more rigorous over time. As a case in point, the 2021 CDP Climate Change Questionnaire was 198 pages. For 2022, this has grown to 254 pages, and that's just one CDP questionnaire! Many companies also publish for multiple reporting frameworks and audiences which can require one or more full-time resources to support.  
How can ESG reporting software support CDP environmental disclosure?
The good news is once you establish a CDP reporting process, it's easy to publish to multiple frameworks. A sustainability reporting platform such as OneTrust ESG & Sustainability Cloud can help by streamlining and automating data gathering, improve collaboration with stakeholders, and align to multiple reporting frameworks in a central repository. As a CDP accredited solutions partner, the ESG Cloud has been designed to meet CDP requirements for transparency in carbon emissions and reductions.  
Download the infographic for a side-by-side comparison of three major ESG reporting frameworks.
You may also be interested in watching the webinar "Navigating ESG Disclosure Frameworks: Building a Future Proof ESG Program" to learn how to align your ESG disclosures with reporting frameworks like CDP.
Answer key: Stay tuned for future installments in this blog series to learn more about these terms, but here's a quick key for all the acronyms at the top: 
SASB stands for "Sustainability Accounting Standards Board"

 

GRI stands for "Global Reporting Initiative"

 

GHG stands for "greenhouse gas" (often seen in the phrase "GHG Protocol")

 

ESG stands for "Environmental, Social and Governance"

 

GDPR stands for "General Data Protection Regulation"

 

COPPA stands for "Children's Online Privacy Protection Act"

 

PII stands for "Personally Identifiable Information"

 

DSAR stands for "Data Subject Access Request"

 
Tags: