Fast Facts
---
Customer Name
Appinio
Size
SME
Industry
Legal & Professional Services
Region
Key Regulations
Products
Scope 1 and 2 Accounting
Scope 3 Accounting
Reductions and Offset Marketplace

How Appinio is decarbonizing market research
---
Appinio is a market research company based in Germany. The company aims to democratize market research through its online platform which enables anyone to conduct real-time market research with its panel across 50 markets. Companies from all industries use Appinio's all-in-one survey platform to put agility and consumer centricity into practice. 
Business goal
The connection between sustainability and market research may not be obvious at first glance – but it becomes much clearer when taking a closer look at the process. Surveying specific target groups in opinion polls makes it easier for companies to test concepts, pivot quickly as needed, and innovate. And integrating insights like these into development processes helps companies save time and money, as well as minimize the error rates that often lead to important resources being wasted. As a real-time market research platform, Appinio helps companies worldwide to make decisions in a customer-centric and thus more sustainable way. But it doesn't stop there. Founder Jonathan Kurfess believes that carbon neutrality should become the new standard for market research. To build resilience for the future and begin its decarbonization, Appinio partnered with OneTrust to assess its lifetime carbon footprint (2014 to date) and develop effective reduction actions to continuously reduce emissions.   
Key results
Calculated carbon footprint of 59 t CO2e for 2019 and 161.3 t CO2e for 2020

 

Estimated lifetime carbon footprint (since the company founding in 2014) of 383.2 t CO2e

 

Offset all its emissions between 2014-2020 through three certified climate action projects (422 CO2e in total)

 
Market research is not packaged in plastic, but we're aware that our daily business does have a carbon footprint that we would like to bring to zero. With OneTrust we've found a partner that supports us in measuring, developing, and implementing initiatives to reduce our CO2.

Jonathan Kurfess

Appinio CEO & Founder
Solution approach
Phase 1: Analyzing Appinio's carbon footprint
The first step in Appinio's decarbonization journey was to measure its existing carbon footprint, so the company partnered with OneTrust to calculate its carbon emissions between 2014-2020. Appinio's carbon footprint includes direct and energy-related emissions (Scope 1 and 2) as well as emissions caused by service providers that the company uses (Scope 3). Appinio's carbon emissions come from heating consumption in the office, office equipment, business travel, employee commute and external services.  
Appinio's carbon footprint in 2020 was 161.4 t CO2e. The biggest share (112.8 t CO2e) came from purchased goods and services used by the company. These include, for example, consulting and translation services, as well as software and platforms such as Facebook ads. Emissions from buildings make up the second largest part of the footprint (24 t CO2e), mainly driven by facility heating (energy-based emissions). Emissions from employee commuting, working from home and business travel added up to 21.9 t CO2e.   
161.4 t t CO2e total carbon emissions 
Appinio's carbon footprint in 2019 was 59 t CO2e. We then estimated Appinio's lifetime carbon footprint to be 383.2 t CO2eby looking at the change in total number of employees between 2014, the year the company was founded, and factoring in the 2019 carbon footprint.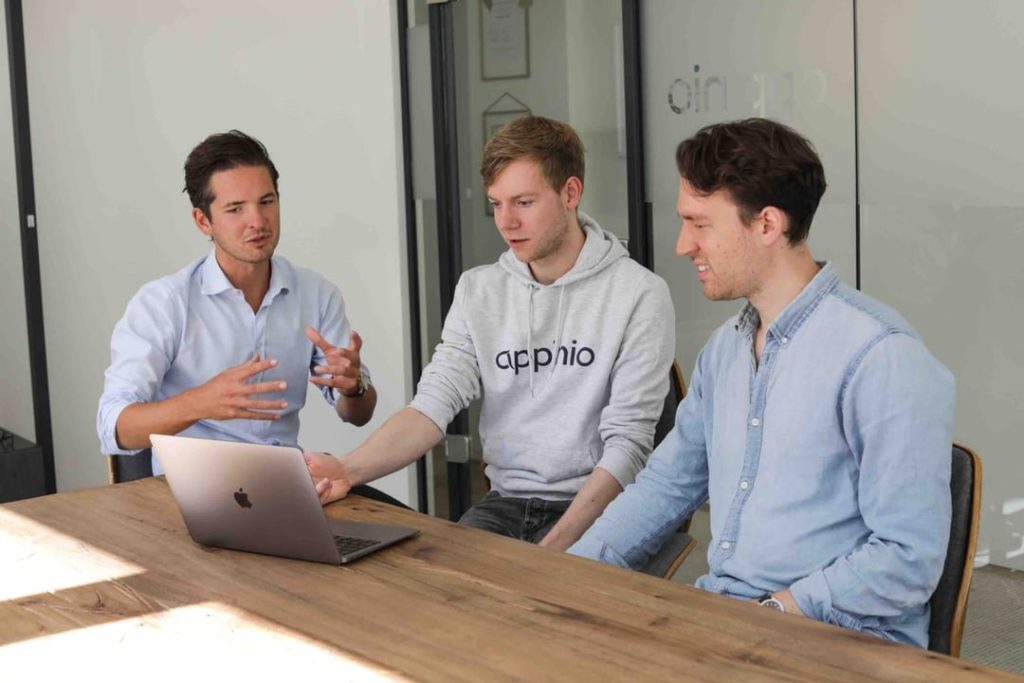 Phase 2: Reducing emissions through green energy, partnerships, and more
Because Appinio is already committed to reducingCO2 emissions, the company has already switched to green electricity for its office. Appinio also encourages employees to travel by train whenever possible for business trips and offers passes for local public transport.   
In early 2020, Appinio began partnering with the Eden Reforestation Projects to offer its users a way to plant trees in exchange for their participation in market research surveys. Users can redeem coins won in surveys to plant trees. As of March 2020, 51,350 trees have been planted through this partnership. In addition to planting trees for every survey, Appinio also provides a 10% discount to carbon neutral companies.  
Phase 3: Offsetting its lifetime carbon footprint
Some emissions from the past cannot be reduced any further, but Appinio wanted to offset all its emissions from 2014-2020. The company decided to achieve this by by supporting three high-impact climate projects in:   
(India) A solar water heater project to provide hospitals, schools, universities, and small businesses a reliable supply of hot water at a reasonable cost

 

(Indonesia) A project to protect high biodiversity peat swamp forests from conversion into palm oil plantations and train local communities in sustainable agriculture

 

(Ethiopia) In collaboration with Fairtrade Netherlands, a project to distribute clean cook stoves to households of rural coffee farmers reduces local deforestation

 
In total, Appinio compensated 422 t CO2e and all projects were carefully selected and certified under the highest standards, including the Gold Standard.  
Value realized
With the OneTrust ESG and Sustainability Cloud, Appinio achieved the following results: 
Gained an accurate picture of its lifetime carbon footprint of

383.2 t CO2e

 

Offset over 420 t CO2e – more than 100% of its lifetime carbon footprint – by supporting three certified climate action projects that had the following outcomes:

 

Provided clean, affordable energy and skills development to households, schools, and small businesses in India

 

Protected 64,500 hectares of peat swamp forests in Indonesia and trained local communities in sustainable agriculture

 

Distributed 12,000 efficient cookstoves in Ethiopia, preventing deforestation and the burning of 55,000+ pounds (25,000 kilograms) of wood – this corresponds to avoiding 40,000 t of CO2e 

 
Looking ahead
Appinio strives to be a climate leader, and that means continuously monitoring its carbon footprint and finding additional paths to carbon neutrality through reduction. The company is partnering with OneTrust to implement a reduction strategy that will help it maintain carbon neutrality and expand its positive impact in the future.  
The OneTrust ESG & Sustainability Cloud helps companies like Appinio gain critical insights into where carbon emissions are generated throughout the value chain, making it easier to pinpoint hotspots for reduction. The ESG Cloud not only provides a GHG Protocol compliant overview of scope 1, 2, and 3 emissions, it also offers a path for clear target setting, automated reporting, and transparent benchmarking.  
Part of the Trust Intelligence Platform™ from OneTrust, it unifies and delivers visibility across four trust domain areas, action based on AI and regulatory intelligence, and automation to build trust by design. Empower your organization to drive change, demonstrate impact, and put trust at the center of your operations. 
Request a demo today to learn more.