Fast Facts
---
Customer Name
Speedinvest
Size
SME
Industry
Finance & Financial Services
Region
Key Regulations
Products
Scope 1 and 2 Accounting
Scope 3 Accounting
Reductions and Offset Marketplace

How Speedinvest is decarbonizing venture capital
---
Speedinvest is a leading early-stage venture capital firm based in Europe that focuses on funding innovative technology startups. Its mission is to empower portfolio companies throughout their journey with actionable, aligned, and game-changing support. With dedicated sector-focused teams and in-house operational experts, the company offers founders ongoing support with growth, HR, market expansion, and more.
Business goals
Speedinvest strives to create value for investors and portfolio companies while remaining aware of its responsibility toward society and the environment. Responsible investing is an integral part of the company's business model, and it actively seeks out leading climate tech startups to back.
In 2019, Speedinvest committed to becoming carbon neutral and partnered with OneTrust to begin monitoring, reducing, and offsetting its emissions. As an active member of Leaders for Climate Action (LFCA), Speedinvest also decided to make its climate action initiatives and goals transparent.
Key results
Calculated total carbon footprint of 280 t CO2e for 2020 

 

Achieved carbon neutrality for 2020 by offsetting 310 t CO2e

through three certified carbon offset projects 
As a leading European VC, it's our responsibility to invest in the next generation of sustainable technologies and make concrete changes to reduce our own carbon footprint. We are committed to investing the time, energy and capital required to build a more sustainable future for all.

Oliver Holle

Speedinvest Co-Founder and Managing Partner
Solution approach
Phase 1: Analyzing Speedinvest's carbon footprint
To calculate the carbon footprint, OneTrust took a closer look at all relevant activities across Speedinvest's operations. This included direct and energy-related emissions (Scope 1 and 2) and indirect emissions caused by purchased goods and services and other emissions that occur outside the organization (Scope 3). Speedinvest's investment portfolio is not yet included in this analysis.
Building emissions make up the largest share of Speedinvest's carbon footprint, followed by employee emissions such as business travel, employee commuting, and home offices. The company did see some reduction in travel emissions in 2020 due to COVID-19 lockdowns and intends to keep this momentum going with new travel policies aimed at reducing travel emissions moving forward. The third largest share of emissions comes from purchased goods and services.
In 2020, Speedinvest's total carbon footprint was:
280 t CO2e total emissions
123 t C02e in building emissions

113 t C02e business travel, employee commute, and home office

44 t C02e in purchased goods and services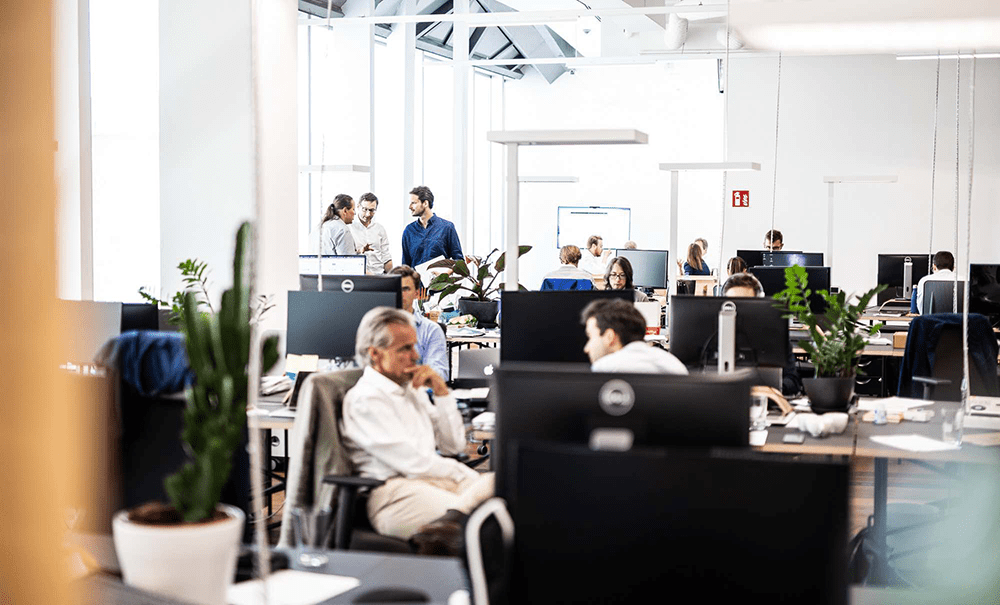 Phase 2: Speedinvest reduces and avoids greenhouse gas emissions
Speedinvest is committed to eliminating unnecessary emissions and reducing/offsetting unavoidable emissions. The company has started to implement concrete steps toward more sustainable business operations, such as deploying refurbished instead of new electronics, introducing a "train-first" travel policy, and minimizing business travel.
Speedinvest has also started working on a sustainability audit of its partners and vendors, including banks, internet services, energy utilities, office suppliers, food providers, and more. Further, the company made it part of its DNA to support founders in its portfolio who are working on lowering their own carbon footprint.
Phase 3: Speedinvest offsets remaining emissions
While reduction and avoidance are key for Speedinvest, emissions cannot be fully avoided in some areas. For that reason, Speedinvest supports certified climate projects in Indonesia, Kenya and Ethiopia. These include:
(Indonesia)This rainforest protection project protects 64,500 hectares of carbon-rich peat swamp forests and supports local communities with sustainable agriculture, biodiversity, and wildlife habitat training. Estimated annual reduction of 3.5 million tons of C02 emissions.

(Ethiopia) A community project focused on distributing 12,000 efficient cookstoves reduces deforestation by minimizing wood consumption. Estimated annual reduction of 40,000 tons of C02 emissions.

(Kenya) An efficient cookstove project has reduced household wood consumption by almost half and weekly wood collection by two-thirds.
All projects are certified to the highest standards, including Gold Standard, the Voluntary Carbon Standard (VCS), and the Fairtrade Climate Standard.
Value realized
By partnering with OneTrust, Speedinvest: 
Gained an accurate picture of carbon footprint and emission reduction opportunities

 

Achieved 100% carbon neutrality in 2020 by supporting three certified climate action programs that achieved the following results:

 

A reduction in defrestation and forest degradation and local community training led to an estimated annual reduction of

3.5 million

tons of C02 emissions in Indonesia.

 

Distributing 12,000 efficient cookstoves reduced deforestation that led to an estimated annual reduction of 40,000 tons of C02 emissions in Ethiopia.

 

Installation of cookstoves led to a 50% reduction in household wood consumption and reduced

weekly wood collection by two-thirds in Kenya.

 
Looking ahead
Speedinvest and companies like it understand that climate leadership is an essential part of building trust. It takes commitment, collaboration, consistency, and transparency, but it's worth it. Those that do reap the business benefits that come with being more attractive to stakeholders. Speedinvest successfully achieved its goal of achieving carbon-neutral operations across all its business operations, but the company understands that carbon neutrality is a continuous process. As such, Speedinvest plans to continue partnering with OneTrust to further optimize and refine its long-term carbon measurement and decarbonization strategy.   
The OneTrust ESG & Sustainability Cloud helps companies like Speedinvest gain critical insights into where carbon emissions are generated throughout the value chain, making it easier to pinpoint hotspots for reduction. The ESG Cloud not only provides a GHG Protocol compliant overview of scope 1, 2, and 3 emissions, it also offers a path for clear target setting, automated reporting, and transparent benchmarking.      
Part of the Trust Intelligence Platform™ from OneTrust, it unifies and delivers visibility across four trust domain areas, action based on AI and regulatory intelligence, and automation to build trust by design. Empower your organization to drive change, demonstrate impact, and put trust at the center of your operations.  
Request a demo today to learn more.