The California Consumer Privacy Act (CCPA) is rapidly approaching. With the law set to take effect in January of 2020, many organizations are looking for ways to start preparing now. But with amendments making their way through the California courts, uncertainty around what the final law will entail is causing some hesitation for many organizations who aren't sure where or how to get started.
Simplify CCPA Compliance with OneTrust
OneTrust has designed an entire suite of customized solutions built to replace spreadsheets and traditional risk management solutions with modern data automation technology and powerful research portals that are purpose-built to solve the challenges of CCPA compliance at scale. OneTrust for CCPA allows organizations of all sizes to simplify the compliance process – leveraging the new law as a stepping stone to build a global privacy program.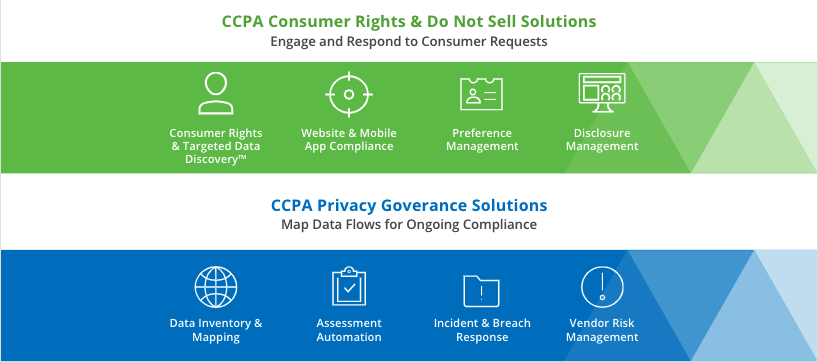 CCPA Research & Readiness  
ONETRUST DATAGUIDANCE
Use OneTrust DataGuidance to access a centralized repository of CCPA resources that includes the full CCPA text, summaries, comprehensive guides, and regulatory guidance, as well as a CCPA amendment tracker. OneTrust DataGuidance is continually updated by the OneTrust global research team and includes latest amendments, news, and guidance.
ONETRUST MATURITY PLANNING & PROGRAM BENCHMARKING
With the OneTrust Maturity Planning & Program Benchmarking tools, leverage a research-backed CCPA readiness and planning assessment to assess your organization's CCPA gaps and assess remediation recommendations to minimize risks. Opt-in to share your readiness and benchmark your program against 300+ other organizations.
CCPA Consumer Rights & "Do Not Sell" Solutions 
ONETRUST CONSUMER RIGHTS & TARGETED DATA DISCOVERY
The CCPA stipulates a 45-day response timeline for consumer rights requests. OneTrust Consumer Rights Management fully automates this process from intake to fulfillment utilizing OneTrust Targeted Data Discovery. Leverage CCPA-specific response workflows to help your organization respond to requests appropriately, and with built-in exception handling, reduce unnecessary work, ensuring you meet CCPA compliance deadlines.
ONETRUST WEBSITE & MOBILE APP COMPLIANCE
OneTrust offers default cookie banners that reflect CCPA-specific messaging. Using geolocation, OneTrust can display different cookie banners with different consent models depending on the website visitor's location and can be customized to include a "Do Not Sell" link.
ONETRUST PREFERENCE MANAGEMENT
Under the CCPA, the right to opt out of the sale of personal information extends beyond the consumer to include devices and households. Via OneTrust, track do not sell requests by consumers, devices, and households. ​​
ONETRUST DISCLOSURE MANAGEMENT
Under the CCPA, privacy policies must be reviewed and updated every 12 months. The OneTrust Policy & Notice Management tool enables your organization to easily update, centralize, and distribute Policies, Notices, and Disclosures across all web and mobile properties from a single platform.
CCPA Privacy Governance Solutions
ONETRUST DATA INVENTORY & MAPPING
Access CCPA-specific data elements built into OneTrust help your organization track key attributes when mapping data for CCPA compliance. Additionally, leverage bulk importing capabilities to attach CCPA-specific data elements to existing data.
ONETRUST ASSESSMENT AUTOMATION
OneTrust Assessment Automation offers updated, CCPA-specific PIAs to adhere to data minimization and purpose limitation considerations outlined under the CCPA. With Assessment Automation, take advantage of automated CCPA-specific risk flagging and research-backed remediation recommendations.
ONETRUST VENDOR RISK MANAGEMENT
Leverage OneTrust Vendor Risk Management to communicate with third-party vendors to meet consumer requests for data access and deletion. Additionally, generate visuals to map vendors and data flows state by state and around the world.
ONETRUST INCIDENT & BREACH RESPONSE
OneTrust Incident & Breach Response enables your organization to analyze incidents with a built-in, California Data Breach Notification assessment template. With customizable workflows, streamline response and quickly remedy a violation within the CCPA's 30-day cure period.
CCPA Professional Services  
OneTrust's professional services team will help you prepare for the CCPA. Utilize a CCPA Readiness Check Up to determine current operational gaps within the CCPA, launch your CCPA program with our CCPA software implementation team, and evaluate success post-implementation with the OneTrust CCPA Validation.
CCPA Global User Community 
Access a network of CCPA privacy professionals through PrivacyConnect, free CCPA workshops in cities across the globe, and PrivacyTech, OneTrust's global user conference. Join the CCPA Advisory Board, giving you direct input in the OneTrust CCPA roadmap – keeping you at the forefront of CCPA compliance.
Regardless of the maturity of your privacy program, it's never too soon to start planning for your CCPA readiness. OneTrust for CCPA is a full set of scalable solutions and services specifically designed to implement CCPA requirements and workflows to support a global privacy program.
For additional information, or to request a live OneTrust Privacy Management Software demo, visit OneTrust.com or email [email protected]
Download our Whitepaper, How OneTrust Helps with the CCPA to learn more!
Resources:  
Check out our entire CCPA blog series: