April 7, 2022
Sustainability Is Vital to Trust Building
How sustainable business practices lay the groundwork for earning trust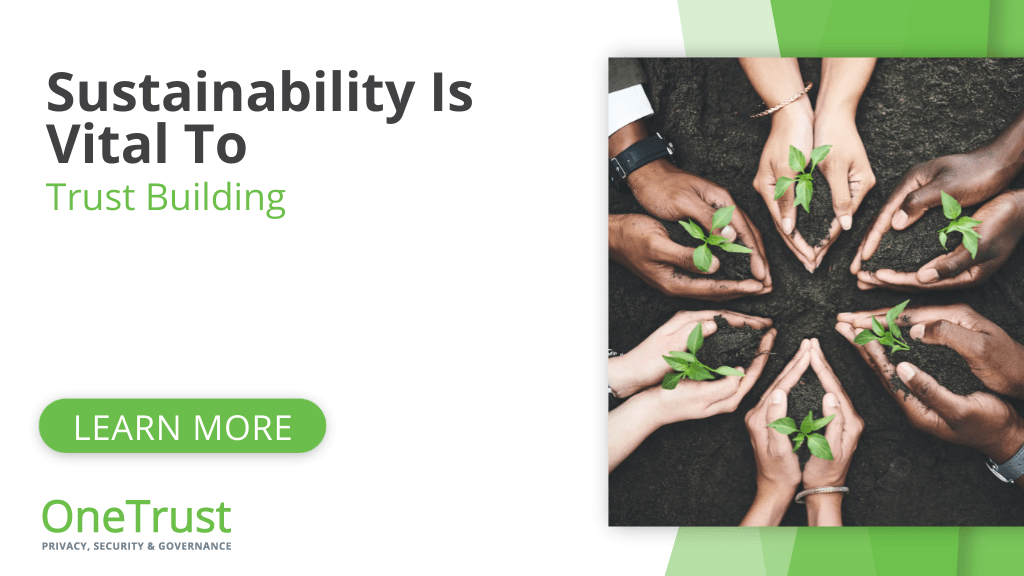 Corporate trust programs have traditionally focused on data protection, but that is no longer enough. Stakeholders are demanding more from businesses and expecting them to lead the charge in addressing global issues such as climate change, racial injustice, impacts from the pandemic, and more. According to research by the World Economic Forum and Accenture:
74% of consumers believe that ethical corporate practices and values are an important reason to choose a brand.
65% of employees believe organizations should be responsible for leaving their people "net better off" through work.
81% of sustainable indices outperformed their peer benchmarks in 2020.
These stakeholder preferences are impacting the bottom line, and business leaders are paying attention. In the IDC Topline, sponsored by OneTrust, "Trust for Sustainable Business," (doc #EUR248843422, February 2022) IDC notes: "A company's ability to integrate sustainability metrics into trust programs and to demonstrate its sustainability credentials transparently, is becoming a strong differentiator globally that can lead to secured funding or successful sales processes." By embedding sustainable business practices into their operations, companies can build organizational trust, lead the market, and grow competitive advantage.
Read the IDC Topline: Trust for Sustainable Business

What is organizational trust?
If we trust someone, we innately feel comfortable, safe, and protected: free to be ourselves. Organizational trust works in much the same manner: it gives customers, partners, and employees a sense of security and freedom to be themselves. But organizations are also held to higher standards when it comes to trust. We depend on government, business, and community organizations for most aspects of our daily lives, so we expect them to act responsibly with what we have "entrusted" to their care. Whether it's our tax dollars, personal information, or some other asset, we trust that organizations will use our assets ethically, securely, and only for the intended purpose.
Why is trust important?
A functioning society depends on organizational trust
Nearly every interaction, from a multibillion-dollar deal to walking across the street, operates under the assumption that all involved will uphold the relevant rights and laws. Businesses trust that financial institutions will safeguard their multibillion-dollar transaction, and citizens trust they can walk across the street without being hit by a vehicle. When organizations fail to comply with laws or mishandle assets entrusted to their care, it erodes trust. And, without organizational trust, a healthy, functioning society is not possible.
Organizational trust is declining, but businesses are the most trusted institution
Public trust in organizations has been declining in recent years due to societal disruptions such as COVID-19, data breaches, racial injustice, wage inequities, climate change, and more. At the same time, businesses are ranked as the most trusted institution when compared to NGOs, government, or the media. Per the 2021 Edelman Trust Barometer, "My Employer" was ranked as the most trusted information source by 61% of respondents. With that trust comes higher expectations:
86% expect CEOs to lead on societal issues such as impact from the pandemic, job loss due to automation, climate change, and racial justice.
86% expect brands to take one or more actions beyond their product and business, like giving money to good causes, addressing societal challenges, and supporting local communities.
63% want brands to focus on making the world a better place, compared to 37% who want brands to make "me a better person." Brands are expected to focus on values that address societal "we" issues over "me" issues.
Can sustainable business practices help to foster trust?
Higher stakeholder expectations around making the world better provide a great opportunity for businesses to nurture trust through sustainable business practices. As stated in the IDC Topline, sponsored by OneTrust, "Trust for Sustainable Business":
"Sustainability has become increasingly important for organizations across all industries, and the environmental and social aspects of sustainable development have become critical parts of trust conversations."
In response, business leaders have broadened the scope of trust programs to include reporting on environmental, social, and governance (ESG) elements. The number of S&P companies publishing a sustainability report has grown by 360% over the past decade – today nine in ten publish a report. Companies that adopt and disclose sustainable business practices through annual ESG reports are reaping trust-building benefits such as:
Fostering connections with and earning the loyalty of key stakeholders (investors, customers, partners, employees) by providing insights and an accountability framework about the topics that matter most to them.
Strengthening investor confidence through increased transparency and quantitative reporting.
Improving brand reputation and market perception with clear reporting on ESG goals and progress.
Attracting and engaging leading talent.
Cultivating employee engagement, pride, and loyalty.
How to launch a corporate sustainability program to earn trust
Establishing sustainable business practices takes time and commitment, but it's essential for cultivating trust with your stakeholders. The ESG Program Checklist outlines eight easy steps to build your sustainability program.
1. Set up your program: Define the ESG program team and establish a governance structure.
2. Assess material topics: Identify issues important to your stakeholders (employees, customers, partners, investors).
3. Understand key ESG impact areas: Review major ESG impact areas to pinpoint which are most relevant for your company to prioritize.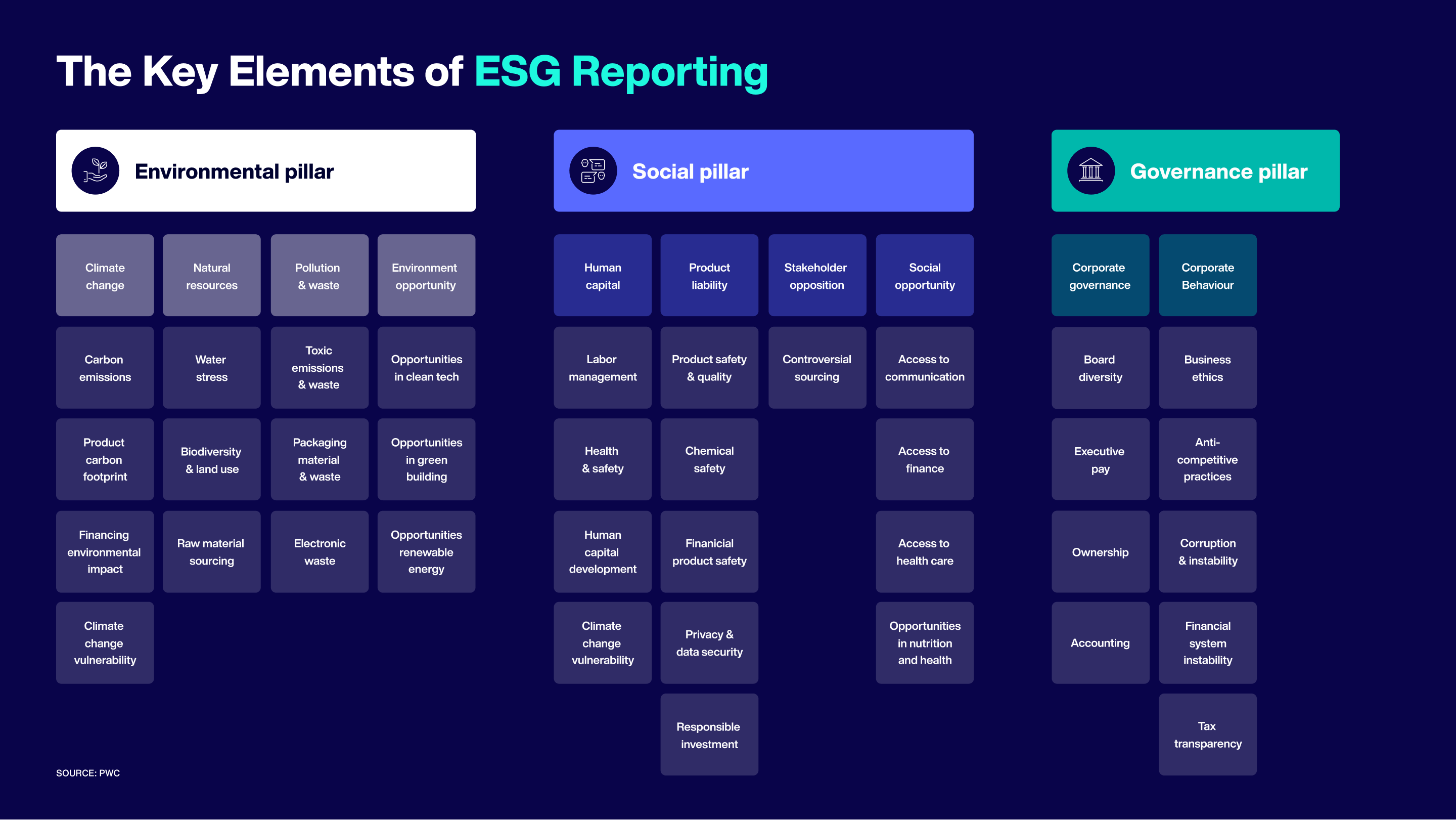 4. Select initiatives and standards: Determine which ESG reporting frameworks and standards align best with your company's goals.
5. Gather metrics: Aggregate the information needed to build your ESG report from surveys, application integrations, and data loads.
6. Assess risks and opportunities: Evaluate ESG risks and opportunities for improvement.
7. Take internal and external action: Create program targets and goals, implement action plans, and track progress over time.
8. Report and visualize results: Show your stakeholders that you value transparency by publishing your results.
Instill trust by keeping stakeholders at the heart of your ESG program
Ultimately, building trust is about putting the needs of your stakeholders first and being transparent about how you are achieving it. The process begins with gathering the relevant data from multiple sources and bringing it all together in one place to get a clear picture of where you stand today. But it doesn't end there. Maintaining trust requires consistently tracking your performance against targets you set with stakeholder needs in mind. Finally, communicating your progress annually keeps you accountable to stakeholders and helps you accelerate action plans for improvement. The right ESG software, such as Planetly by OneTrust, makes it easy to achieve this by streamlining the process. Our platform saves you time by automating data capture into a single system of record for analysis, reporting, and improvement action planning. And that translates into more time you can spend on the strategic aspects of your program to grow impact and trust.
Download the IDC Topline  to learn more about "Trust for Sustainable Business"
You may also be interested in reading: The Guide for Setting Corporate Climate Goals
Tags: