November 29, 2022
Proposed UK disclosure framework focuses on corporate climate transition
Publishing net zero transition plans may be mandatory in the future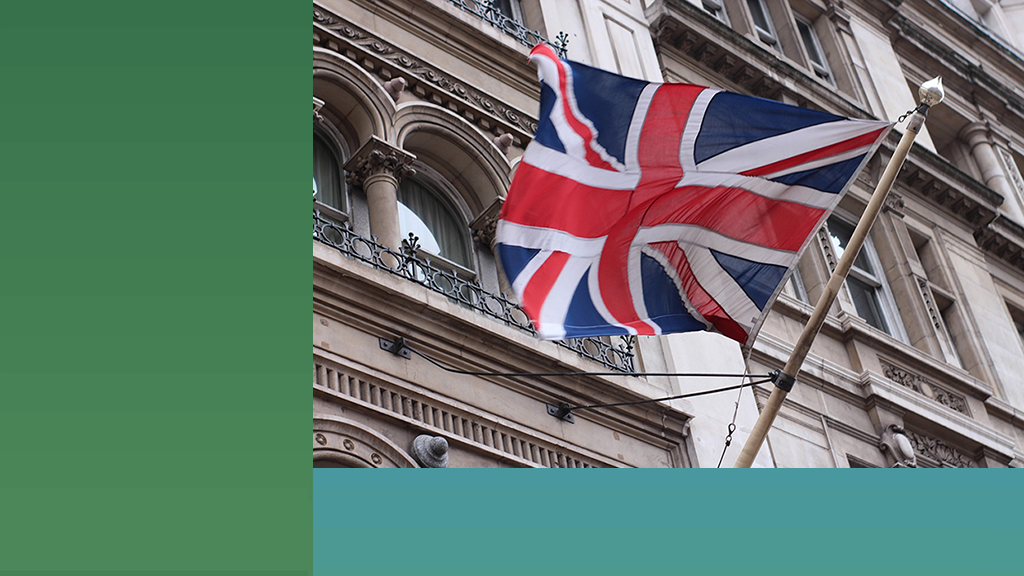 At COP27, the UK announced a draft disclosure framework for private sector climate transition plans. Dubbed The Transition Plan Taskforce (TPT) Disclosure Framework, it aims to strengthen reporting requirements for companies in the UK, including publication of climate transition plans. A growing number of businesses around the world have announced net zero pledges, but there is inconsistency in how progress against these goals is tracked and disclosed. Lack of detail around short-term action plans to meet the goals makes it difficult for stakeholders to assess the credibility of the plans or compare approaches. The TPT Disclosure Framework seeks to address these challenges by encouraging businesses and asset owners to set and follow concrete, standardized net zero transition plans.
"This will help to connect the impressive momentum on net zero commitments from private sector firms with the need for good-quality, accurate, and decision-useful information for investors."

Andrew Griffith, MP, Economic Secretary to the Treasury, HM Treasury, Co-chair, TPT
To learn more about setting credible climate goals and disclosing progress, download the freeGuide to setting corporate climate goals.
Does the UK require net zero transition disclosures? What's new?
Many large UK companies and asset managers are already required to disclose climate-related information in line with TCFD recommendations. Moving forward, it's expected that the TPT Disclosure Framework will inform future regulatory requirements in the UK around disclosure of climate transition plans. Grounded in three principles of "Ambition, Action, and Accountability," the Framework encourages companies to focus on ambitious, concrete, short-term action to achieve net zero goals. It also makes businesses more accountable to stakeholders (investors, policymakers, NGOs) for setting and delivering a climate transition plan.
"In recent years, we have seen a wave of private companies announcing their ambitions to contribute to net zero. We now need financial firms and companies to come forward with high quality plans to show how they will meet their targets. "
–Amanda Blanc, Aviva Plc CEO and TPT co-chair
Why is the UK putting forward a climate transition disclosure framework?
The UK has set ambitious, binding targets to reach net zero by 2050. To get there, UK policymakers are focused on ensuring that financial flows shift toward supporting a net zero economy. In 2020, the UK was the first country in the world to make TCFD-aligned disclosures mandatory. Following that, in October 2021, the UK government published the Greening Finance roadmap, which sets out the country's long-term ambition to green the financial system to align it with the net zero target. Finally, at COP26, then UK Chancellor Rishi Sunak outlined plans for the UK to become the world's first net zero aligned financial center. As part of that announcement, the Chancellor also indicated that the UK would move toward making publication of climate transition plans mandatory. However, since there isn't a commonly agreed to standard for what a high-quality transition plan looks like, a taskforce was established to develop a standard.
What is the Transition Plan Taskforce (TPT)?
The Transition Plan Taskforce (TPT) was launched by HM Treasury in April 2022 to develop a standard for private sector climate transition plans in the UK, building on global disclosure standards like those under the IFRS. The TPT has a two-year mandate and is comprised of industry and academic leaders, regulators, and civil society groups. The UK government and Financial Conduct Authority (FCA) are actively involved and will leverage the TPT's outputs to strengthen future disclosure rules for listed companies and financial firms. The International Sustainability Standards Board (ISSB) and Glasgow Financial Alliance for Net Zero (GFANZ) also sit on the TPT steering committee. The expected outputs of the TPT include:
TPT Disclosure Framework: An initial draft was published in November 2022, which will be open to consultation until February 2023.
TPT Implementation Guidance: An initial draft was published in November 2022, which will be open to consultation until February 2023.
Online Sandbox: An online portal was launched in November 2022. It will allow organizations that are preparing transition plans to provide feedback on their experience implementing the Disclosure Framework. The TPT plans to convene the preparers who participate in the sandbox at an in-person reception in early 2023.
Sector Guidance: An overview of sector-specific metrics from existing guidance will be published by 2023, followed by more detailed sector guidance in late 2023.
In addition to these outputs, the TPT also published a summary of its key recommendations and a technical annex that shows a mapping of the TPT recommendations to wider corporate reporting norms.
What is the TPT Disclosure Framework for ESG reporting?
The TPT Disclosure Framework builds on existing TCFD and ISSB recommendations to include climate transition plans in corporate ESG disclosures. It aims to provide more granularity around what UK transition plans should include based on the following three principles:
Ambition: Outline how the entity will contribute to and prepare for an economy-wide net zero transition. The plan should cover the entity's high-level ambitions to mitigate, manage, and respond to the changing climate, including greenhouse gas (GHG) reduction targets (a net zero commitment). Also include measures to address material risks to, and leverage opportunities for, the natural environment and stakeholders (workforce, communities, customers) which arise as part of these actions. Reflect the urgency to act and emphasize actions that will contribute significantly to an economy-wide transition.
Action: Translate ambitious strategic objectives into concrete steps to be taken in the short- and medium-term, along with details on how those steps will be financed. It should be connected to the entity's operational planning and be underpinned by clear resourcing plans.
Accountability: Enable delivery of the plan through clear governance and accountability mechanisms, along with consistent, comparable, and decision-useful reporting. This includes Board and executive oversight, regular reporting against quantified and timebound metrics and targets, transparency around third-party assurance, and stakeholder feedback mechanisms.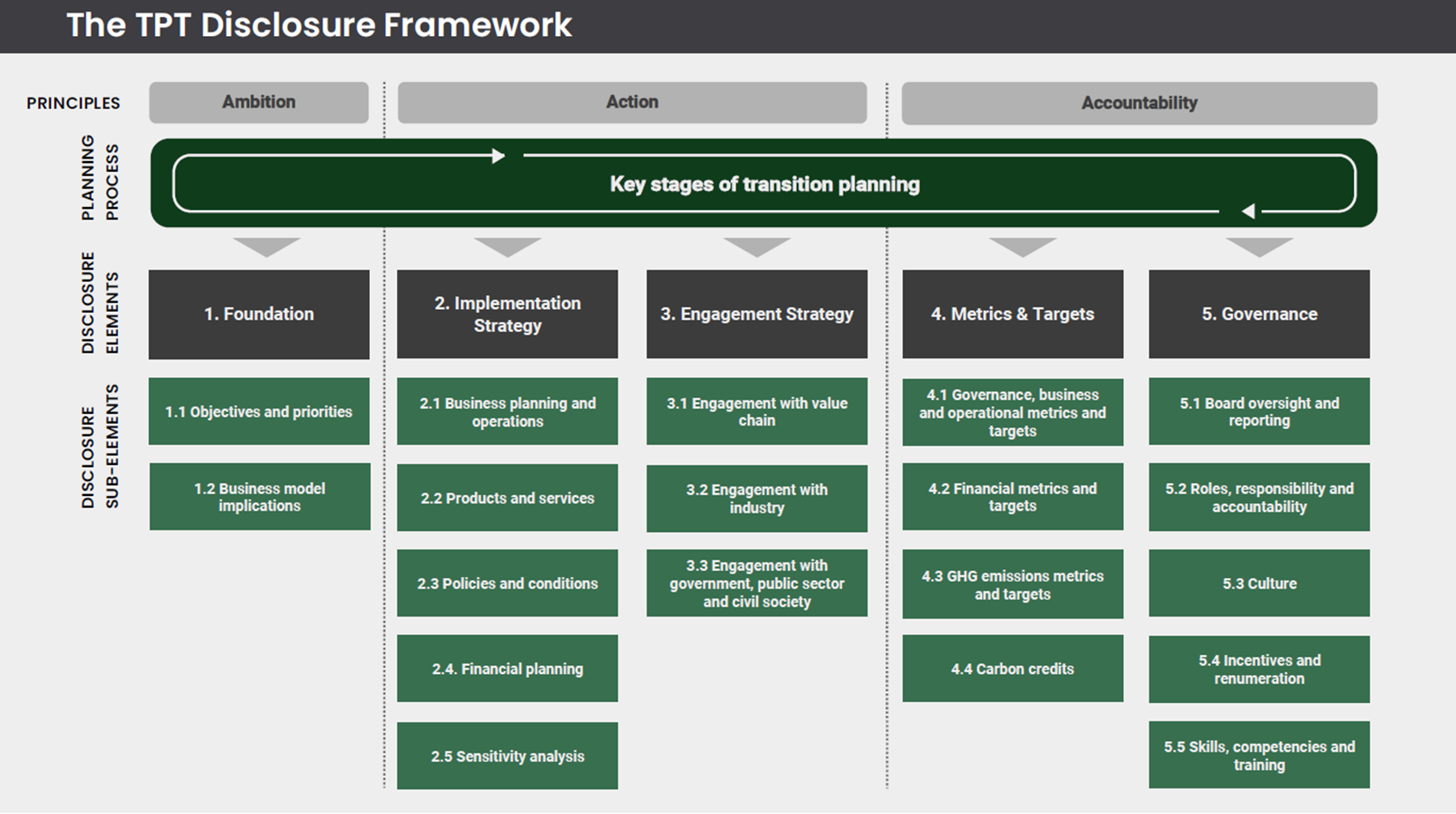 Source: TPT
How will the UK climate transition plan disclosure requirement affect your company?
Initially companies that are already reporting will be required to publish transition plans that consider the UK government's net zero commitment or explain if they have not done so. While there is no timeline specified yet, these companies should consider participating in the TPT sandbox and providing feedback during the consultation period. This will provide an opportunity to participate in the development of the standard while gaining practical experience implementing the new guidelines.
When will the new UK net zero transition plan requirements be enacted into law?
The TPT draft outputs and online sandbox are open to public comment until February 28, 2023. At the same time, the proposed UK Sustainability Disclosure Requirements (SDR) are open to public comment until January 25, 2023. Based on the feedback received on both, it's expected that the UK government will publish updated policy rules by the end of the first half of 2023 that will incorporate the TPT Disclosure Framework into the SDR.
How can OneTrust help?
ESG disclosure rules and standards continue to proliferate in the UK and elsewhere. At the same time, there is a growing trend towarduniversal ESG reporting standardsthat will meet the needs of all stakeholders – investors, policymakers, customers, partners, employees, and more. Staying ahead of these changes while building and scaling trust can be tough for many companies. TheOneTrust ESG & Sustainability Cloud can help you instill trust with your key stakeholders with clear target setting, automated reporting, and transparent benchmarking. The ESG Cloud is part of theTrust Intelligence Platform™ from OneTrust that unifies and delivers visibility across four trust domain areas (privacy, GRC, ethics, and ESG). This enables companies to collaborate seamlessly and unlock value by doing what's good for people and the planet.
Download the free Guide to setting corporate climate goalsto learn how to set climate goals for your business and create a credible climate action story.
You may also be interested in downloading the eBook "Ultimate Guide to ESG Sustainability" to learn how to keep your organization ahead of the curve on emerging regulations.
Tags: