Relevant GDPR Articles
-  Article 5: Principles relating to processing of personal data -  Article 24: Responsibility of the controller
Advance Your Privacy Governance
As new privacy regulations and certifications come into effect, privacy professionals must be able to quickly assess their organizational readiness for compliance. However, the definition of compliance is changing to include the principle of accountability. Demonstrating accountability requires a more proactive approach to privacy governance that starts with self-assessments. OneTrust enables privacy professionals to prepare for compliance with upcoming privacy regulations and certifications through proactive self-assessments. Free templates are available for the EU General Data Protection Regulation, Privacy Shield, BCR (controllers and processors), and APEC CBPR, as part of the OneTrust privacy management platform. Privacy professionals can use OneTrust to benchmark their organizational readiness, prioritize requirements for compliance and provide executive-level visibility.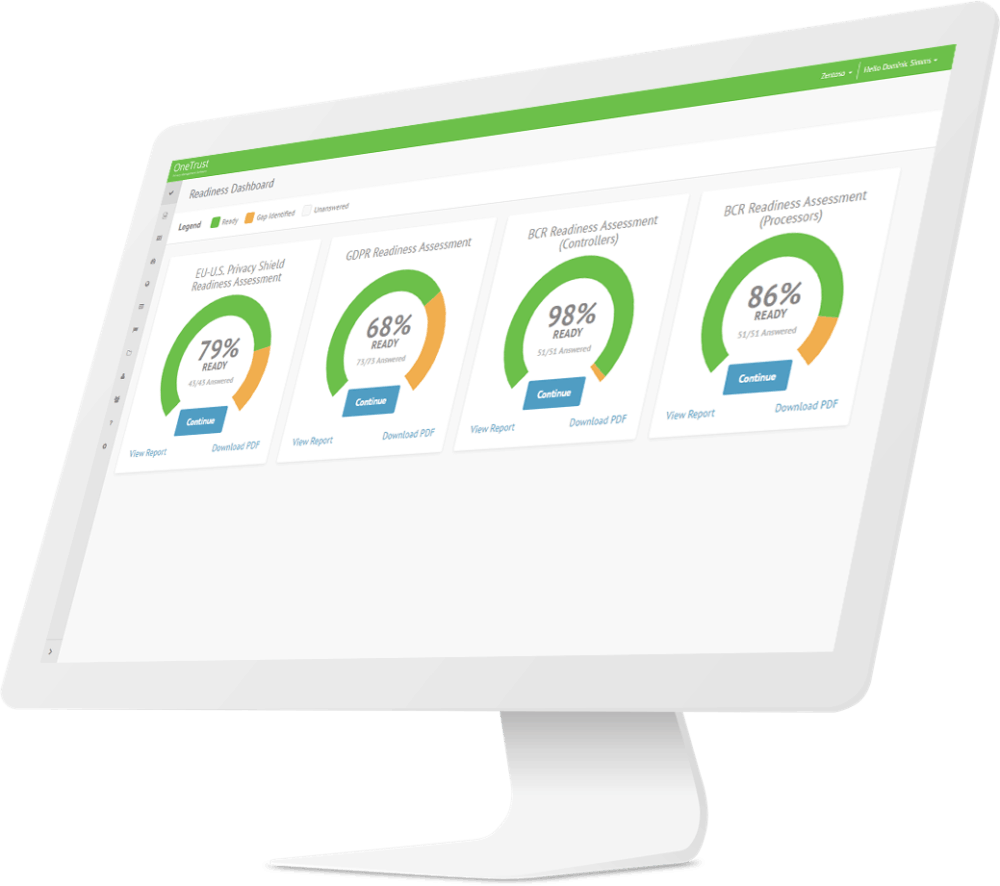 Privacy Regulations and Certifications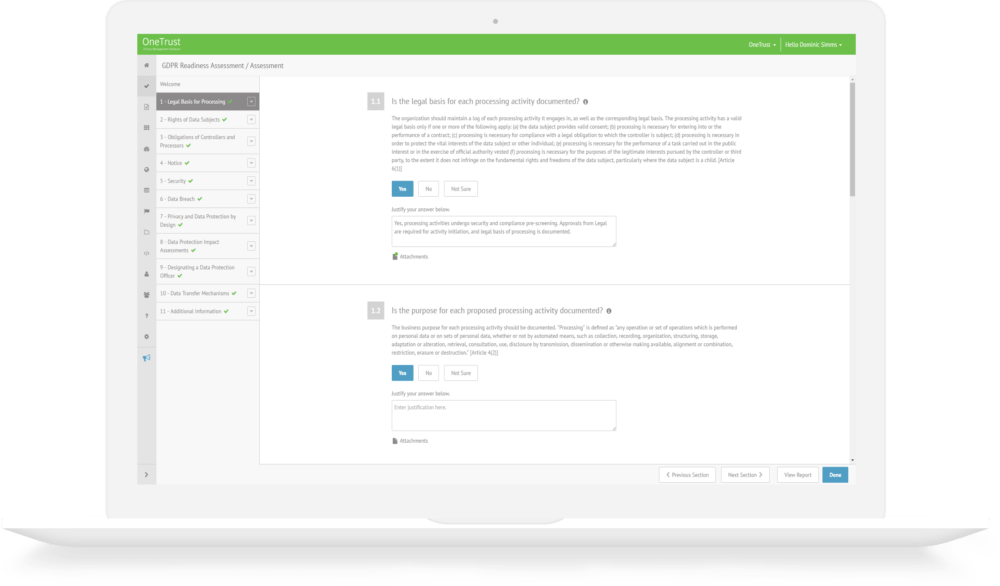 Prepare for Regulatory Compliance
OneTrust is committed to helping organizations better prepare for compliance with the upcoming EU General Data Protection Regulation, and any future updates to the regulation as released. Make the most of the time you have left to comply with the GDPR, using the OneTrust self-assessment.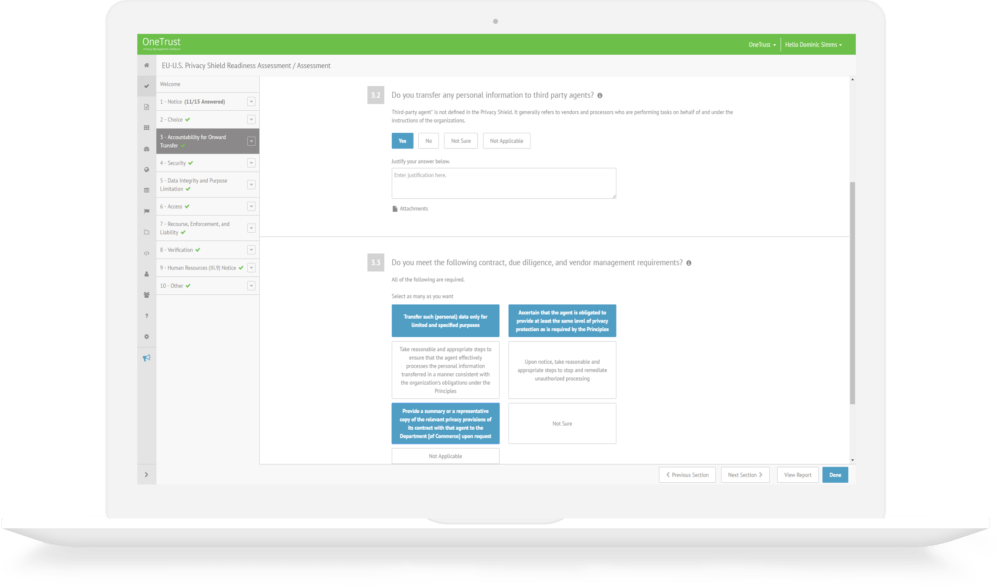 Prepare to Self-Certify Compliance
Whether you're preparing for your first certification or annual re-certification of Privacy Shield, BCR, and APEC CBPR, OneTrust self-assessments can speed up the process by providing easily exportable reports to demonstrate compliance.
Dynamic Self-Service Assessments
Benchmark Organizational Readiness
Get a benchmark of where each business unit or the entire organization currently stands, as well as a roadmap for what the privacy office needs to do to address requirements for compliance and certification.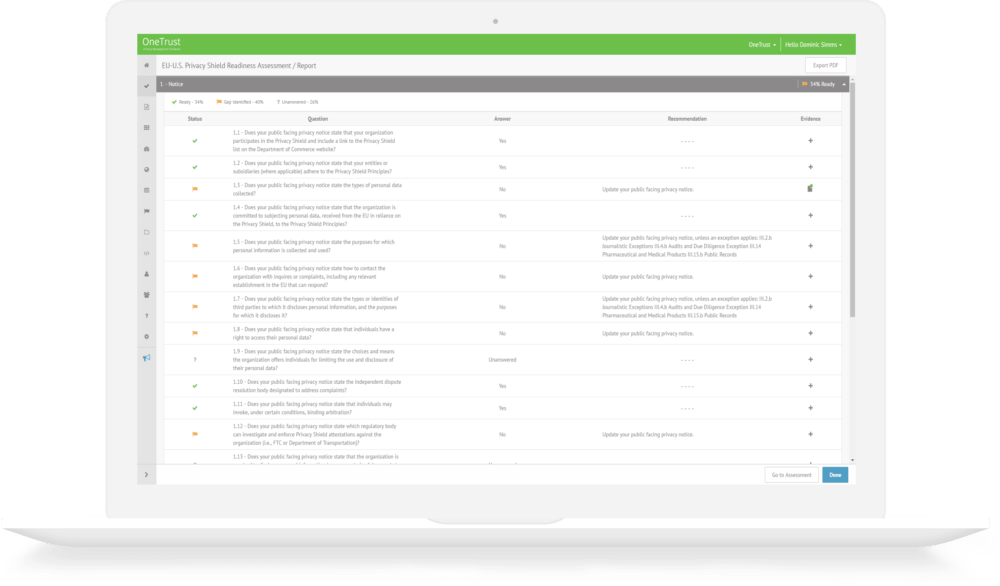 Demonstrate Compliance and Accountability
Our assessments are dynamic, allowing you to go back and update responses to questions as your team makes progress. With OneTrust, you can track the status of your assessments in a single view, and audit responses on an annual basis.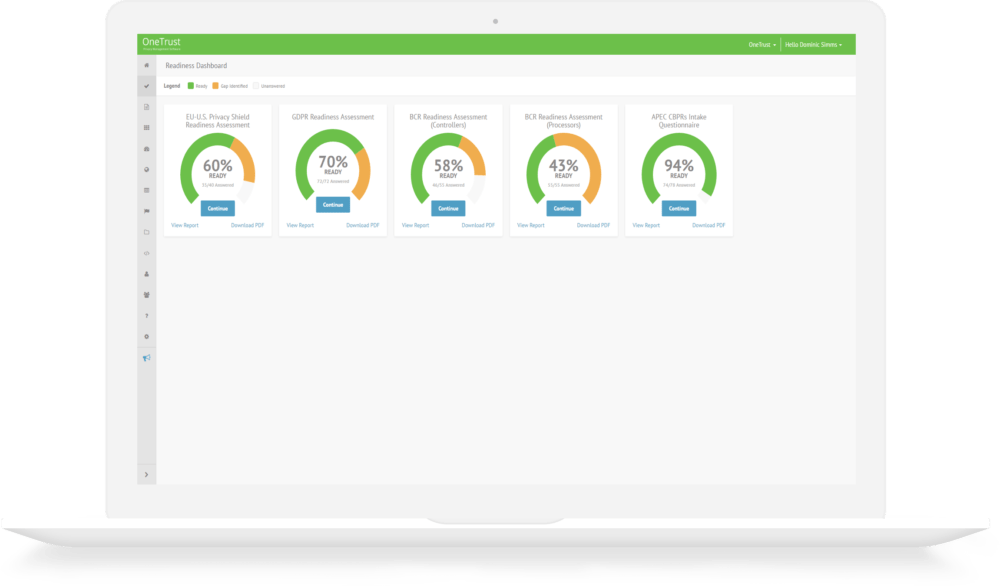 Templates Built by Privacy Experts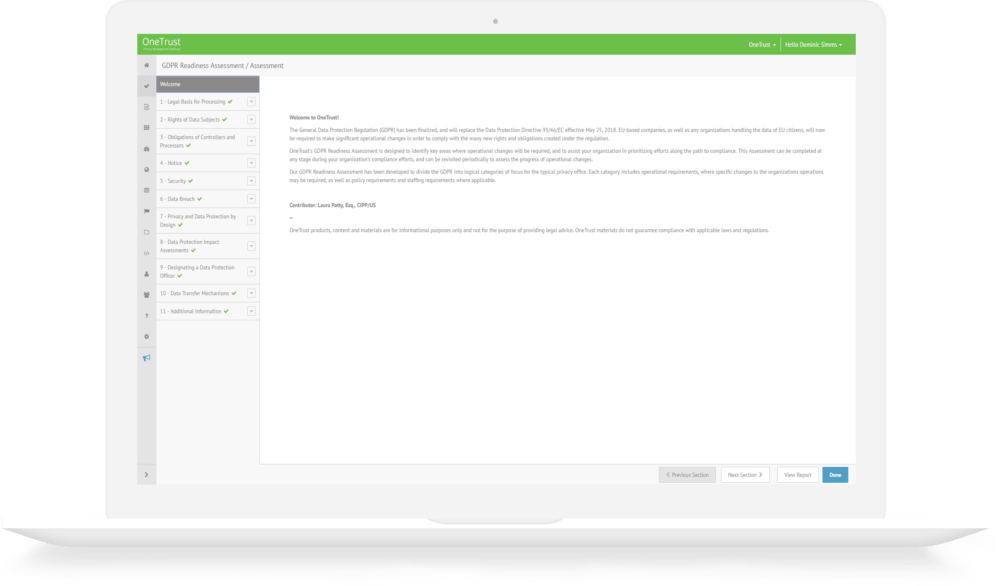 Customize or Import Templates
Our customizable readiness self-assessments are built by our growing community of privacy experts. For each template, you can see who the contributors are, including their privacy certifications. If you have an existing framework, simply import it into OneTrust.
Executive Visibility
Provide Updates to Your Executive Team
OneTrust gives you the ability to export self-assessments into PDF reports, so that you can easily provide status updates to your executive team. Our comprehensive reports contain detailed responses, including notes on attached evidence files.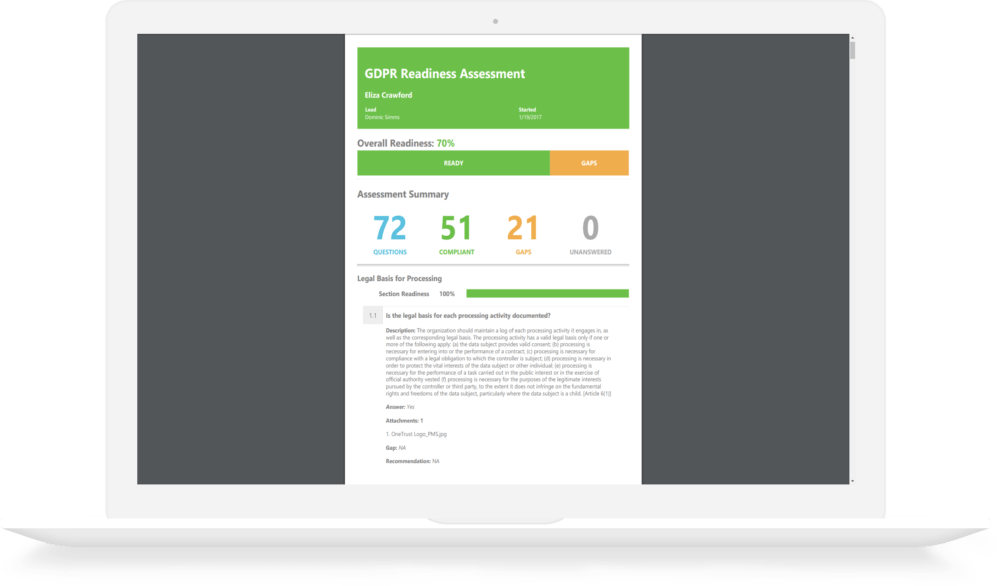 Why OneTrust Readiness Assessments?
Free Assessments
Compliance and certification assessments built by experts
Self-Service Portal
In-house tool for assessing organization readiness
Executive Reports
Complete visibility into status of organizational readiness
Integrated Platform
Integrated with OneTrust privacy management platform