April 27, 2022
Automate IT Asset and Security Risk Management
Take a deeper look at your risk details and manage your controls library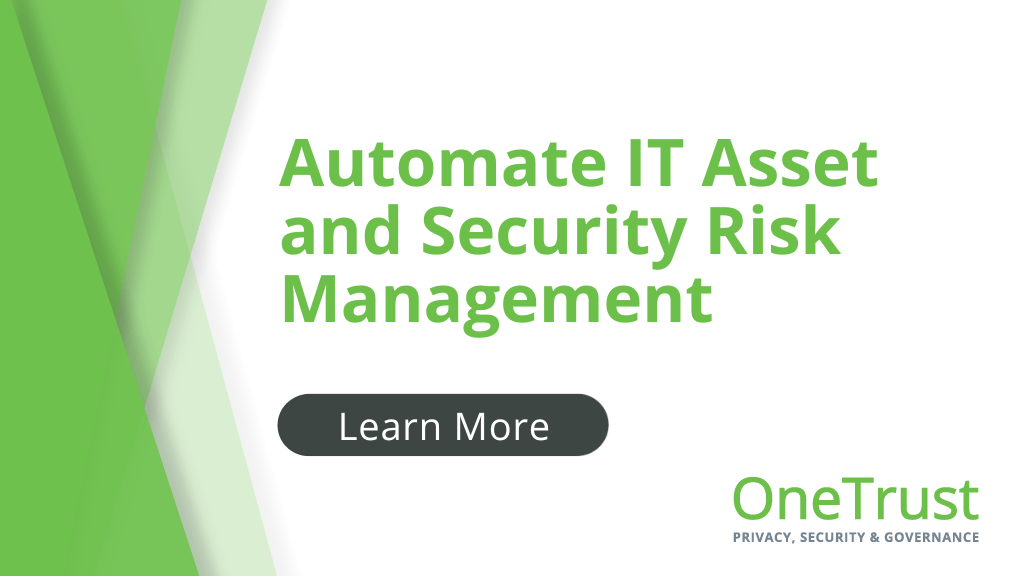 If you work in the security field, managing risks across your business is a never-ending story. Being responsible for making sure your organization is operating in accordance with company policy and protecting against vulnerabilities, such as employees exposing data from their laptops, is a big job.  
That's why OneTrust's GRC & Security Assurance IT Risk Management has everything you need to make your task a success. This tool is about effective control management, proactive risk monitoring and translating data into meaningful business information.   
As you and your team work to manage your controls and asset inventory in the OneTrust IT & Security Risk Management tool, you can easily map the interconnectedness of risk across assets, processes, and third-party relationships. With configurable risk scoring, you can effectively quantify impact to outline the scope and scale based on risk factors tracked through system integrations or identified by risk owners on automated assessments.  
Understanding your risk details
In the OneTrust IT & Security Risk Management tool, your risk oversight can easily translate between both quantitative and qualitative insights such as assessment questionnaires, treatment plans, and controls to understand the nature of the risk. These data relationships and links between records also give you insights on the history of the risk over time. In addition to the auditable history of activity on the risk, your team can also review what activity is happening between the different stages of the risk lifecycle to ensure that risks are monitored and appropriate action is implemented to mitigate impact as your business, and potential risk factors change.  
For risk treatment, users can readily access and manage the implementation of relevant controls. Risk managers can create or tailor a risk treatment plan to guide risk owners based on the risk evaluation. Users can assign step-by-step tasks and provide compliance guidance based on regulatory requirements or unique company policies to effectively address the potential risk.   
Customizing your controls library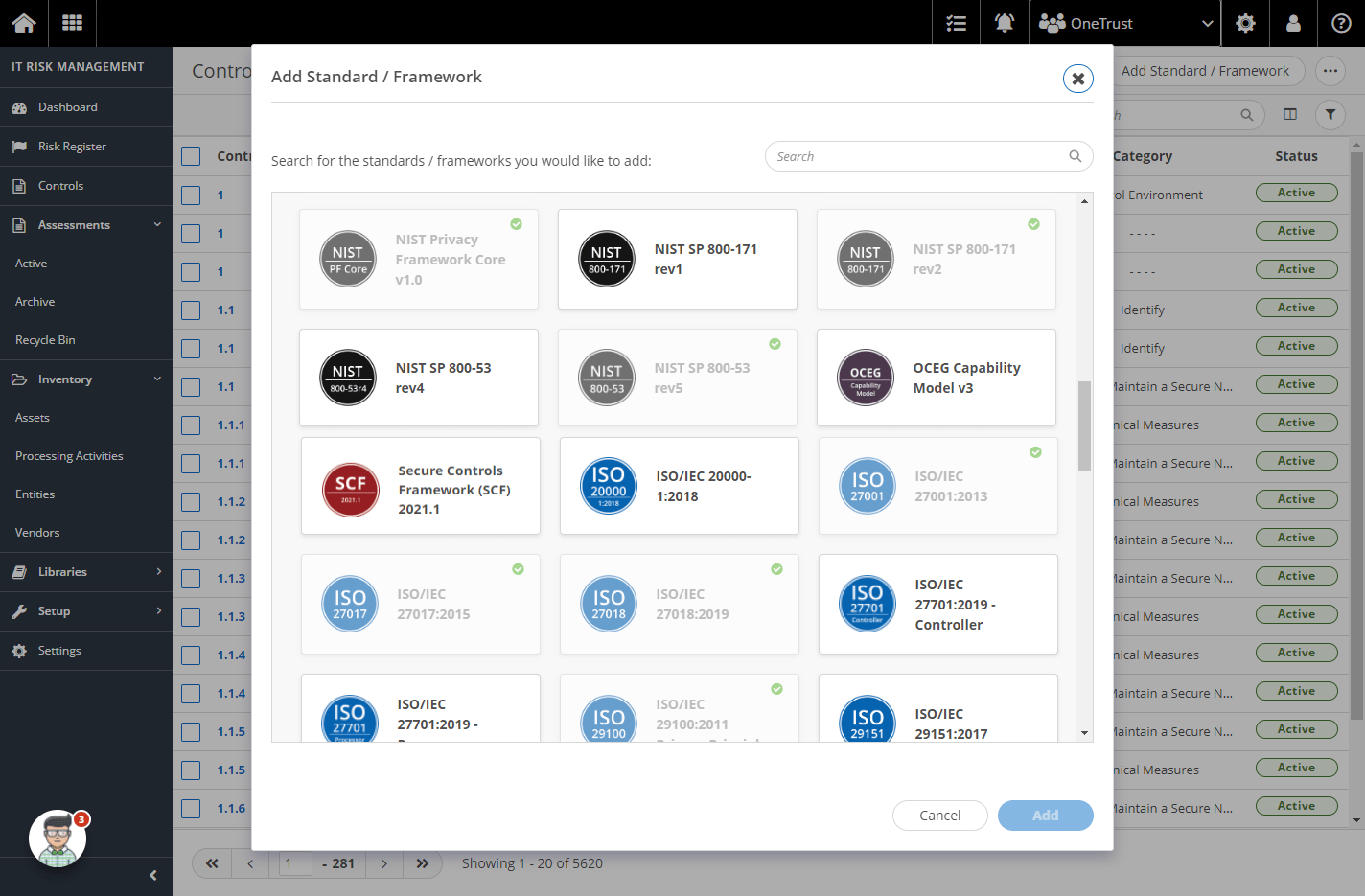 With the Controls Library, organizations can easily manage controls from different standards and frameworks to reinforce and track compliance across your IT ecosystem (assets, vendors, processes, and new initiatives). OneTrust provides pre-configured controls from common frameworks, but you can customize or create your own. Common frameworks include ISO, NIST, FedRamp, AICPA & CICA GAPP, and AICPA TSC 2017 (SOC 2), just to name a few. Your team can also create custom controls to treat a risk holistically, or unique to your business.  
Risk score methodology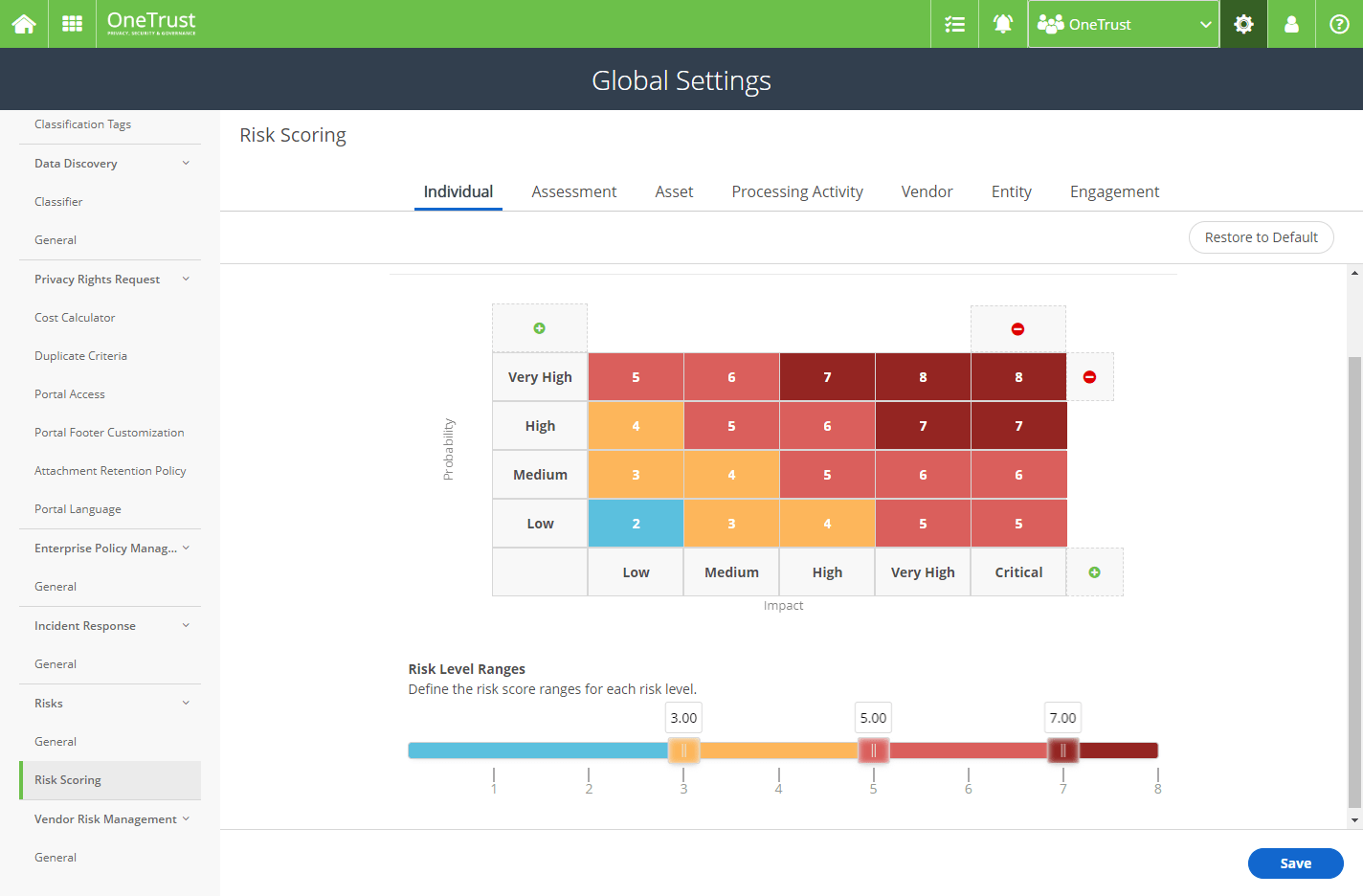 The OneTrust IT & Security Risk Management tool gives organizations more flexibility and control to configure their risk scoring methodology to their risk appetite and thresholds. Organizations can leverage default scoring methodology with impact and probability indicators or configure the system to track and quantify risk factors to dynamically calculate real-time insights based on live system updates. 
If you're looking for a risk management solution, request a demo today.