If you work in the security field whether as a consultant, IT or Cyber Security professional, managing risks across your business for assets processing activities, entities, or vendors can give you a massive headache. Being responsible for making sure your organization is operating in accordance with company policy and protecting against vulnerabilities, such as employees exposing data from their laptops, is a big job. 
That's why OneTrust IT & Security Risk Management has everything you need to make your task a success. This GRC tool is about effective control management, proactive risk monitoring risk and translating findings into meaningful business information.  
As you and your team work to manage your control library, and business inventory in the OneTrust IT & Security Risk Management workspace, you can create lists of assets, processing activities, entities, vendors and the risks associated with them. With customizable risk counts and the ability to sorting risks by levels, you can easily rate a risk on how likely it is to happen as well as outline the scope and scale of the potential impact or threat if the risk did happen. 
Risk Details
In the OneTrust IT & Security Risk Management tool, your risk can be linked to a record or an assessment that will help you figure out exactly what is going on. These relationships and links between records also give you insights on the history of the risk over time. In addition to the full history of the risk, your team can also review what activity is happening between the different stages of the risk. If you look between the points of data, you can review what activities occurred within that timeframe. 
For risk treatment, risks are managed using controls. The risk treatment plan will tell the responsible individual exactly what they need to do about the risk.  
Risk records are controlled and fully auditable. After the risk has been closed, you cannot edit the risk again, but you can still see the full history of related activity. In order to edit the risk again, you would have to open the risk up again. 
Controls Library

With the Controls Library, organizations can pull together a list of controls from different standards and frameworks. Your team can also create custom controls to treat a risk if necessary. OneTrust provides pre-configured controls from common frameworks, but you can customize or create your own. Ten common frameworks include ISO, NIST, FedRamp, AICPA & CICA GAPP, and AICPA TSC 2017 (SOC 2), just to name a few. 
Risk Score Methodology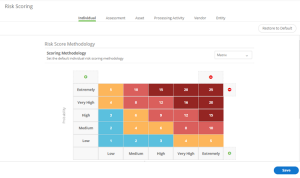 The OneTrust IT & Security Risk Management tool gives organizations and companies more flexibility and control. This gives them more information than they've ever had before. 
The Risk Score Methodology has a customizable scoring matrix where users can customize each one of the values and can add up to ten rows and ten columns each, having up to a total of 100 squares. Once you set up your customizable scoring matrix, you can determine the risk level ranges which will help you figure out what constitutes as low, medium and high-risk levels. 
If you're looking for a risk management solution, try out OneTrust IT & Security Risk Management today!