Validate Your GDPR Readiness
Under the General Data Protection Regulation (GDPR), EU-based companies, as well as many companies outside the EU, have had to make significant operational changes in order to comply with the many new rights and obligations. Specifically, Article 5(2) of the GDPR makes accountability an expressed obligation, and Article 28(1) states that controllers shall use only processors providing sufficient guarantees. Validating that these measures are in place is a challenge, both for controllers and processors.
OneTrust GDPR Validation
OneTrust GDPR Validation offers a way to share third party reviewed details of an organization's GDPR program. The validation reviews key compliance areas including DPIA processes, personal data breach response, DPO functions, based upon the GDPR and the Article 29 Working Party guidelines. The assessment is conducted via the OneTrust Assessment Automation tool, and is included for the purposes of the certification at no additional cost. This helps streamline the validation process and allows you to easily attach and share necessary GDPR program evidence with the OneTrust team for review.
Once the assessment is complete, our team of privacy professionals will review and analyze all supporting documentation to provide recommendations and validate your GDPR program. The validation is performed by the OneTrust global privacy research team who have completed numerous CIPP certifications, have experience building highly regulated privacy programs, and backgrounds in cutting edge policy research.
The OneTrust GDPR Validation Methodology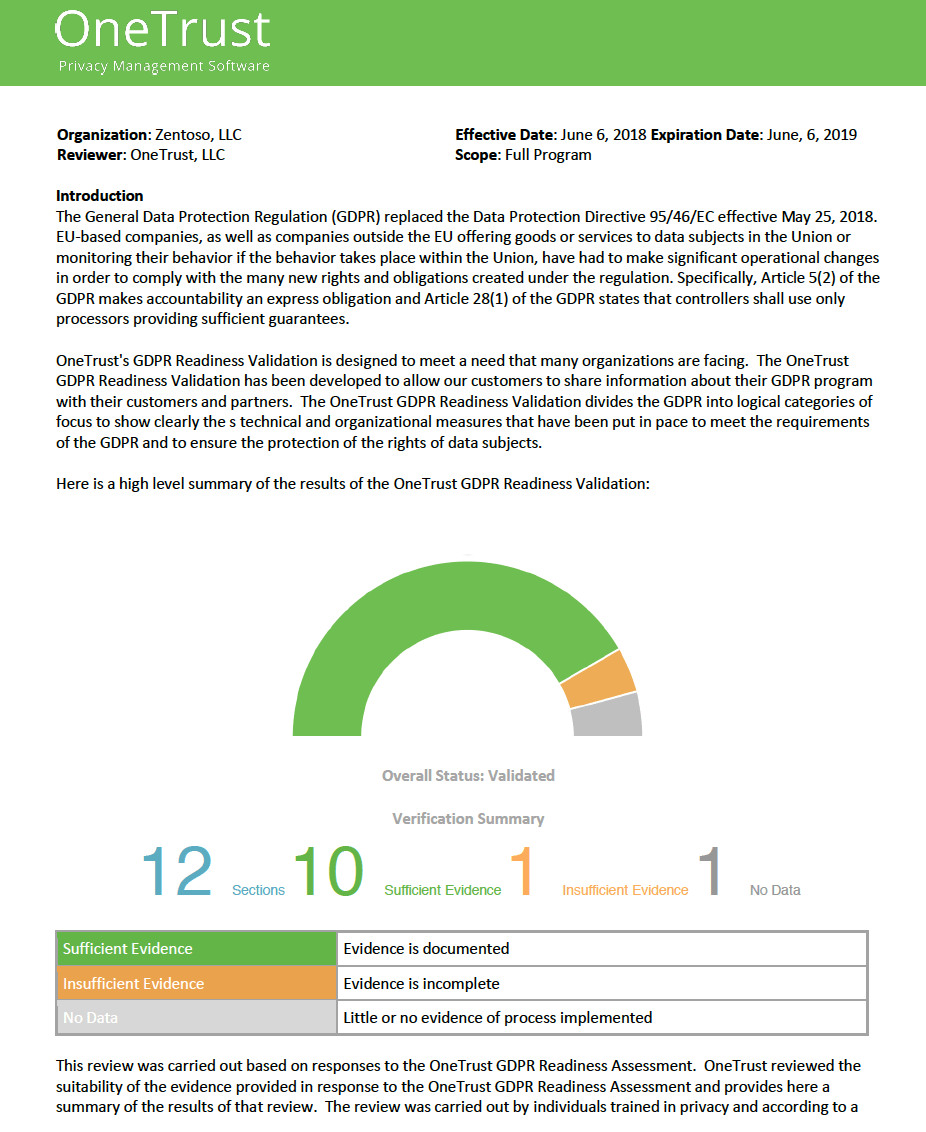 Get Your GDPR Validation Letter and GDPR Findings Report
With OneTrust GDPR Validation, show third-party vendors, customers, partners, and your leadership the steps you have taken to comply with the GDPR.
Analyze key compliance areas of the GDPR using the OneTrust Assessment Automation tool
Obtain a GDPR Validation Letter to demonstrate Validation status
Receive an in-depth GDPR findings report with recommendations for identified gaps and risks
Highlight the measures your organization has taken to comply
Get feedback from OneTrust's team of privacy professionals
Why Over 2,500 Customers Choose OneTrust
Most
Comprehensive

Technology
300 Member R&D Team Driving Product Innovation with 44 Patents Awarded
World-Class
Privacy

Research
Over 300 Certified Privacy Professionals In-house with Continuous Regulatory Research
Expert
Global

Services
Multi-lingual, 100 Person Implementation Team, and Large Partner Network to Support Privacy Initiatives
Large
Active User

Community
Thousands of Members Sharing Best Practices in 40 Global PrivacyConnect Workshops