May 3, 2022
Capture First-Party Data in a Cookieless World
Third-party cookies are going away soon – making first-party data all the more important for your business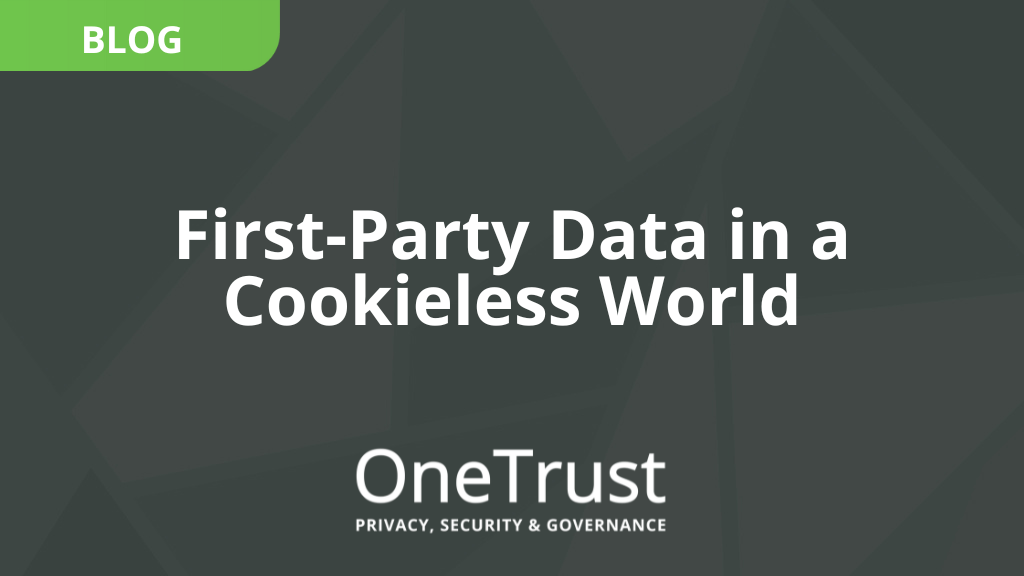 With the deprecation of third-party cookies fast approaching in 2023, marketers and advertisers are examining what's next for their data strategies. Many are currently identifying the available opportunities to continue delivering targeted advertisements and crafting personalized experiences for users.
For several reasons, the leading opportunity for marketers and advertisers today lies with first-party data (1PD):
First-party data offers the quality and reliability teams need to make well-informed choices. 

Since collecting first-party data originates with customer trust, it forms the backbone of a company-wide effort to place trust at the center of the customer journey. 
Read on to discover what first-party data is, why it's important, and how it creates value for marketing, sales, product, and other business areas.
What is First-Party Data?
First-party data is the information a customer provides directly to a company. They may provide their data as part of a purchase, when subscribing to a service, or by joining a social media network – to name one of many possible use cases. 
When the customer provides their consent at the collection point, the business becomes the owner of the first-party data. 
From here, the company also might engage with third-party vendors or partners to process the data. However, this depends on the terms listed in its privacy policy. 
What Makes First-Party Data Valuable?
First-party data helps businesses gain valuable insights from their customers. When matched with a well-thought-out data strategy, teams can activate 1PD downstream to create enhancements for customer-focused features and offerings. 
For example, first-party data can equip teams with profound insights that help them develop: 
Products and services based on customer-indicated preferences 

Content suggestions based on user behavior

Targeted marketing offers based on past purchases
How Does First-Party Data Compare to Other Data Types?
Because data subjects willingly hand over their first-party data, experts consider it to be the highest quality of the three main data types. 
Third-Party Data
Third-party data (3PD), including cookies, originates from sources with indirect relationships with the data subjects. Data aggregators acquire 3PD from thousands of businesses and other sources across the internet. 
The advantages of third-party data include enabling your business to reach a broader audience for advertising campaigns. By matching 3PD with your existing database, you can also increase the scope of your audience targeting efforts across digital and CTV/OTT.  
That said, the reliability of 3PD can be lower than other types because of how aggregators obtain it. It can be challenging to validate the quality and precision of 3PD, which is its primary disadvantage.
Second-Party Data
Second-party data (2PD) also comes from an indirect relationship with the data owners. However, it tends to be higher quality because 2PD originates exclusively with trusted partners. 
Two or more companies that hold compliant data-sharing agreements will frequently share 2PD to support both partners' bottom lines. 
Businesses may also access 2PD from data marketplaces and match it with their existing database – a trusted strategy to extend the reach of existing 1PD. 
Zero-Party Data – an Extension of First-Party Data
Zero-party data (0PD) is a newer term that describes the information a consumer proactively shares with a business. This may include: 
Preference center data

Purchase intentions

Personal context

Self-identification criteria
You can consider zero-party and first-party data nearly synonymous – with minor differences. While the customer consents willingly and directly to sharing their data in both cases, 0PD is even more precise and detailed than 1PD. 
As a result, collecting 0PD from your customer will be a key component of a successful data strategy, especially once cookies are gone for good. 
What are the Legal Requirements for Collecting First-Party Data?
Data owners have obligations to the data privacy laws that cover them. When collecting first-party data, businesses must provide the customer with an up-to-date privacy policy at the collection point. In most jurisdictions, you have to be clear about the purpose(s) of collecting the data, its intended uses, whether third-party processors get involved, and other disclosures. 
To learn more about specific data law requirements in different jurisdictions, visit OneTrust DataGudiance. 
How to Obtain and Use First-Party Data
Obtaining first-party data originates with customer trust. If they perceive you're committed to protecting their data privacy and security, they'll be more willing to provide it to you. 
Earning first-party data also comes down to a value exchange. Customers are willing to provide you with their first-party data in exchange for access to something they need or want. Make your offers compelling, and use your 1PD to continue enhancing your products, services, experiences, and advertisements over time. 
Follow these three steps to obtain and make full use of 1PD:
Collect it

: Marketing, sales, product, customer success, and other client-facing departments should work together to fulfill your company's data strategy. Work across the organization to identify and develop customer touchpoints to collect 1PD. Part of this effort must include updating privacy policies and compliance processes across the organization, so everyone involved is up to date with the latest legal requirements.

Centralize it

: If teams across the organization are collecting 1PD but aren't storing it in a centralized location, this presents issues for data governance teams and limits your capacity to make full use of insights and authorized uses company-wide. You'll need a system to house all of your 1PD and any other data held by the organization to conduct compliance activities and provide access.

Distribute it

: Provide your 1PD to authorized teams and work with them to identify insights and trends. At the same time, you must govern access company-wide to protect data privacy and security, especially if your 1PD contains sensitive information.
Learn More with the OneTrust Cookieless World Toolkit
Third-party cookies will be gone by the end of 2023. As marketers and publishers navigate this new landscape and its challenges, our Cookieless World Toolkit can help you understand: 
Why third-party cookies are deprecating

What solutions are available

How to put privacy and consumer trust first
Download the Cookieless World Toolkit today to find out how your business can thrive in a world without third-party cookies.