The need to understand a company's metrics around the environment, social responsibility, and governance (also known as ESG) is spreading beyond just investors, but to customers, partners, and employees across every industry. For the past few years, thousands of companies have incorporated ESG principles into their reporting metrics in various areas, but with no regulation and no oversight the process is inconsistent and lacks proven effectiveness.
Register for the webinar: How OneTrust ESG can Help Organizations Gather, Track, and Report on Corporate ESG Data taking place Wednesday, April 14, 11:30 am EDT / 4:30 pm BST
There is major momentum around the world for companies to take a leadership position in supporting social responsibility, environmental goals, and key governance plans as COVID-19 opened the debate on what societies really value, exposed the extent of global interconnectedness, and the need for long-term planning and tracking on important objectives.
By now, most people are familiar with ESG. The principles of ESG may impact an organization's brand, revenue, company valuation and market perception, as well as reduce risk. But many companies we talk to still have questions around ESG, like:
What is the value of an ESG evaluation?
What are the key ESG frameworks, metrics, and performance assessment methodologies​?
Where should an organization support ESG internally?
Which industries, company size, and geography supports ESG evaluation today?
Are there tools available to help support ESG at our organization today?
Key Corporate ESG Best Practices
As more companies look to report on ESG metrics, they understand the current challenges starting an ESG program. Since ESG encompasses such a wide variety of metrics and frameworks, and often can include as many as a dozen different departments, there are some best practices companies should use when starting an ESG program.
Define and set ESG goals and metrics upfront that align with corporate goals.
Since there are no standards or regulations, a company can choose which metrics they use and monitor. They can pick frameworks around ESG (like the World Economic Forum Stakeholder Metrics, SASB, TCFD, GRI, UN SDG, etc.) or create their own. The important thing is to make sure the data is available and provides insight on progress. It's crucial to not only collect and report the data, but also track progress over time by comparing actual results to your desired state.
Assign a Leader.
Often the ESG program at large companies is led by a Chief Sustainability Officer or the CFO if investor focused. However, most companies still haven't dedicated a person specifically for ESG or corporate sustainability. It's important to have an ESG program manager who will lead the internal efforts.
Assess ESG Tools.
There are many ESG platforms and analysis tools in the market, however many are geared towards investors and the financial services industry, versus a broader industry coverage. Make sure the tool you choose facilitates the gathering of data, supports dashboards and reports, optimizes the collection of data, and helps reduce time and effort. Tools should also be able to identify potential risks to a company's third-party suppliers that may also impact how you do business.
Report your ESG scores and progress, both internally and externally.
Work towards achievable goals based on quantitative metrics so there isn't any question of validity or accusations of "greenwashing."
Supporting ESG has gone from a "nice-to-have" to a "must-have" program for any company, in any industry. It's becoming expected from partners (we see requests for ESG reporting increasing), employees, and customers. Having an active ESG program reduces risk, creates a positive platform to work around, and is tied to more successful companies.
ESG Principles Spreading Beyond Investors
Besides the importance of companies leading the change in practices to become more socially responsible, institute best practices around environmental issues, and make sure they monitor and govern in the best interest of many constituencies beyond their investors, ESG is becoming a good business practice. Customers are starting to make purchase decisions around companies that match their own ideals and employees want to work for companies that they identify with, that are part of the solution, not the problem. According to a study done by the Presidio Graduate School, companies are looking to ESG principles to increase employee engagement, meet customer demands, and track progress in meeting ESG goals.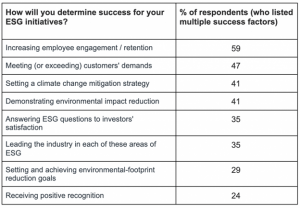 Register for the webinar: How OneTrust ESG can Help Organizations Gather, Track, and Report on Corporate ESG Data taking place Wednesday, April 14, 11:30 am EDT / 4:30 pm BST
Get your ESG program started with OneTrust! Request a demo to see how OneTrust can help your organization implement ESG principles today.
ESG Benefits
ESG benefits your organization by empowering knowledge around the following across the organization:
Understand and act on market needs: ESG addresses a range of subject matter, stemming from, c

limate change to d

eforestation, and waste to water needs. Standing up an ESG program and working with subject matter experts (SMEs) will enable your organization to understand its impact on the market and overall market needs, giving the organization a competitive advantage and new area of expertise. 

Investor expectations: SESG impacts your

overall brand image, valuation, and revenues based on the publication of metrics and overall reporting practices. Stand up an ESG solution to ensure accurate reporting and communication of metrics to key stakeholder groups and investors as your business grows. 

Employee and consumer interests:

According to 

a study by Deloitte

1 in 5 customers are making considerable lifestyle changes to consider sustainability. This indicates that key stakeholder groups, employees, and customers will consider sustainability as a key buying factor moving forward. Knowing this, and identifying your audience's key interest areas will all your team to tailor programs for customer satisfaction. 

Thought leadership: Once a sustainability plan is implemented throughout your organization, it's important to leverage your SMEs and use them to your advantage in the marketplace. Leverage your business' expertise and the impact it has made in the community to become a thought leader and influencer in the ESG space as it continues to evolve at a rapid, global rate.
Further reading on OneTrust's ESG solution:
Next Steps: