July 1, 2022
CSRD Update: Provisional Deal Struck for EU ESG Disclosure Rules
The Corporate Sustainability Reporting Directive will affect 50,000 companies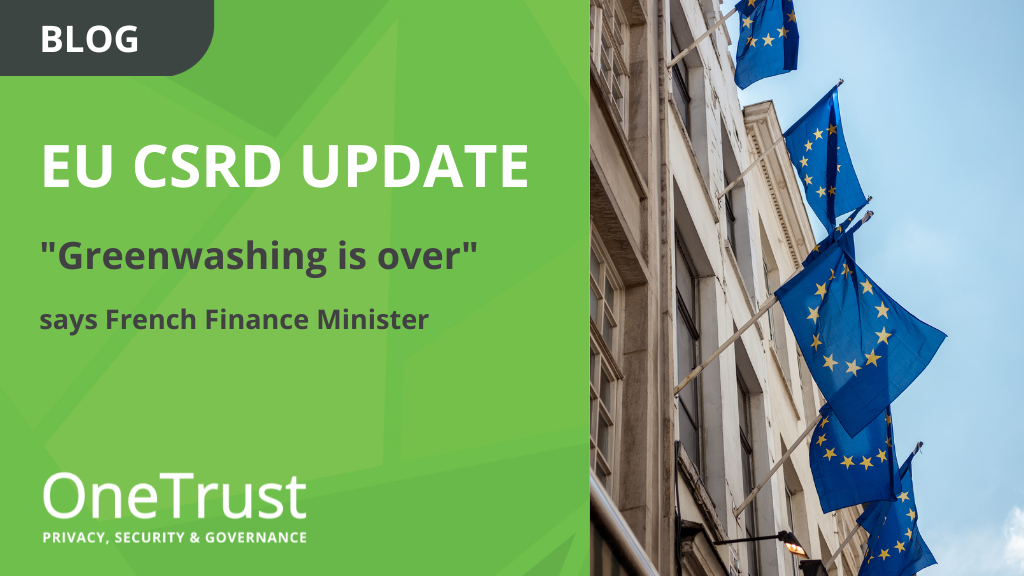 On June 21, the European Parliament and Council reached a provisional agreement on the Corporate Sustainability Reporting Directive (CSRD). First proposed by the European Commission on April 21, 2021, the CSRD seeks to strengthen and standardize corporate EU ESG disclosures for better transparency, consistency, and comparability. It amends reporting requirements under the existing Non-Financial Reporting Directive (NFRD), to improve corporate accountability around sustainability reporting.
"[This] means readability and simplicity in the information provided by companies, which must play their full part in society. Greenwashing is over. With this text, Europe is at the forefront of…setting high standards in line with our environmental and social ambitions." – Bruno le Maire, French Finance Minister

Download the infographic for a side-by-side comparison of the NFRD vs the CSRD.
What's the CSRD?
CSRD stands for Corporate Sustainability Reporting Directive and is a proposed ESG rule to make sustainability disclosures by European companies more comprehensive and comparable to one another, similar to financial accounting and reporting. It is part of the European Union (EU) Action Plan on Financing Sustainable Growth (2018) and EU Green Deal (2019). These larger initiatives are focused on creating a common taxonomy and more consistent flow of standardized information from companies to investors and other stakeholders. Today, it can be difficult to compare and benchmark sustainability reports as the information disclosed varies widely across a multitude of reporting standards and frameworks. The CSRD aims to address this challenge by establishing standard ESG reporting requirements that meet the needs of all stakeholders.
What's the difference between NFRD and CSRD? How will it affect my organization?
Under the NFRD, the current EU ESG directive for non-financial reporting, certain large companies are required to disclose information about environmental and social impacts across their operations and supply chain. The CSRD expands and replaces the NFRD, and it introduces more stringent reporting requirements for ESG factors, as well as third-party assurance. Key differences between NFRD and CSRD include:
4x more companies are affected: The NFRD applied to all listed companies with more than 500 employees (approximately 11,700 companies). The CSRD widens this threshold to include all companies, listed or not, that meet at least two out of these three criteria (approximately 50,000 companies):

More than 250 employees
Net turnover that exceeds EUR 40 million
Assets that exceed EUR 20 million

Additional reporting requirements: The CSRD adds several new requirements including:

Applying double materiality to identify ESG risks and opportunities on the business (outside-in) and how the business impacts people and planet (inside-out)
Integrating ESG disclosures into financial and management reporting
Providing more detailed information aligned with the EU Taxonomy and European Sustainability Reporting Standards (ESRS). This includes retrospective and forward-looking information on targets and progress, due diligence processes policies and processes across the value chain, risk management and controls, etc.
A mandatory third-party audit (assurance) for reported information
Assurance on alignment with the ESRS
Digital tagging of the reported information so it can be fed into the European Single Access Point (ESAP) database. More details on this will be available when the ESRS standards are released.
Which companies will the CSRD apply to?
EU businesses: The CSRD will apply to all large companies per the criteria noted above, including companies currently reporting under NFRD requirements (~11,700 companies). Small and medium enterprises (SMEs) listed on EU regulated markets will be subject to the CSRD from 2026, although they will be able to opt out during the transitional period (until 2028). The EU plans to publish a set of simpler standards for SMEs by October 2023.
Non-EU businesses: Global companies that meet the following criteria will have to report on their ESG impacts as defined in the directive:
Net turnover of at least EUR 150 million
At least one subsidiary or branch in the EU
When will the CSRD be enacted into law? What's the timeline?
Once the provisional agreement is approved by the EU Parliament and Council, it will go through the formal steps of the adoption procedure. The directive will enter into force 20 days after its publication in the Official Journal of the EU. In parallel, the first set of ESRS standards is expected to be adopted by the end of 2022. Assuming both are completed by the end of 2022, the CSRD is projected to be phased in as follows:
January 2024 for companies already subject to the NFRD (report to be based on 2023 data). This includes non-EU companies that meet the criteria noted above.
January 2025 for all other companies that fall under the CSRD expanded scope (report to be based on 2024 data)
January 2026 for listed SMEs, small and non-complex credit institutions, and captive insurance undertakings
The EU also plans to adopt a second set of ESG reporting standards by Oct 2023 that will specify additional ESG disclosure requirements, including sector-specific considerations.
How can OneTrust help?
ESG disclosure rules and standards continue to proliferate in the EU and elsewhere. At the same time, there is a growing trend toward universal ESG reporting standards that will meet the needs of all stakeholders – investors, policymakers, customers, partners, employees, and more. Staying ahead of these changes while building and scaling trust can be tough for many companies. The OneTrust ESG & Sustainability Cloud can help you instill trust with your key stakeholders with clear target setting, automated reporting, and transparent benchmarking. The ESG Cloud is part of the Trust Intelligence Platform™ from OneTrust that unifies and delivers visibility across four trust domain areas (privacy, GRC, ethics, and ESG). This enables companies to collaborate seamlessly and unlock value by doing what's good for people and the planet.
Download the infographic to learn how the CSRD differs from the NFRD and how it will affect your company.
You may also be interested in watching a replay of the webinar: Unpacking the Corporate Sustainability Reporting Directive
Tags: