May 26, 2022
Proposed SEC ESG Disclosure Rule Aims to Improve Fund Transparency
Investment firms would have to provide more details on ESG factors and strategies they pursue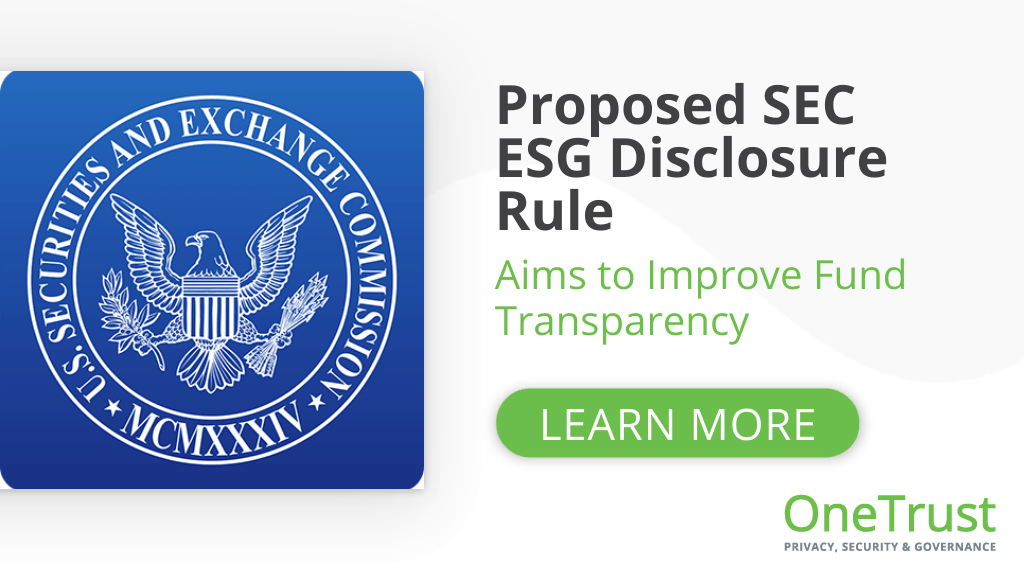 Following closely on the heels of the proposed climate disclosure rule for companies, the U.S. Securities and Exchange Commission (SEC) today issued a proposal to enhance ESG disclosure requirements for investment fund managers. The goal is to improve the consistency, transparency, and comparability of investment funds marketed as having an ESG focus. ESG funds today encompass a wide range of investments and investment strategies, making it difficult for investors to understand what funds mean when they say they're an ESG fund. Some funds only focus on one ESG aspect, while others include all. And they can pursue different ways of achieving impact such as screening in or screening out certain industries, tracking specific issues, or aligning to an outside index. The new ESG disclosure requirements proposed today will help investors get a clearer picture and make more informed decisions when comparing ESG investment options.
Watch the webinar "ESG Portfolio Management for Investors" to learn how to access and manage ESG data from your portfolio companies.

What new ESG disclosures is the SEC requiring?
Funds that are marketed as having an ESG consideration will be required to disclose additional details about how they implement ESG factors in their investment strategy. The amount of information required will depend on how heavily the fund focuses on ESG in its strategy, but the goal is to provide investors with comparable, consistent, and reliable information from all funds that use an ESG label. Asset managers will have to disclose information on ESG strategies in fund registration statements, prospectuses, annual reports, and advisor brochures. The SEC ESG disclosure proposal for investment advisors identifies three types of ESG funds that will be affected:
Integration Funds: Funds that are not primarily focused on ESG but consider ESG factors in investment decisions would have to describe how ESG factors are incorporated into their investment process. For example, if the fund tracks an index, includes/excludes certain assets, uses proxy voting, etc.
ESG-Focused Funds: Funds that largely concentrate on ESG would need to provide detailed disclosure, including a standardized ESG strategy overview table, along with the criteria and data used to achieve investment goals.
Impact Funds: A subset of ESG-Focused Funds that seek to achieve a particular ESG impact would also be required to disclose metrics about and annual progress toward impact goals.
There are two additional requirements:
Proxy voting: ESG-Focused Funds that rely heavily on proxy voting or other engagement with issuers to implement their ESG strategy will have to provide additional details about their proxy voting and/or ESG engagements.
Greenhouse gas (GHG) emissions: Integration funds that consider GHG emissions would need to disclose details on the methodology and data sources it uses as part of considering GHG emissions. ESG-Focused Funds that consider environmental factors would need to disclose the carbon footprint and weighted average carbon intensity of their portfolio, unless GHG emissions is not part of their strategy.
Why is the SEC making this proposal now?
Funds and registered advisors are already required to disclose material information about their investment strategies, risks, governance, and fund performance. General disclosures about ESG investment strategies are supposed to be a part of this, but, to date, there has not been any specific requirements about what information to disclose. Funds marketed with an ESG or impact label vary widely in terms of what and how they consider ESG factors in their investment strategy. In some cases, funds may overstate the extent to which ESG factors are considered, leading to investor confusion and frustration. Requiring all ESG funds to provide comparable, consistent, and reliable information will reduce the risk of exaggerated ESG claims and help investors make more informed decisions. In a statement supporting the ESG disclosures proposal, SEC Chair Gary Gensler drew a comparison to the nutrition label on food items where it's easy for buyers to see exactly what and how much of each ingredient is in it.
What will the new SEC ESG disclosure rule mean for my organization?
The rule would affect investment advisors and companies, or asset managers, for the three types of ESG funds noted above. It will apply to registered investment companies, business development companies, private funds, and investment advisors. In addition to the proposed ESG disclosures in fund marketing materials, the proposal will require ESG reporting on Forms N-CEN and ADV Part 1A. These are forms that provide census data to the SEC to inform its policymaking.
When will the new SEC ESG disclosure rule be enacted into law?
After the proposed rule is published in the Federal Register, there will be a 60-day comment period. The compliance timeframe is still to be determined, although the fact sheet mentions a proposed timeline of one year following the effective date, which would be 60 days after the date of publication.
How can OneTrust help?
As ESG disclosure requirements continue to proliferate, you need a way to centralize and streamline ESG management for your investment portfolio. The OneTrust Investor Portfolio Management allows you to gain insights and monitor your portfolio's ESG performance in a dedicated dashboard. Analyze, manage, and reduce carbon emissions across your portfolio. And track changes over time to inform future investment decisions and simplify how you report on performance to key stakeholders. The OneTrust Investor Portfolio Management is also part of the Trust Intelligence Platform™ that delivers visibility across four trust domain areas, action based on AI and regulatory intelligence, and automation, enabling you to build trust by design. It unifies teams, data, and workflows across privacy, GRC, ethics, and ESG programs – so you can put trust at the center of operations and culture.
Watch the webinar "ESG Portfolio Management for Investors" to learn how to access and manage ESG data from your portfolio companies.
You may also be interested in reading "Investing in ESG: The Guide to ESG Investing & Why it Matters"
Tags: