OneTrust Vendorpedia has partnered with ISS Corporate Solutions to pull ISS ESG Corporate Ratings and QualityScore data for covered publicly traded companies into the Vendorpedia Exchange Community. The partnership enables organizations to review the ESG scores of their vendors and receive granular ratings focused on their environmental, social, and governance disclosures. Let's take a deeper dive into the benefits of this new ESG information now available to all Vendorpedia Exchange customers (in addition to out-of-the-box cyber risk scores). OneTrust will continue to provide robust plug-in integrations and pre-built workflows for other leading ESG data providers.
Understand Supplier Sustainability and Responsibility with ISS ESG Corporate Rating and QualityScore Data
Organizations using the Vendorpedia Exchange Community get added value by being able to view their vendors' ISS ESG Corporate Rating and QualityScore data out of the box (for free).
About the ESG Corporate Rating and ESG QualityScore Data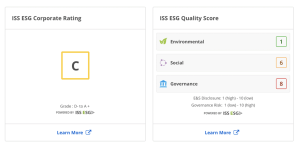 Companies within the ISS ESG Corporate Rating coverage universe are ranked from A+ to D- (A+ is the best, D- is the worst). Additionally, users have access to ISS QualityScore decile ranks on a scale from 1 to 10 (1 is the best, 10 is the worst). Exchange customers will be able to see a QualityScore on vendors in each of the following categories – environmental, social, and governance.
Scores and subsequent thresholds are industry-relevant and will change depending on expectations of that industry. For example, an oil company will be evaluated against different standards than a renewable energy company, ensuring all data is relevant to the end user.
Learn more about ISS ESG solutions.
The Importance of ESG in Your Third-Party Risk Program
Organizations must accurately measure risk across all silos of the business. As ESG emerges in the market as a key value driver for buyers and investors, it also becomes a prioritized risk area for security professionals. Prioritizing ESG programs and software in an integrated approach with TPRM will allow your business to measure aggregate risk across domains while keeping ESG practices as a top consideration.
Measuring risk across a vendor's environmental, social, and governance practices is not a seamless process and is difficult to maintain and monitor. As the scope of regulatory requirements expands into supplier sustainability and responsibility practices, being able to define, communicate, and problem solve key ESG risk areas across your vendor ecosystem is vital.
About ISS Corporate Solutions
Companies turn to ISS Corporate Solutions, Inc. ("ICS") for expertise in designing and managing corporate governance, executive compensation, and sustainability programs that align with company goals, reduce risk, and manage the needs of a diverse shareholder base by delivering best-in-class data, tools, and advisory services. Our global client base extends to companies located across North America, Europe, and Asia. ICS is a wholly owned subsidiary of Institutional Shareholder Services Inc. ("ISS") and is headquartered in Rockville, Maryland. ISS' Global Research Department, which is separate from ICS, will not give preferential treatment to, and is under no obligation to support, any proxy proposal of a company (whether or not that company has purchased products or services from ICS).  Similarly, ISS' responsible investment research and analytics teams will not provide preferential treatment to, and is under no obligation to provide a favorable rating, assessment and/or any other favorable result to any corporate issuer (whether or not that corporate issuer has purchased products or services from ICS).  No statement from an employee of ICS should be construed as a guarantee that ISS will (a) recommend that is clients vote in favor of any particular proxy proposal nor (b) provide a favorable rating or other assessment of any corporate issuer.  For more information, please visit www.isscorporatesolutions.com.
Further reading on OneTrust solutions: 
Next steps: 
Follow OneTrust on LinkedIn, Twitter, or YouTube for updates on the latest regulatory developments.