January 10, 2022
How CMOs are Building Brand Trust Through Personalized Experiences
Why getting personalization right matters now more than ever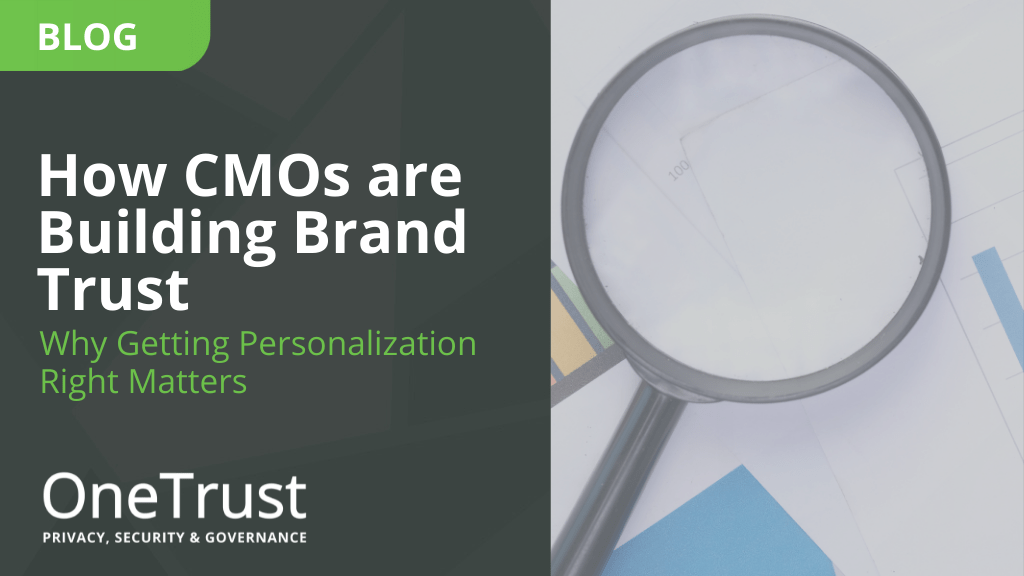 For brands today, personalization is more than just a tool in their toolkit, it's a critical capability that helps them punch above their weight. Regardless of the company size or industry, the implications of getting personalization right – or wrong – are far-reaching.  
Personalization is a high risk, high reward game
Consumers no longer consider personalization as "nice-to-have," they demand it in every interaction. This dynamic has become even more apparent as the COVID-19 pandemic pushed more interactions to digital and virtual channels, and heightened expectations related personalization. 
But the challenges don't stop there – brands are struggling to drive store and product loyalty. McKinsey's Next in Personalization 2021 Report showed roughly 75 percent of consumers tried a new shopping behavior in the last 18 months, and more than 80 percent of those intend to continue with new behaviors.  
Still, with high risk comes high reward. According to the same report, over three-quarters of consumers (76 percent) said that receiving personalized communications was a key factor in prompting their consideration of a brand, and 78 percent said such content made them more likely to repurchase.  
How are companies getting personalization right and building brand trust? 
McKinsey's report showed that organizations who can implement personalization at scale are ultimately able to set a new precedent for customer lifetime value (CLV) – "Driving double-digit revenue growth, superior retention, and richer, more nurturing long-term relationships." Data asserts that companies who that get personalization right generate 40 percent more revenue from those activities than other players. 
Watch the Webinar: Modern Brand Experience: Using Consent & Preferences to Build Trust in Marketing
Driving personalization with data transparency, data enrichment, and ethical data activation
Data transparency:

 Today, consumers are demanding transparency about how their data is being used. Now when we think about the virtuous cycle of customer data, the first step is to be transparent. The more transparent marketers are about data collection, the more customers are willing to 

provide their data

, provided that the value exchange is clear. As customers begin to trust you and get value from what you deliver using their data, the more data they will entrust you with, and the better your offerings will be. 

 
Data enrichment:

 Regardless of what kind of data you are collecting, it's important to instill trust, transparency, and personalization from the first touchpoint. In this way, whether a consumer is interacting with your brand on your website, mobile app, or 

through connected tv

 (CTV), you can collect consent, preferences, or first-party data in a transparent way to improve overall trust.  

 
Ethical data activation:

 Once your brand has been transparent about data collection and usage, and you're collecting more and more data, it's time to demonstrate brand integrity. Are you honoring your customers privacy choices and sticking to what you promised in your privacy policy? It's important to communicate to your audiences that the consent, data, and preferences that you've captured downstream is reflected across your platforms, and in all sales and marketing activities. 

 
How OneTrust Can Help
OneTrust PreferenceChoice provides the toolset to streamline privacy and marketing activities. By providing transparency and choice to consumers, businesses can build mutually-beneficial relationships with customers and enhance compliance with global privacy requirements.    
OneTrust PreferenceChoice automates privacy compliance for marketing, publishing, and advertising activities by:   
Collecting consent, preference, and first-party data. 

Centralizing customer consents for proof of compliance. 

Maintaining compliance with global regulations and frameworks. 
A privacy-first approach across digital properties and channels can increase ROI — all while adhering to global privacy requirements from GDPR, CCPA, and more.   
OneTrust PreferenceChoice is trusted by more than 10,000 brands worldwide. Get started today by requesting a free demo.  
Further Resources:
Follow OneTrust on LinkedIn, Twitter, or YouTube for the latest on consent management.   
Tags: