April 20, 2022
What are the Differences Between Integrated Risk Management and GRC?
Interpretation is key to business's way of protecting the enterprise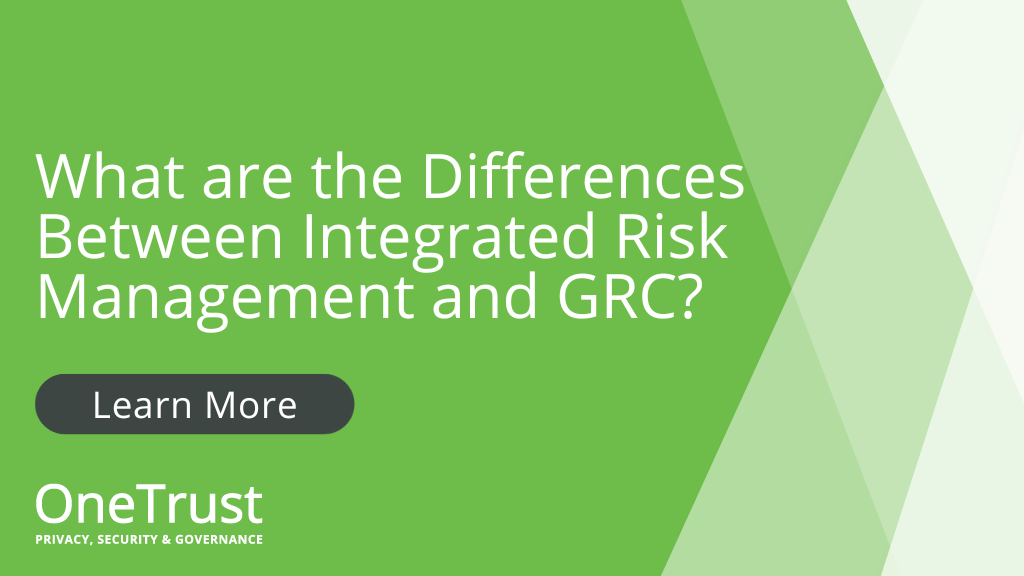 Governance, Risk, and Compliance (GRC) is a well-established business practice. How is integrated risk management (IRM) defined, and how does it compare to GRC?  The difference between  GRC and IRM is essentially a disagreement in interpretation. There are two schools of thought that can change the meaning of the well-established discipline of GRC.
Check out this diagram of how to seamlessly integrate IT, security, and third-party risk
One school of thought, "originalism," emphasizes GRC as a term reflecting the problems, solutions, and practices for which it was originally developed, many of which are still prominent across organizations today.  In contrast, the second school of thought, the "non-originalist," believes GRC practices can expand and evolve to apply to today's complex and digitized business needs. Non-originalist supporters do not need to introduce a new term; as operations have developed, so too have GRC practices. This evolution has adapted the role and meaning of GRC to address the nature of business operations today.
Foundation of Governance, Risk, and Compliance
GRC was defined decades ago but elevated to a standard business practice with the institution of  Sarbanes-Oxley. Over the years, the discipline has grown to encompass various regulatory compliance standards and serves as a means to establish and maintain corporate policies and measure risk across business activities.
The nature in which businesses operate now is much more complicated than it was a decade ago. Digital transformation and the intricate structure of enterprises today involve a much broader scope of operations and various new technologies. The digital sources of risk and lack of standardized compliance guidance through this transformation left many organizations exposed to unprecedented events and circumstances — instances of security incidents, breaches, and public scrutiny without the risk-forward controls and best practices in place. IRM proponents emphasize these business realities noting that a broader perspective than GRC should apply to protect and sustain business operations. That new perspective is Integrated Risk Management vs. GRC.
Integrated risk management: A broader view
So how do the two compare?  Gartner defines integrated risk management  (IRM) as "a set of practices and processes supported by a risk-aware culture and enabling technologies that improves decision making and performance through an integrated view of how well an organization manages its unique set of risks." Within the scope of IRM, risk management is broken into a few different maturity level use cases, segmented into various sub-divisions built on one another.
At the base and the narrowest purview, you have compliance-centric initiatives. The next level is operation-centric, including a focus on both IT and Operational Risk Management. The most advanced or mature use case is the Integrated Risk Management program. IRM is the broadest risk management scope, encompassing the two lower tiers and business's digital nature today.
Compliance-centric

: Reflect how many organizations have traditionally executed their GRC program. Establishing proper governance in reaction to regulatory laws is the focus of this IRM tier.

Operation-centric: Within IT Risk Management (ITRM) the focus is on the nature of risk in the digital age, including the connectivity and security of systems throughout your business infrastructure. In tandem, you have Operational Risk Management (ORM) focused on processes, task management, and maintaining a balance between increasing efficiency and mitigating risky activities.
Both disciplines transcend the reactive compliance-centric approach to proactive risk management measures. ITRM and ORM are both built on top of compliance efforts. These practices shift from solely meeting regulatory requirements to initiating best practices across your business to reduce risk exposure and harmful business impact. The focus on operational efficiency and cybersecurity adds a layer of sophistication to traditional compliance management.
The full range of IRM expands on proactive risk management efforts to implement continuous improvement initiatives and focus on business outcomes, both positive and negative. Standard IRM practices include business continuity and disaster recovery (DR) planning management. Other IRM initiatives span reporting efforts to weigh the financial impact of risk, measure risk by department or category, and more.
A difference in interpretation
Essentially, this new initiative (originalism) believes that GRC is too narrow of a concept to apply to the complex, interconnected nature of today's businesses and emerging threats. The IRM school of thought has evolved to include a broader scope and established levels of concentrated disciplines aligned to specific business practices. On the other side, there are the non-originalists who interpret GRC in a way that allows for the domain to grow to incorporate the integrated challenges modern-day businesses face. 
Watch this webinar: Three Ways to Scale GRC | Working Across Your Lines of Defense 
How do you manage your organization's risk? Has GRC evolved for your organization or are you in need of adopting a new IRM strategy? When comparing Integrated Risk Management and GRC, in the market today, the two are one and the same. The interpretation is more dependent on your specific use case and understanding. 
Learn more about how OneTrust GRC leverages this information to power Integrated Risk Management programs across our customer base by requesting a demo. 
Tags: