February 23, 2022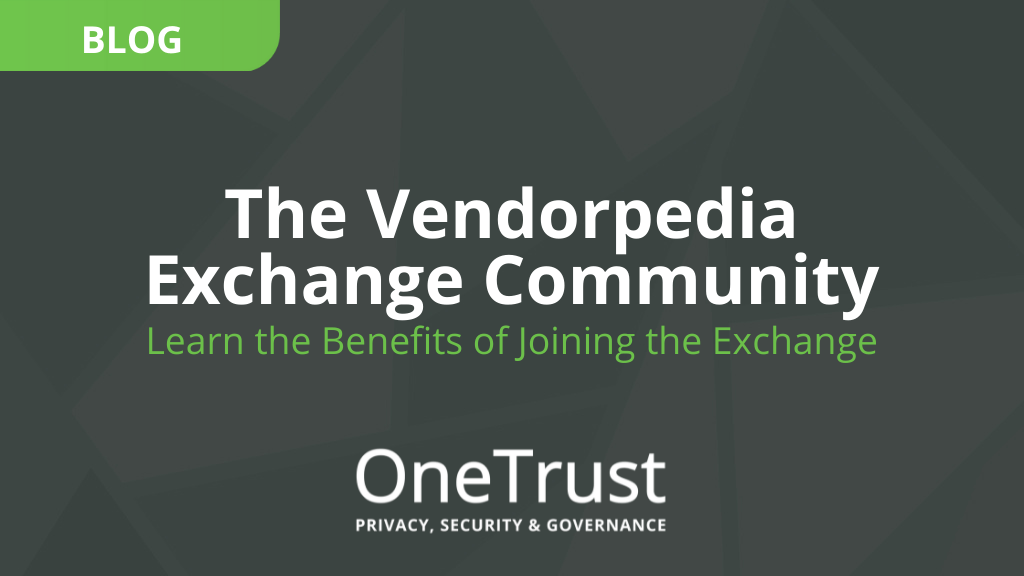 Join the Vendorpedia Exchange Community
Modern vendor risk assessment processes are time-consuming and often inefficient because of the repetitive and lengthy nature of security and privacy questionnaires. As organizations prioritize vendor risk management, the need for vendors to complete questionnaires only increases. 
As a result, vendors need tools to answer security questionnaires more efficiently. Enter the Vendorpedia Exchange Community, a global network of companies brought together to streamline information sharing and reduce the need to answer custom questionnaires.
The Vendorpedia Exchange Community for Vendors
The Vendorpedia Exchange Community streamlines the questionnaire answering process by enabling you to answer one assessment and share it repeatedly. With that said, we understand that many organizations will still want you to answer their own specific questionnaire, which is why we enable you to use your saved answers to autocomplete any incoming questionnaires you receive. By joining the Exchange as a vendor, you can reduce the time spent answering questionnaires, ensure more accurate answers, and turn your focus to more strategic projects. 
Become a participating vendor in the Exchange today and experience the value firsthand! 
Key Vendor Challenges the Exchange Helps Solve
The questionnaire response process poses a variety of pain points for vendors. The key challenges are: 
Repetitive questionnaires:

Vendors don't want to slow down their business deals by spending time answering the same questions that are asked in almost every security questionnaire.

 

Communication issues:

Vendors have a difficult time providing their customers with the most up-to-date information and notifying them of any changes to their security posture.

 

Information sharing:

Vendors want to enable their sales teams with proactive compliance information sharing capabilities to build trust and satisfy basic compliance information requests,  reducing the need to answer custom questionnaires.

 
Key Vendor Benefits of Joining the Exchange
Participating in the free Vendorpedia Exchange Community enables you to streamline security questionnaire responses, automatically notify customers of security program improvements, and proactively share information to build trust. More details below:   
Reduce custom questionnaire answering:

Get access to the full

SIG Lite

questionnaire template – answer the questionnaire once and share it repeatedly with customers, reducing your need to answer multiple custom questionnaires.

 

Streamline information sharing:

By joining the Exchange, you get the

free

ability to create a Trust Profile. A Trust Profile allows you to centralize certifications and subsequent documentation, publish it into the Exchange, share that information both publicly and privately via a secure link, embed the profile in the vendor's website, and publish your Trust Profile on your website.

 

Update customers on security program improvements:

Any updates to your SIG Lite questionnaire or Trust Profile can be automatically sent out to your customers, notifying them that changes have been made (e.g. earned a new certificate, completed a SOC 2 audit, etc.).

 

Autocomplete technology:

Vendors can save assessment answers to a library and use them to automatically answer other questionnaires with our AI Questionnaire Autocomplete technology. 

 
Become a participating vendor in the Exchange today and experience the value firsthand! 
Tags: