May 6, 2022
Adding Context to Your Integrated Risk Management Program
Contextualize data with an intelligent platform for added business value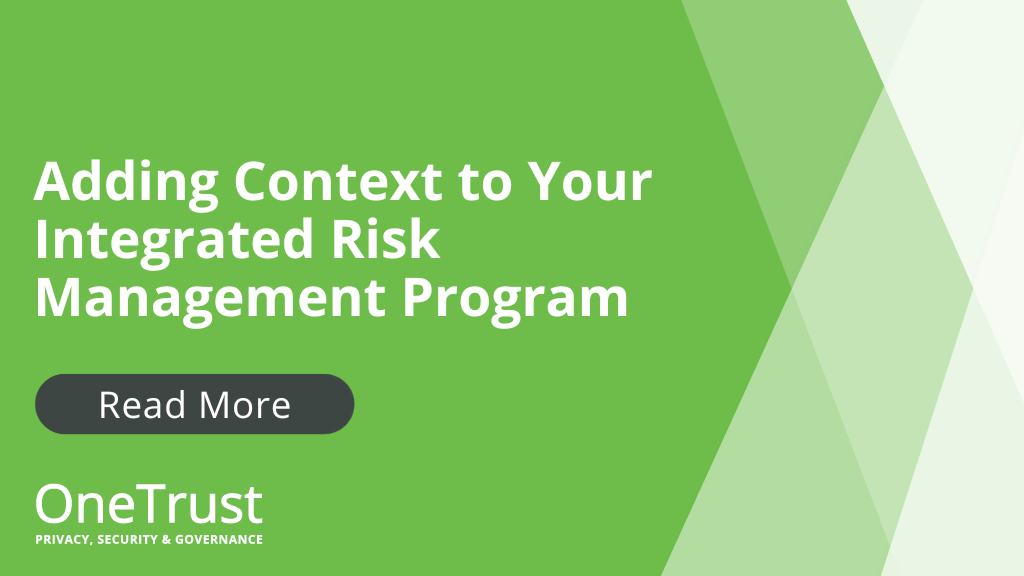 In the cyber risk landscape, companies need to evaluate their GRC programs and realize if they can support the shift toward an integrated risk management strategy. Even with established Governance, Risk and Compliance programs, many solutions are still reliant on static  spreadsheets to effectively support the broader program, diminishing accessibility across stakeholders as well as the opportunity for greater intelligence and insights. 
The problem with this model is that it is simple. A traditional GRC solution will provide you with the structure and organization to house your data, but beyond that, what you get out is only as good as what you put in. A constant for quality outputs will always be good data hygiene practices, but integrated solutions also need the intelligence to cross-reference, or correlate data across sources to add additional context to your data and transform it into tangible insights for your teams. Until recently — thanks to innovations such as AI and machine learning — automation was very much limited to information retrieval and task management. 
Measuring what goes on across your business
Your integrated risk management platform should be more than just a single risk register and workflow technology. Risk has evolved across specialties that are impacted by both external and internal factors. Evaluating your IRM practice solely from the perspective of your business is no longer enough to report on emerging threats and identify potential vulnerabilities. New regulatory laws and changes, developments with vendors related to your supply chain, geopolitical and environmental impacts, or company data breaches in your market all impact how you measure your current business activity and risk management strategy. 
Tying outside data to your integrated risk management program
A truly integrated risk management solution can correlate data and tie into outside sources of information to expand insights, and report on risk contextually to empower risk-informed decisions. Businesses need  a broader view of your risk environment across global regulatory requirements and ongoing activities with other companies such as incidents or data breaches to help understand what risk factors could impact their business. To maintain this type of insight organizations typically employ or subscribe to a team of dedicated legal researchers keeping up with regulatory changes that impact your business. 
There are intelligence platforms available today that specialize in this very discipline. Using a detailed structure of indexing and tagging articles, regulatory data and updates can be stored in an easily searchable format. The system can also identify relevant or related updates and apply them to your business data using AI technology. 
Contextualizing data with an intelligence platform
By leveraging the groundwork of ongoing research and analyst summaries with an integrated risk management platform, your team can alleviate time and resources. Freeing up these resources allows your team to focus on measuring strategic business impacts and pursuing growth opportunities. Adding context to the data in your IRM system not only amplifies your resource position, but it also heightens functionality such as the ability to visualize or map data in a meaningful way. Measurements like calculating your program maturity against a target range or other businesses within your industry can be executed with ease with the appropriate background information readily available. 
Learn more about how OneTrust GRC leverages this information to power Integrated Risk Management programs across our customer base by requesting a demo. 
Tags: