February 10, 2022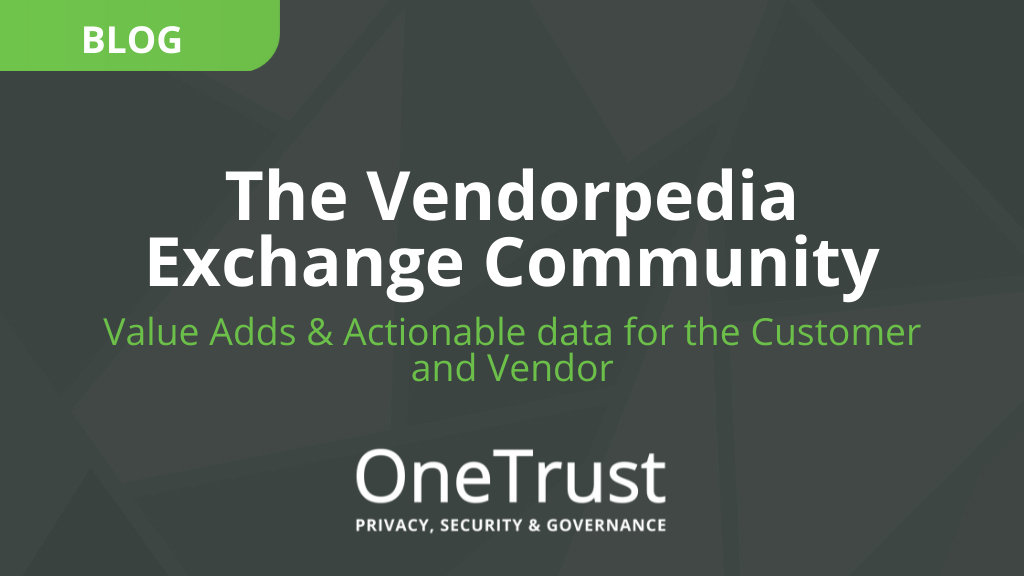 What is the OneTrust Vendorpedia
™
 Exchange Community?
Despite the rapid evolution of the security community and IT technologies, organizations are using dated methods to assess vendors. As the community continues to evolve the static nature of assessments and manual assessment processes hinder the efficiency and centralization of data gathered. To solve this issue, the Vendorpedia™ Exchange Community was created.  
The OneTrust Vendorpedia™ Exchange Community is a collaboration and information sharing platform that brings businesses and their third parties together into a single community to share security information and build mutual trust. Thousands of organizations and their vendors participate in the exchange to collectively centralize and share critical information about their security, privacy, ethics and compliance, and ESG programs. This community-based approach makes third-party risk easier for everyone involved – both you and your third parties. 
A vendor exchange provides a solution to the problems of static and manual assessments, such as lapses inefficiency, decentralized data and data sprawl within a vendor ecosystem. The solution streamlines vendor intake and processing and provides a centralized platform with internal and external data sharing capabilities. Additionally, the exchange enables vendors to create a library of compliance-informed answers across risk domains, centralize data, streamline answer updating and maintenance, and securely share information with customers at the click of a button. 
Specifically, the exchange community offers intelligence and automation to solve these challenges and provide value to organizations that want to improve vendor relationships with faster onboarding, real-time monitoring, and insight and analysis on vendor risk and compliance. 
Join the Vendorpedia Exchange Community today and experience the value of a vendor exchange firsthand.  
What

 are

 the Benefits of a

 Vendor Exchange

?
In the past, vendors have been guarded with what information they share. As the market grows and organizations shift to using a third-party trust informed vendor management model, vendors are hopping on board and need to prove that they're a trusted brand by sharing more information on their extended enterprise. A vendor exchange provides 4 key benefits to vendors and customers: 
Flexible standardization:

 The exchange empowers both customers and vendors to assess risk in a way that is domain-specific, empowering the creation of customizable workflows and streamlined information sharing throughout the assessment process. 

 

Centralization: 

A critical piece of successful 

vendor risk management

 is having quality vendors and customers in a central location to bring everyone to one place that adds value for both sides. The exchange provides the location and enables communication across vendor relationships. 

 

Collaboration:

 The exchange challenges traditional, static assessment practices by providing a hands-on, collaborative platform for vendors and customers to come together on.

 

Data-driven analysis:

 Moving away from a static, question and answer-based assessment model and pivoting to a format that places value on the information gathered from your vendor data, enabling your organization to make evergreen and highly customized solutions.

 
Download the eBook today to learn more about how the Vendorpedia™ Exchange Community's Assessment works. 
How the Vendorpedia Exchange Community Can Solve Key VRM Challenges for Customers
Vendor Risk Management (VRM) poses a number of challenging considerations to customers, many of which can be solved when VRM is approached in a modern, hands on, collaborative format. For customers, common challenges seen in the process of standing up VRM solutions and assessing vendors include: 
Risk prioritization: 

Organizations don't know which of their vendors pose the greatest risks, which to prioritize, and which vendors are less important. Static assessments give customers generalized information and little insight into the value of 

why

 

each answer is important and 

what

 it is telling the customer about the vendor's risk.

 

Time allocation: 

Organizations don't have time to assess (and constantly reassess) vendors or review their answers manually because the process is so time-consuming, and the level of effort required to manually assess vendors on a regular basis often leads to compromises in efficiency and accuracy.

 

Data decentralization: 

Organizations don't have a single place to find security, privacy, compliance information on vendors across the necessary risk domains. This leads to issues in efficient data gathering and can leave organizations more vulnerable to gaps in key information than if they had a singular reference point for data gathering.

 
The exchange community aims to provide solutions to each of the above by providing customers with the following benefits:   
Prioritize vendors with auto inherent risks:

 The Exchange Community allows you to prioritize the vendors that matter most with Auto Inherent Risk scores.

 

Gain visibility into unique risk score information: 

Leverage out-of-the-box cyber risk scores to understand the cybersecurity posture of your vendors.

 

Centralize domain-specific information and increase visibility: 

See Trust Profiles on all vendors in the exchange, to access 

security, privacy, and compliance information, compliance certifications, and supporting documentation.

 

Action risk mapping and compliance: 

Request a vendor's Exchange Assessment and map their vendor risk across 50+ global frameworks, standards, and laws through the Exchange.

 

Assess vendor risk analytics & control gap reports: 

View detailed analysis of assessment results with flagged risks and control gaps.

 

Manage your third-party risk program: 

Get updates when a vendor's security posture changes, without having to conduct a full reassessment.

 
Join the Vendorpedia Exchange Community today and experience the value of a vendor exchange for customers firsthand. 
How the Vendorpedia Exchange Community Can Solve Key Assessment Challenges for Vendors
VRM also poses several challenging considerations to vendors, many of which are siloed when VRM is approached in a modern, hands-on, collaborative format. For vendors, some common challenges faced when managing customer questionnaires and information requests include:
Repetitive questionnaires: 

Vendors do not want to slow down their business deals by spending time answering the same questions that are asked in most customer questionnaires.

 

Data updating and notification processes: 

Providing customers with the most up-to-date information and notifying them of any changes in a timely manner in time and resource-intensive for vendors.

 

Proactive information sharing: 

Vendors want to enable their sales teams with proactive compliance information sharing earlier in the business relationship to satisfy most compliance information requests.

 
By joining the exchange vendors are provided with solutions to each of the above because of the following benefits:    
Streamline information sharing: 

By joining the exchange y

ou get the 

free 

ability to create a Trust Profile. A Trust profile allows you to centralize security, privacy and compliance details, as well as certifications and subsequent documentation. Then, you're enabled to publish it into the exchange and share that information both publicly and privately.

 

Reduce custom questionnaire answering: 

You get access to the full Shared Assessments SIG Lite template as a vendor, that covers 18 risk domains and maps to 50+ standards, frameworks, and laws. Answer the questionnaire once and easily share it with customers, reducing your need to answer multiple custom questionnaires.

 

Automate sharing and notification: 

Any updates can be automatically sent out to connected customers through the assessment and profile. Notifications of changes made earned a new certificate, completed a SOC 2 audit, etc.) can be automatically sent to relevant customers.

 

Real-time information sharing: 

Using the exchange r

educes the need for back and forth with customers since changes to your Trust Profile are reflected in the exchange in real-time. 

 

AI Autocomplete technology: 

Vendors can save answers from their completed assessments and use them to autocomplete other questionnaires with our AI machine learning and natural language processing technologies. 

 
Join the Vendorpedia Exchange Community today and experience the value of a vendor exchange for vendors firsthand. 
The Value of Shifting Away from the Static Vendor Risk Assessment Model
The Vendorpedia™ Exchange Community addresses the business need for multifunctionality in vendor risk management through recognizing the value in shifting away from the traditional, static assessment model. The exchange implements an output-focused approach to the assessment process, emphasizing why the way a vendor answers a question is valuable and how it can be used to inform your vendor risk management program.  
By moving away from a traditional assessment model and toward a community-based, automated, and streamlined platform of information sharing, businesses can realize more efficient reporting, risk analysis, and control coverage. This reduces reliance on standardized data gathering, and when paired with advanced machine learning and data analysis, allows customers to anticipate a vendor's inherent risk with accuracy. 
The 

Role of a 

Vendor Exchange

 in Achieving Organizational Trust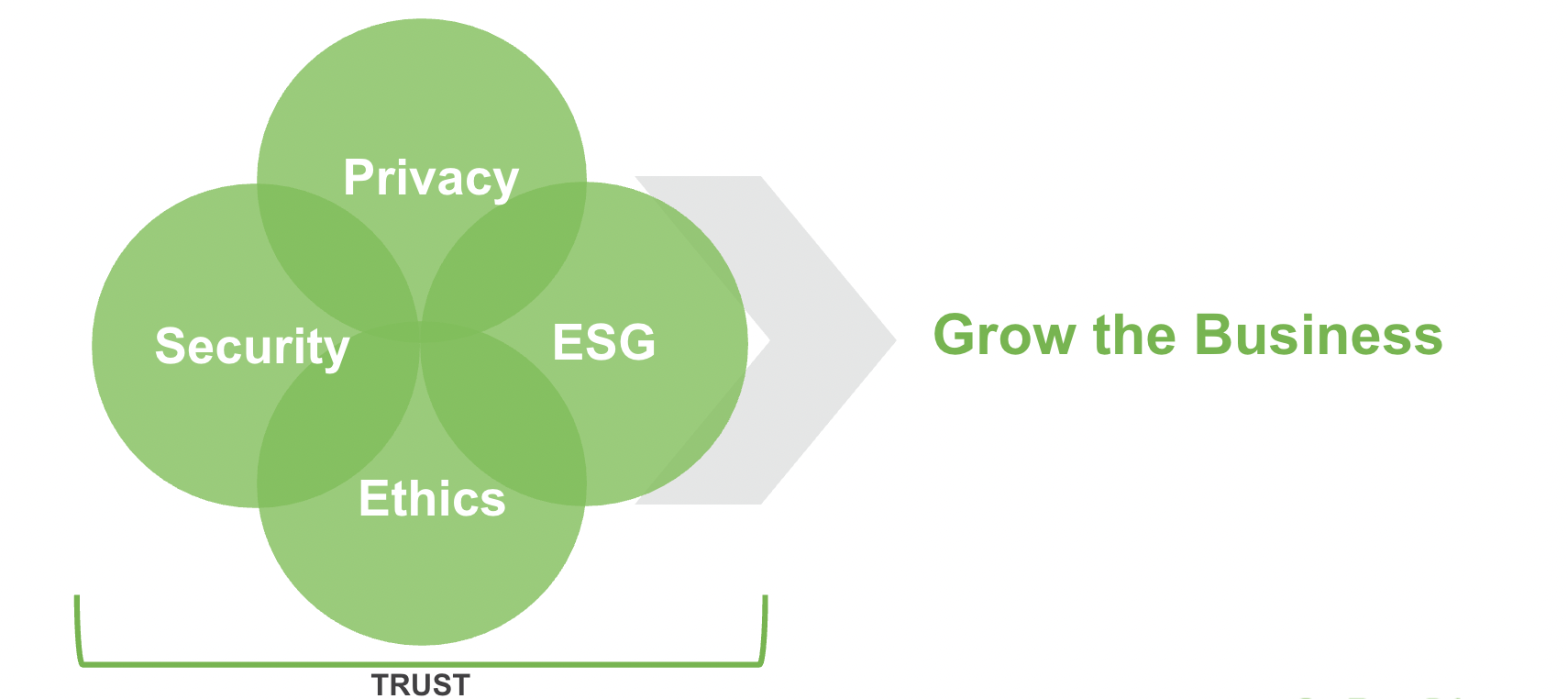 Organizational trust is a critical driver of business development that calls for collaboration across the different risk domains to promote business resilience and continuity. Third-Party Trust Management (TPTM) – a key facet of organizational trust and the next evolution of TPRM – is a discipline of trust management in which each core risk domain (Security, Privacy, Ethics, and ESG) is considered through a third-party risk management lens. It goes beyond cybersecurity and focuses on building trusted and lasting third-party relationships, of which participation in an exchange community is critical.  
How does the Vendorpedia Exchange Community Help Establish Organizational Trust?
The benefits that an exchange community provides to both customers and vendors are key in encouraging cross-domain collaboration, which is necessary for building strong organizational trust. TPTM calls for businesses to use a comprehensive approach to risk management, pivoting from the traditional approach of siloed third-party risk within an organization's different business disciplines. TPTM encourages risk domains and their tools (third-party risk management software, third-party due diligence software and Sustainability and Responsibility software) to come under one umbrella of consideration to streamline processes and information gathering. Participating in the exchange enables organizations and their vendors to collaborate and share information across the domains, ultimately improving efficiency and ensuring enterprise trust.  
How Can OneTrust Help?
The OneTrust platform leverages expertise in GRC, specializing in Third-Party Risk Management, Privacy, Incident Management  and many other categories to deliver an immersive security and privacy management experience. Reduce your vendor, supplier, and third-party risks with OneTrust Vendorpedia™ Third-Party Risk Management Software and Exchange Community. The software enables you to run compliance checks and screen vendors. Additionally, our software empowers organizations to conduct vendor risk assessments and mitigate risks through highly customizable workflow automation. The Vendorpedia Exchange Community enables businesses to access to risk analytics and control gap reports on vendors, and provides vendors with an opportunity to centralize their compliance details and promote them to thousands of OneTrust customers to easily share.  
Further cybersecurity reading:      
Next steps on cybersecurity:        
Follow OneTrust on LinkedIn, Twitter, or YouTube for the latest on vendor risk management.   
Tags: