Demonstrate Compliance with Global Data Breach Laws
OneTrust Incident & Breach Response helps centrally manage incidents, automate tasks, and maintain records for compliance and notification with global laws. The tool is powered by the Databreachpedia™ Global Law Engine, an innovative solution that integrates breach notification laws directly into the OneTrust platform. With OneTrust Incident & Breach Response, build context-aware automated workflows that help your organization rapidly respond to incidents and enhance breach notification decision-making.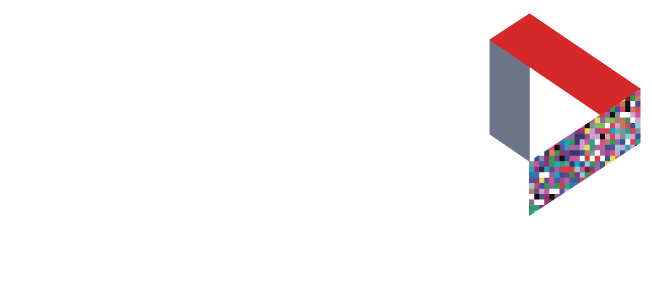 OVUM RADAR REPORT

OneTrust Enables Enterprises to Meet Breach Compliance Requirements
Incident Response & Notification is a Global Challenge
Breach notification laws have matured and are now global and mainstream. These laws are unique in their incident reporting requirements and continue to reduce the time organizations have to notify authorities of a breach. In some cases, this window is as little as 72 hours. Lastly, incidents lack documentation, involve more data, and occur more frequently than ever before. Without automation and knowledge of global breach notification law, compliance and response will become growing challenges.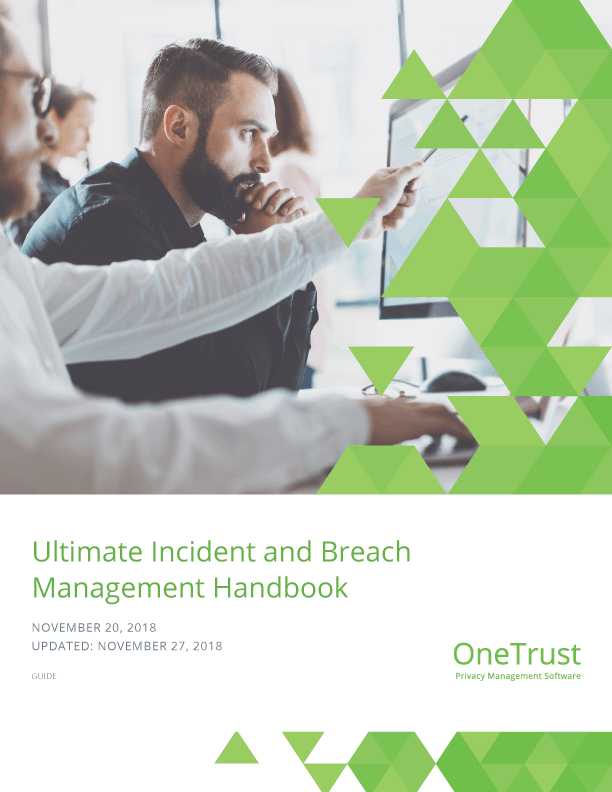 Gain Insight into Global Notification Requirements with Databreachpedia™
With OneTrust, you get the advantage of a tool that embeds privacy and global data breach laws directly into the platform. This research helps your organization automatically determine applicable global notification requirements based on comprehensive research of more than 100 data breach laws.
Improve Incident Visibility with a Single Pane of Glass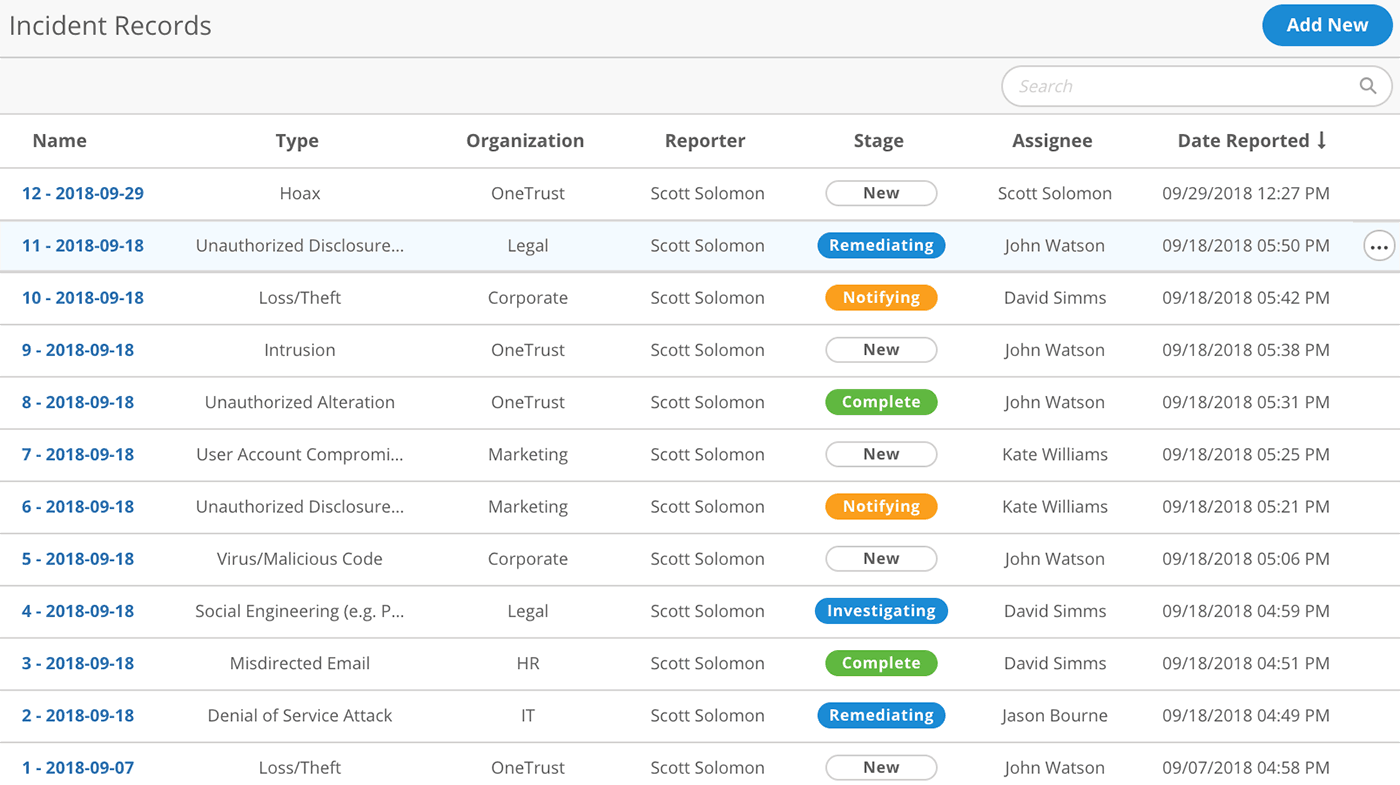 Gain a Holistic View of Incidents
With a modern user interface, OneTrust enables you to easily track breach response progress and helps ensure your team adheres to notification deadlines. Through the dashboard, drill down into individual incidents to see in-depth details relating to the incident.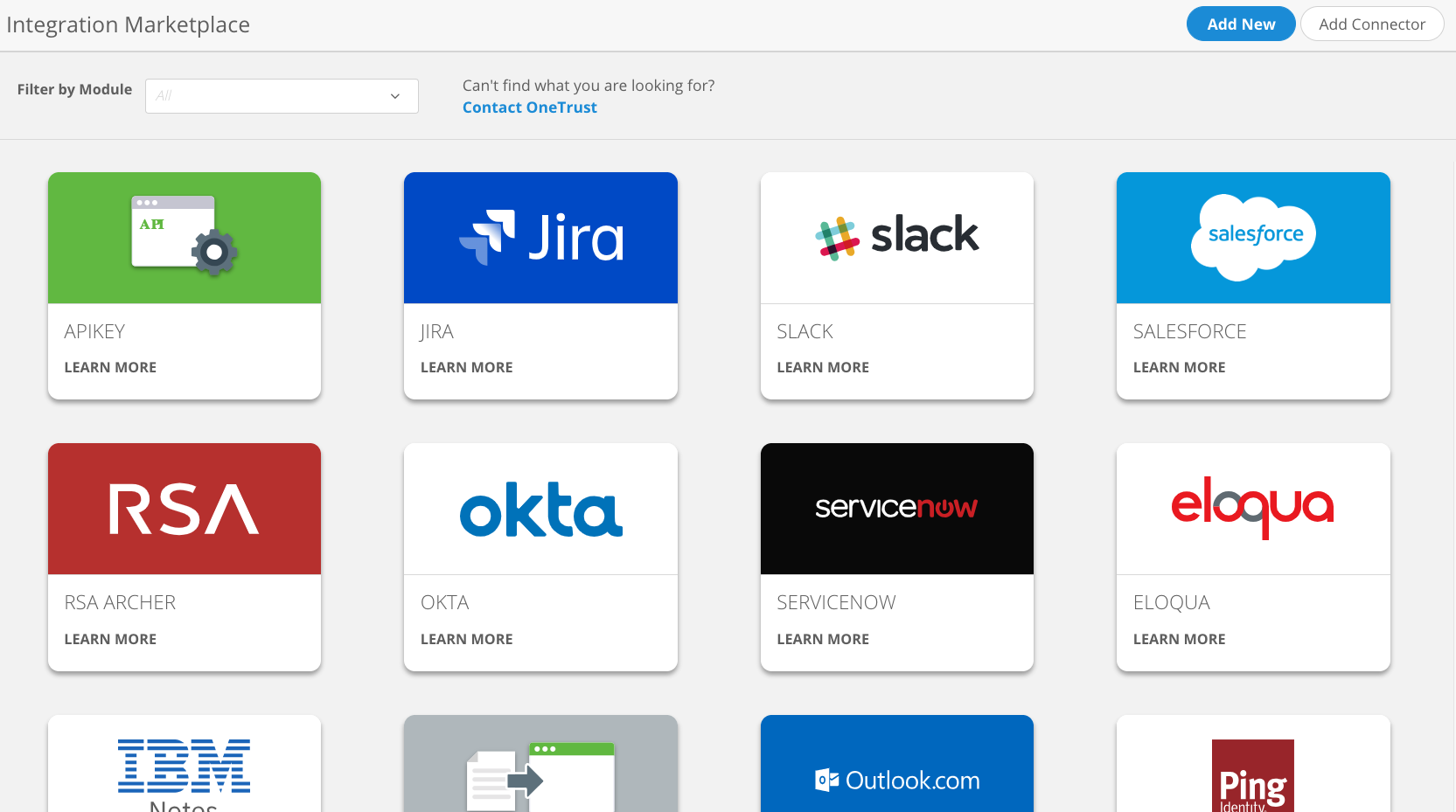 Centralize Incidents into the OneTrust Platform with Ease
Start investigations sooner by leveraging integrations with your existing breach detection systems, which can automatically kick-off breach response and notification workflows in OneTrust. Additionally, empower employees to self-report or, as an admin, directly add an incident into OneTrust via the admin console.
Streamline Breach Investigation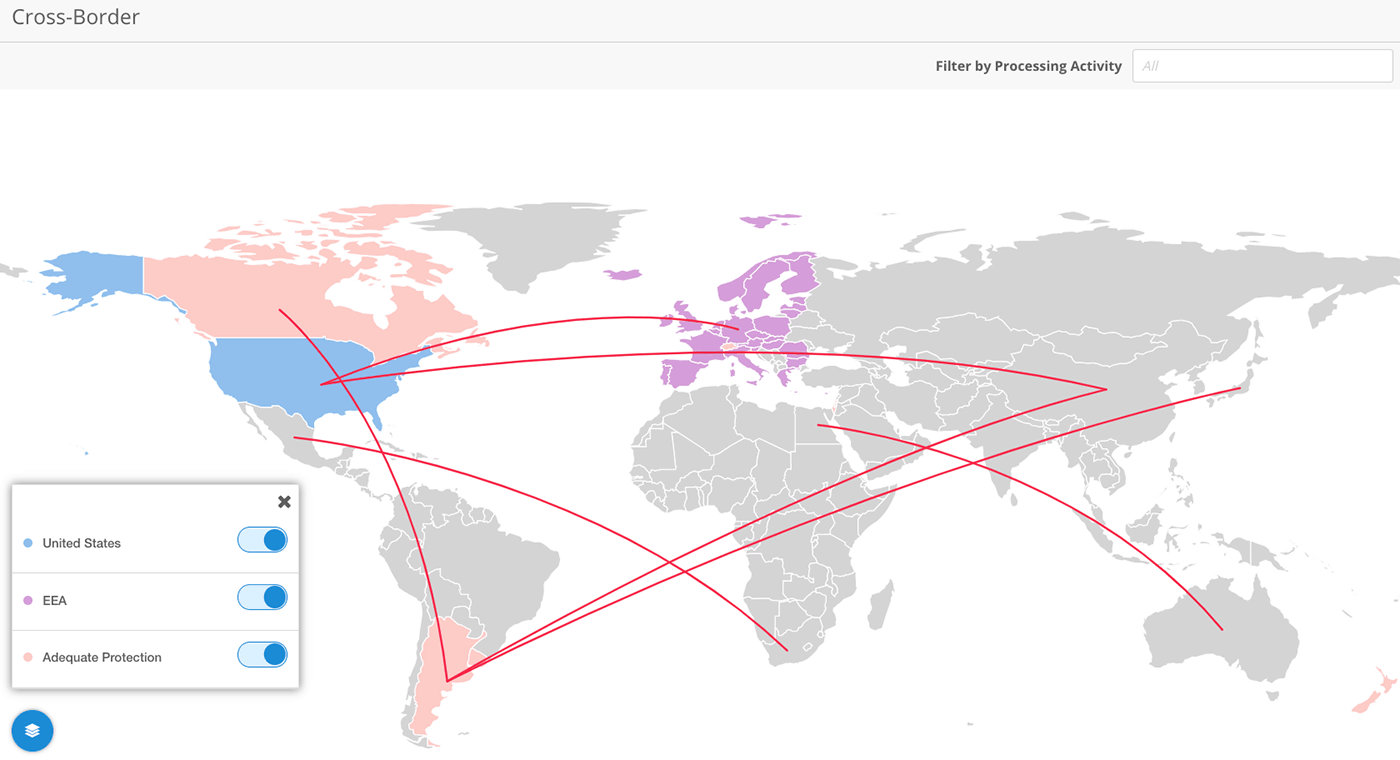 Understand the Total Impact of an Incident 
Leverage OneTrust Data Inventory & Mapping technology, as well as the Vendor Risk Management tool, to identify what data is affected by a breach, how it is used, who has access to it, where it flows, and more. This information is invaluable when investigating a data breach.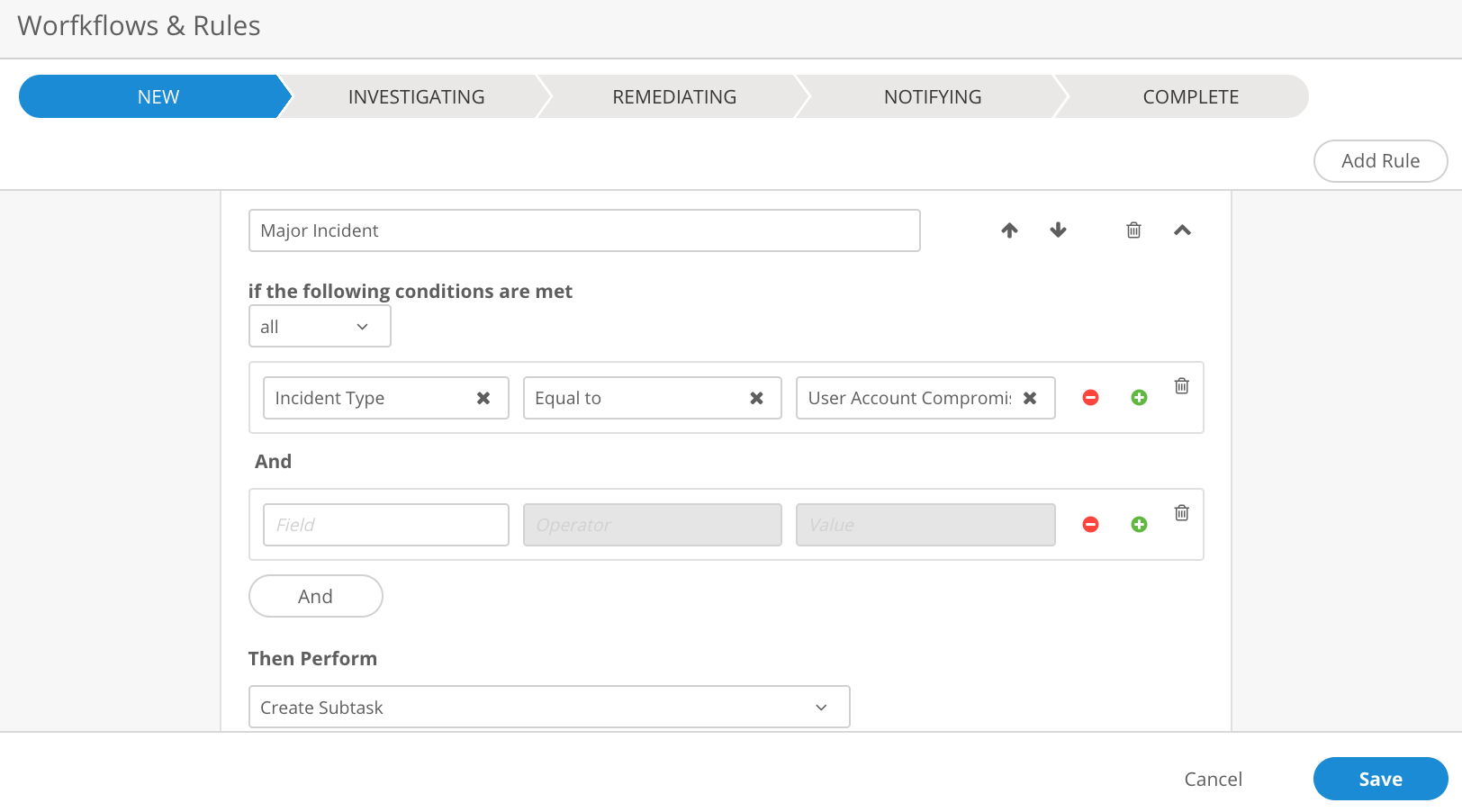 Streamline Incident Response
React quickly with confidence and consistency using rule-based automated workflows. Make your organization's rules context-aware, kicking off different tasks based on breach variables such as applicable laws, location, severity, and more.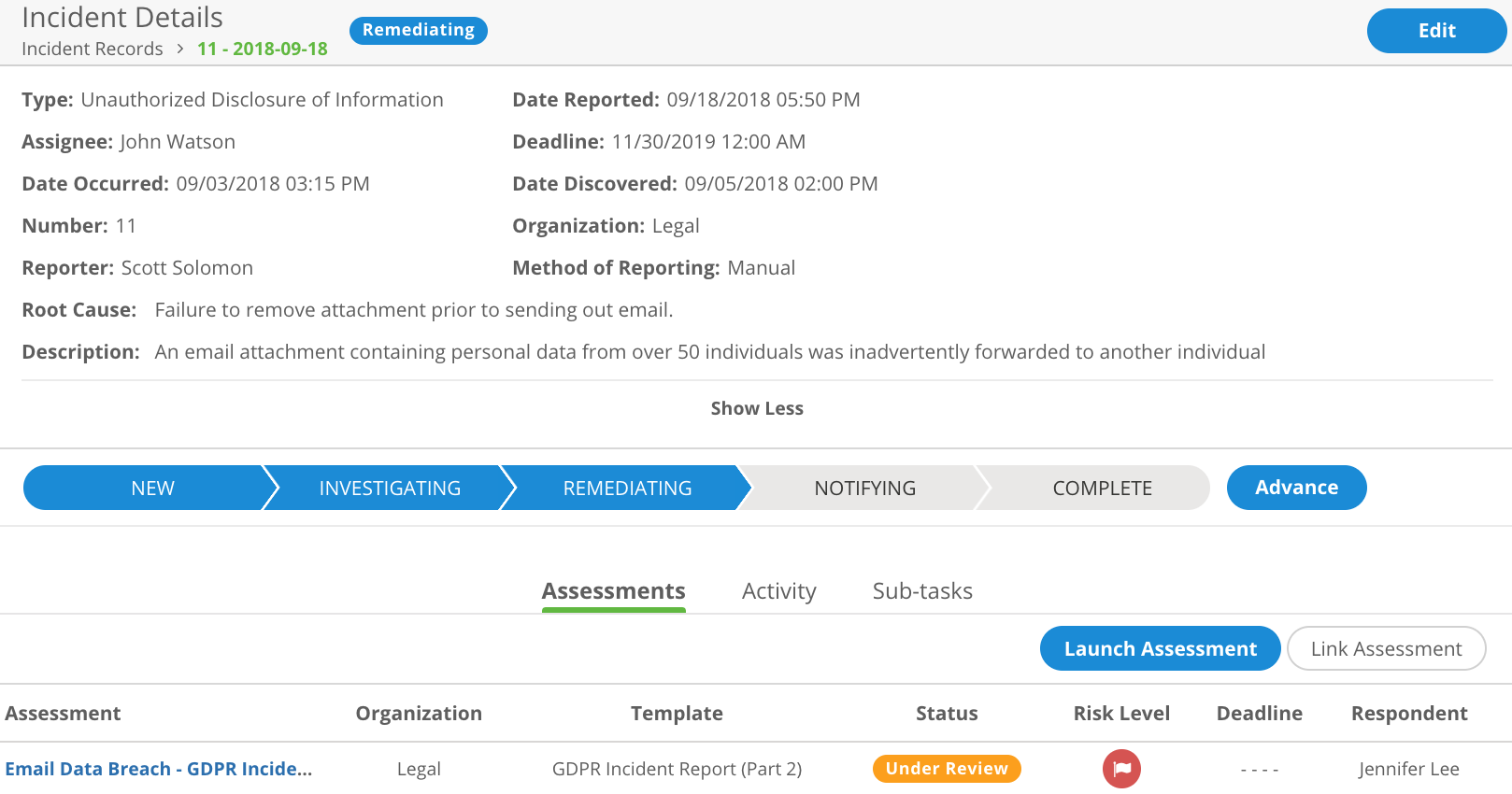 Get the Right People Involved, Right Away
Automated workflows within OneTrust help your organization configure consistent incident response. This helps increase communication between stakeholders.
Simplify Breach Notification Decisions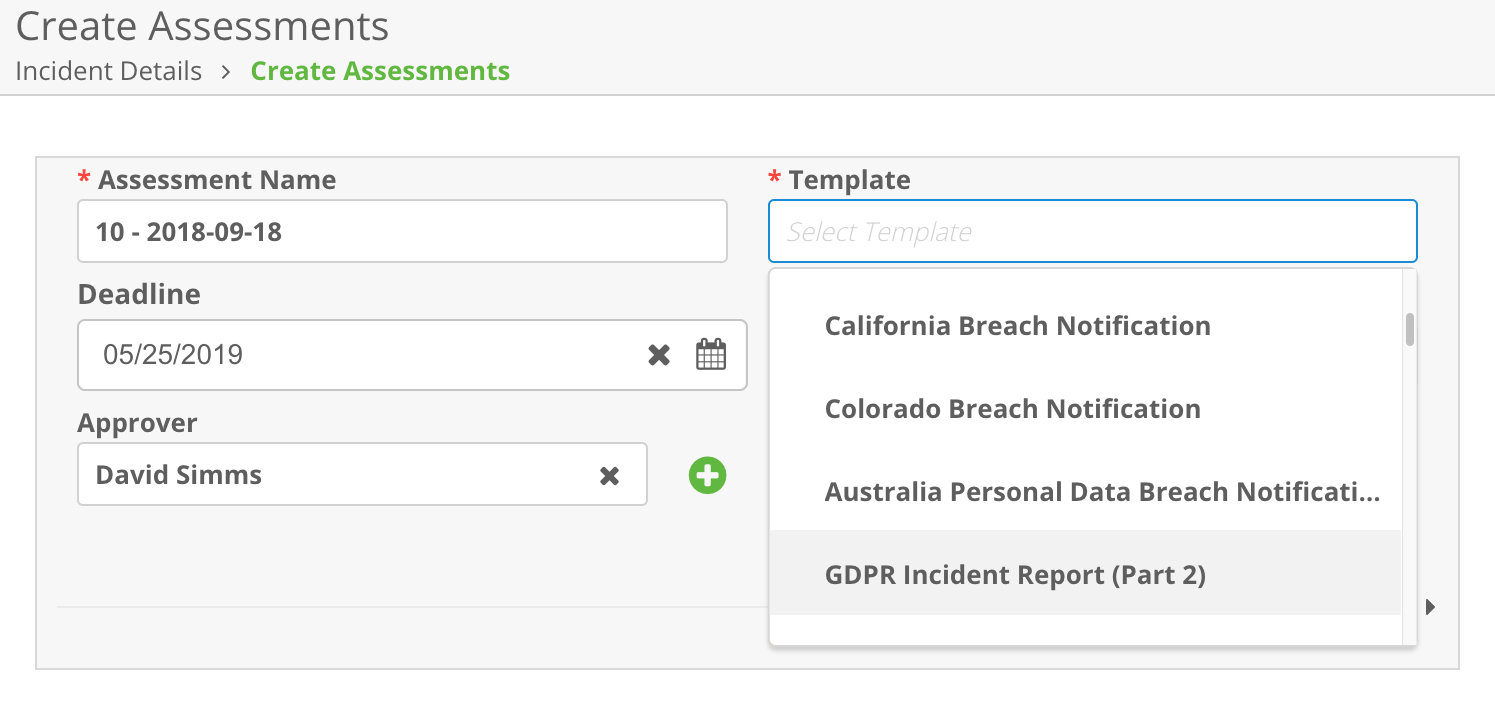 Save Time with Faster Notification Decisions
Use Databreachpedia™ built-in research to know when, who, and how to notify relevant regulators of a breach. OneTrust offers notification recommendations and easy-to-use notification templates.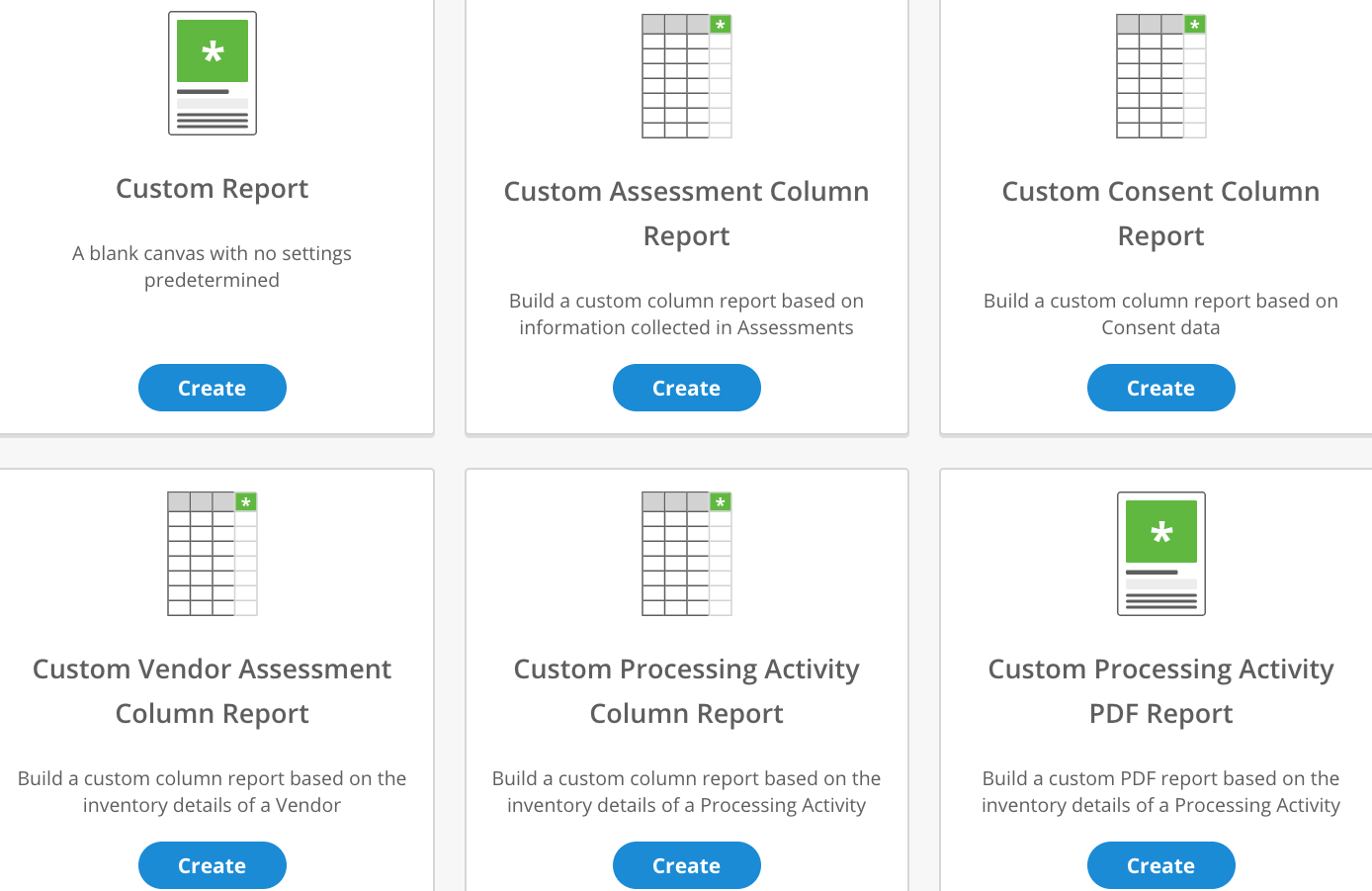 Leverage Flexible Reporting Tools to Fit Your Use Case
Whether it is pulling a report on the status of every incident or building a notification report for a regulator, OneTrust enables you to find the information you need, when you need it. With dozens of filtering options, the reporting engine can quickly pull simple reports and scale to generate massive, detailed reports.
Manage Risks with Faster Mitigation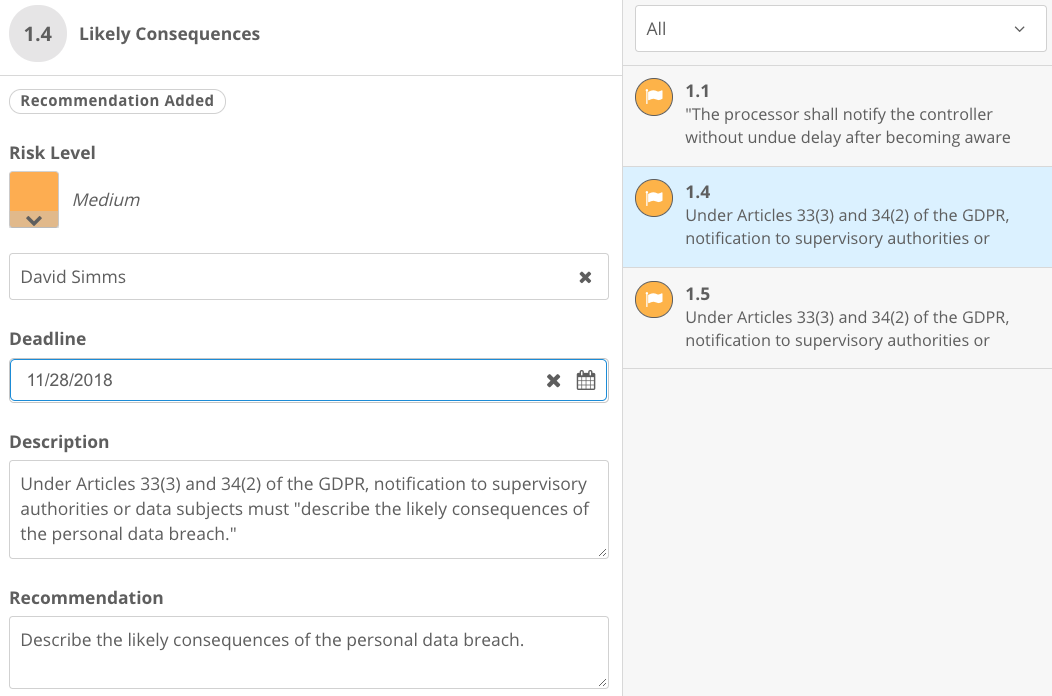 Automatically Flag Risks and Get Mitigation Recommendations
OneTrust automatically flags risks during an incident assessment and investigation. Mitigation recommendations are provided based on regulatory guidance pulled from hundreds of global privacy laws. In OneTrust, you can tailor risk severity levels and configure your own risk flags based on internal use cases.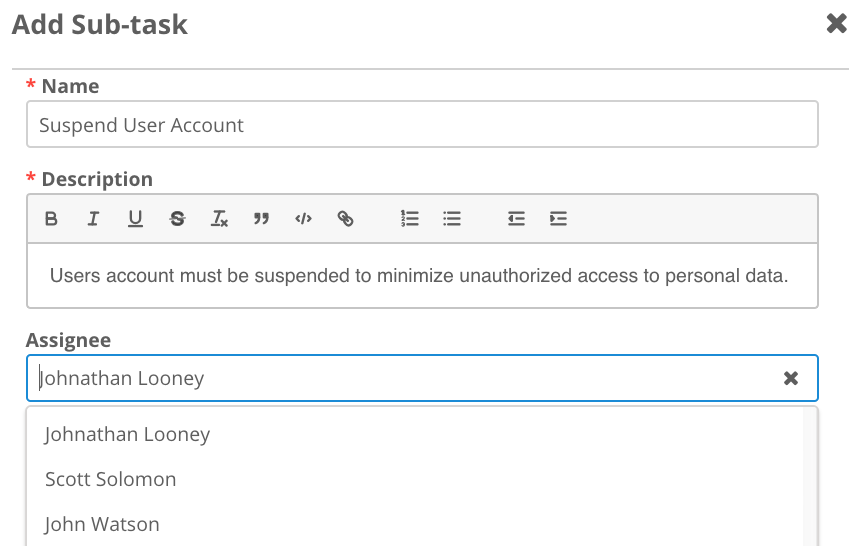 Reduce Risks in Less Time
Streamline risk mitigation by assigning risk owners, deadlines, and by leveraging automated reminders. Add mitigation tasks to your incident response workflows to help ensure risks are dealt with in a timely manner.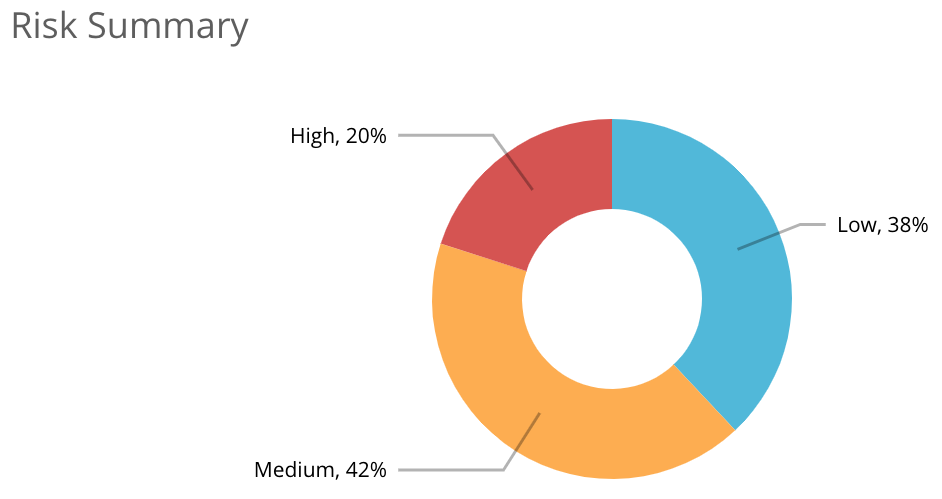 Track Mitigation Progress
Drive mitigation efforts forward with risk progress reporting. This helps hold risk owners accountable to deadlines as well as offers metrics on overall risk reduction.
Produce Detailed Audit Trails with Ease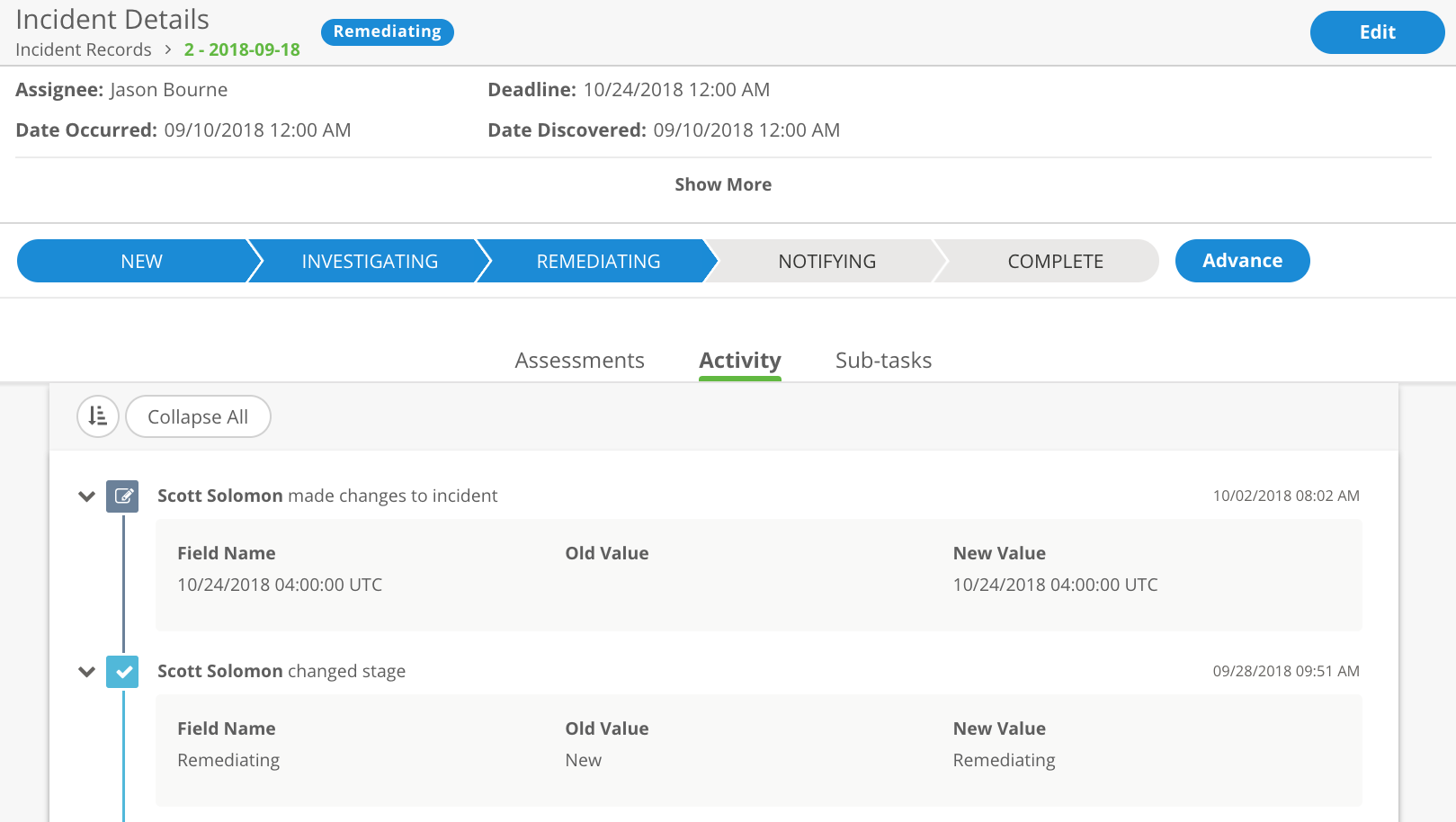 Demonstrate Compliance with Auto-Generated Audit Trails
Within OneTrust, a detailed activity stream is created automatically, leaving you with the audit trail you need to retrace your steps and demonstrate compliance.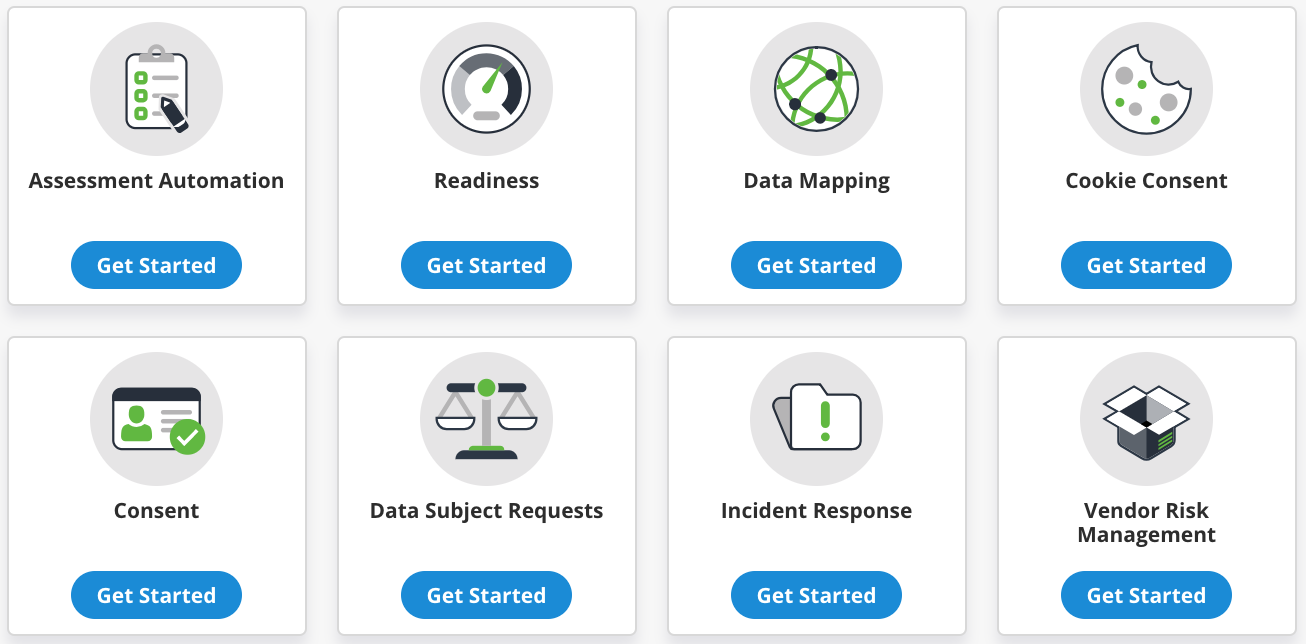 Scalable Recordkeeping for Global Privacy & Breach Compliance
Store all incident information in the easy-to-use OneTrust platform, keeping compliance records centralized and up to date. Store attachments for evidence, track admin actions for auditing, and surface all your records in the event of a regulatory inquiry.
Why Over 6,000 Customers Choose OneTrust
Most
Comprehensive

Technology
300 Member R&D Team Driving Product Innovation with 44 Patents Awarded
World-Class
Privacy

Research
Over 100 Certified Privacy Professionals In-house with Continuous Regulatory Research
Expert
Global

Services
Multi-lingual, 100 Person Implementation Team, and Large Partner Network to Support Privacy Initiatives
Large
Active User

Community
Thousands of Members Sharing Best Practices in 40 Global PrivacyConnect Workshops