OneTrust Policy and Notice Management
Centrally Track and Dynamically Update Policies across Websites and Applications
OneTrust Policy and Notice Management 
Global privacy laws like the CCPA and GDPR have created many challenges for organizations trying to manage privacy policies throughout their digital channels. The complexity of managing policies across the range of regulations, geographical regions, languages and digital platforms has become inefficient, unscalable, and damaging to the bottom-line.
Companies need to be able to identify forms, policies and disclosures that already exist across their digital assets and update and publish them within specific time periods to adhere to global privacy regulations.
The OneTrust Policy and Notice Management solution simplifies the complex process of creating, managing, and publishing policies across websites and applications into one central location while eliminating the need of complex development work.
OneTrust Policy and Notice Management Solution
OneTrust Policy and Notice Management helps organizations eliminate the manual processes tied to identifying, managing, and tracking policies across their websites and apps. Businesses are able to display unique policies based on the geographical region and local regulations of the visitor's location and include multilanguage support displaying local languages based on the visitor's browser preference. The OneTrust Policy and Notice Management solution enables organizations to centrally manage and update policies across their digital landscape while eliminating the need for custom coding and manual processes.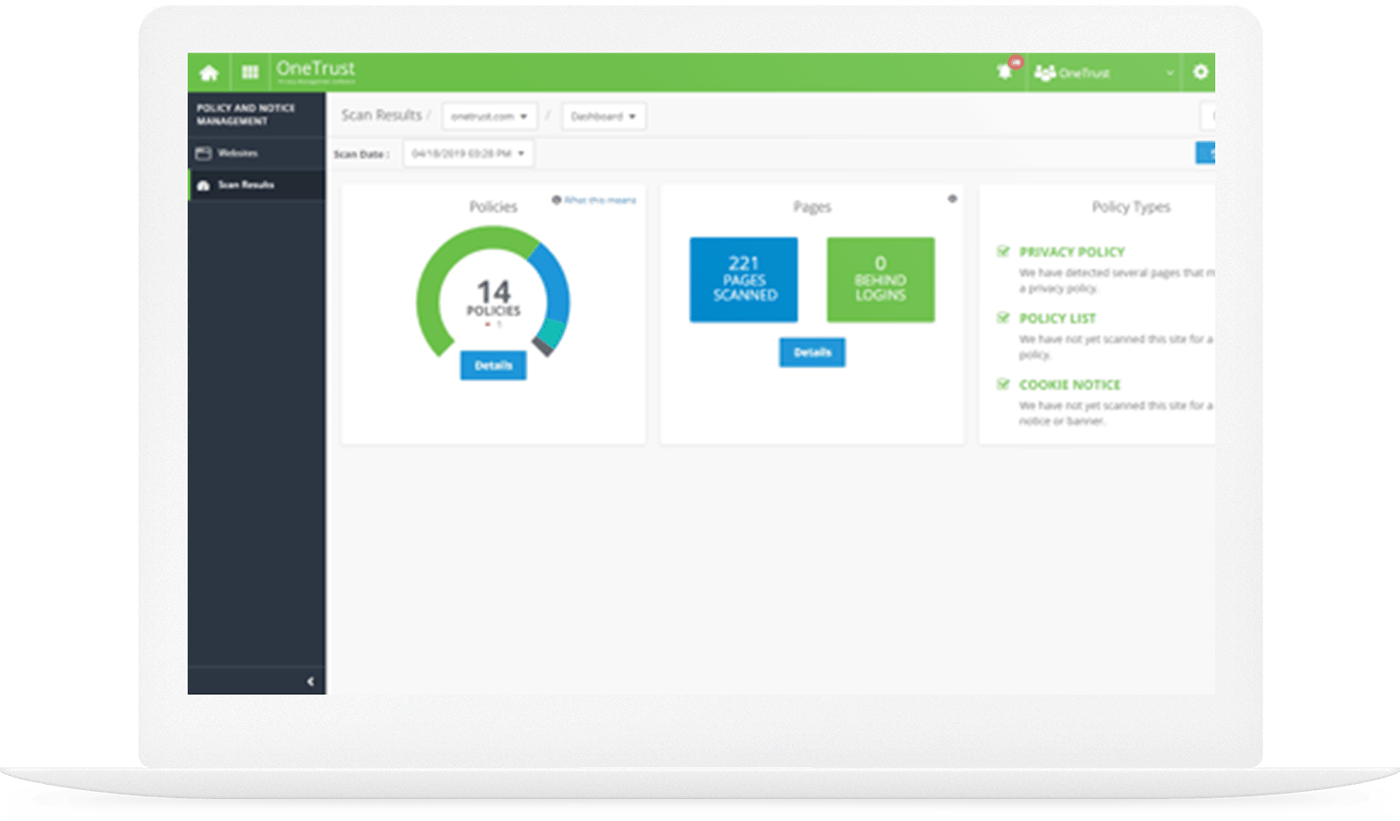 Scan your Websites and Applications for Policies
Scan for policies across public facing websites and behind logins.
Identify the exact location of existing forms, policies and disclosures.
Import existing forms into the OneTrust platform for central management.
Detect hosting pages that may be missing policy or notice linkages.
Design and Create Custom Policies
Design and create your own custom policies by leveraging rich editing.
Customize your policies with responsive designs using images and videos.
Leverage preexisting templates designed by industry leading privacy specialists.
Import your own existing policies directly into the OneTrust platform.
Create multilingual policies with the same content across 100+ languages.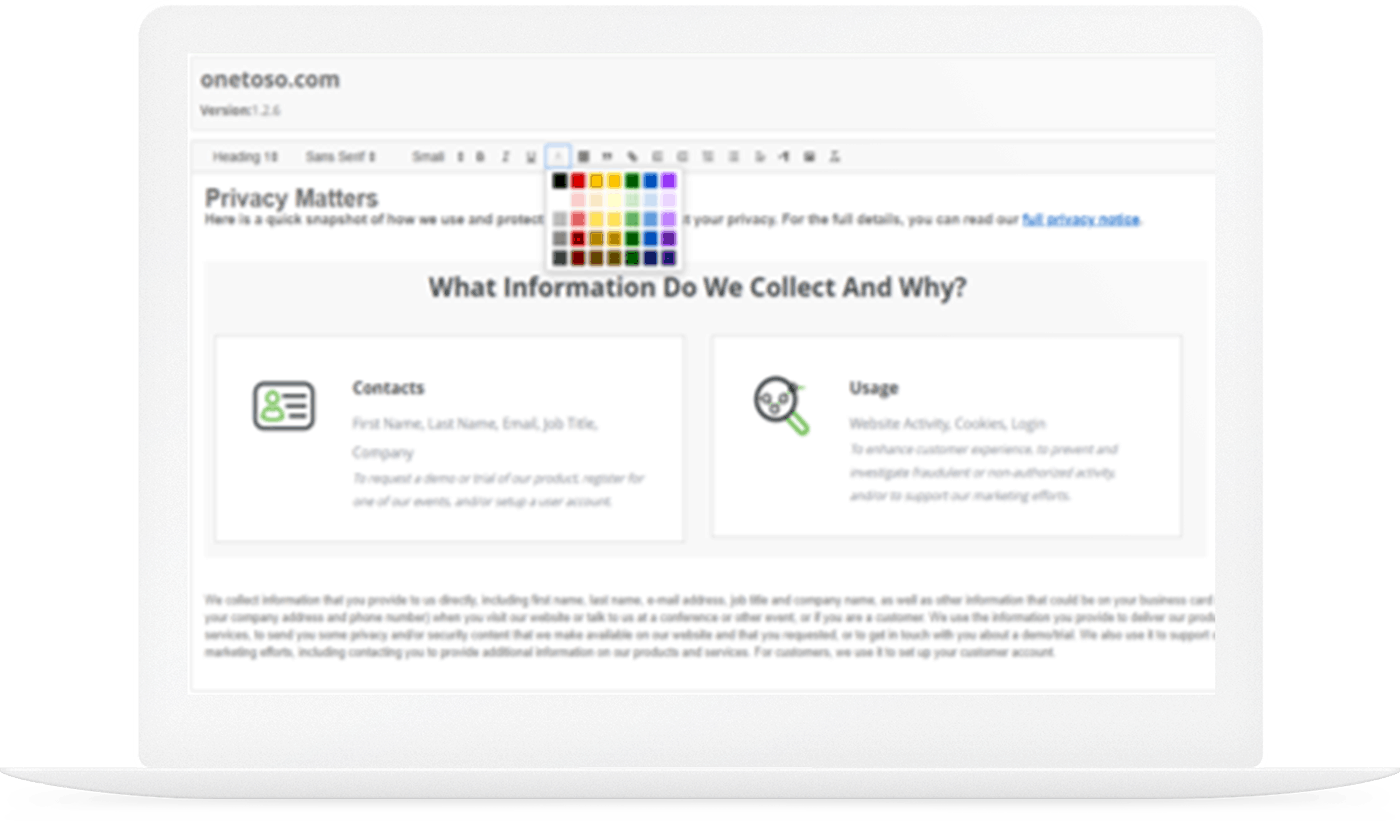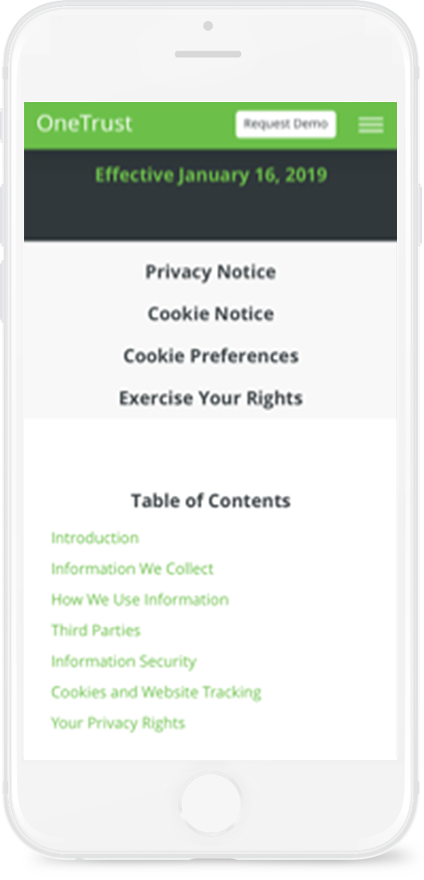 Integrate with Websites and Applications
Integrate your policies with your Content Management System via plugins.
Deploy policies and notices across domains or apps via a tag manager or SDK.
Update policies with unique scripts and eliminate the need of development work.
Manage change control and be notified when changes have been made across your policies.
Manage Updates and Versions
Grant specific team members access rights to collaborate during updating periods.
Enable unique, publicly facing version permissions for enhanced control during editing.
Monitor policies on a regular basis for consistency across websites and applications.
Maintain an internal database of granular version history for compliance purposes.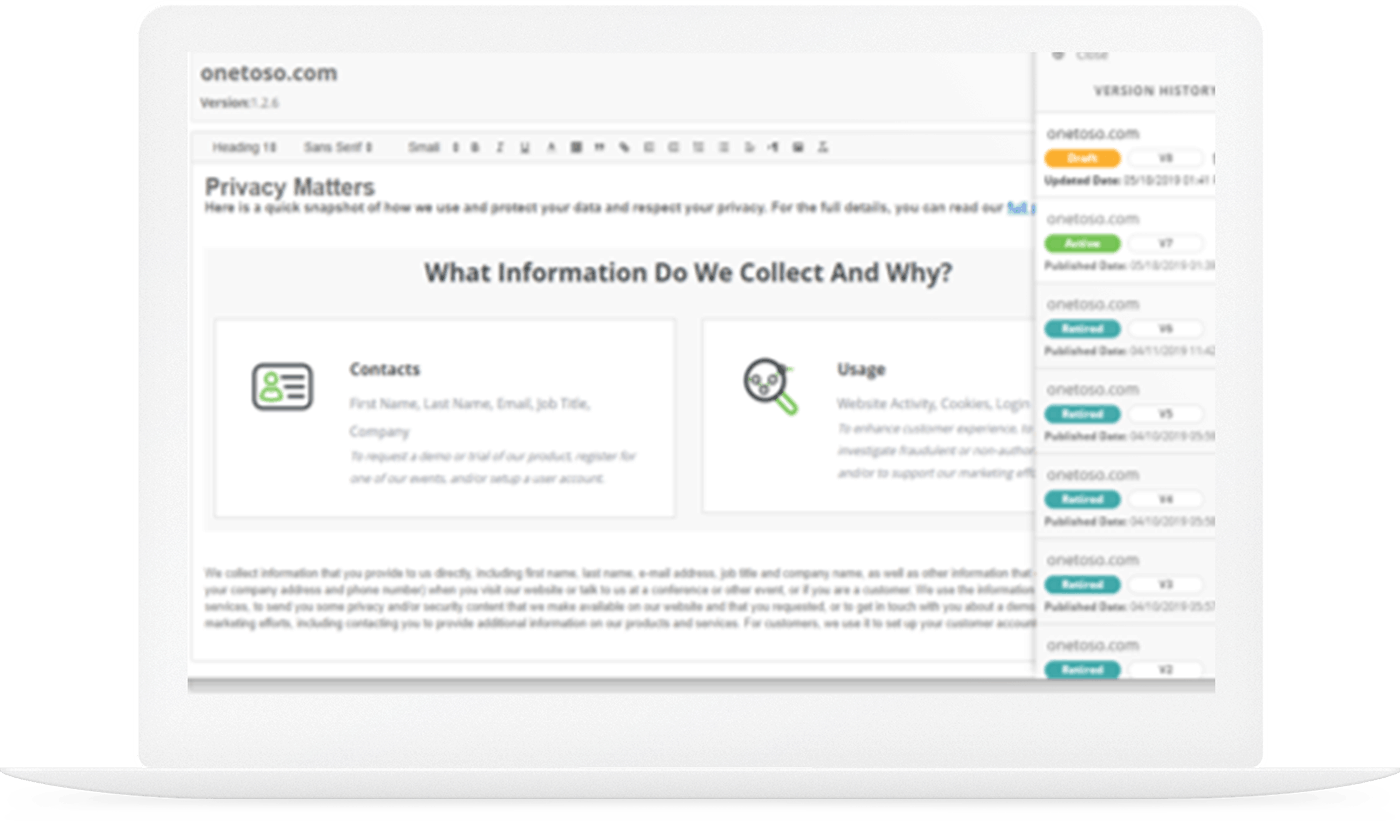 Why Over 2,500 Customers Choose OneTrust
Most
Comprehensive

Technology
300 Member R&D Team Driving Product Innovation with 44 Patents Awarded
World-Class
Privacy

Research
Over 100 Certified Privacy Professionals In-house with Continuous Regulatory Research
Expert
Global

Services
Multi-lingual, 100 Person Implementation Team, and Large Partner Network to Support Privacy Initiatives
Large
Active User

Community
Thousands of Members Sharing Best Practices in 40 Global PrivacyConnect Workshops